This post may contain affiliate links, which means we may receive a commission if you purchase through our links. Please
read our full disclosure here
.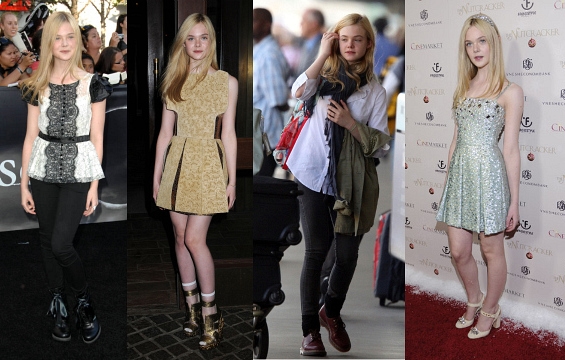 Even though she's only 12-years-old, Dakota Fanning's little sis Elle Fanning is quickly making a name for herself in Hollywood. She's been acting since age four, with roles in films like Babel and The Curious Case of Benjamin Button. She recently starred in Sofia Coppola's latest film, Somewhere and is slated to appear in the highly anticipated sci-fi flick, Super 8.
Despite all of her awesome success at such a young age, I did in fact choose Elle for this feature because of her suburb fashion sense. She wears age-appropriate, yet super-stylish pieces in both her casual and red carpet outfits. She has a ultra-feminine look and is often seen wearing skirts, dresses and pieces with girly details.
Of course, Elle's fabulous sense of personal style hasn't gone unnoticed. She recently made a buzz in the fashion world by becoming Rodarte's muse. I have a feeling you'll be seeing a lot more of Elle in the future, so keep an eye out!
Interested in learning more about the adorable starlet's fabulous fashion sense? Read on to discover the three unique elements of Elle's style and some fashion inspiration to achieve her look for yourself:
Feminine Details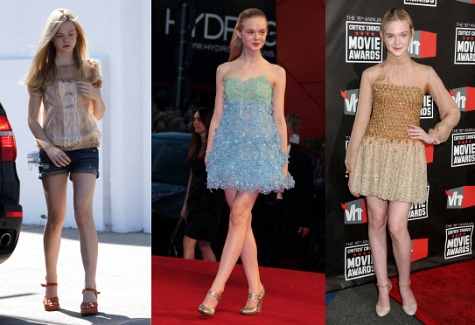 Whether she's on the red carpet or just running errands, Elle always adds a feminine touch to every outfit. Details like intricate beading, lace and ruffles are all game in her book and add to her soft and pretty look. She always makes sure not to go over-the-top by balancing her look by either keeping the rest of the outfit simple or adding a masculine piece or two.
Outfit for Inspiration: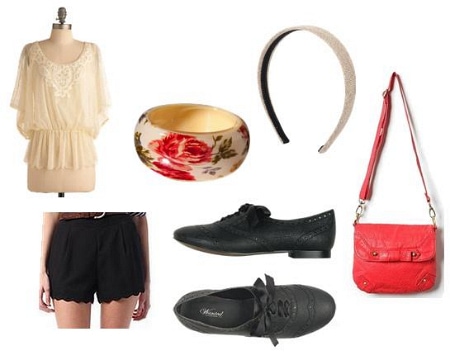 Blouse, Shorts, Bracelet, Headband, Bag, Oxfords
For this look, I wanted to capture Elle's love of feminine pieces in a casual everyday outfit. I chose an elegant cream-colored blouse with lace embroidery and paired it with some delicate scalloped shorts. Some sturdy black oxfords with ribbon detailing give the masculine shoe a softer feel. Accessorize with a basic headband and floral cuff bracelet. Finally, add a pop of color with this pretty coral bag.
Full Skirts & Bows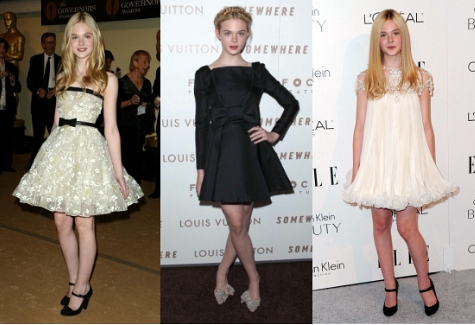 Another trademark of Elle's style is the way she loves to wear pieces that combine full skirts and bows. She wears these voluminous short dresses on the red carpet to create a fun and age-appropriate look. The bow detailing adds a girly touch to her effervescent style. Elle also keeps the look classy by choosing white, black and other neutral-colored frocks.
Outfit for Inspiration: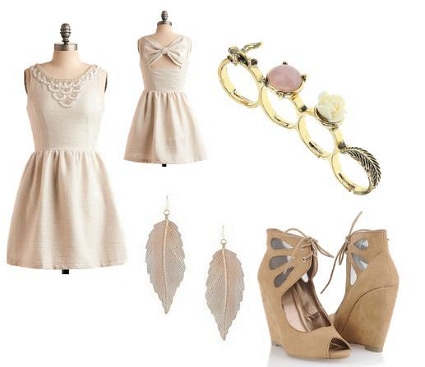 The next time you want to get dressed up, take a cue from our Fresh Fashion Icon and choose an ultra-girly dress with a full skirt. This adorable ModCloth frock even has a bow on the back, so it's the perfect way to truly channel Elle's style. Add some fabulous wedge-heeled shoes, like the ones above, for a super-stylish touch. To finish off this look, add a feminine ring and some matching earrings.
Prep School-Inspired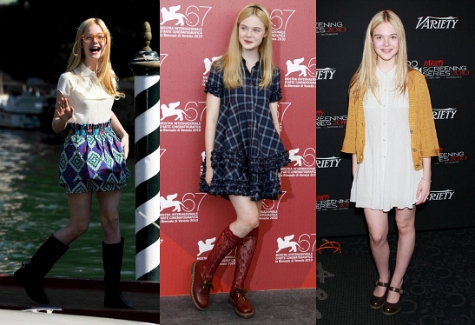 Since she is in fact a school-aged girl, it's only natural that Elle is drawn to school uniform-like pieces. She's often pictured wearing crisp collared shirts, knee-high socks and smart cardigans. Even though we're in college, we can pick up inspiration from Elle's style without it looking costume-y.
Outfit for Inspiration: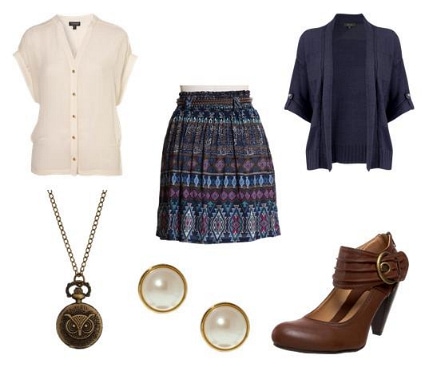 Blouse, Skirt, Cardigan, Necklace, Earrings, Shoes
Capture Elle's schoolgirl look by pairing a colorful skirt with a simple button-up blouse. Add a pretty blue open-front cardigan and some Mary Jane pumps for a casual-yet-preppy look. For jewelry, add a funky necklace, like this owl-adorned piece, and some pretty stud earrings to complete this look.
*All photos from Elle-Fanning.net
What do you think?
Do you like Elle Fanning's style? What do you think of her look? Do you have any suggestions for the next Fresh Fashion Icon? Be sure to leave a comment and let me know your thoughts!