This post may contain affiliate links, which means we may receive a commission if you purchase through our links. Please
read our full disclosure here
.
Personal style changes when you move to a new city… especially London, England. I recently moved to the UK, and it didn't take long for me to act on all of the great fashion inspiration the city has to offer. Follow me through my Fashion Evolution Chronicles, one story at a time.
We all want to feel fabulous. That's why we treat ourselves to manicures, admire our lipstick prints on our coffee cups, and take bubble baths with Sinatra on in the background. While those kinds of things are perfect treats every now and then, what should we do to feel fabulous the other 29 days of the month?
A quick answer would be to add texture to our wardrobes. A more precise (and biased) answer would to be to add faux fur to our wardrobes. Faux fur is a huge trend this year. Throwing on a faux fur coat or scarf before leaving the house is by far the easiest way to dress up an outfit. You look luxe and fabulous, but you're still dressed appropriately for nearly any occasion.
Don't feel like faux fur is your style? It does often get a bad rap as cheap or cheesy – but it is up to us fashionistas to change that. Faux fur is a cozy accessory that should be welcomed with open arms – it's animal-friendly and super chic. It even has the potential to be an every-day accessory.
So, how do you style faux fur for the upcoming season? We've got some versatile ideas for the holidays. Scroll down to see some of our looks, and think about how you would style these pieces.
Look 1: Faux Fur Sleeve Dress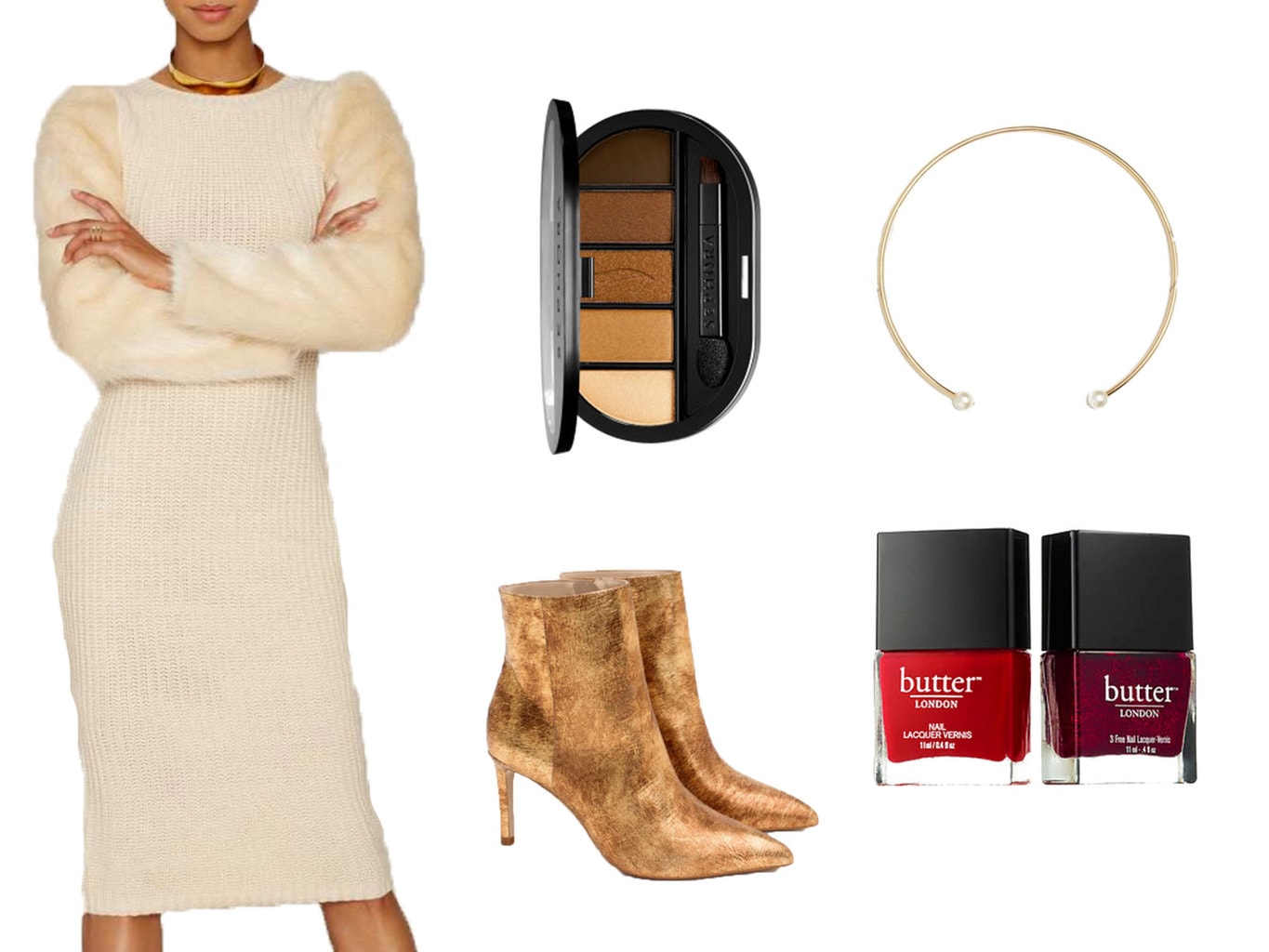 Products: Dress (similar in black), Boots, Choker, Nail Polish, Eyeshadow
A fur-sleeved sweater dress is a unique take on the faux fur trend. It's an unexpected twist on a traditional piece and makes a big statement. Keep the rest of your outfit simple with monochromatic accessories – gold boots and a simple gold choker will be more than enough to complete the look. Add a golden smokey eye or a pop of color on your nails to dress up the outfit even more.
Look 2: Faux Fur Coat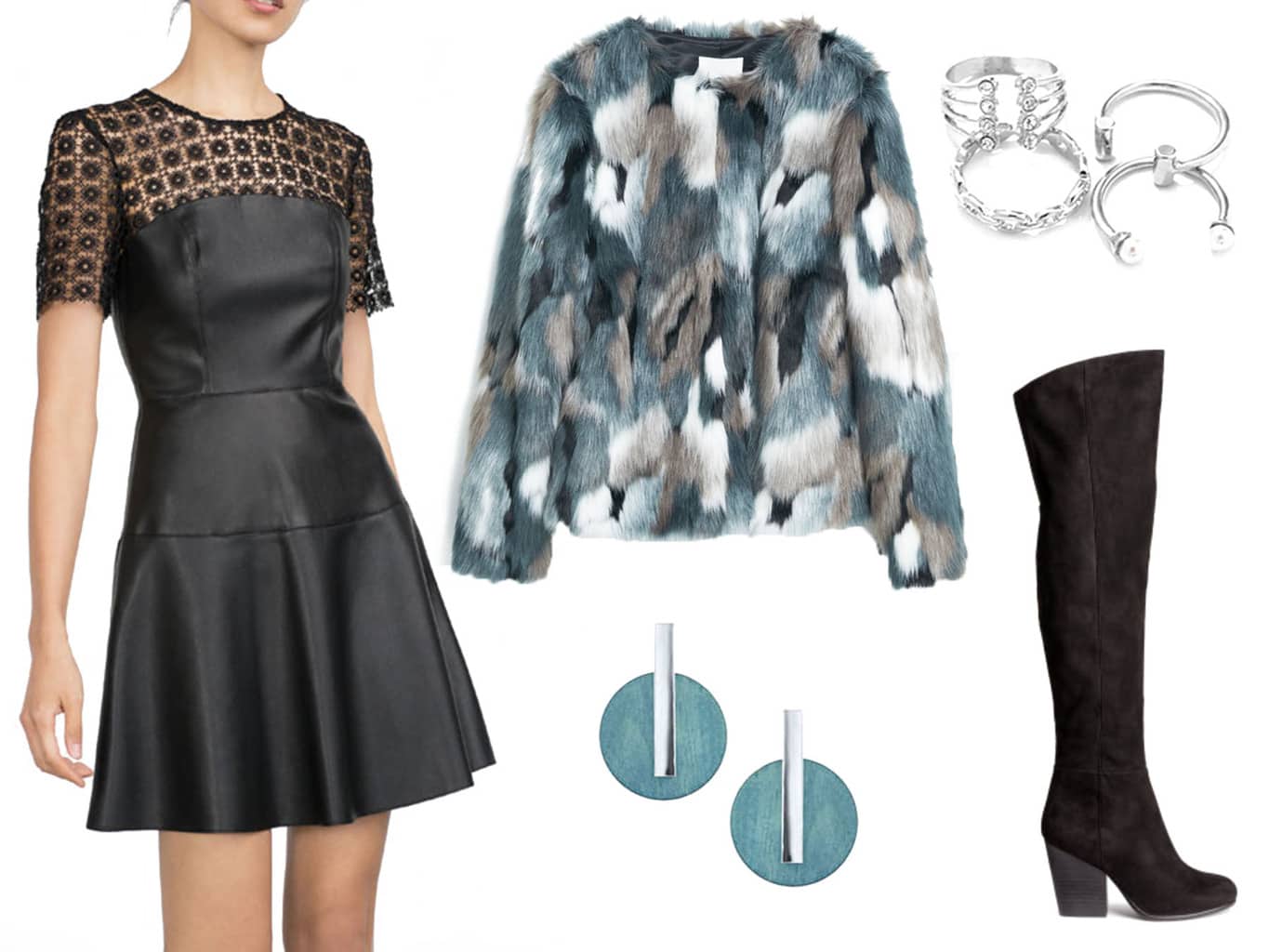 Products: Coat, Earrings, Dress, Boots, Rings
Feeling fierce? Wear your fur in your favorite color! This mixed teal faux fur coat from Mango is a huge statement piece – you'll be getting compliments everywhere you go.
Tie in the color with some simple matching (not "matchy-matchy") jewelry, and dilute the hues by accessorizing with even more metallics. This earring/ring combo is a perfect example. Wear your LBD and coat with tights and ballet flats for a more classic look, or go all out with some chic over-the-knee boots.
Look 3: Faux Fur Scarf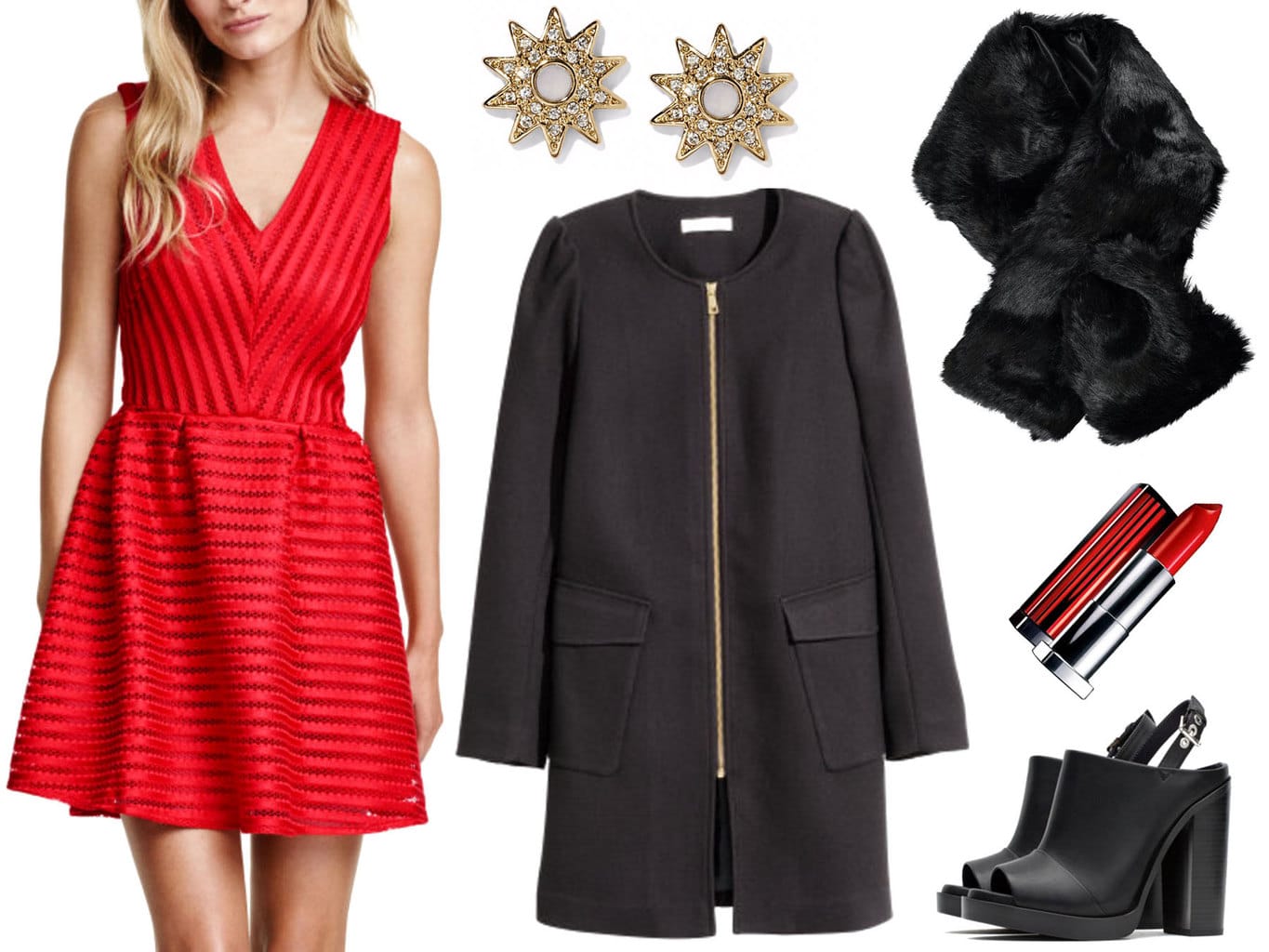 Products: Collar Scarf, Dress, Coat, Heels, Lipstick, Earrings
If you're not too sure about the faux fur trend, try a removable accessory. This faux fur wrap scarf is perfect for chilly days, and looks fabulous with a collarless coat. Choose a simple holiday dress to peek out from behind the coat to keep some visual interest.
Since the scarf will draw attention to your face and hair, make sure your favorite lip color is applied perfectly and your earrings complement your dress. Simple sunburst earrings like these go great with any holiday outfit, but are also versatile to wear all year long.
Look 4: Faux Fur Vest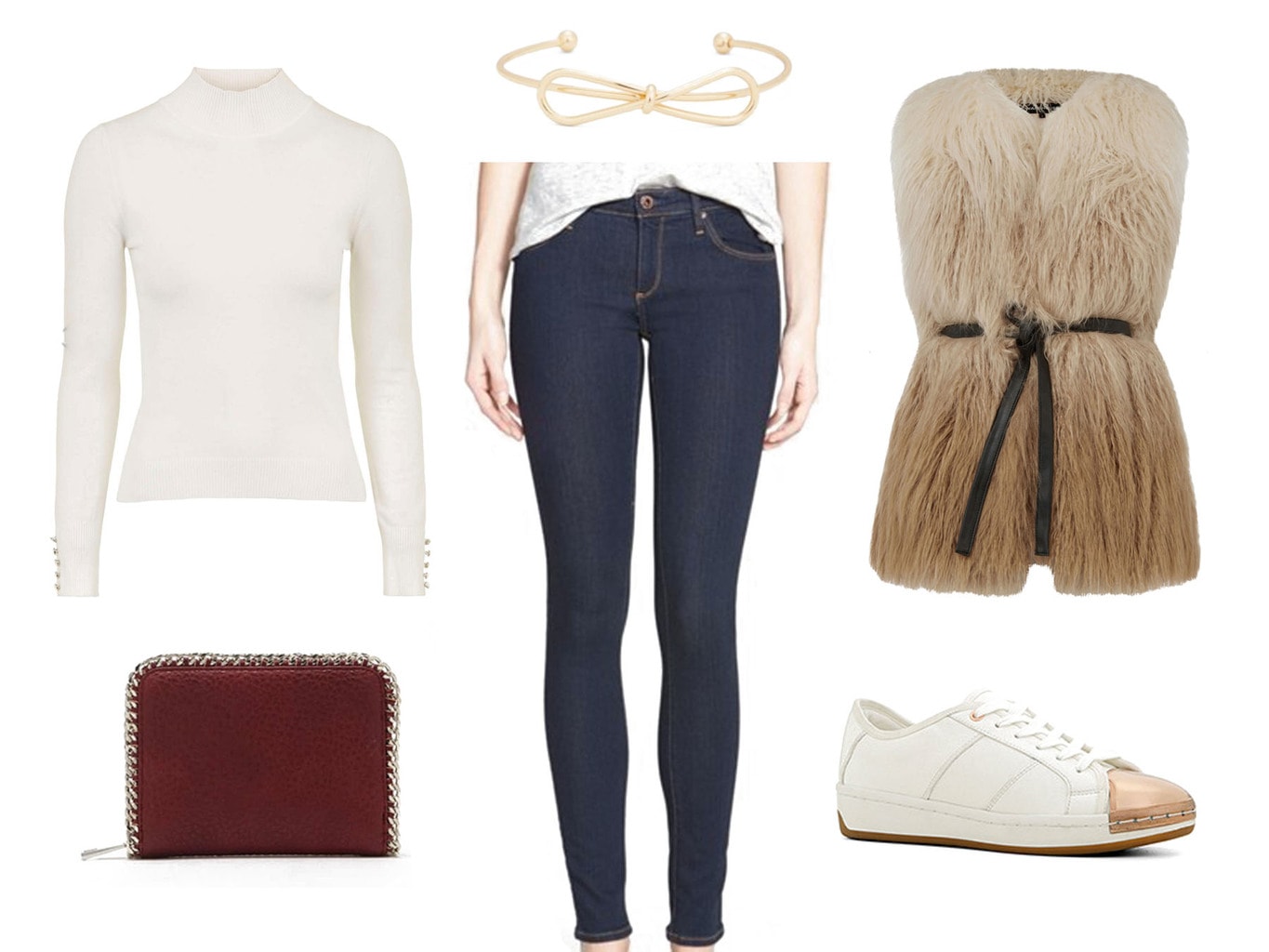 Products: Vest, Clutch, Turtleneck, Jeans, Sneakers, Cuff
If you're looking to start off wearing your faux fur in a casual way, there's no easier outfit formula than the faux fur vest, skinny jeans, and sneakers combo. This vest is a little pricey but a total investment – if you love this trend, you'll wear this piece all the time.
Keep the outfit chic with a sleek turtleneck and simple pouch clutch. You don't necessarily need any accessories for a casual outfit like this, because the vest will do the talking. (But a gold bangle never hurt anyone!)
What do you think?
Will you pick up the faux fur trend? How would you style these pieces? Make sure to leave comments and questions below. We love to hear from you!