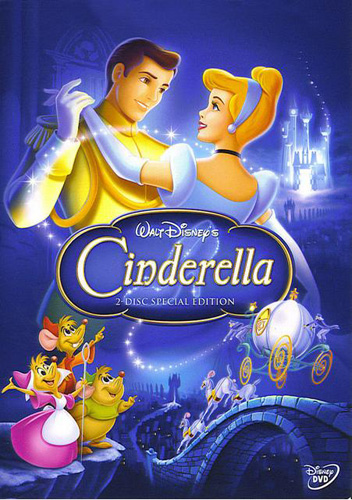 When most people think "Classic Disney Princess," Cinderella is one of the first that comes to mind. She has a perfect fairytale story, a gorgeous blue dress, and even her own castle in Walt Disney World. So, of course, this series would not be complete without a post about the ever so beautiful Cinderella.
Like the previous articles of this series, the purpose of this article is to use a childhood idol as inspiration for outfits that you can actually pull off as a college student. All it takes is a little creativity!
Once again, thank you all for your support! I've had a blast writing posts about fashion inspired by Walt Disney's Snow White, Walt Disney's Sleeping Beauty, and Walt Disney's The Little Mermaid, and I'm excited to continue the series with the rest of the Princesses, as well as other Disney characters and villains. Now, read on for Cinderella!
About Cinderella: Plot Overview
The story begins with Cinderella's life as a servant: once a normal child and the apple of her father's eye, Cinderella's life was turned upside down when her father unexpectedly died. Upon her father's death, Cinderella's stepmother, Lady Tremaine, and her two evil stepsisters, Drizella and Anastasia, forced her to become their servant.
One day, the King of the land invites every unmarried woman to a ball because he is determined to find a suitable wife for the Prince. Lady Tremaine, thinking her terms would make it impossible, tells Cinderella that she can go to the ball if she finishes all of her chores and finds a decent ballgown to wear.  Her friends, the mice and birds, help her to finish her chores and make a dress. When she puts on the dress in front of her family, her wicked stepsisters are so jealous of her beauty that they tear it apart. In tears, Cinderella runs to the garden while her family leaves for the ball without her.
All hope is not lost, however: in the garden, Cinderella meets her magical fairy godmother, who transforms her torn dress into a beautiful ballgown, a pumpkin into a carriage, and the mice into coachmen. She also gives Cinderella a gorgeous pair of glass slippers. She tells Cinderella she can go to the ball, but warns her that the spell will expire at the stroke of midnight.
At the ball, Cinderella and the Prince fall in love with each other and dance the night away. So consumed by the Prince, Cinderella forgets to check the time, and at the stroke of midnight, she realizes her mistake and runs away as quickly as she can. All that is left of her is a single glass slipper, which the Prince finds and keeps.
Determined to find his true love, the Prince goes to every household and asks each girl to try on the slipper. After narrowly escaping being locked in the attic by Lady Tremaine, Cinderella tries on the slipper and it is, of course, a perfect fit. She marries the Prince and they, of course, live happily ever after.
1. Cinderella the Servant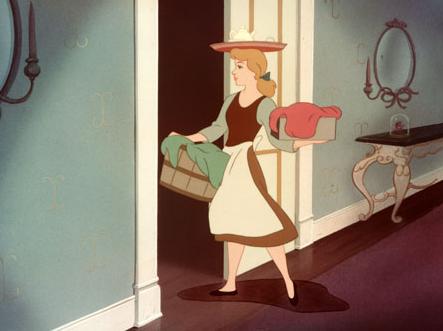 As a servant, Cinderella was not allowed to wear anything as fancy and elaborate as the clothes her stepsisters wore; her outfits were plain and simple.
The outfit I made to channel her look is comfy and casual, but is a bit beyond your average tee and shorts. The colors tone down the outfit so that it isn't flashy, but the feminine details draw just the right amount of attention. Wearing this outfit doesn't require you to be a servant, but it looks so comfortable that you probably wouldn't mind getting on your feet and doing a few chores in it!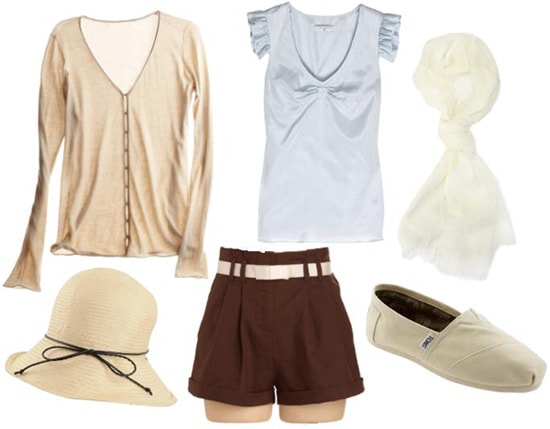 Cardigan- Calypso,  Hat- Forever 21,  Shirt- K Karl Lagerfeld,  Shorts- Modcloth,  Scarf- Lori's Shoes,  Shoes- Tom's
2. Before the Transformation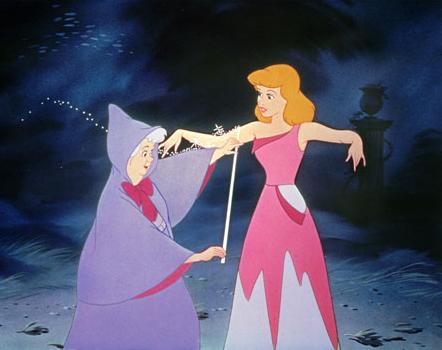 When Cinderella ran to the garden, she was very upset that her stepsisters had ruined her beautiful dress, although in reality, she still looked great on screen. I decided to recreate this scene through an outfit with a one-shouldered pink dress, and floral accessories inspired by the garden.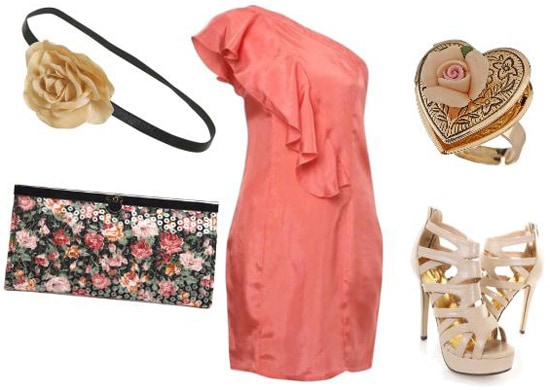 Rose Headband- Top Shop,  Sequin Clutch- Fred Flare,  Dress- Miss Selfridge,  Ring- Top Shop, Shoes- AMI Clubwear
3. Casual Cinderella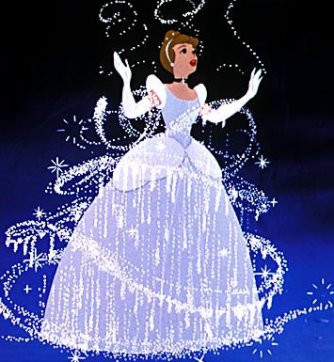 Cinderella meets the Prince while wearing an extravagant blue dress, but you don't need an invitation to a royal ball to be inspired by it.
The outfit below includes a more casual blue dress that is simple, although the intricate details and cream colored accessories make it feminine and elegant as well. The mouse ring gives a nod to Cinderella's loyal mouse friends, and the watch locket necklace is to make sure you remember when the clock strikes midnight.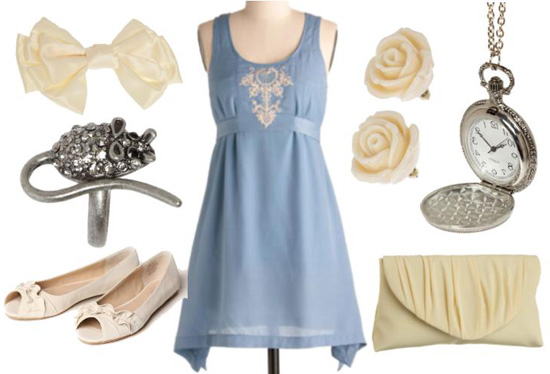 Hair Bow- Modcloth,  Mouse Ring- Modcloth, Shoes- Shop Ruche,  Dress- Modcloth, Earrings- Miss Selfridge,  Necklace- Modcloth, Clutch-Endless
4. Cinderella at the Ball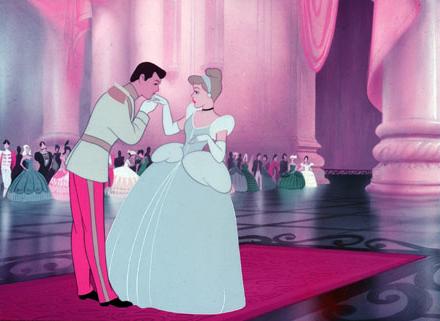 If you do have to get dressed up for a formal occasion, Cinderella can be a great source of inspiration.
For the outfit below, I paired a gorgeous blue dress with significant Cinderella accessories. In today's society, clear heels are often thought of as not-so-classy (although Prada has done some great lucite heels that are, unfortunately, way out of my budget) so I decided not to include the iconic glass slipper. To make up for that, though, I did include lucite jewelry and a clutch with a lucite handle in reference to it.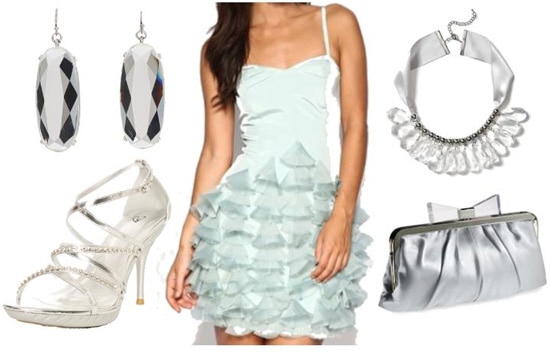 Earrings- Jessica Simpson,  Shoes- Windsor,  Dress- ASOS, Necklace- Piperlime, Clutch- Speigel
What do you think?
For more Cinderella outfit ideas, be sure to see our guide to outfits inspired by our favorite live-action Disney films.
Does Cinderella inspire you? Which Cinderella look is your favorite? What other Disney-inspired looks would you like to see in this series? Be sure to leave your thoughts in a comment!