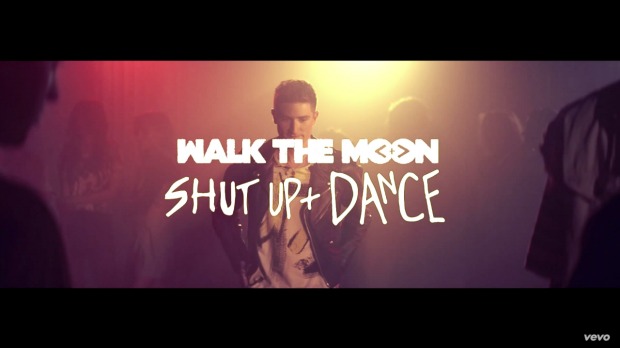 Originally from Cincinnati, Walk The Moon is steadily climbing up the pop charts every day, launched into celebrity status by their hit single, "Shut Up and Dance."
If you haven't already heard this catchy, '80s-esque rock tune, I highly recommend checking it out (and their entire album!) along with the music video:
WALK THE MOON - Shut Up and Dance (Official Video)
Below are three looks based on the music video that I think totally embody the feeling of the retro dance-off!
1. A Backless Dress and Some Beat-Up Sneaks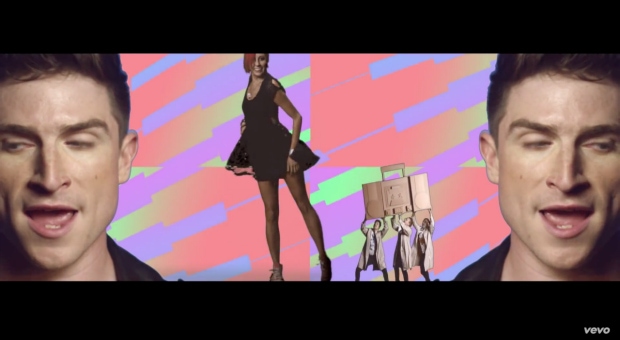 The first time I heard this song on the radio, this classic and memorable line definitely brought to mind an image of the lead singer's dream girl. In the video, we see her wearing a backless dress, and in some shots, it's evident that her sneaks are indeed "beat-up."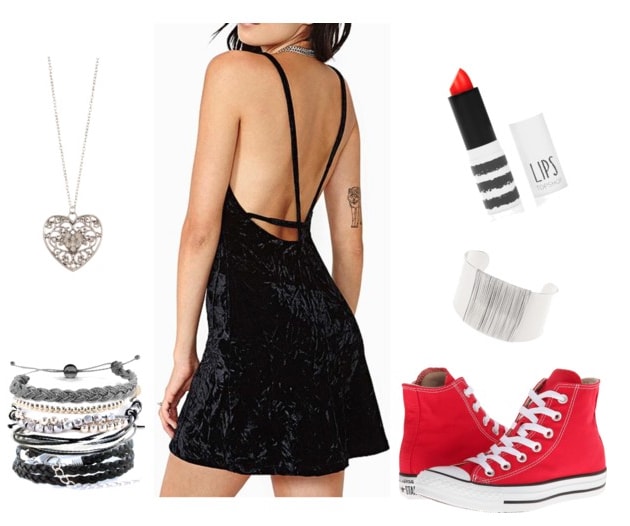 Product Information: Dress // Sneakers // Bracelets // Necklace // Lipstick
This look is screaming to be worn on a night out or to a summer party. Start with the quintessential backless dress and red high-tops (beat-up quality optional). Add red lipstick as both an alternative to dying your hair red and a fun additional pop of color to balance out your fiery kicks.
You could accessorize the way Nicholas's love interest did in the video, with a heart pendant, a stack of bangles, and a silver arm cuff, or you could simply make this look your own!
2. This Woman Is My Destiny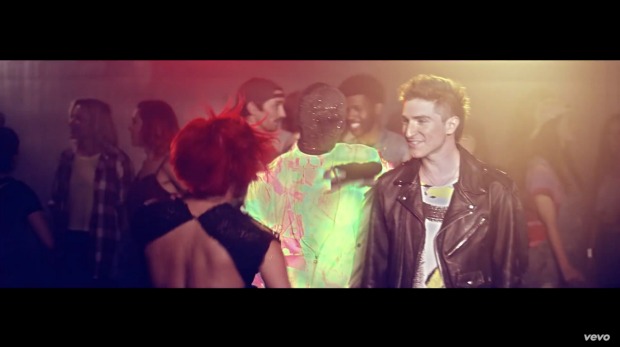 The lead singer, Nicholas Petricca, sports an outfit in the video that's entirely wearable in an everyday context. A leather jacket and the watercolor-like neon pops of color on his shirt take center stage.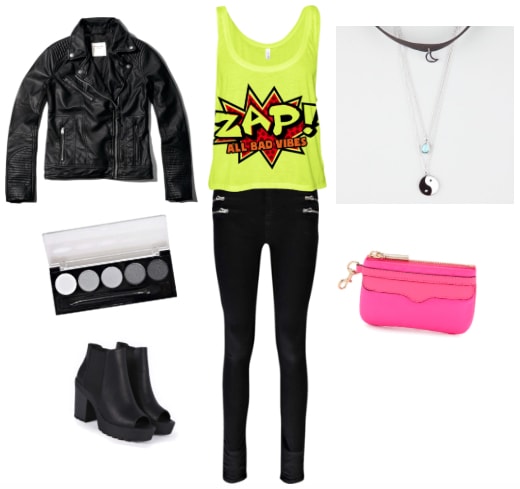 Product information: Vegan Leather Jacket // Tank Top // Skinny Jeans // Booties // Necklaces // Wristlet // Eye Shadow Palette
Start with basic black skinny jeans and add a brightly-colored top. Here, I went with a neon tank in the same color family as Nicholas's highlighter-like tee. To add a bit of a punky edge, slip into a pair of black booties and a (vegan!) leather jacket.
Put on a few necklaces that make you smile and carry your ID in this cute little wristlet in a contrasting neon shade. Finish off the look with a classic smokey eye, and you're good to go.
3. Victims of the Night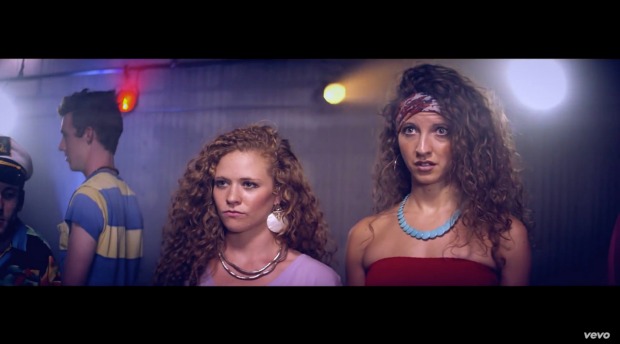 This last look is all about going retro. My favorite looks from the video were actually the ones worn by the extras! The 1980s had such an iconic style, and the combination of this tune with its big electric guitar solo and the outfits the background actors rocked throughout the video totally got the vibe across.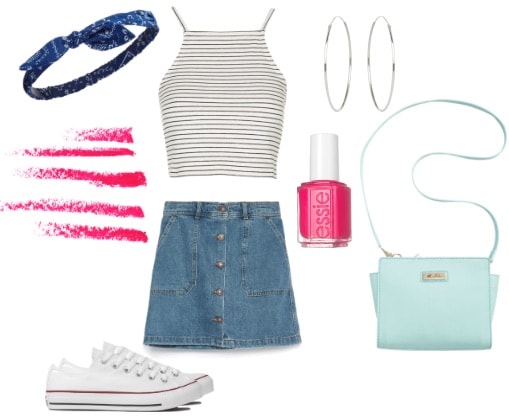 Product information: Tank Top // Skirt // Headwrap // Crossbody Bag // Sneakers // Earrings // Lipstick // Nail Polish
This outfit utilizes a whole slew of born-again trends! Start with a button-front denim mini skirt, one of spring's hottest items, and pop on a striped crop top. Leave your hair up or down (I'm loving the wild curls both these extras were sporting for the vid) and either slide on a cute bandana-inspired headwrap or go old-school and tie on a plain ol' bandana.
Keep up with both modern and past trends in a pair of white low-top sneakers and silver hoop earrings while carrying your essentials (i.e. this gorgeous bright berry lipstick and matching nail polish) in a crossbody bag that delivers a quick punch of color.
Tell us what you think!
What are your thoughts on this music video? Are you a fan of Walk The Moon? Have you listened to any of their other albums? Which look is your favorite? Do you have a favorite fashion/music era, like the '80s? Let me know your thoughts by dropping a comment below!