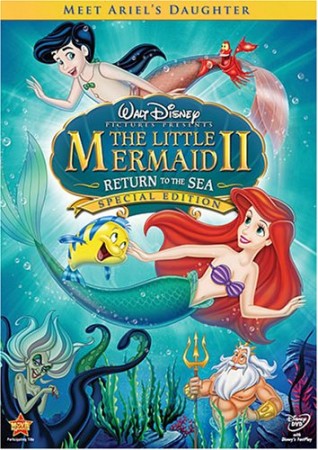 After the overwhelming responses to our posts on fashion inspired by The Little Mermaid (and Little Mermaid Fashion, Part 2), we're back with looks inspired by the 2000 sequel to the original film, titled The Little Mermaid II: Return to the Sea.
This time around, the film follows the adventures of Ariel's daughter Melody, who, much like her mother, tends to cause a bit of trouble every once in a while. However, unlike Ariel, Melody isn't satisfied with being human and would much rather spend her life in the ocean…as a mermaid. This is a bit of a problem for her, though, seeing as how her parents forbade her from swimming in the sea to protect her from the evil Morgana, Ursula's sister.
Even if you haven't seen the film, Melody's adorable mermaid look is actually a fab source of fashion inspiration! Combining nautical motifs with a girly appeal, Melody's outfits can easily be turned into wearable everyday outfits. Below, I've created several outfits inspired by her character for you to use as ideas for your own wardrobe. Scroll down to view them all!
Return to the Sea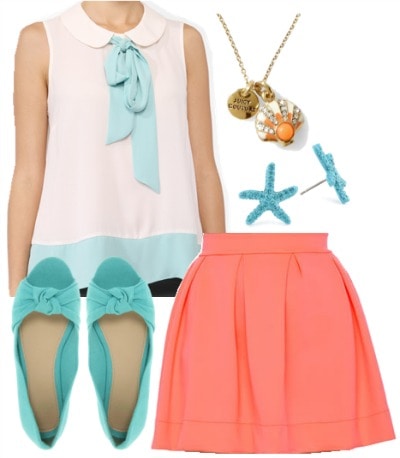 Top, Skirt, Flats, Necklace, Earrings
Whether you're heading off to the seaside or just to class, this nautical-inspired look is fresh, fun, and just a little bit girly. Wear a pretty cream and mint colored bouse tucked into a neon coral mini skirt, and add a pair of peep-toe ballet flats. For accessories, put on a seashell charm necklace like Melody's and a pair of fun starfish earrings.
The Princess to Be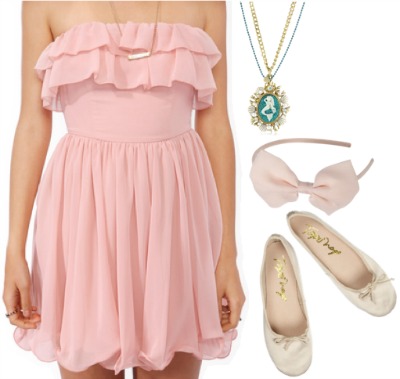 Dress, Flats, Headband, Necklace
While Melody would much rather be swimming in the ocean than attending a royal ball, she does look absolutely adorable in a pink dress! Create a super girly look like hers with a pink ruffled strapless dress and some cream-colored ballet flats. Wear a bow headband for a sweet look, and a mermaid pendant necklace to give the look a seafaring flair.
Mermaid at Heart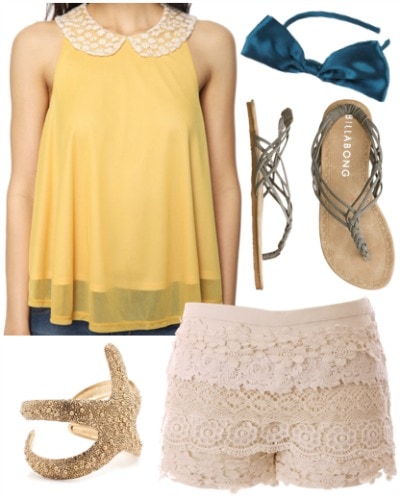 Top, Shorts, Sandals, Headband, Bracelet
Even if you don't want to trade your legs for a set of fins, you can rock this relaxed, beachy, mermaid-inspired look with ease. Just pair a bright blouse with trendy crochet shorts and woven sandals. For a fun accent, wear a starfish cuff bracelet, a perfect accessory for any mermaid-in-training!
Coral Reef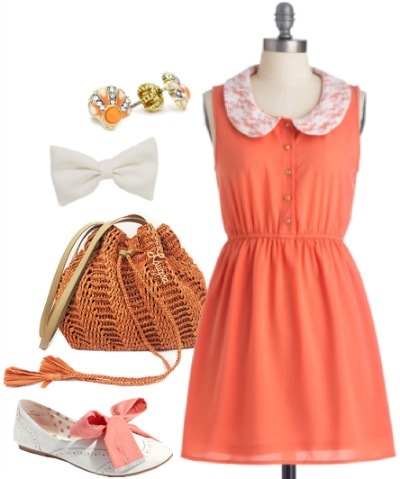 Dress, Oxfords, Bag, Hair Bow, Earrings
This look, inspired by Melody's signature colors (white and coral), is perfect for a day strolling the boardwalk. Wear a bright coral dress with a pair of bow-accented oxford flats. Grab a straw bag to store those pretty seashells you found on the beach, and wear a cute hair bow and some seashell earrings to finish off the look.
High-Low Tides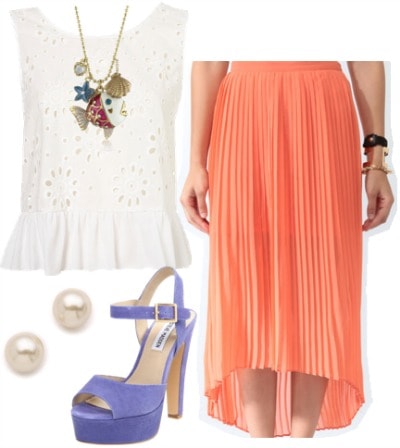 Top, Skirt, Sandals, Necklace, Earrings
If you have a trendy sense of style, this is the mermaid-inspired look for you. Wear an eyelet peplum top over a fashion-forward high-low pleated skirt. A pair of colored platform sandals dress the look up, while the fun ocean-themed necklace and pearl earrings keep things both nautical and nice.
What do you think?
Have you seen the sequel to The Little Mermaid? Are you inspired by Melody's look? Would you wear any of the outfits above? Which one is your favorite? Would you like to see more posts like this in the future? Let me know in the comments!