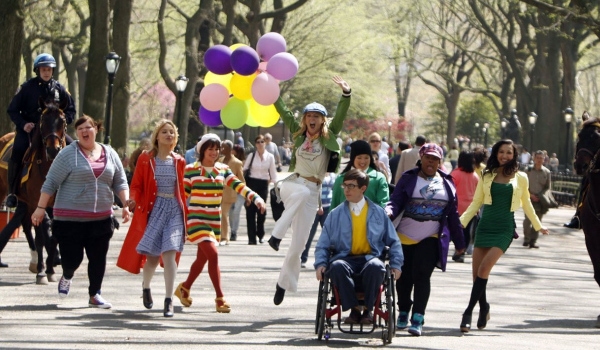 Hey all you Gleeks! With the season premiere of Glee just around the corner (9/20 at 8 eastern/7 central), we thought that this would be the perfect time to show some love for one of the most fashionable casts on TV.
We've done posts on Glee before – mid-way through season one, we covered how to dress like Rachel, Quinn and Emma, then broke down Mercedes, Tina and Kurt's style-savvy. However, since then, three more super-stylish characters have emerged! Santana and Brittany ditched their Cheerios uniforms and became bona fide fashionistas at McKinley, while Lauren Zizes joined the glee club and brought along her fierce sense of style.
If you're as envious of their outfits as we are, you're in luck, because we're going to tell you how to dress like Santana, Brittany and Lauren. Keep on reading to learn all about their unique fashion sense, then check out some outfits inspired by these three stylish ladies:
Santana Lopez
Santana has a pretty tough exterior. She's a bit of a bad girl, kind of aggressive and only seems to have a soft spot for her BFF, Brittany. Her style definitely matches her personality — a little edgy, a bit promiscuous and a whole lot of fabulous. After peeking at some promo pics from the upcoming season, though, it seems like Santana and Brittany will once again be donning Cheerios uniforms. Here's to hoping it won't be for too long!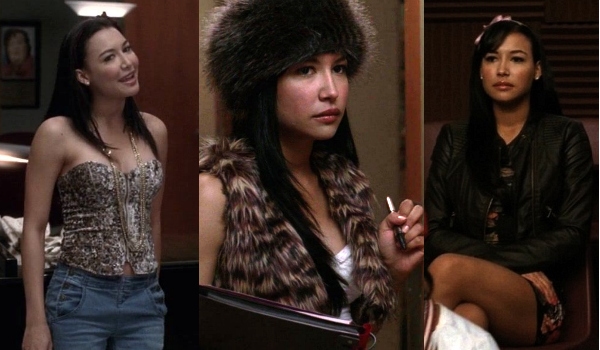 Santana's Style:
Tough meets girly. Santana manages to maintain that perfect balance between edgy and feminine. She wears tougher items like leather jackets and rugged boots, then pairs them with florals and delicate jewelry. For a truly Santana-inspired look, try wearing dark colors then add a dainty ribbon to your hair like Santana in the photo above!
A hint of sex appeal. Santana loves to show off her, ahem, assets by wearing items that are super-sultry. She wears body-con dresses and lots of lingerie-esque pieces — like bustier tops — and then makes them semi-appropriate for school by covering up with a jacket or pairing the bustier top with some casual jeans. Though her looks might be too risque for your college classes, they would definitely work for a night out.
Luxe outerwear. Like we mentioned, Santana likes to cover up with jackets — especially ones made out of leather. She owns a variety leather jackets in different styles and colors, so channel her look by adding a unique jacket (or two!) to your wardrobe. Santana also knows how to work fur into her wardrobe, so look for vests, hats and jackets lined with faux fur.
Get Her Look:
Outfit #1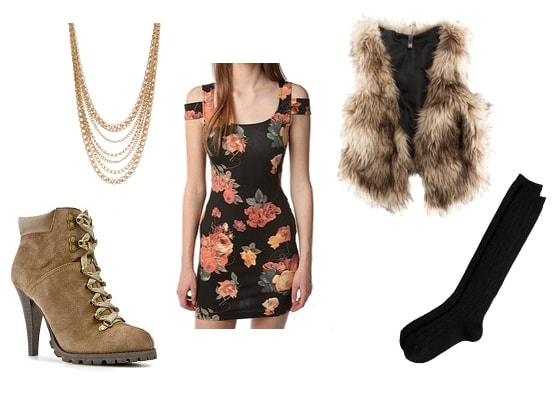 Product Info: Dress- Urban Outfitters, Necklace- Forever 21, Vest- H&M, Booties- DSW, Socks- Uniqlo
Outfit #2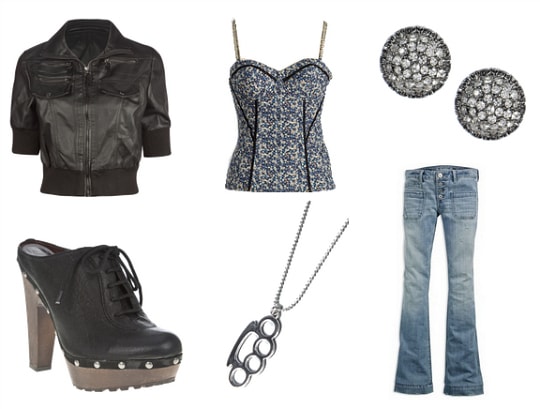 Product Info: Jacket- Tilly's, Top- Lord & Taylor, Earrings- Betsey Johnson, Shoes- Far Fetch, Necklace- Karmaloop, Jeans- American Eagle Outfitters
Brittany S. Pierce
Brittany started out as a minor character on the show and quickly transformed into a fan favorite! Between her hilarious one-liners, goodhearted nature and awesome dance moves, it's hard not to see why so many people love her. While Brittany may not be the sharpest tool in the shed, her lovable personality and awesome sense of style more than make up for it.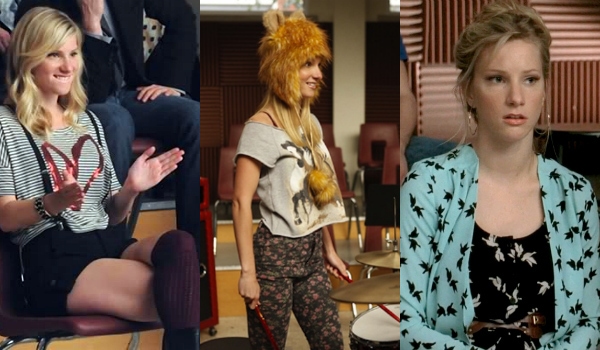 Brittany's Style:
Tons of trends. The Sartorialist named Brittany the "Trendiest Teen in America" and rightfully so! Homegirl knows how wear trends like a pro. She seems to have her finger on the proverbial fashion pulse and is often seen wearing items months before they become huge trends. So, in order to dress like Brittany, be sure to read up on the latest fall trends!
She has that quirky-cool thing down pat. Ms. Pierce also knows how to throw tons of eclectic items together and turn them into an super-stylish outfit. Who else can wear a furry trapper hat, floral jeans and legwarmers on her arms and make them look ah-may-zing?! She tosses all those preconceived fashion rules out the window and wears what she wants, however she wants to.
Wild Kingdom. Britt must be a huge animal lover, because she is constantly wearing clothes and accessories inspired by her favorite creatures. From butterfly-print jumpsuits and bear-inspired hats to cropped tees with horses and owls, she rocks them all for a unique look inspired by nature.
Get Her Look:
Outfit #1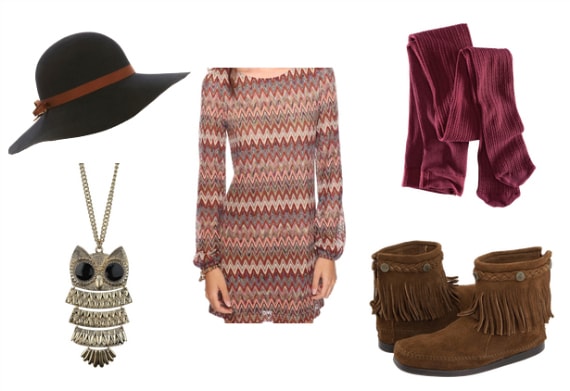 Product Info: Dress- Forever 21, Hat- Miss Selfridge, Tights- H&M, Necklace- Miss Selfridge, Moccasins- Zappos
Outfit #2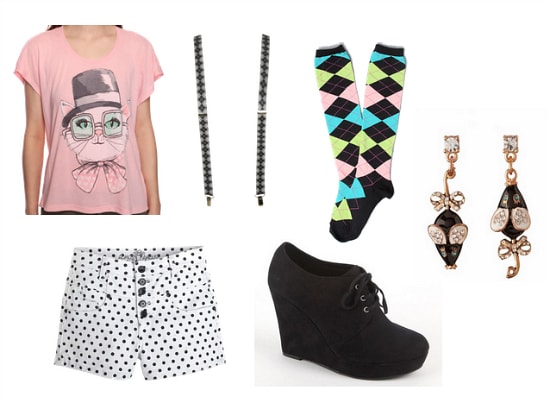 Product Info: Tee- Forever 21, Suspenders- Wet Seal, Shorts- Delia's, Socks- Karmaloop, Shoes- PacSun, Earrings- Betsey Johnson
Lauren Zizes
Lauren was a recurring character until she joined New Directions last season and threw the rest of the glee clubbers for a loop. She has a bold and brash attitude and has been known to butt heads other students — especially Santana! Zizes definitely knows what she wants in life and won't let anyone else tell her otherwise. Also, she made McKinley's resident bad boy, Puck, fall head over heels for her. Get it, girl!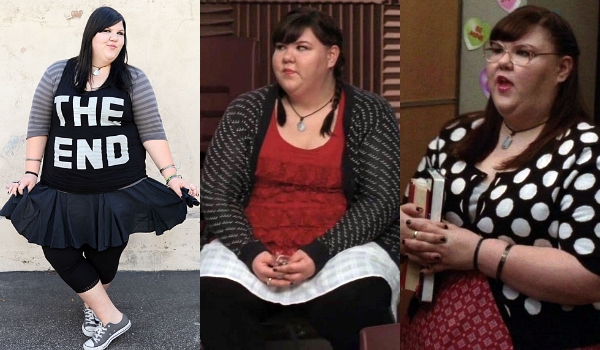 Lauren's Style:
Bold graphic tees. Lauren matches her in-your-face attitude with some in-your-face graphic tees. She usually dons tees with bold and unique messages. To get her look, find a ready-made message tee in stores or DIY your own one-of-a-kind shirt.
Lots of layers. Zizes should be known as the Queen of Layering — she's amazing at it! With the cold winter months coming up, take a cue from her style book and layer your favorite skirts and tops with leggings, thermals and cardigans.
Mix-and-Match. Lauren is the master at mixing different patterns, colors and textures into one stylish outfit. Who says you can't wear multiple brights or mix prints? Her sense of style is fearless, just like her personality.
Get Her Look:
Outfit #1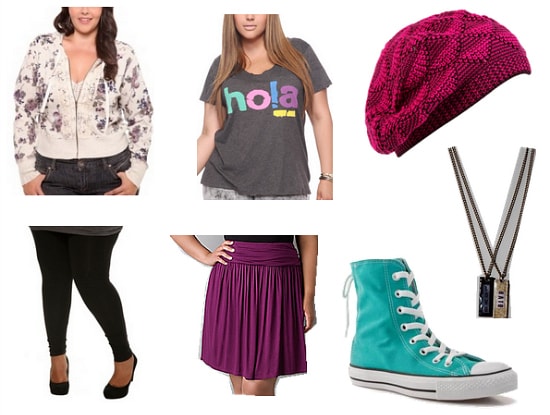 Product Info: Hoodie- Torrid, Tee- Forever 21+, Hat- Forever 21, Leggings- Torrid, Skirt- Lane Bryant, Sneakers- DSW, Necklace- Urban Outfitters
Outfit #2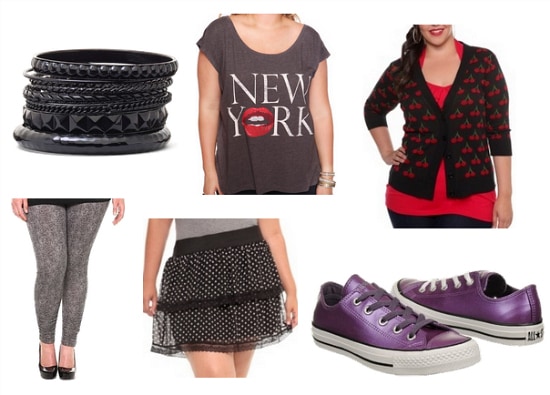 Product Info: Bracelets- JCPenney, Tee- Forever 21+, Cardigan- Torrid, Leggings- Torrid, Skirt- Torrid, Sneakers- Converse
What do you think?
Do you watch Glee? Which girl's style is your favorite? Would you wear any of these outfits? Remember to leave a comment below and let me know your thoughts!