(For more TV fashion inspiration, check out my previous posts on HBO's Big Little Lies, Freeform's Pretty Little Liars: The Perfectionists and Netflix's The Society.)
Derry Girls is a British television sitcom set in Derry, Northern Ireland in the 1990s.
Written and produced by Lisa McGee, Derry Girls tells the story of Erin Quinn (Saoirse-Monica Jackson) and her friends Michelle (Jamie Lee O'Donnell), Clare (Nicola Coughlan), James (Dylan Llewellyn) and her cousin Orla (Louisa Harland) as they navigate teenage life during the Northern Irish Troubles, a time of sectarian conflict.
The premise of this hilariously quote-worthy show is simple. James (who the girls perpetually refer to as 'the wee English fella') moves to Derry from London with his mother following her divorce.
However, because James's nationality poses a threat to his safety, he is sent to the local all-girls Catholic school, Our Lady Immaculate College, where he becomes the butt of many, many affectionate insults (particularly from his cousin, Michelle).
Derry Girls has received critical acclaim, with season 1 holding a rating of 100% on Rotten Tomatoes, based on 21 professional reviews. Also, the show has been picked up by Netflix and is now being broadcast to a worldwide audience, with season 2 having just debuted on August 2nd.
Though set in a troubled time in Northern Irish history, this brilliant comedy manages to depict a lighter side of life during the Troubles, without diminishing the danger faced by everyday citizens of the walled city. So, if Derry Girls isn't on you watch-list yet, catch yourself on and get watching! You won't regret it.
Derry Girls Fashion Inspiration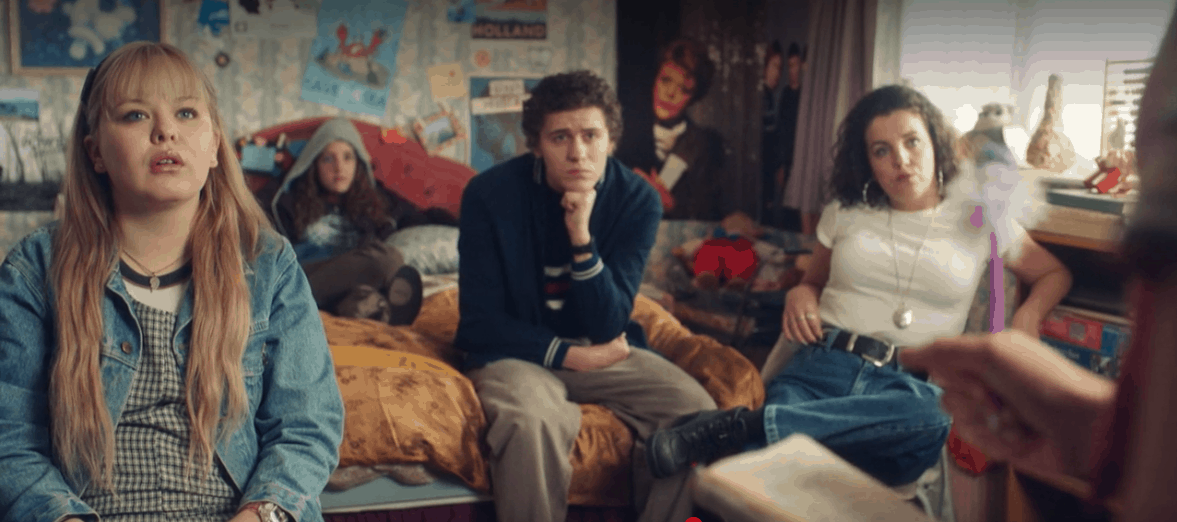 Ah, the '90s nostalgia. Due to the decade it's set in, Derry Girls is chock-full of '90s style cues, with double denim and chokers being among the predominant attire of the time.
Though of course the show has an overarching look and color palette, the characters nonetheless have their own very distinctive fashion aesthetics. These varying styles set each Derry Girl apart from the other, just as their larger-than-life personalities do.
Erin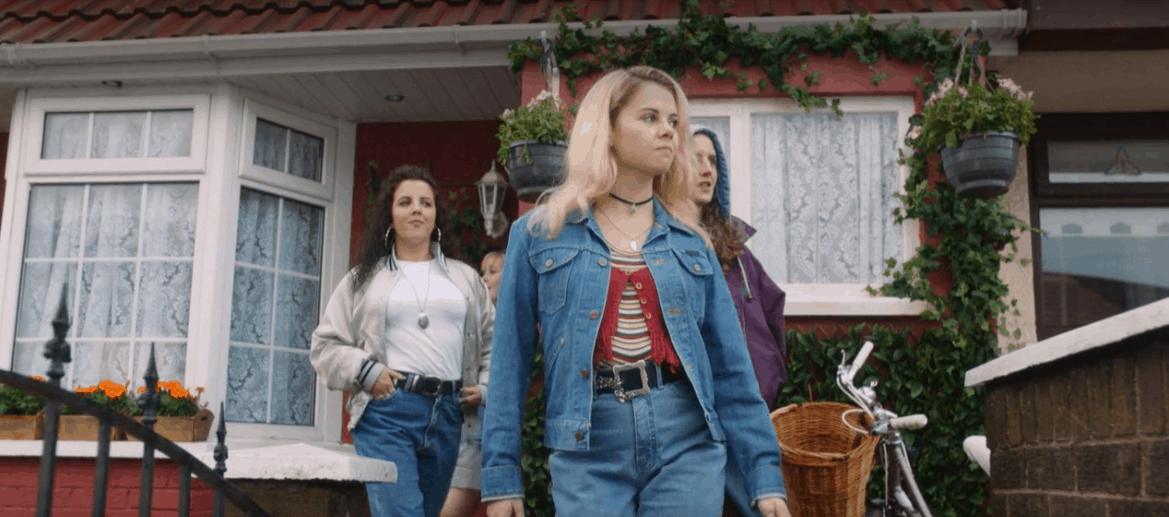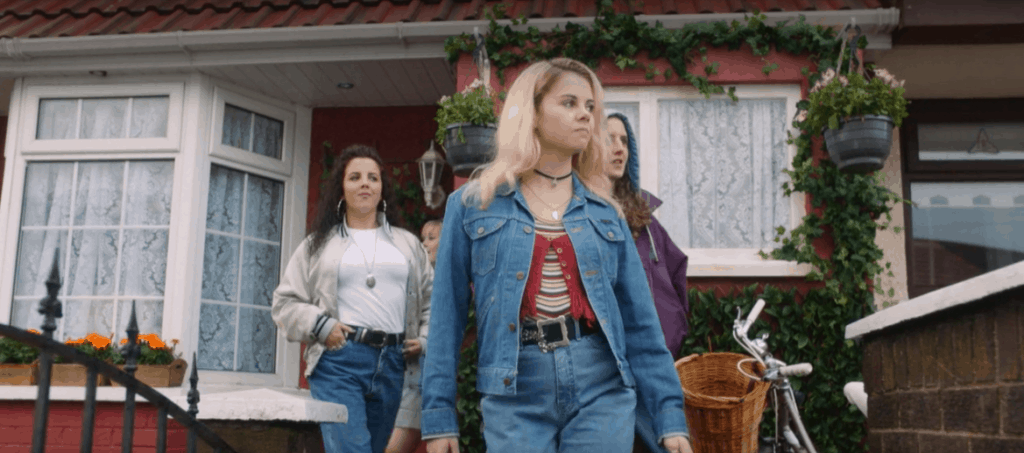 Erin Quinn is the quintessential overdramatic teenager, with the funniest facial expressions and reactions around. (Saoirse-Monica is an artist!)
Erin is strong-willed, independent, and ambitious, with an undeniable talent for writing and a desire to speak up on social issues.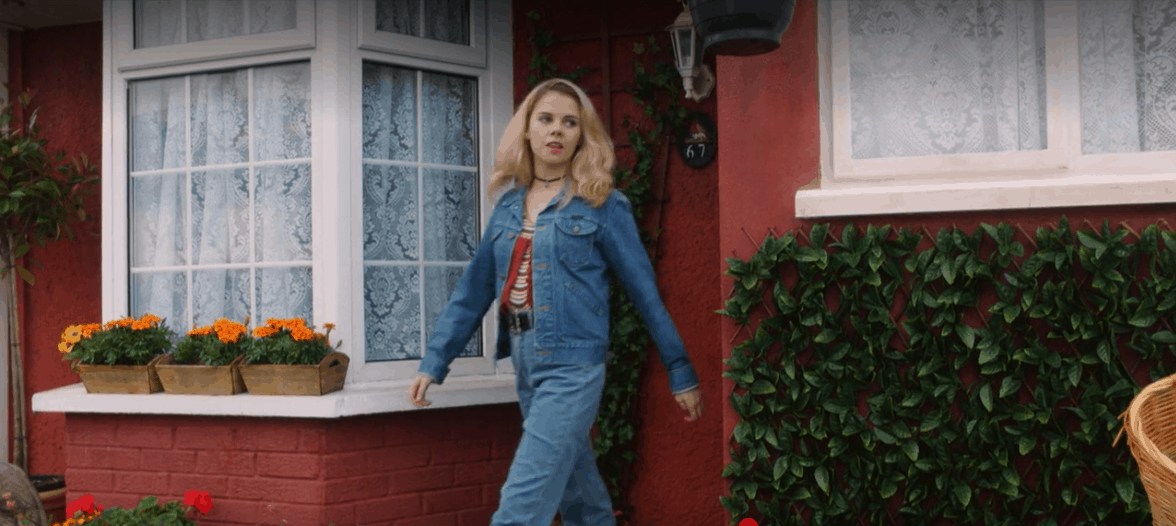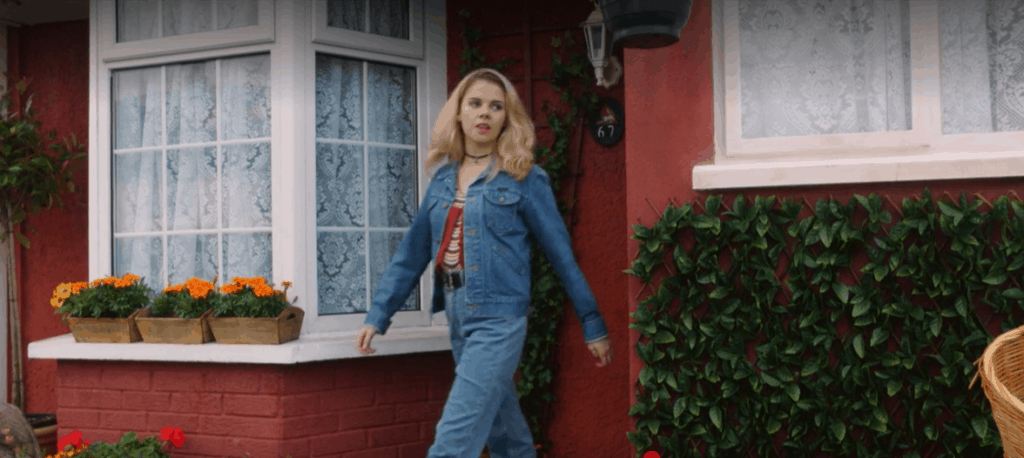 Erin's role as the show's protagonist is reflected in her clothing: she is the typical '90s teenager, decked out in the major trends of her time. She also has a signature color: red, which she wears often. This is meant to represent her headstrong nature.
They don't have people from Derry on Bay Watch; we're just too pasty

Erin – Derry Girls
Erin's Look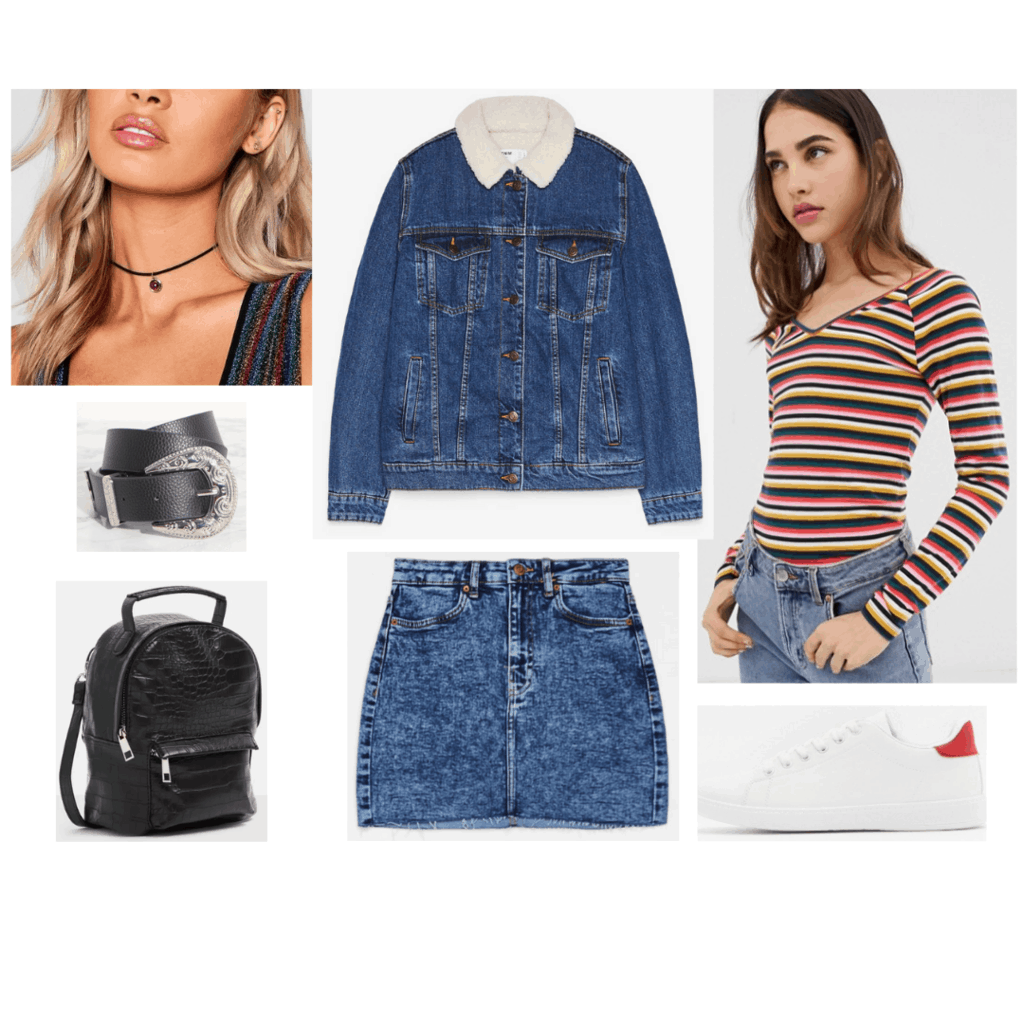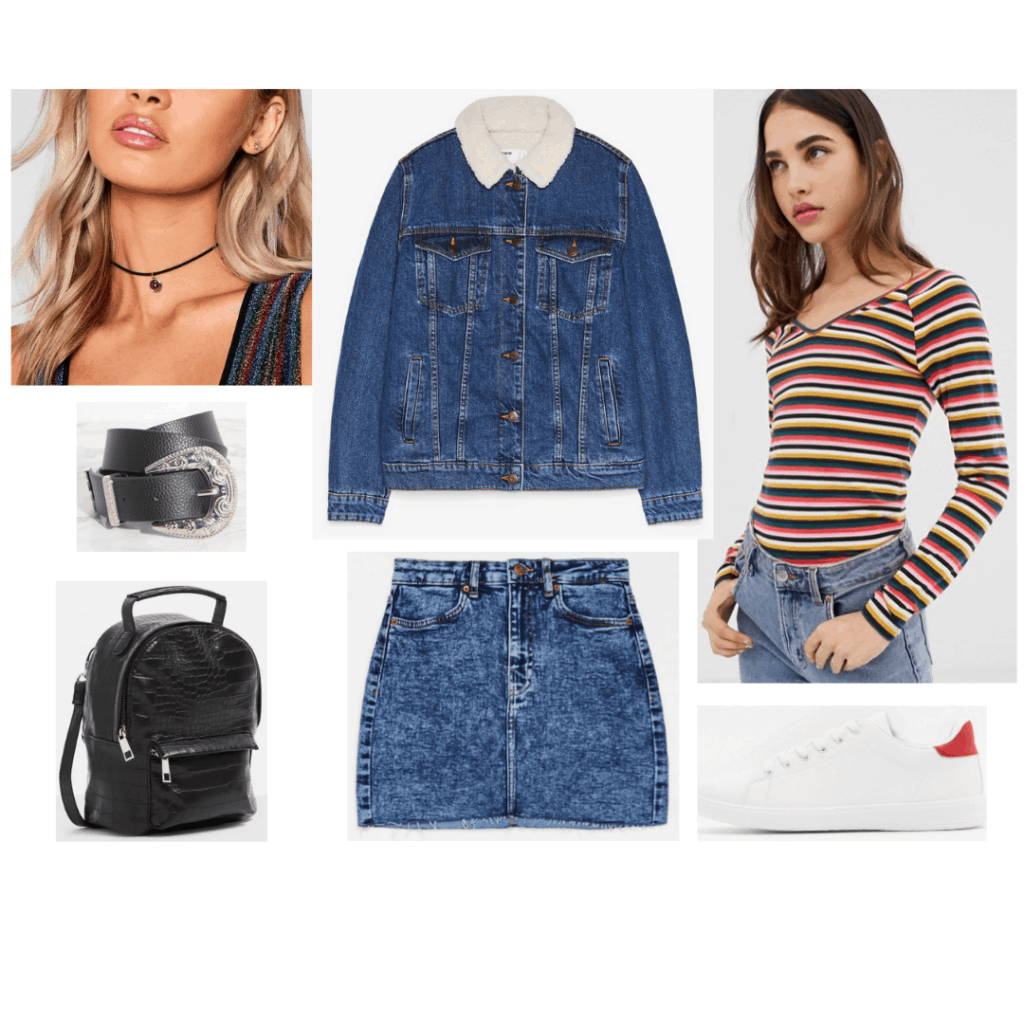 Products: Jacket – Bershka, Choker – Boohoo, Top – ASOS, Belt – Pretty Little Thing, Skirt – Bershka, Bag – Missguided, Shoes – Nasty Gal
Michelle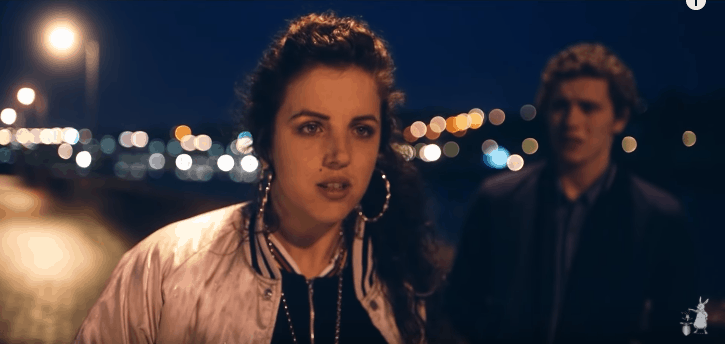 Michelle Mallon is the bold, fiery and 'coarse' Derry Girl of the group. She has a quick temper and an even quicker wit, taking endless opportunities to make fun of both her friends and her helpless cousin, James.
Despite her penchant for trouble (Michelle is almost always responsible for the Derry Girls' hilarious antics), she has a good heart and cares deeply for her friends.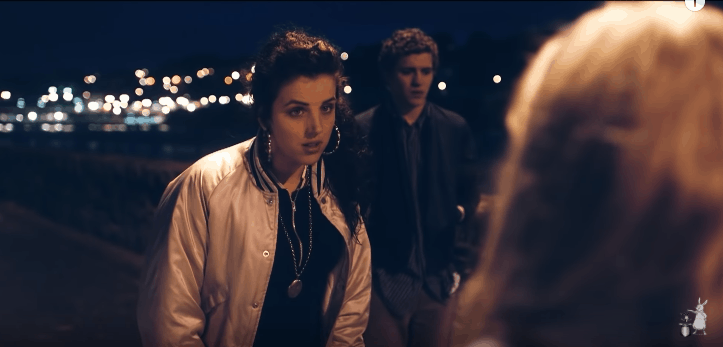 Michelle's sense of style is equal parts edgy and sporty. Staples of her wardrobe include bomber jackets, mini dresses, and over-the-knee socks. She also accessorizes heavily with her signature pendant necklace.
We've got the gist: they ran out of spuds, everyone was ragin'

Michelle – Derry Girls
Michelle's Look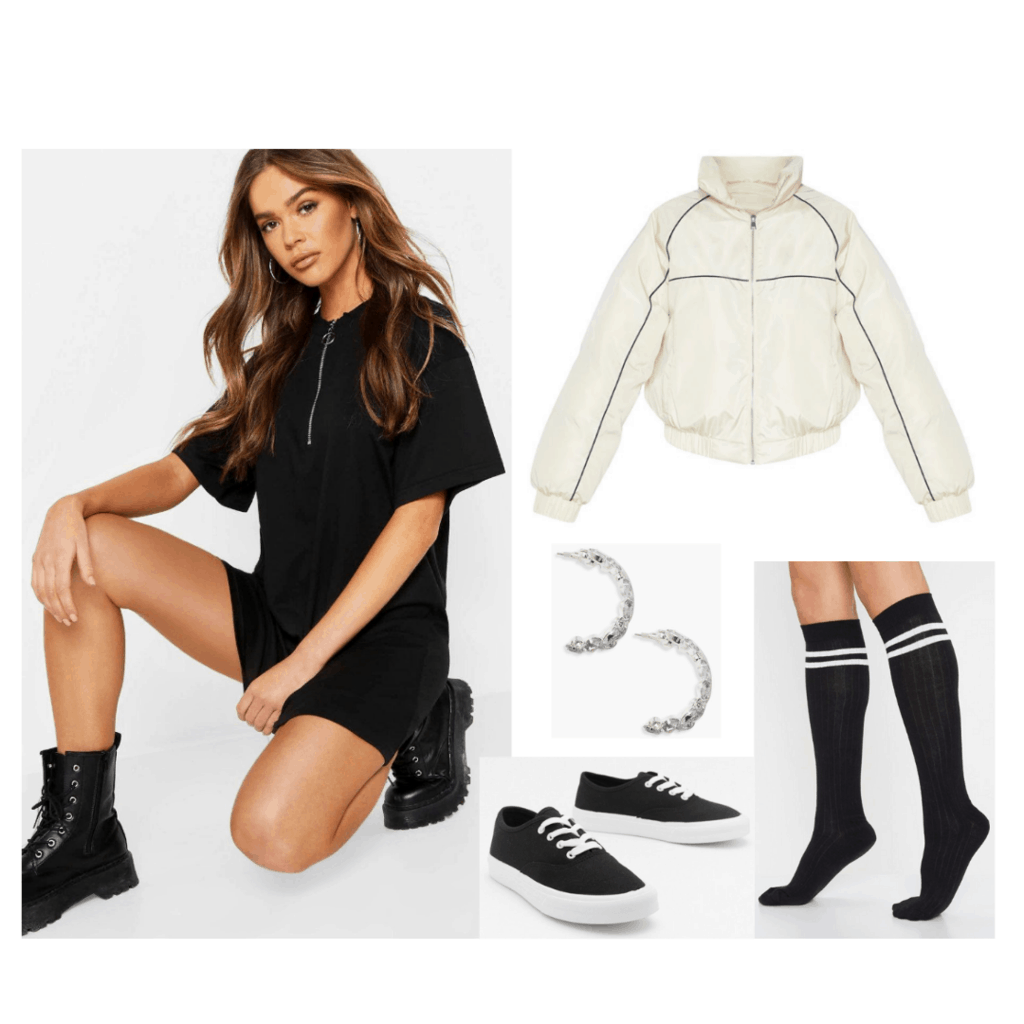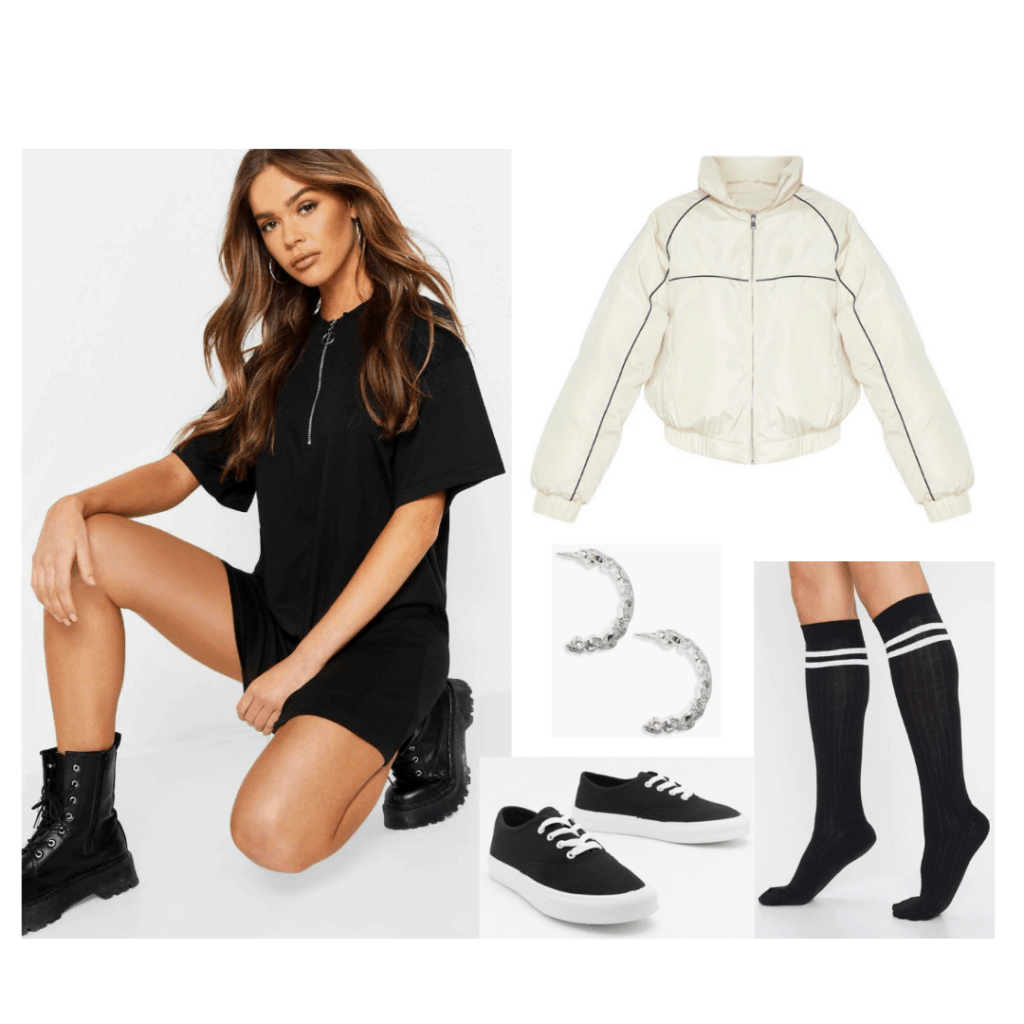 Products: Jacket – Pretty Little Thing, Dress – Boohoo, Earrings – Boohoo Premium, Socks – Pretty Little Thing, Shoes – Nasty Gal
Clare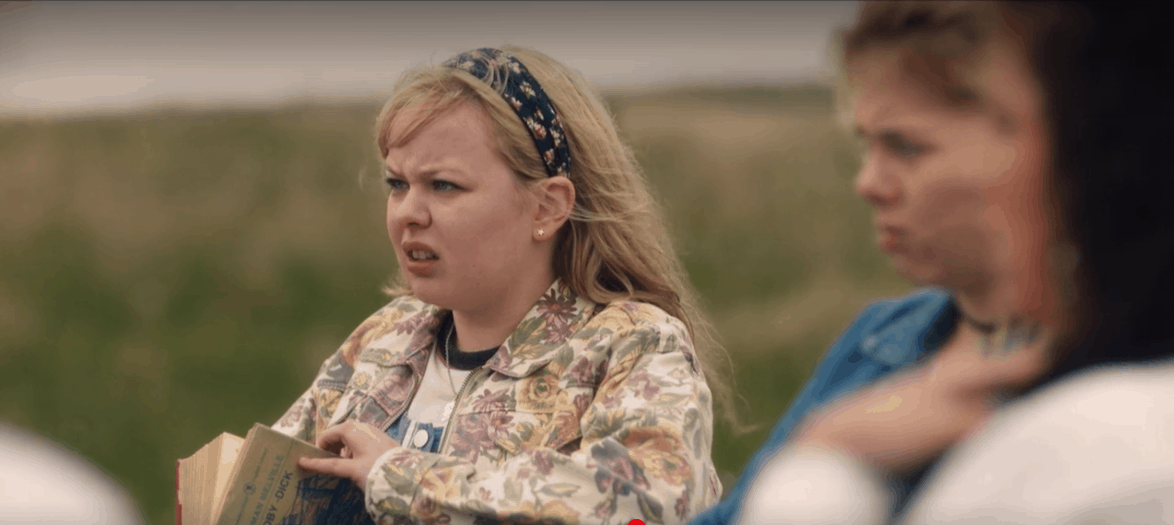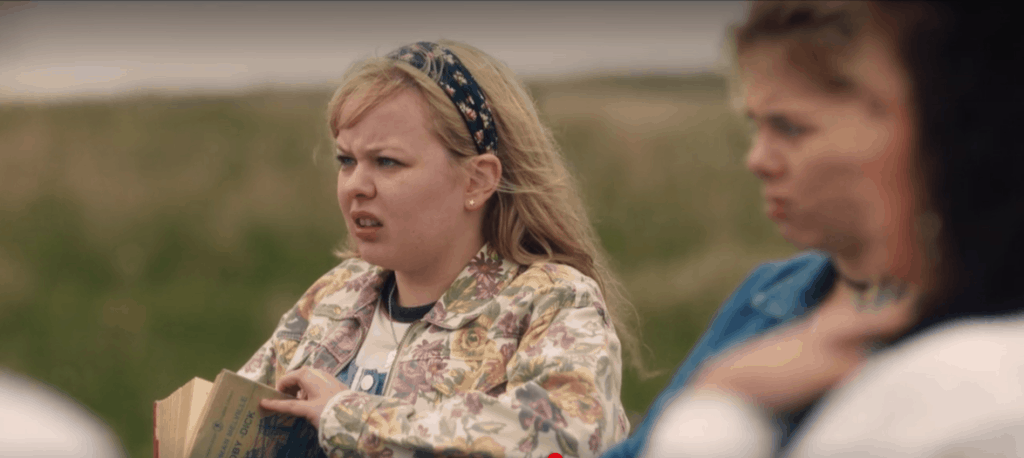 Clare Devlin is the girly, quirky, and perpetually anxious girl of the DG group. She is a good-two-shoes with a tendency to be overdramatic, leading to some hilarious gags.
Clare's caring and empathetic nature makes her someone that we can all relate to. She's also a firm favorite among Derry Girls' fans, probably because she's just Too. Damn. Cute.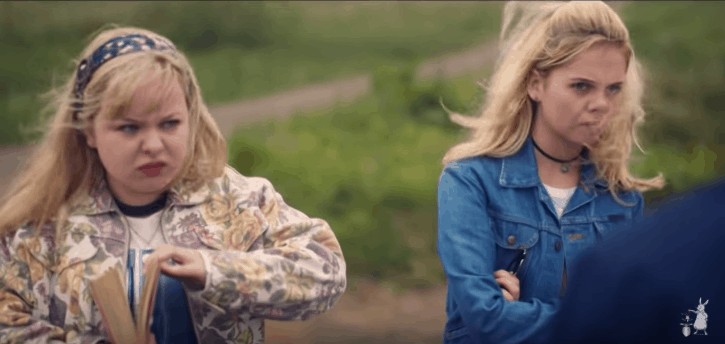 Clare's fashion aesthetic can be summed up in one word: feminine. She's a fan of baby pinks, blues and pastels. As well as this, she's almost never seen without her signature accessory: a girly headband.
I don't want to be an individual on my own!

Clare – Derry Girls
Clare's Look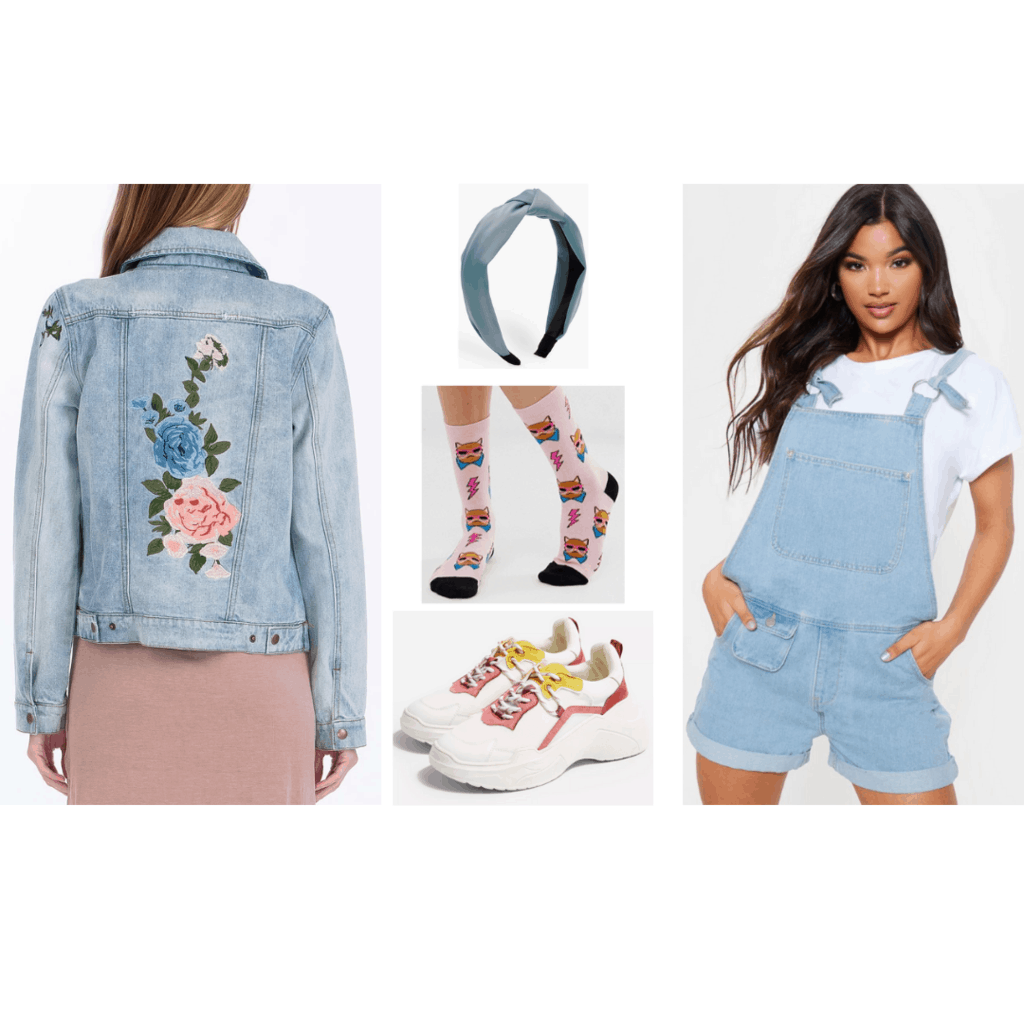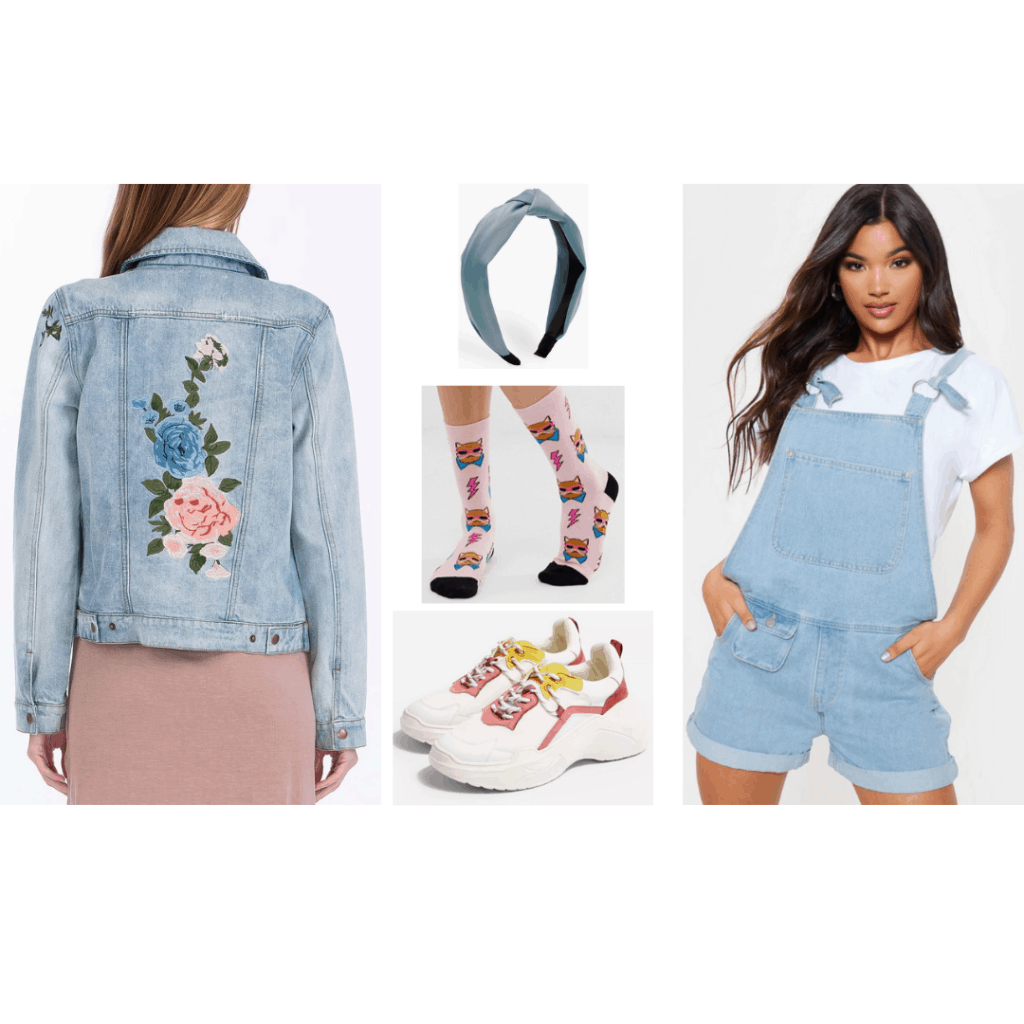 Products: Headband – Boohoo, Dungarees – Pretty Little Thing, Jacket – Her Own Wings Boutique, Socks – ASOS, Shoes – Topshop
Orla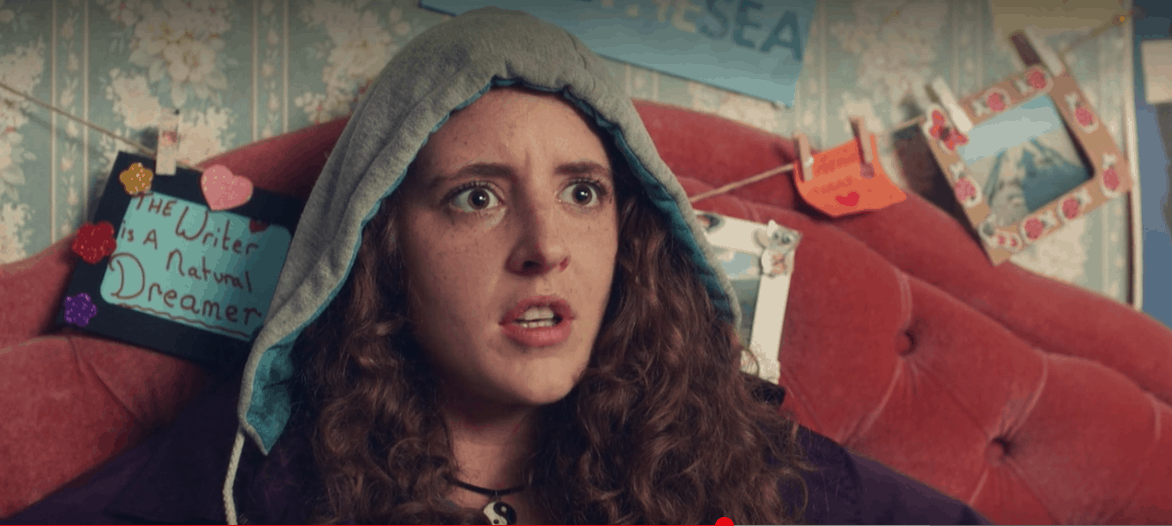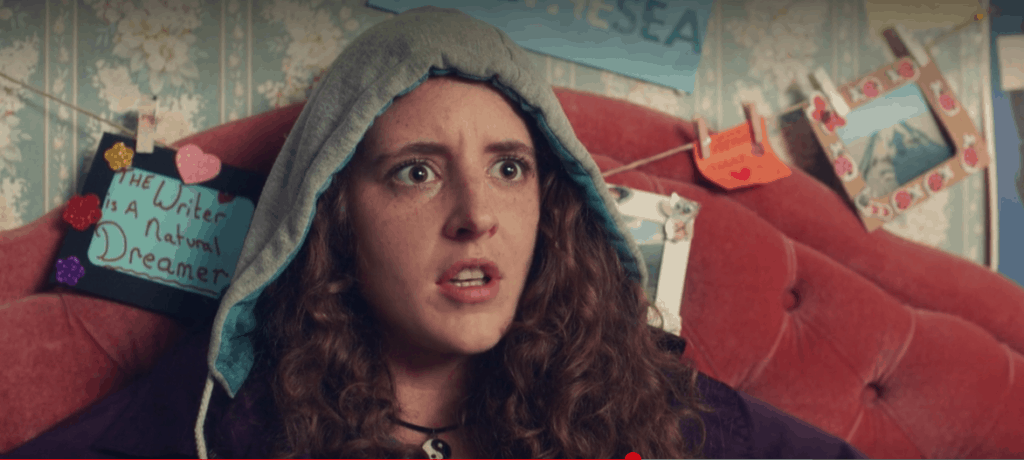 And last but not least in our Derry Girls fashion guide, we have Orla McCool. Orla is Erin's sweet, socially inept cousin, who sometimes oversteps other people's personal boundaries, unintentionally of course.
Much of the hilarity surrounding Orla comes from her inability to process the funny situations the girls find themselves in. However, Louisa Harland's perfectly delivered one-liners give a boost Orla's character, however ditsy she may seem.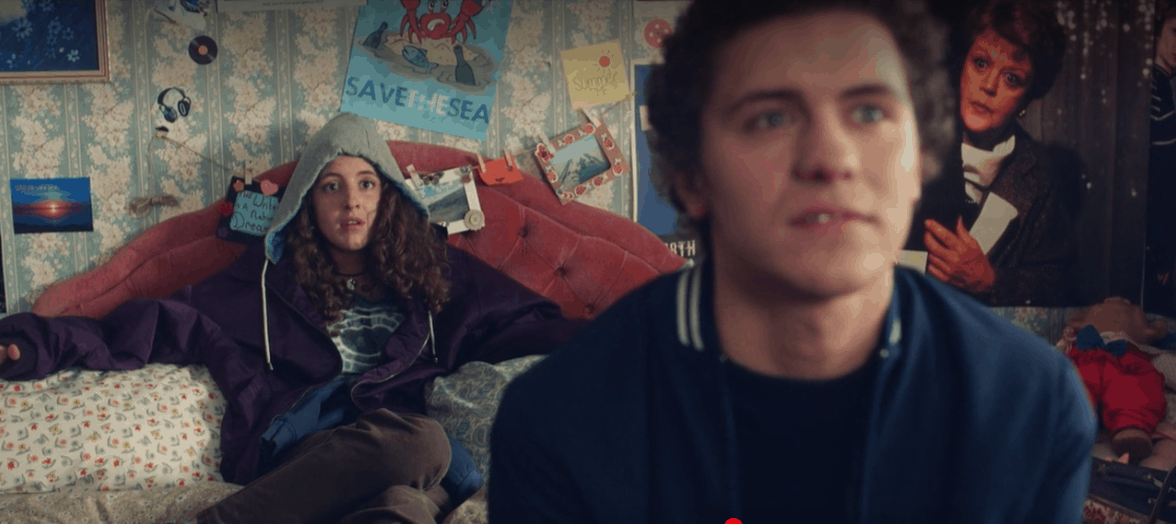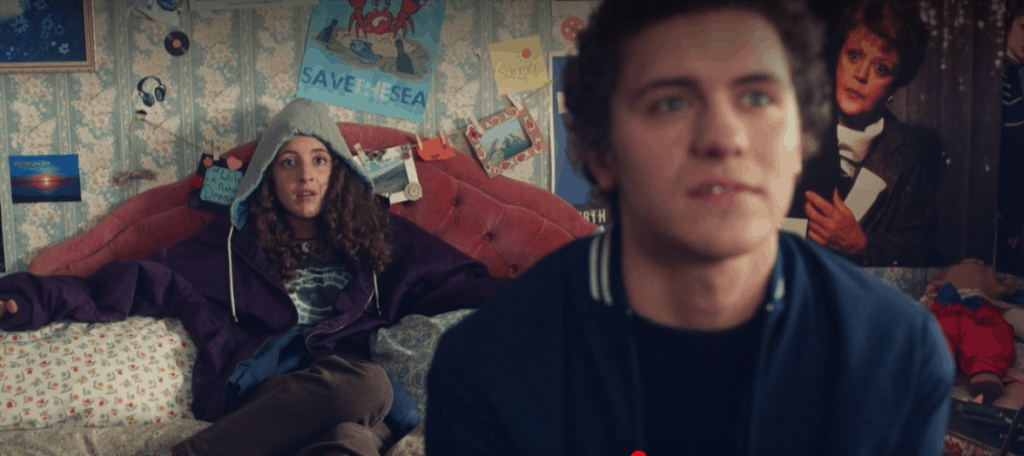 In terms of fashion, Orla's style is relaxed and easygoing, with an emphasis on comfort over trends. She favors the above purple bomber jacket, which she wears frequently throughout the series.
The holy smirk, thanks be to God!

Orla – Derry Girls
Orla's Look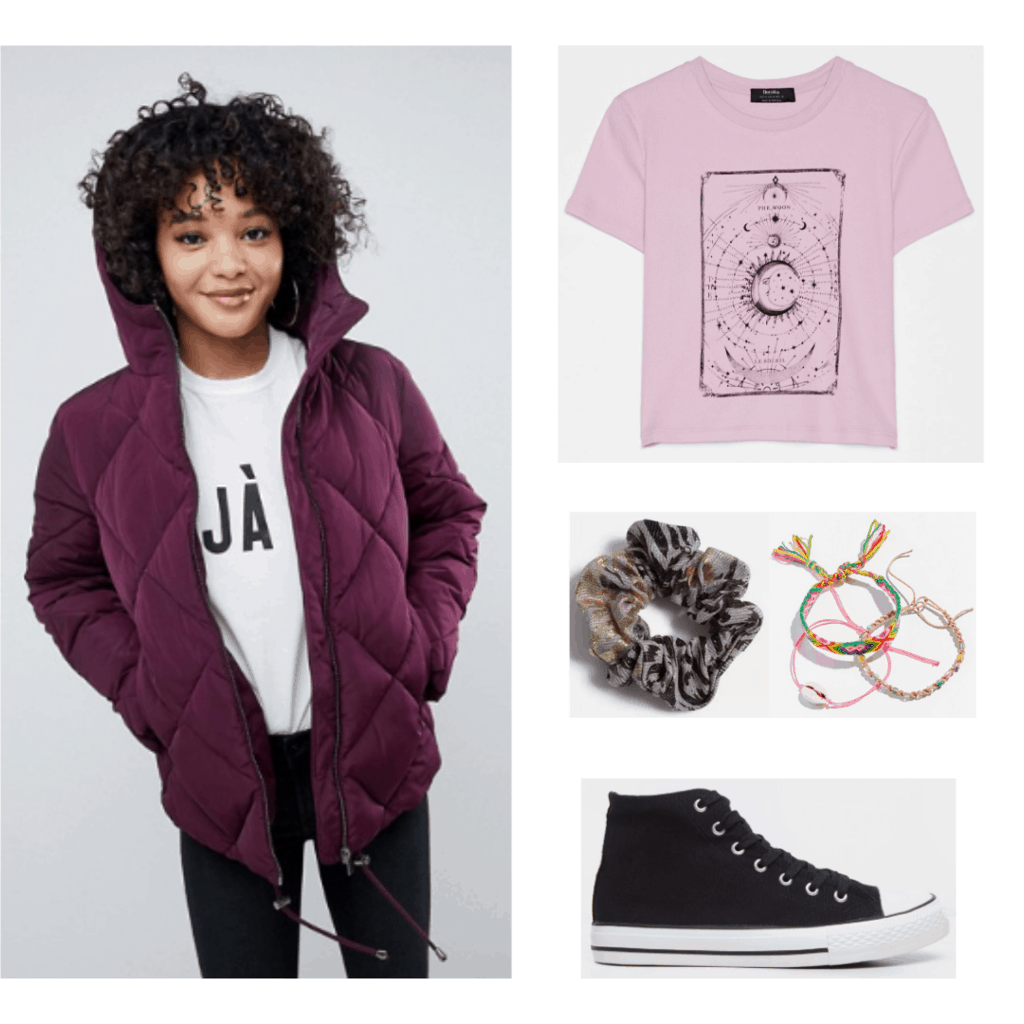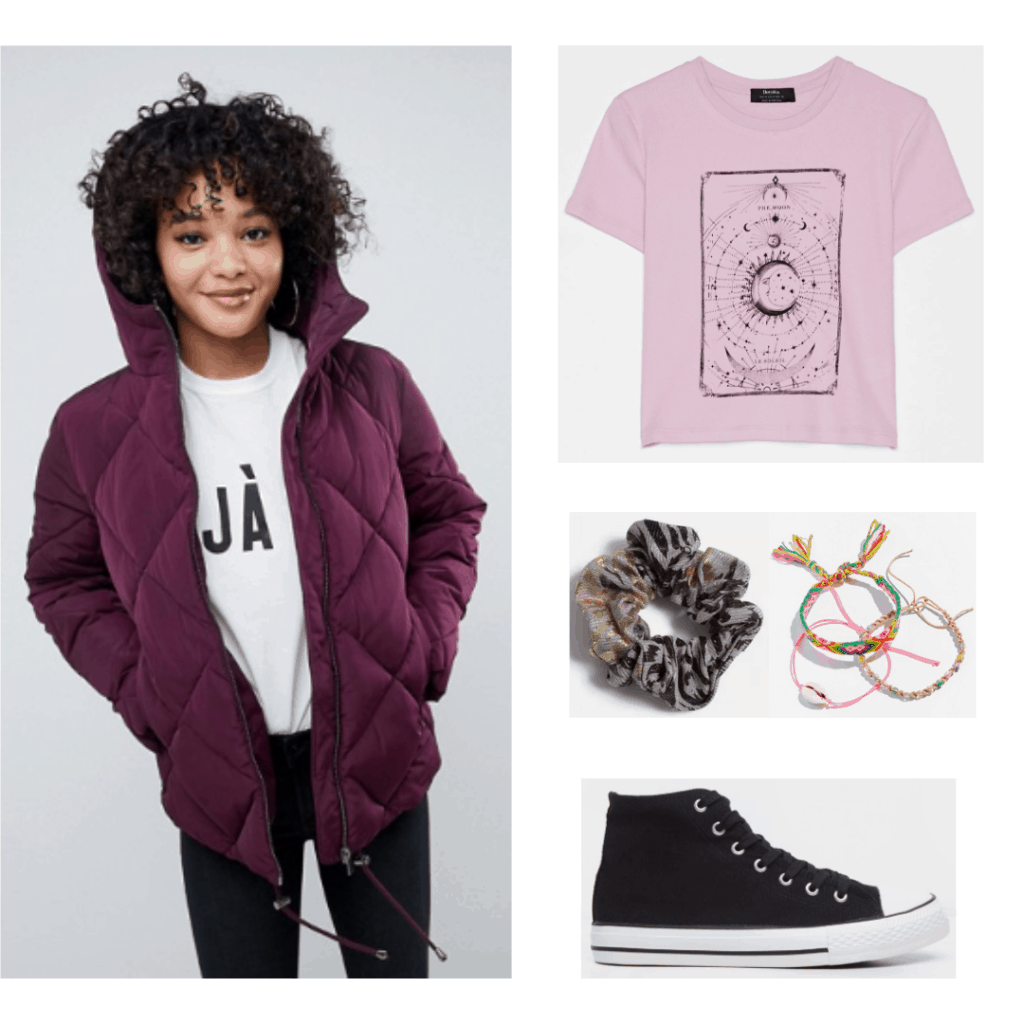 Products: Top – Bershka, Jacket – ASOS Design, Scrunchie – Missguided, Bracelet – Urban Outfitters, Shoes – Pretty Little Thing
…And James
Because being a Derry girl is a state of mind, regardless of gender, here's a bonus compilation of the wee English fella's best bits:
What do you think of our Derry Girls fashion guide?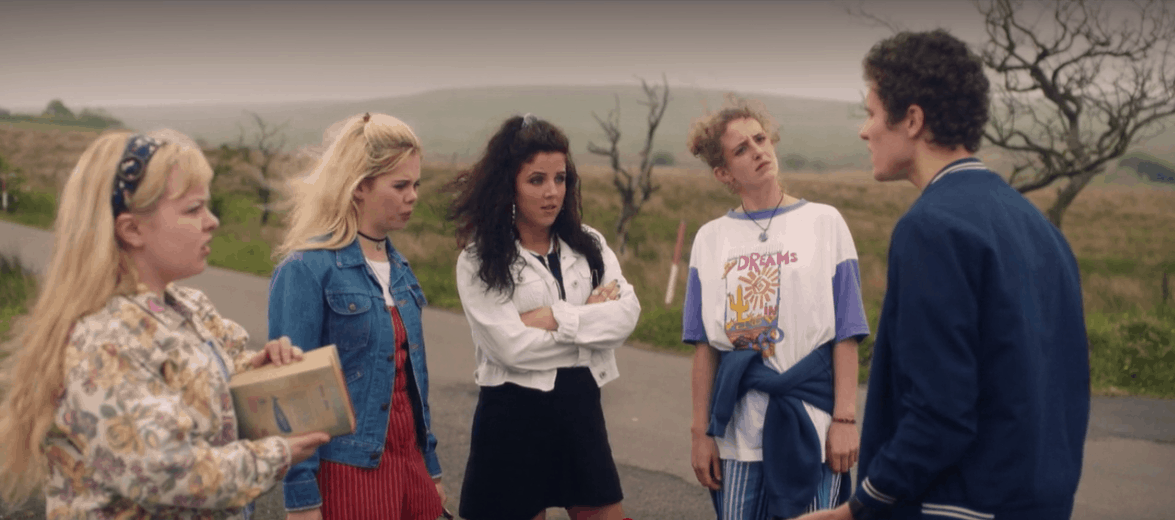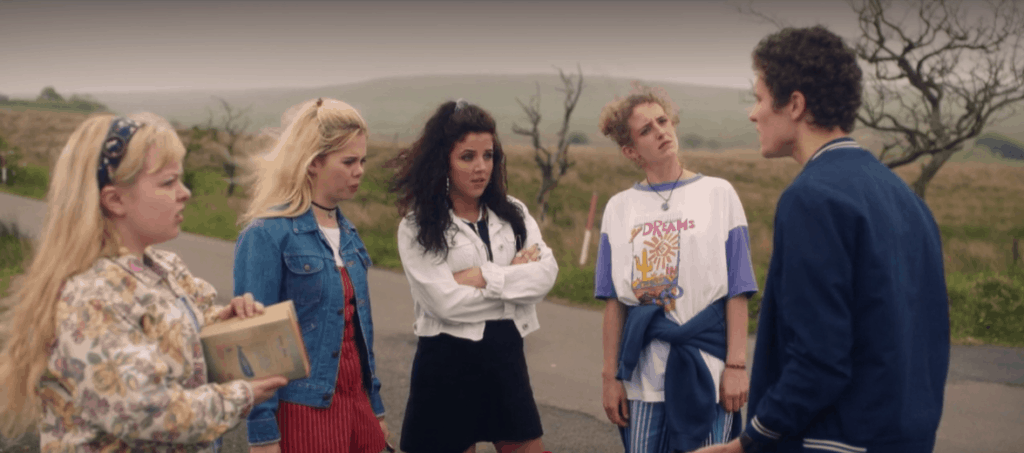 Have you watched Derry Girls yet? Who's your favorite character? Are you looking forward to season 3? Which of these Derry Girls-inspired outfits did you like the most? Let me know in the comments below, I can't wait to hear from you!