Fashion inspiration can be found anywhere, and books are incredible sources for style innovation. Book-Inspired Fashion explores these treasure troves, and brings them them to you in looks inspired by vibrant characters, far away lands, brilliantly woven plotlines, and more.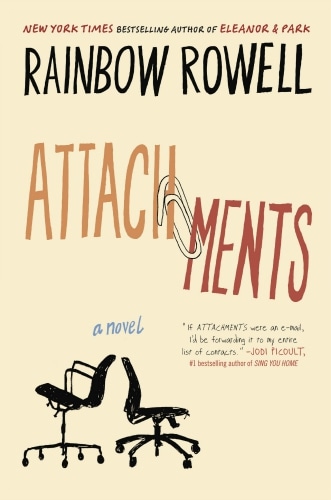 As always, I'm so happy that one of you was able to guess which book I'm covering this week– especially since it's not as well-known as some of the other books I've written about thus far.
As described in my last post, Attachments is a lighthearted, feel-good romance by an effortlessly likable author whose books I devour like candy. Without further ado, let's get into some background information about the book and author:
Reading Between the Lines
Attachments was published as Rainbow Rowell's debut novel in 2011, after a couple years of hiatus and a long career of working for a newspaper. Having read the more famous Eleanor and Park (2013) first, I had no idea Attachments was Rowell's first foray into writing fiction because of the instant relatability and believability I found within the first few pages. Rowell's writing is magnetically addicting– it feels achingly real while retaining a light, witty style.
At its heart, Attachments is a workplace-romance involving protagonist Lincoln O'Neill, who screens work emails, and movie reviewer Beth Fremont and her friend Jennifer Scribner-Snyder, who violate their email policy by sending each other all kinds of emails about every aspect of their lives. It's through these emails that Lincoln (and we readers) learn what kind of people Beth and Jennifer are, and these emails are refreshingly comedic yet realistic. Lincoln is so compelled by their conversations that he finds himself unable to report them, and finds comfort in (sneakily) reading about their lives.
At the same time, Lincoln and Beth see each other frequently at work, but don't know each other's names and are unaware that they have an entirely deeper connection. Lincoln soon realizes the woman he is falling in love with online is the same beautiful woman he sees at work, but doesn't catch on that he's the cute guy she mentions in her emails!
Yes, you'll breeze through Attachments and giggle at its witty jokes, but you'll also find that there's far more heart and tear-jerking moments than you'll be prepared for in the short read. While I wasn't looking for a super-original read, I was still taken aback multiple times by scenes I had not anticipated, and the ending was so deliriously sweet that I reread the last 15 pages or so several times before putting the book down.
I've created three outfits that are strongly influenced by the workplace setting of this giggle-inducing romance. I will warn you guys, however, that there will be spoilers galore about the ending of the book in the last set, so please don't read that description if you haven't read the book!
1. Y2K (Year 2000)
Most of the reporters must have special Y2K shifts. They were hanging out in clumps around the newsroom, laughing and talking. Lincoln took a deep breath, and air felt like champagne in his lungs.

She was there. The girl from the break room. Beth. She was there, at her desk. Her hair was down, her glasses were pushed up over her forehead, and she was talking on the phone, twisting the cord around her fingers. There she was. Lincoln was going to say hello. (210)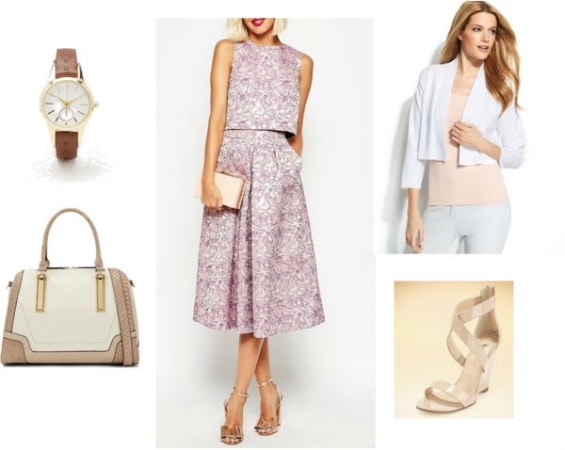 Product Info: Top – ASOS, Skirt – ASOS, Blazer – Macy's, Shoes – Boston Proper, Bag – ALDO, Watch – Forever 21
A major subplot of this book is the rise of computer technology and innovation at the turn of the millennium: the year 2000 (Y2K). This made me adore the book more than I already did. Rather than using a totally modern office setting, Rowell created a nostalgic, quirky bubble of not-quite-historical fiction by implementing the charm of a world just 15 years ago.
The scene I chose represents the moment at which it's about to become January 1, 2000, and Lincoln struggles to approach Beth. I found Lincoln's hesitation completely understandable, because how can telling a girl you've fallen in love with by reading her emails come naturally to anyone?
I drew inspiration from '90s fashion by incorporating a matching crop top/midi skirt set. Matching sets recently started coming back into fashion, and I love how this set in particular manages to retain a sophisticated, work-appropriate edge.
I then added a sturdy bag, a watch, and a blazer to ensure that the outfit is appropriate for a professional job, while allowing for some freedom in styling.
2. So Careless
Beth and Jennifer seemed to have forgotten all about the rules and restrictions. They didn't censor themselves anymore. Beth was so careless, some of her e-mails to other coworkers ended up in the WebFence folder, too.

Beth.

Lincoln couldn't explain, even to himself, why she mattered to him. She and Jennifer were both funny, both caring, both smart as whips. But Beth's whip always caught him by the ankle. (104)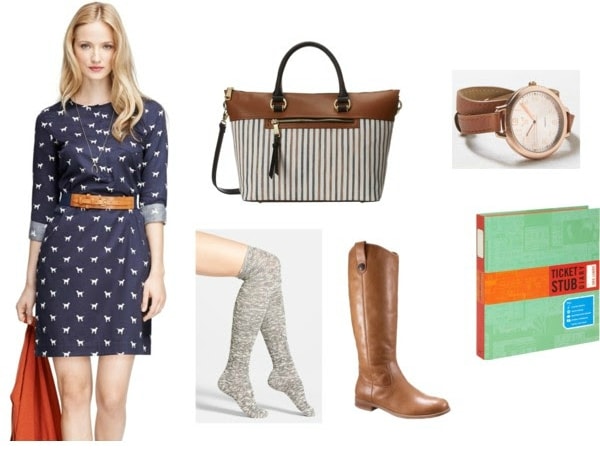 Product Info: Dress – Brooks Brothers, Socks – Nordstrom, Boots – Target, Bag – Saks Off 5th, Watch – American Eagle Outfitters
By the time the first few emails are sent, without any apparent consequences or punishment, Beth and Jennifer begin emailing each other freely, without any caution or restraint. While enabled by Lincoln's refusal to flag their messages, Beth and Jennifer also seem to grow more into their full personalities by opening up about their problems to each other, big or small.
This rebellious independence served as inspiration for the more lax styling of the office outfit I've put together here.
I went with a western-inspired outfit that isn't completely casual, but isn't what you'd expect someone to wear to work. I like to imagine, however, that a movie reviewer in Nebraska with a slight rebellious streak could get by in this kind of look every once in a while.
This dress is simple and fairly conservative (aside from the above-knee length), and I love the dog print. I also made sure to cover up most of the legs with tall socks and boots, and included a leather watch and nice bag to polish up the entire outfit.
Additionally, the ticket stub diary is just a little shout-out to Beth's career as a passionate movie reviewer.
3. Lighter and Sweeter
Final Warning: Spoilers ahead!
"I pictured a girl who made every moment, everything she touched, and everyone around her feel lighter and sweeter.

"I pictured you," he said. "I just didn't know what you looked like.

"And then, when I did know what you looked like, you looked like the girl who was all those things. You looked like the girl I loved." (321)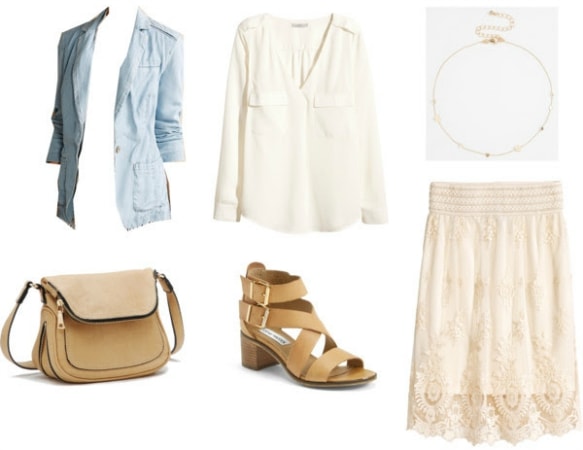 Product Info: Jacket – Anthropologie, Top – H&M, Skirt – H&M, Choker – ASOS, Bag – Amazon, Shoes – Nordstrom
The compulsively-rereadable ending of this book is everything my inner girly-girl wants from a romance. So, said girly-girl has demanded that I make this look ultra-feminine and romantic to reflect the pure magic that is the last few pages of this book, when Lincoln and Beth finally confront each other and share a conversation for the first time. Fast forward, and they have the sweetest epilogue in the world with major hints for a classic fairytale ending so many writers now deviate from in favor of originality.
I, for one, don't think tradition is inferior to innovation, and the ending of Attachments made the first 300+ pages of near-misses and almost-confrontations worth it.
This outfit is also fairly business oriented, although the small details make it stand out from the standard, crisp work outfit. The tiny hearts on the choker are also a reference to the popularity of chokers during the '90s, although this one is much more modern and subtle.
I also added the denim blazer in order to temper the almost overpowering femininity of the look, as well as a few neutral accessories.
In the next Book-Inspired Fashion post….
Next time, I'm covering a Young Adult trilogy that has ruled the internet and bookstores for the past few years because of its competition-style royal romance that has made many a teen girl swoon.
Think The Bachelor, a few hundred years into the future. Your hint is the word America, which is the name of the protagonist.
Good luck on guessing and as always, I appreciate all of your recommendations!
Your Thoughts?
Are you a fan of Rainbow Rowell and her heartwarming novels? Do you like workplace-inspired romances? What do you think of these outfits? Let us know in the comments below!