Welcome to the latest edition of Looks from Books, which aims to prove that you can look smart, while still being book-smart, too. Fashion inspiration can be found between the pages of your favorite stories, on well-designed book covers, and in your favorite characters… if you read closely enough.
This week, we're celebrating some exciting new movie news with a fashion inspiration post based on a recent YA bestseller. Here's Rainbow Rowell's Eleanor and Park!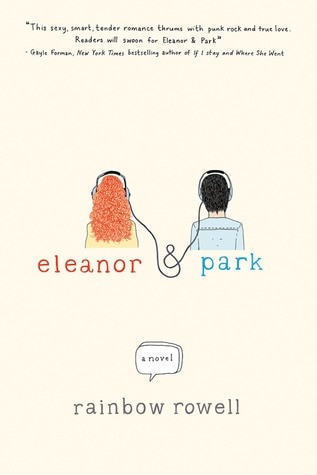 Book cover via Amazon
Inside Cover
Eleanor and Park is a stand-alone Young Adult romance that was published in February 2013.
The novel follows the story of its two titular characters, Eleanor Douglas and Park Sheridan, two 16-year-olds growing up in 1986 Omaha, Nebraska who are just trying to get through high school. Both shy loners guarded against the abrasiveness of the outside world and anxious for the day they grow up and get out of their hometown, the two end up sharing a bus seat, and grow to share a love of comic books and culture, mix tapes and more. Soon, a romance is blooming in the back of the bus… but first loves are always more difficult than you bargained for.
Eleanor and Park was the first Young Adult novel, and the second novel overall, published by breakout author Rainbow Rowell, who shot to fame last year as a new voice of the YA book scene with her dual publications of E&P and Fangirl (which already inspired its own "Looks from Books" post just this past February!).
A Fashionable Literacy
Eleanor and Park spent twelve weeks on the bestseller list after its publication, and has been awarded several notable titles, including Goodreads' "Best YA Novel of 2013," as well as an Honor book for the 2014 Printz Award.
The book has enjoyed positive reviews since its publication. In fact, E&P was also lauded by notable YA juggernaut John Green. In a review for the New York Times, Green said the novel "reminded me not just what it's like to be young and in love with a girl, but also what it's like to be young and in love with a book."
And he's not the only one singing its praises; Eleanor and Park was just optioned for a movie by Dreamworks, who immediately signed on Rowell to pen the screenplay herself! The current plan is to begin production in 2015.
How to Add Eleanor and Park to Your Wardrobe
By integrating key characteristic elements from the characters and setting from the novel, you, too, can have a quirky '80s style just like Eleanor and Park, with no bus seat or mix tape expertise required!
Eleanor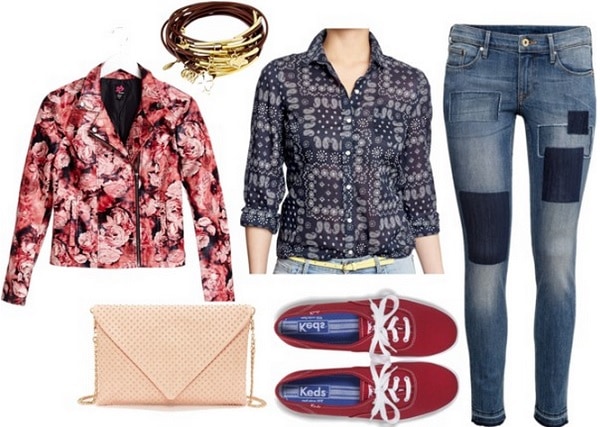 Product Information: Jacket – 2BBebe, Bangles – Max&Chloe, Shirt – Old Navy, Jeans – H&M, Sneakers – Keds, Bag – Lulus.
A plus-sized, redheaded girl praying to be ignored by both the bullies at school and the abuse she undergoes at home, Eleanor never expected to find a safe haven in a bus seat. But when Park did the unthinkable, and allowed for the new kid – quickly nicknamed "Big Red" – to share cramped quarters on the daily rides to and from school with him, he began to see that her crazy Goodwill clothes are a kind of armor against the outside world, and the girl who wore them was one who was getting tired of fighting. A tough cookie with a mushy center, Eleanor wasn't an easy person to love, but she was one who needed it.
Channel Eleanor's predisposition to stand out, as well as her unwillingness to back down in a mix-and-match look that captures all of her quirkiness. Mimic her vintage-lover's charm with patched denim, a bandana print shirt, and rubber bangles. A rosy moto jacket and studded purse riff on the contrast between edgy and feminine. Finish off the look with sneakers in Eleanor's signature hue.
Park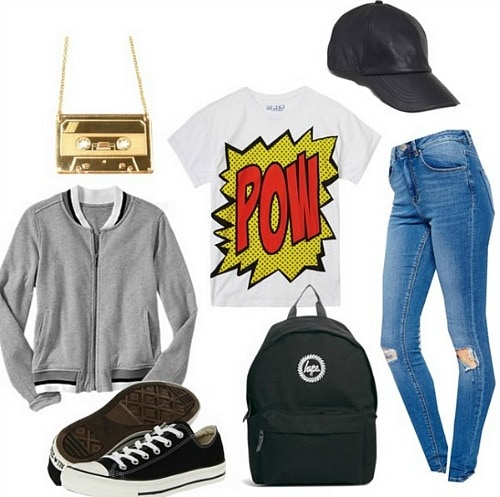 Product Information: Necklace- BlueFly, Shirt – Forever21, Hat – Express, Jeans – Asos, Backpack – Asos, Shoes – Zappos, Jacket – Gap.
A wallflower kid from an international background who's just looking to get through high school unscathed, Park finally finds someone worth standing up for in the girl who no one seems to be willing to protect. Sharing a seat in the back of the bus, Park and Eleanor find common ground in his beloved comic books and rock music – the same kind of media that helped Park find his own sense of self when feeling conflicted about his half-Korean background in their predominantly-white neighborhood. Battling both inner struggles and outer antagonists to his fragile new relationship, Park fights for Eleanor in ways he didn't think he ever could.
Integrate Park's wallflower persona and favorite things in minimalist vintage basics with a modern-day twist and references to '80s culture. Distressed high-waisted denim, a faux leather baseball cap, and a toned-down varsity jacket put a modern spin on vintage high school classics, while a pair of Converse and a black backpack are essentials for the moody teen. Park's love for comics are referenced in a men's graphic tee, while his mix tapes get the gold with a quirky pendant necklace.
I Love the '80s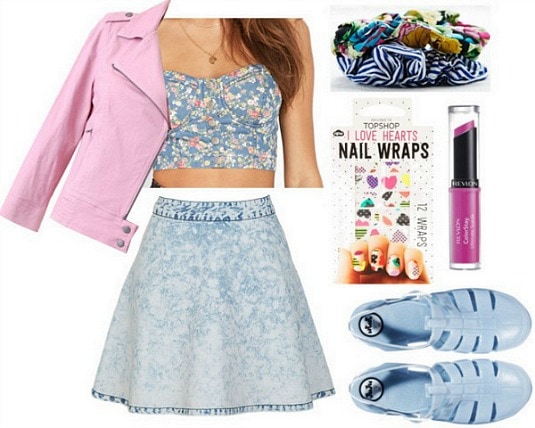 Product Information: Jacket – Ruche, Bustier – Forever21, Scrunchies – Urban Outfitters, Nail Wraps – Topshop, Lipstick – Target, Shoes – Asos, Skirt – Delias.
Personally, I've been to one too many '80s-themed parties that never actually had anything to do with the '80s, but Rowell's depiction of the '80s culture within Eleanor & Park definitely comes across as the real deal. Incorporating music, movements, and fashion – um, what's a sharkskin jacket? – from the time period, the novel is remarkable for its unique chronological setting, which almost comes across a character in itself.
Pay homage to that glorious decade of neon, acid wash, and broad shoulders, with a look that blends '80s-inspired fun and colorful, Urban-Outfitters-friendly fashion. An acid wash skater skirt and floral-print bustier are flirty updates for old silhouettes, while a moto jacket makes a statement in bubblegum pink. Keep it from going full costume by trading in talon-like fake nails for crazy nail wraps and jelly shoes for slightly sturdier clog-like counterparts. Top the whole thing off – like, totally! – with scrunchies in layered patterns.
What Do You Think?
Have you read Eleanor & Park yet? What about Rowell's other work, Fangirl? Are you excited for the movie? Do you love the '80s time period? Did you like the outfits and styling tips? Let me know, in the comments below!