Fashion inspiration can be found anywhere, and books are incredible sources for style innovation. Book-Inspired Fashion explores these treasure troves, and brings them them to you in looks inspired by vibrant characters, far away lands, brilliantly woven plotlines, and more.
For this week's Book-Inspired Fashion post, I'm happy to tell you guys that it's a favorite of mine that many of you may have potentially read: Little Women.
And, of course, this is a reader recommendation, so keep those coming!
Reading Between the Lines
Little Women was published by American writer Louisa May Alcott in two volumes from 1868-1869 to immediate and resounding success, despite the doubts surrounding the appeal and premise of the book. A coming-of-age novel about the four March sisters (clearly based on the lives of Alcott and her own sisters), this book elevated the target audience from the fairy-tale world of girl's books to a book that dealt with the real issues they would face as they transitioned into adolescence and adulthood.
This book focuses on the second eldest sister, Jo March, who is much more of a tomboy than her beautiful older sister, Meg, and her two younger sisters, Beth and Amy. Meg already considers herself to be grown-up at the start of the novel, while fragile Beth and impulsive Amy don't partake in the same "rough" behavior that Jo has a tendency for.
Jo is a compellingly likeable protagonist because of her brilliant independence, intelligence, and spirit, which is all the more noticeable because of the direct contradiction these traits serve to the image women at this time were expected to embody. I especially love her relationship with Beth, whose gentleness pairs perfectly with her own fiery strength, and ultimately motivates Jo to do the things she strives to do outside of the domestic world that is all Beth has ever known.
One thing I love about this book is the startlingly realistic quality it has, because Alcott is unafraid of delving into the real-world problems the women of the time (and of today!) faced. She explores the concept of independence vs. conformity without clearly supporting one over the other. While it appears at first that Jo's boyish nature is a positive trait to have, she does end up settling down with a husband to raise her own family in the end (albeit while starting a school), which hints towards conformity as the end resolution for the sisters.
This is a contrast I find interesting, but I ultimately believe Alcott is supporting all women to succeed, regardless of their natural feminine/masculine tendencies, because she proves that none of the four sisters are perfect– in fact, it is these imperfections that make them so likable and interesting.
The three looks I've created are inspired largely by the nostalgic setting of this book, which is primarily the chilly American northeast. There's something about the description of places, both familiar and new, that have drawn me into Alcott's world, and that's exactly what I've tried to capture.
1. Country-like
"The snow was light, and with her broom [Jo] soon swept a path all round the garden, for Beth to walk in when the sun came out; and the invalid dolls needed air. Now, the garden separated the Marches' house from that of Mr. Laurence. Both stood in a suburb of the city, which was still country-like with groves and lawns, large gardens, and quiet streets."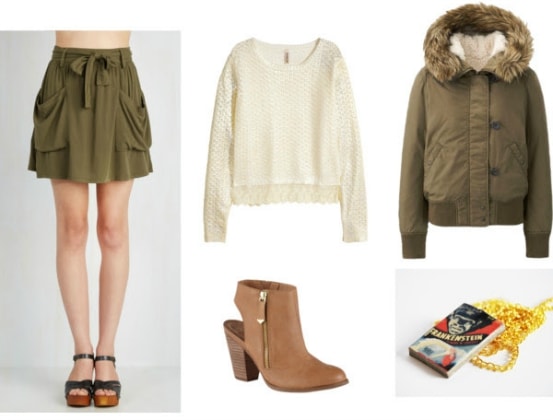 Product Info: Sweater – H&M, Skirt – Modcloth, Jacket – Uniqlo, Boots – ALDO, Necklace – Etsy
Alcott is not a writer who lingers on physical descriptions much, so I found significance in the short peek at the world of the March family and their neighbors Mr. Laurence and his grandson, Laurie. There's a sense of comfort within the sunshine and snow surrounding the light-hearted atmosphere around the two very different houses.
This scene is particularly noteworthy because this precedes Jo's first formal interaction with Laurie, who becomes a lifelong friend and member of the March family, aside from a few bumps along the way. She takes the initiative to meet the "Laurence boy" by throwing a snowball at his window until he opens it, demonstrating her outgoing spirit, courage, and willingness to break societal expectations.
I used a cream sweater and green skirt in this look in order to reflect the presence of both the winter snow and greenery around the homes. The rest of the outfit is done in neutral browns to preserve the image of the comfortable wooden March house.
And, of course, why not throw in a Frankenstein book necklace to reflect Jo's love of dark, fantastical books?
2. The Usual Mysteries
"Like sunshine after storm were the peaceful weeks which followed. The invalids improved rapidly, and Mr. March began to talk of returning early in the new year […] As Christmas approached, the usual mysteries began to haunt the house, and Jo frequently convulsed the family by proposing utterly impossible or magnificently absurd ceremonies, in honor of this unusually merry Christmas."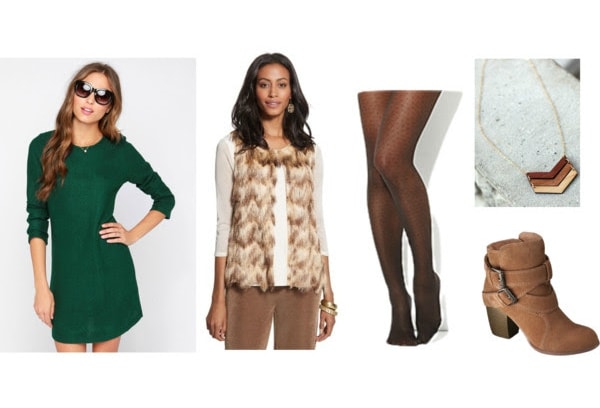 Product Info: Dress- Lulu's, Tights – New York and Company, Vest – Chico's, Boots – Target, Necklace – Etsy
This excerpt comes from the Christmas celebration that takes place towards the end of the first volume of Little Women, which contrasts starkly to the much gloomier Christmas from the first pages of the book. The merriment comes from great fortune, from Beth and Mr. Laurence recovering from their illnesses, to Mr. March surprising them all by appearing home early and unannounced.
I especially love this scene because of the mischievous characterization of Jo, who, like everyone else in the household, anticipates the happiness of this year's Christmas festivities. The good weather and plentiful food accompany the holiday joy and spirit, and this is where Jo's magnetic personality shines to readers with its genuine humor and wit.
This look, of course, is inspired by Christmas itself (to give those of you in the Northern hemisphere a break from the summer heat!), and features a more feminine touch due to Mr. March's comment that Jo has become more gentle and motherly. Rather than go with a bright red/green combination, I chose to go with a subtler forest green sweater dress. I had to throw in the faux fur vest to reference the human-hair brooch given to the girls' mother, Marmee, because I find it fascinating that hair jewelry was in fashion at the time.
As a final accessory, I added an earthy wooden necklace, because I feel like it suits Jo more than an extravagant gold or silver piece, which could overpower the entire look.
3. Among the Manuscripts
"I went in, and while we worked I looked about me, for it was 'a den' to be sure. Books and papers everywhere; a broken meerschaum, and an old flute over the mantel-piece as if done with; a ragged bird, without any tail, chirped on one window-seat, and a box of white mice adorned the other; half-finished boats and bits of string lay among the manuscripts…"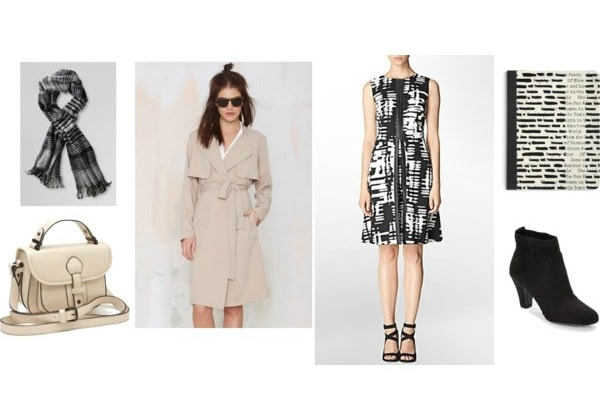 Product Info: Dress – Calvin Klein, Coat – Nasty Gal, Shoes – Saks Off 5th, Scarf – Lands' End, Bag – Forever 21, Notebook – Out of Print
(Spoiler Alert in description below!)
This mess of a room, belonging to Friedrich Bhaer, triggers interest in Jo in the aftermath of her tense departure from Laurie following his love confession. Having gone to New York, Mr. Bhaer is a kind but poor professor who is unkempt yet strong-willed and philosophical. This is the man whom she ends up falling in love with and marrying, and it is speculated that Alcottt may have had Jo marry this man in retaliation to the numerous fan letters requesting that Jo marry Laurie in-between volume 1 and volume 2 of the publication. Because Jo was based on herself, many believe that Alcott had never intended for Jo to marry at all because of her own unmarried status.
It took a long time for me to accept that Jo was going to end up with the much older man, but I still find it just a bit unsettling that Laurie quickly marries Amy, the youngest sister, after Jo leaves. Although this ending upset many readers, I appreciate that it holds Jo true to her principles of not marrying for appearances, superficiality, or even for familiarity and comfort.
Jo's lifelong ambitions of writing and reading are reflected in the companionship she finds with Mr. Bhaer and her fascination with his belongings. This outfit is reminiscent of ink and paper, and of newspaper in a busy city. The New York setting is also why I chose to layer the dress with a trench coat and scarf, and the boots polished it off. The banned books notebook mirrors Jo's rebellious nature, and also ties into her writing career.
In the next Book-Inspired Fashion post….
Next time, I'm going to cover a lighthearted contemporary novel, whose author's books have been covered twice already in the predecessor to this column, Looks from Books. I adore both her Young Adult and Adult fiction, and I devour every book she publishes.
Your hint is the word connections, which is a synonym for the title of the book I'm going to be covering.
Good luck on guessing, and I'll see you next time!
Your Thoughts?
Which of the four March sisters do you most identify with? What do you think of these looks inspired by their world and their relationships? Let us know in the comments below!