Let me start by asking if you know of Billie Lourd? If the answer is no, then let me give you a super quick lesson: She's Hollywood royalty.
Debbie Reynolds and her former husband, Eddie Fisher are Billie's grandparents. You might know Debbie from Singing in the Rain or as Grandma Aggie from Halloweentown. Their daughter, Carrie Fisher, married Bryan Lourd and they had Billie. You probably know Carrie as the famous Princess Leia Organa from the Star Wars films. Hollywood family trees are so much fun!
Now that we're all caught up here, we can get to the good stuff. Billie came late to the acting circle, but her style has always been on point. I mean, just look at her Instagram post below. The puffer jacket? I'm so here for it.
So far, Billie's acting credits include Star Wars: The Force Awakens, Scream Queens, American Horror Story: Cult, and Star Wars: The Last Jedi. Coming up in 2018, Billie has a film titled Billionaire Boys Club that is currently in post-production.
Her most fashion-forward character is probably Chanel #3 in Scream Queens. There's no question:
Billie's personal style is even better than her on-screen fashion sense. Her looks are seemingly effortless and she is a pro at making what she wears work for her.
As you scroll through the photos from her Instagram, I'll have a similar Polyvore set right below it so you can get all of the inspiration you need!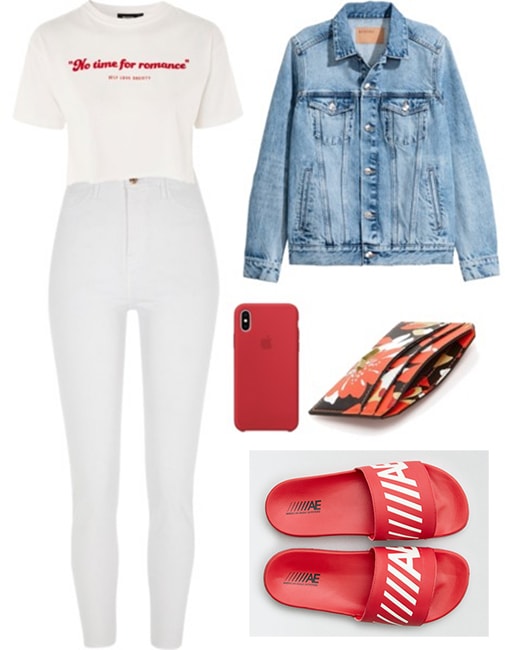 Products: Jeans – River Island, T-shirt – Topshop, Jacket – H&M, Shoes – American Eagle, Phone case – Apple, Card holder – Botkier
In this look, Billie is dressed casually for a day of shopping. Her look is anything but boring, though! To copy her vibe, pair white skinny jeans (a spring and summer essential) with a white graphic tee, a denim jacket, and bold red extras.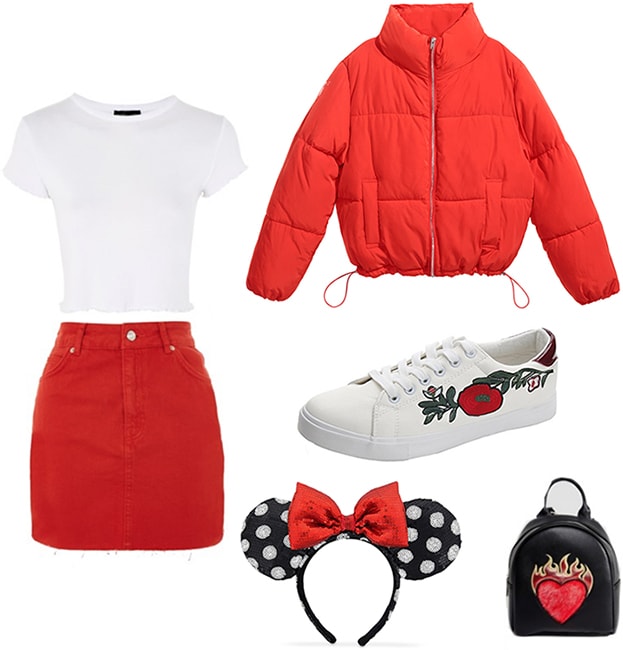 Products: Skirt – Topshop, T-shirt – Topshop, Jacket – H&M, Sneakers – Amazon, Backpack – ASOS, Minnie ears – Shop Disney
Who doesn't like to dress up for a trip to Disney world? Here, Billie rocks more red, mixing a red parka with a red denim skirt. Minnie ears are optional if you're not at the Disney parks, but I just had to include them!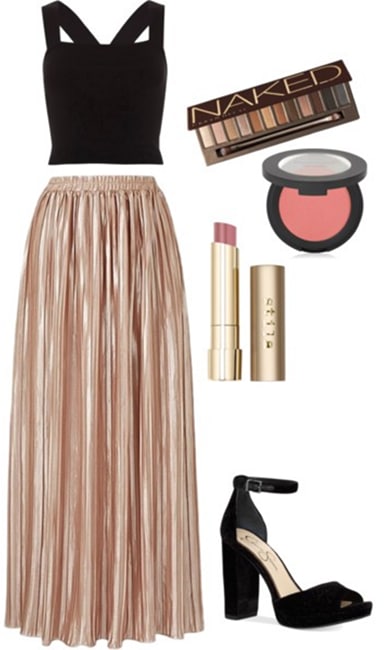 Products: Skirt – Simply Be, Top – River Island, Shoes – Macy's, Eyeshadow – Sephora, Blush – Macy's, Lipstick – Nordstrom
Billie knows how to glam it up when she needs to — again, this girl is Hollywood royalty! To copy this look for yourself, mix a metallic gold pleated skirt with a minimal black cropped tank. Add major platform heels and classic makeup.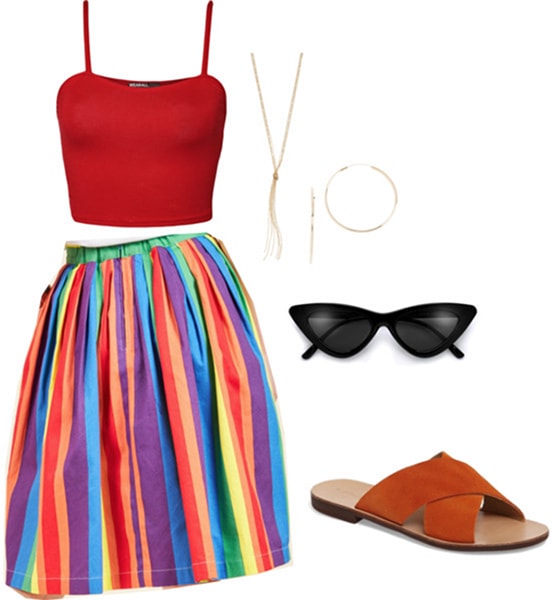 Products: Skirt – Modcloth, Top – Wearall, Shoes – Nordstrom, Sunglasses – Sunglass Spot, Earrings – Shopbop, Necklace – Kohl's 
This look is inspired by Billie's birthday party ensemble. (Scroll through the pics above to see her full look in the final photo.) Never one to shy away from a fashion risk, Billie pairs a super bold rainbow skirt with a bright red crop top. This look would be perfect for a summer get-together or spring break!
There's a lot of red in this post! Did we gather that?
You can definitely tell that Billie's style is different than most street style or Instagram icons. I think that's pretty inspiring. She's not always conforming to the trends or wearing what everyone else is wearing and I think that's why, to me, she's so iconic.
Would you wear any of these outfits? Is there an outfit of Billie's that you love and I didn't include? Comment below and let me know.