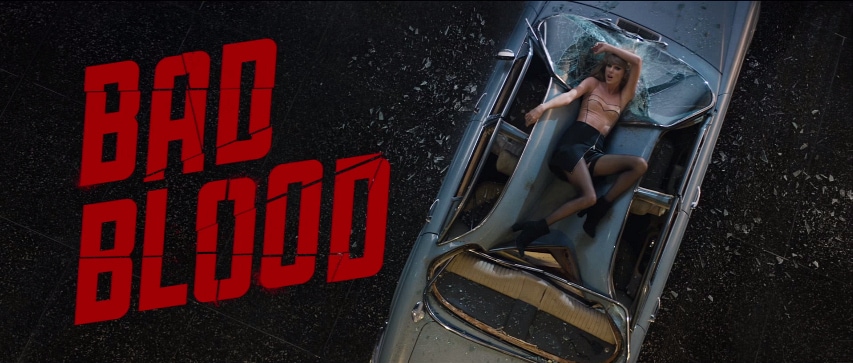 Since there were quite a few requests to cover more of the looks from Taylor Swift's "Bad Blood" music video (and it didn't take much arm twisting anyway), I'm back with Part 2!
Today, we'll be covering outfits from Domino, Destructa X, Frostbyte, and Catastrophe. Without further ado, let's get schooled in the art of killer style:
Domino (Jessica Alba)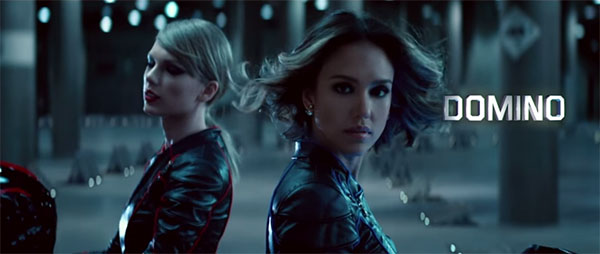 In the midst of training, Catastrophe hops onto a suave red-and-black motorcycle to cross paths with Domino, a fellow biker babe in black and blue. Though it's a brief cameo, Jessica Alba's smoldering gaze lingers and her cool, leather-clad outfit is certainly inspiring.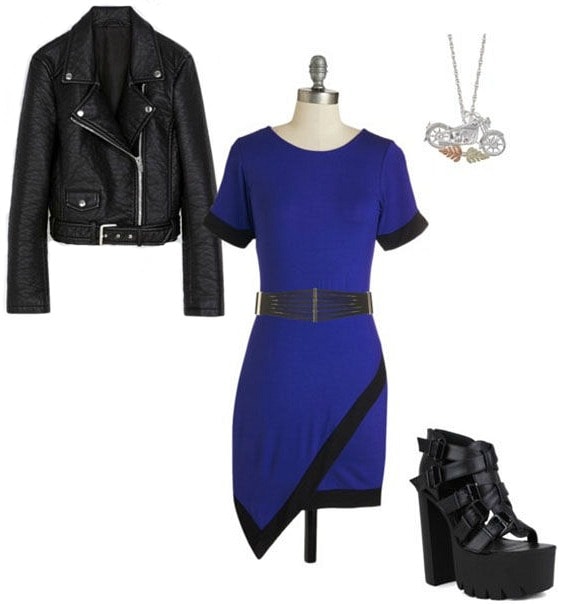 Dress // Jacket // Shoes // Belt // Necklace
We're starting off with a sleek going-out look, which centers around this gorgeous tailored dress. This piece will carry you through many a night in style. Add a leather jacket and thick, platform sandals for a tougher vibe. Don't forget your statement belt and a cute motorcycle necklace. Vroom-vroom!
Destructa X (Ellie Goulding)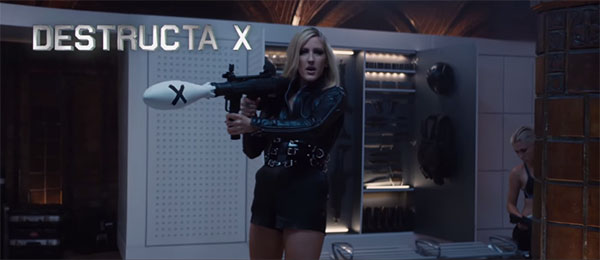 Destructa X, played by none other than the stunning Ellie Goulding, casually carries around a rocket launcher like it's no big deal. I guess when you're wearing such a kickass outfit, it boosts your confidence to do such things.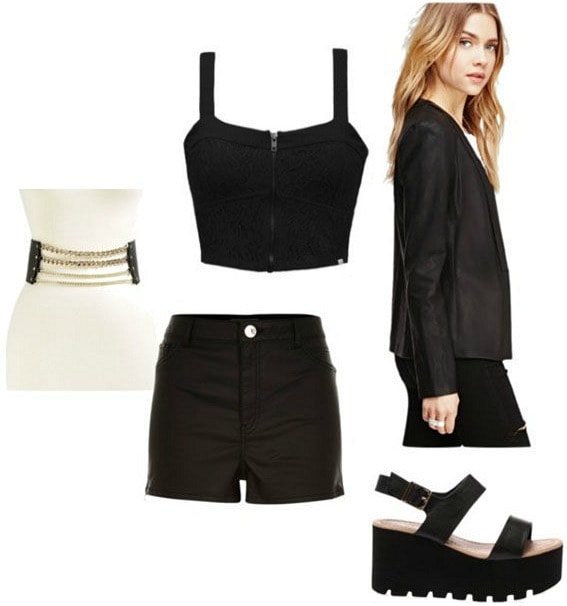 Crop Top // Shorts // Jacket // Belt // Sandals
For a look you can wear on a summer night, go with the fun combo of a crop top and high-waisted shorts. These particular shorts are coated, so they have the look of leather without the actual texture, plus they give off the tough girl vibe we're channeling.
Paired with an edgy chain belt and flatform sandals, you're well on your way to Destructa X fashion. When it gets chillier, toss on this sharp jacket and you're good to go.
Catastrophe (Taylor Swift) & Frostbyte (Lily Aldridge)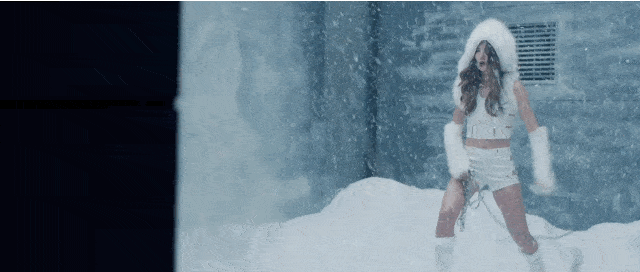 During training for her big showdown with Arsyn, Catastrophe has a wintery showdown with Frostbyte and both assassins wear fabulous monochrome outfits.
Bodysuit // Vest // Shorts // Skirt // Sandals // Necklace
I've raved about bodysuits before, and I say they're the perfect investment to make if you want to avoid awkward clothing lumps and bumps that can appear. These tuck smoothly into whatever bottoms you may be wearing, and for this look, I'm giving you two different options.
You can stick closely to the original ensembles with an all-white look, or channel a more summery vibe with acid wash shorts. Either way, you'll be rocking a killer style!
Your thoughts?
What did you think of Part 2? Which looks would you wear? Any favorites from the music video that weren't shown in this post? Let us know in the comments below! (And in case you missed it, here's Part 1 of the series.)