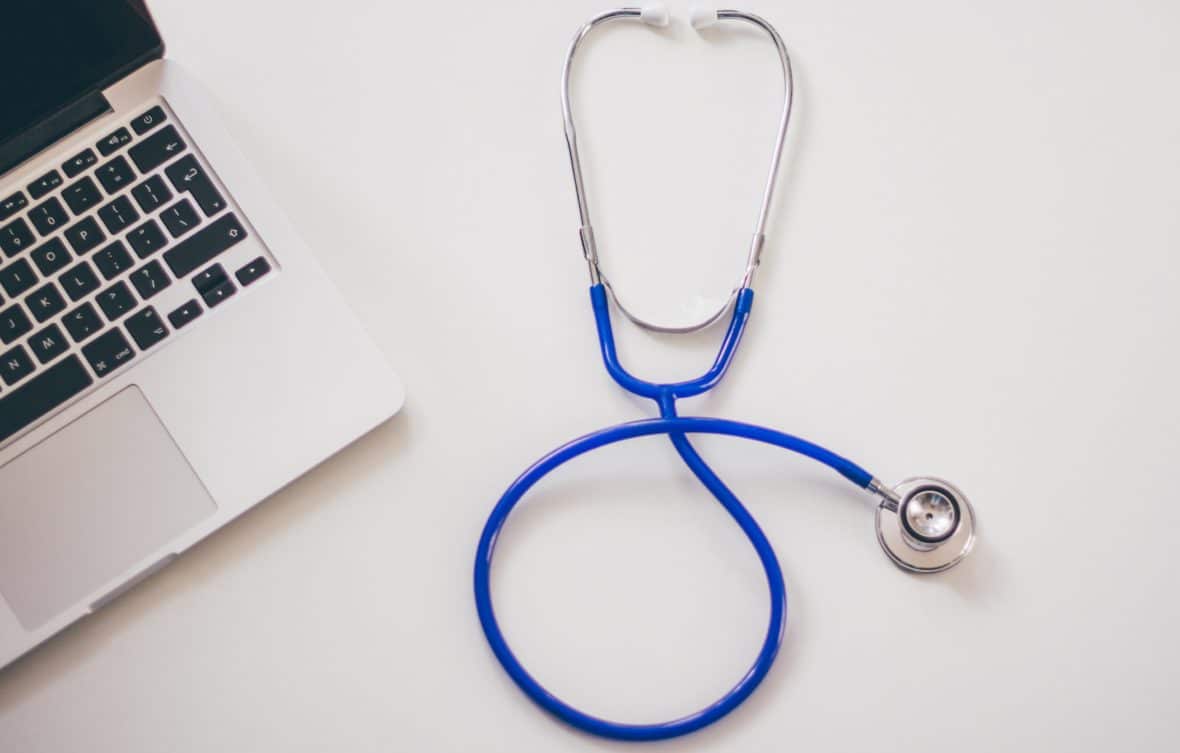 Okay, so I'm going to start this article off with a brag (I'm not even going to try to make it a humblebrag): I've officially survived my first medical school exam! As I sit here surrounded by textbooks, flashcards, and empty Cheez-It bags, it's kind of hard to remember that just three weeks ago, the biggest question on my mind was: what am I going to wear to my white coat ceremony?
There wasn't as much advice online as I would have hoped (I wound up stalking pictures of ceremonies from past years), so I figured it wouldn't be a bad idea to put together some tips and outfit suggestions.
To all of our pre-med/pre-dental/pre-nursing/pre-vet/pre-pharm CF readers out there, this one's for you, whether you're gearing up for your own white coat ceremony or planning to meet with your pre-med advisor for the first time.
About the White Coat Ceremony
During the white coat ceremony, incoming first-year students are welcomed into the profession by donning their first white coat, which is typically a shorter style than those worn by practicing physicians or other medical professionals.
A relatively new tradition, the first full-fledged white coat ceremony was held in 1993 at Columbia University.
While the practice started at medical schools, it has also spread to dental, nursing, physician assistant, pharmacy, and veterinary schools.
What to Wear at a White Coat Ceremony
Most schools stipulate a "business casual" dress code.
Medicine is a pretty conservative field, so this isn't the time to whip out your sexiest cutout bandage dress, no matter how fabulous you look in it.
At their shortest, hemlines should be a few inches above the knee, while necklines should be no more than 2-3 inches below the clavicle.
No matter how pretty your outfit is, the entire point of the ceremony is to put another garment on top of it. Make sure that what's peeking out underneath is flattering when the lapels of the coat are pulled together.
Standard white coats are "unisex" but are really designed for men: the buttons are on the right, the shoulders are wide, and the sleeves are baggy and way too long. They're also cut straight up and down and don't really do anything to accentuate (or accommodate) the lady lumps. Don't get me wrong: I realize it's a huge honor just to wear the garment and it's not meant to be a fashion item. But you'd think there'd be the option of women's sizes in this day and age, no? Rant over. 
On most girls, the hem of the white coat falls somewhere around the mid-to upper-thigh. Yet another reason to watch the hemlines: you don't want it to look like you're not wearing anything underneath the coat!
Make sure you're comfortable and confident in what you're wearing. Chances are, you'll be taking a lot of photos with your family and new classmates.
Also, don't forget to check the weather report. My school's ceremony was held outdoors in 90-degree weather, but other schools might have indoor ceremonies or have them later in the year when it's a bit chillier.
8 White Coat Ceremony Outfit Ideas for Women
Dress for Success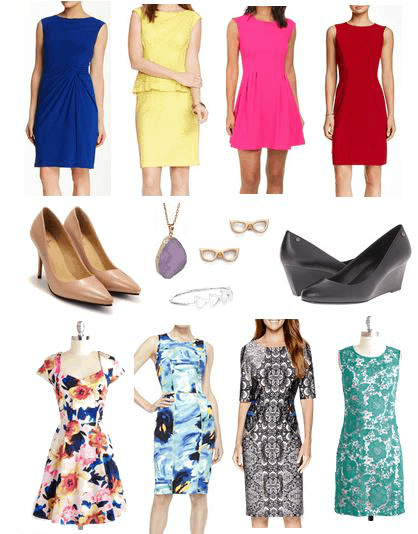 Top Row (L-R):
Middle Row:
Bottom Row (L-R) :
Things to Keep in Mind:
While you can never go wrong with a neutral black, navy, or gray dress, jewel tones or pastels also look great against the stark white of the coat.
Steer clear of white dresses: while I love a good LWD, it's just too much of the same color when you put on your coat!
Prints are totally acceptable (I wore a pink floral-print dress to my ceremony), but make sure the pattern isn't too loud. Since prints can often skew casual, make sure the material is somewhat more dressy (e.g. a structured cotton sateen vs a stretchy knit jersey).
Fit-and-flare dresses are normally a favorite of mine, but because of the straight cut of the coat, an extra-voluminous skirt either gets squashed down or makes the bottom part of your coat bulge out in an unflattering way. If you can, try on the coat beforehand to see if it does either of those things or stick to an A-line or sheath/pencil skirt silhouette to keep everything looking streamlined.
Keep your accessories minimal and tasteful. If your dress or top is a solid color, try adding a pretty necklace; just keep in mind that it might be covered when you button up the coat.
For the most polished footwear look, stick with closed-toe pumps or wedges.
Mix and Match
While most girls opt for dresses, you can definitely rock a blouse with a skirt or trousers at a white coat ceremony. Try mixing and matching any of the tops and bottoms below: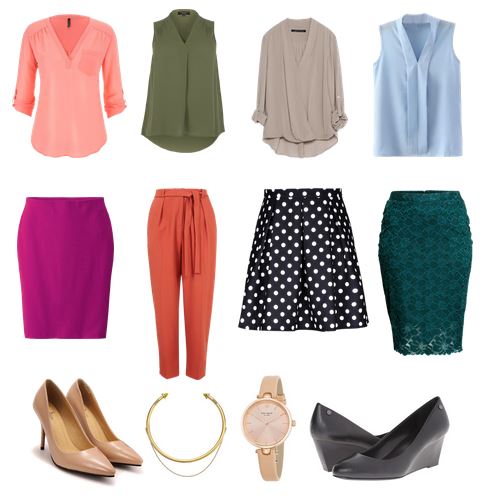 Tops:
Bottoms:
Accessories:
What did you think?
Would you wear these outfits? Are you aiming for a career in the health sciences? (Let me know! I love hearing from other STEM fashionistas!)
For more fashion tips like this, you might also want to check out our related posts below —