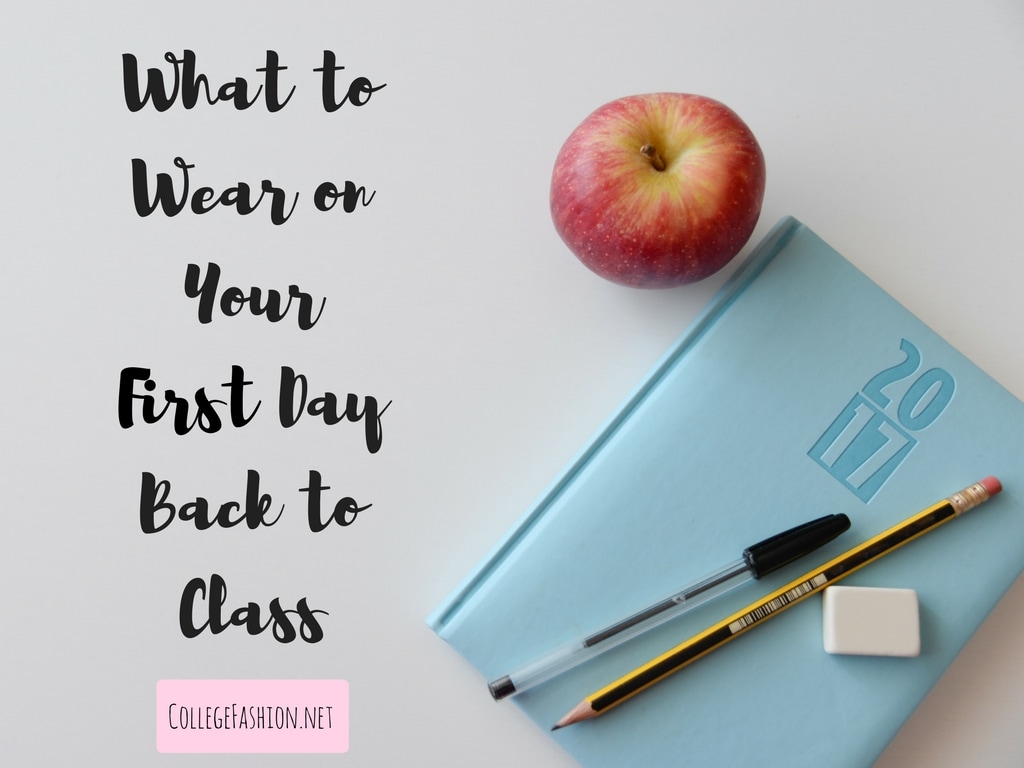 The first day back to class comes with a myriad of different emotions, namely fear, anxiety, and excitement. And, for me personally, one thing that drives my more thrilled feelings involves choosing what to wear.
We've been covering first day of class outfits a lot this past week on CF (see this post, this post, and this post for more), but that's because we want you to have style options!
Your first day back to class outfit doesn't just give others an impression of your personal style, it also gives you a little extra boost of confidence. Just like when my room at home is a mess, I feel like a mess, when I look disheveled or feel uncomfortable, I feel those ways too.
To ensure you love your first day back, choose what makes you feel beautiful. Your confidence will just shine through. Wear your favorite top, a pair of new shoes, or even try a trendy lip color if you're feeling bold. The first day back is all about you, girl. Embrace it.
If you want some more concrete ideas, though, I'm here to help. Below you'll find 3 more stylish outfit ideas to rock your first day back.
Back to School Outfit 1: Girly Girl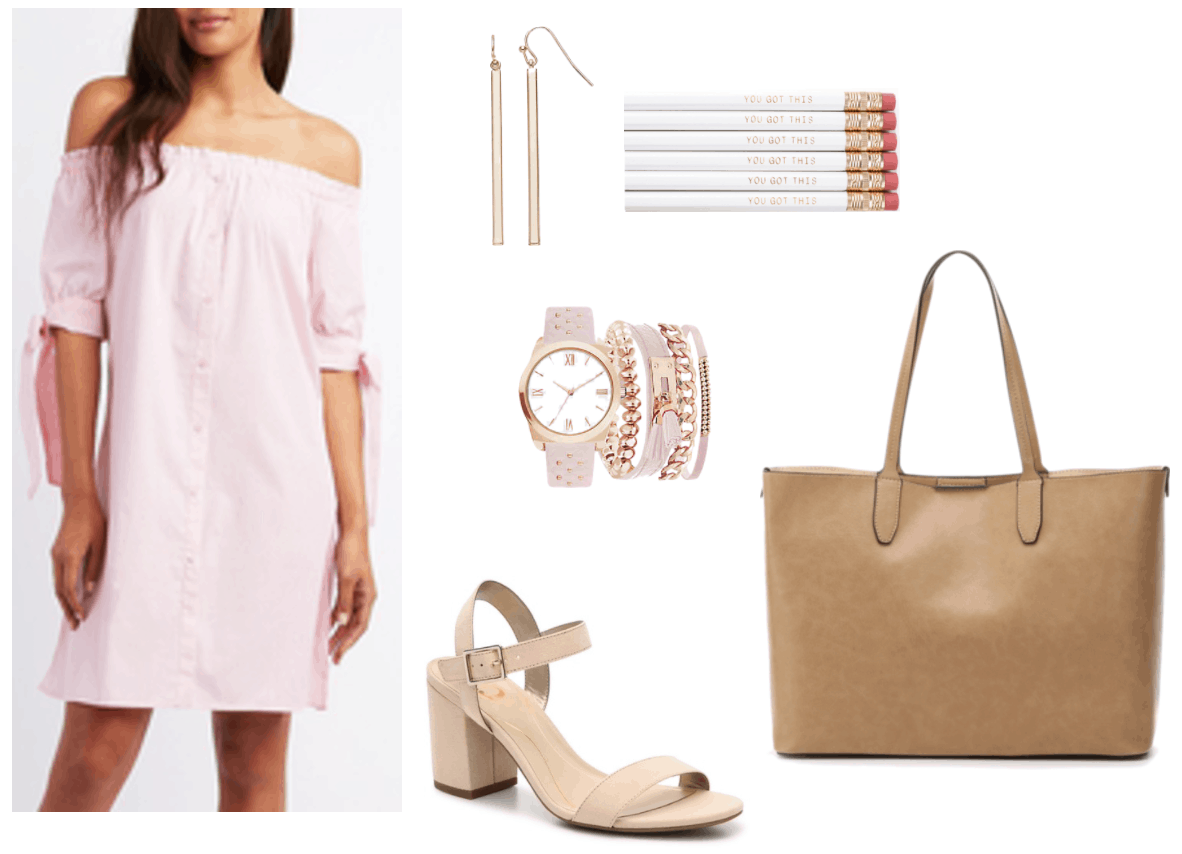 Products: Dress – Charlotte Russe, Sandals – DSW, Tote – DSW, Pencil Set – Etsy, Watch – Belk, Earrings – Kohl's
If your style is on the girlier side, sport this sweet and simple blush shift dress on your first day back. Add on a perfect pair of nude block heel sandals to give you some height and still look polished.
To accessorize, slip on this über cute blush and gold watch and bracelet set and a lovely set of gold drop earrings. Curl your locks and let them cascade down your back to make for a soft and feminine look.
Finally, pile all your books, notebooks, and makeup in this nude faux leather tote. Don't forget your "You got this" pencils from Etsy, and you're all set. Get ready to make some heads turn.
Back to School Outfit 2: Edgy Chic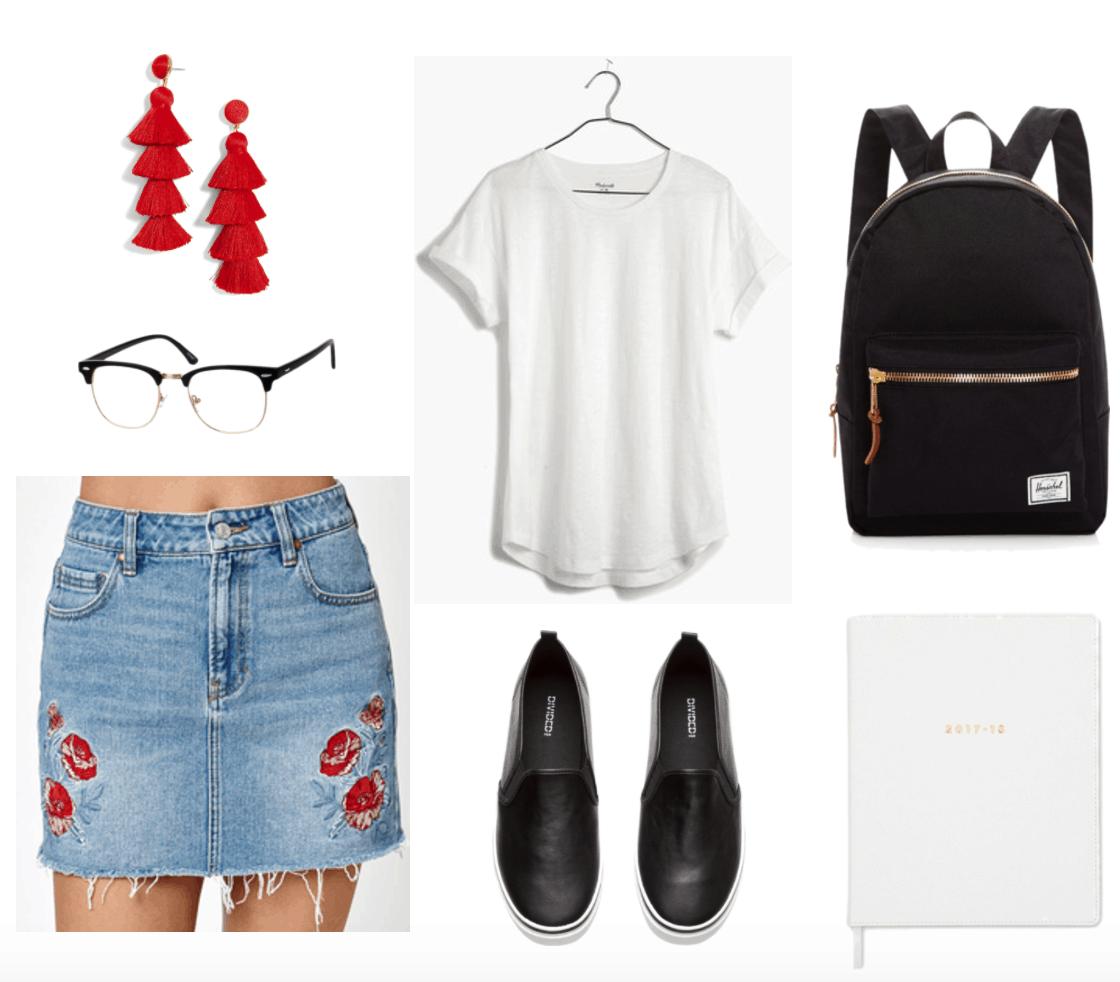 Products: Skirt – Pacsun, Tee – Madewell, Shoes – H&M, Backpack – Bloomingdale's, Glasses – Zenni, Planner – Target, Earrings – Bauble Bar
For a more edgy vibe, begin your outfit by easing into a classic white crew neck tee.
To make this basic piece a little fancier, throw on a super chic embroidered denim skirt (CF loves these!). Add some comfy and cute black leather slip-ons to strut your stuff.
Then, glamorize with these fun red tassel earrings and some bookworm-esque glasses (if needed). Pile your hair into a messy pony, like this one.
Finally, because you are going to class, grab your black backpack and study planner and you are ready for the day. They're going to love you!
Back to School Outfit 3: Simple & Sweet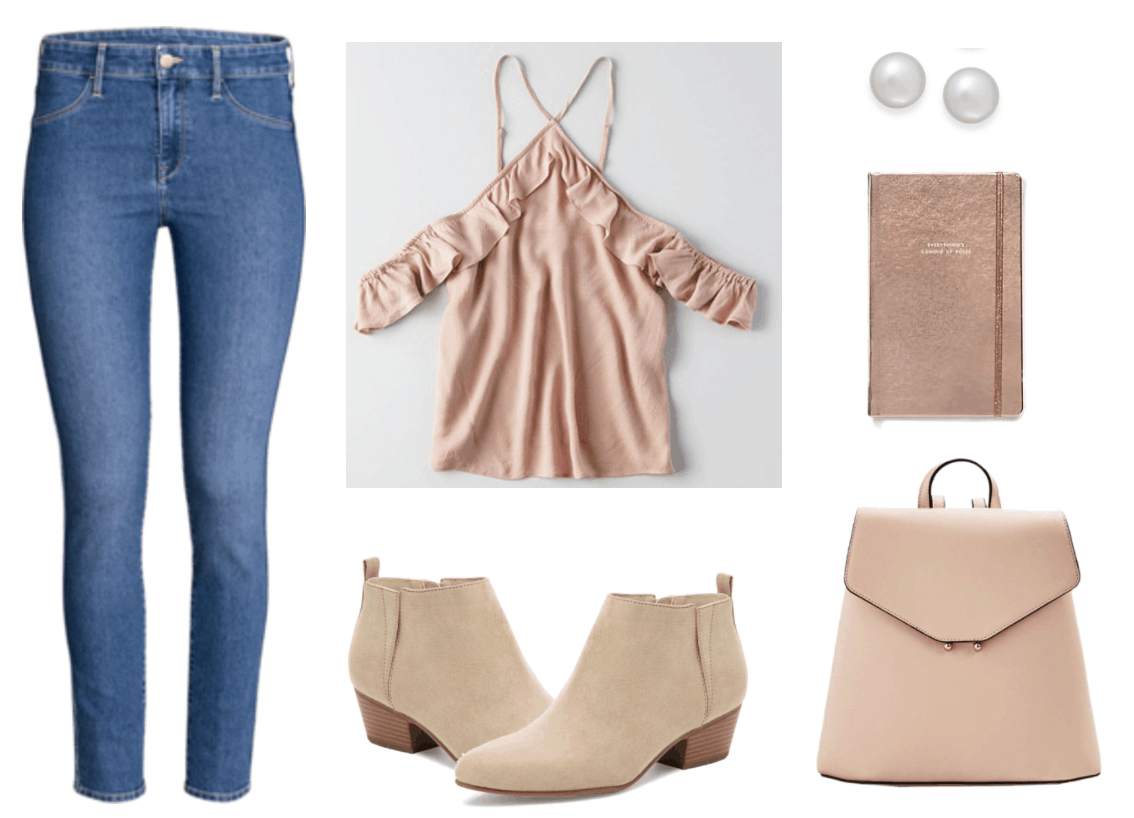 Products: Jeans – H&M, Top – American Eagle, Backpack – Mango, Booties – Old Navy, Earrings – Macy's, Notebook – Kate Spade
For an easy, somewhat casual, and overall effortless vibe, pull on your favorite pair of medium-wash jeans. Slip into a breezy blush ruffle top like this one from American Eagle. Then, throw on some classic tan suede booties.
To keep accessorizing easy, put on some silver-backed pearl earrings and twist your hair into a classy ballerina bun.
Finally, for school shtuff, carry on this classic nude leather backpack and a super cute Kate Spade metallic notebook. Have a great first day!
What do you think?
What are you going to wear on your first day back? Which outfit is your fave? What are your favorite school supplies? Let me know down below.