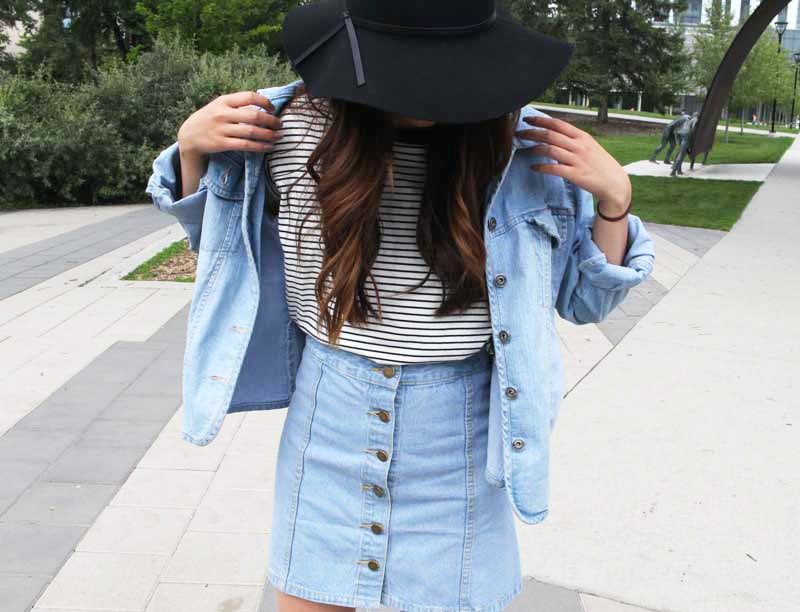 The first day back to college is almost (if not already) upon us!
Soon, you'll either be heading to campus for your first-year orientation or for your last year of classes (and everything in between). Even if you're past the point of caring if anyone judges your outfit (you know you look amazing!), sometimes, planning your outfit for the first day of classes is necessary.
Maybe it's a tradition; maybe you're just trying to save some time in the morning and get some extra sleep that first morning. No matter what, let your reason to be excited for this year influence your outfit inspiration!
First Day of Classes Outfit 1: Ready for Class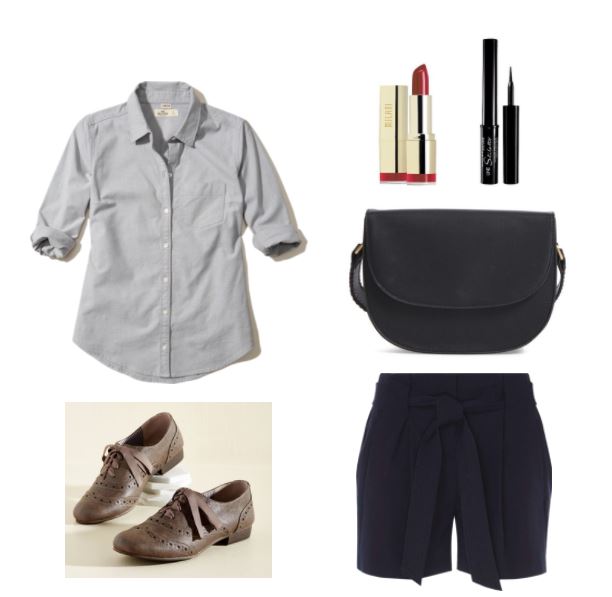 Products: Shirt – Hollister, Shorts – Dorothy Perkins, Messenger Bag – Nordstrom, Shoes – Modcloth, Lipstick – Target, Eyeliner – Target
It may be a bit summery still, but you're all business when it comes to your schoolwork. Syllabus week won't know what hit it when you roll up all prepared.
Keep the serious mood and summer vibes going with tailored shorts and an oxford shirt (this one comes in at least six different colors). The messenger bag is perfect for bringing your planner wherever you go, and the shoes keep your feet cozy when roaming campus.
This outfit is simple enough where any small touches go a long way, from jewelry to how you do your hair. Personally, I think makeup is a nice touch, especially when you're looking to (literally) put your best face forward. The red lip is classy enough for class, and I'm sure you can take a second away from your assigned reading to nail your eyeliner in the AM.
First Day of Classes Outfit 2: Ready for Friends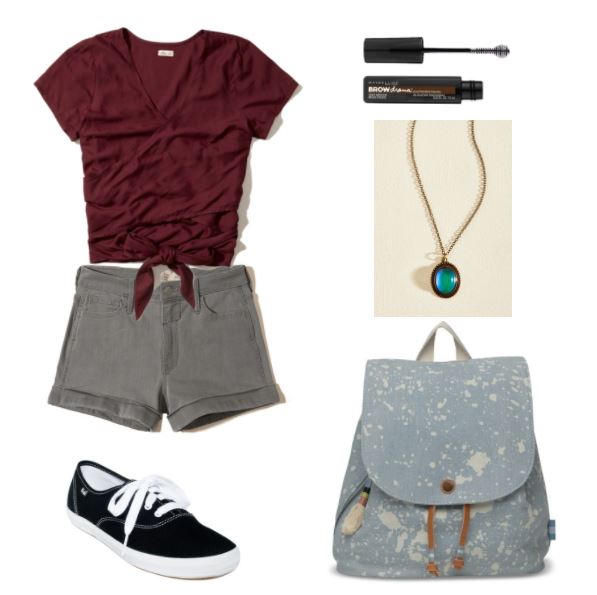 Products: Shirt – Hollister, Shorts – Hollister, Shoes – Macy's, Backpack – Toms, Necklace – Modcloth, Brow Gel – Maybelline
After a long summer, you're probably more than ready to reunite with friends — or make new ones! This outfit is laid-back, which is ideal for a day at freshmen orientation or hanging out on the quad with your squad.
For an eye-catching detail, trade in your trusty t-shirt for its tie-front cousin, while keeping the shorts simple to let the top shine. Sneakers are perfect for the walk (or run) to class after grabbing Starbucks with the bestie.
Liven the outfit up with a few well-placed details, like the cute backpack and the mood-stone necklace. Swipe on some browgel so you can head out and hang out that much quicker on the first day back!
First Day of Classes Outfit 3: Ready for Fun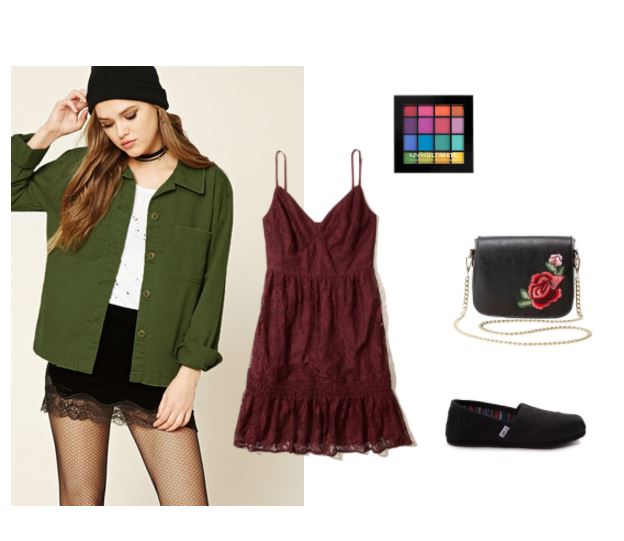 Products: Jacket – Forever 21, Dress – Hollister, Shoes – Zappos, Purse – Charlotte Russe, Eyeshadow – Target
Sure, college is for studying, but it's about more than that, too! From parties to rushing to dates, college is a really social place, and it's hard not to be excited to be back in the action.
With this look, I'm trying to balance the class and "party" aspects between the girly dress and the structure of the jacket. Think of it as a Thursday night look — a little bit of your outfit for class that morning and come night, your personality is in the details.
A crossbody bag is good for keeping the essentials close while the shoes keep things practical if you're dancing or working the room.
The eyeshadow is a touch of fun in my opinion — some of the colors may be over the top, but with whatever vibe you go for, you can achieve it with a diverse palette. (And if worse comes to worse, just grab the lipstick and eyeliner combo from look one for your night out!)
What do you think?
What has you excited for the new school year? Any styles you want to see outfits inspired by? Any cool events coming up for you that you're excited to dress up for? Let me know in the comments!