This post may contain affiliate links, which means we may receive a commission if you purchase through our links. Please
read our full disclosure here
.
Move-in day is the beginning of your life as a college student (or the continuation, if you're a returning student) – and perhaps one of the most stressful days of the year. I know it seems hard, but it's totally possible to lug all of your belongings into a tiny dorm room while still looking cute — after all, you want to put your best foot forward on your first day back on campus.
Ready to get started? Read on to pick up some tips on what to wear on college move-in day.
Tips on Dressing for Move-In Day
Keep it simple. Move-in day is not a glamorous occasion. It's hot, sweaty, and you're going to be bending over to pick up boxes. Now is not the time to bust out your new skirt (you don't want to flash any of your classmates) or wear anything too constricting. A simple pair of shorts or jeans will do the trick — bonus points if they have pockets, which will come in handy when you're trying to juggle your ID, keys, and random pieces of paper being thrust at you. For a top, pick a shirt that will allow you to move around comfortably but still express your personal style.
Minimize the accessories. Move-in day requires a lot of heavy lifting — literally. The last thing you want to worry about is an uncomfortable cocktail ring hurting your hand or your bangles jangling while you lift boxes. The same goes for dangly necklaces or scarves – they can easily get caught on things. Instead, add pizazz to your outfit with earrings or some simple friendship-style bracelets. They won't snag on anything and will help you stand out.
Unfussy footwear. You're going to be doing a lot of walking on move-in day — back and forth to your car, up and down stairs, etc. Now is not the time to wear a new pair of sandals guaranteed to give you blisters. Instead, pick a pair of shoes that are comfy and stylish. I would stay away from sandals, and especially flip flops, because you don't want to hurt your toes (or chip your pedicure!) if you drop anything. Sperry Top-Siders, Converse, Keds, and flats are just a few of the footwear options that will keep you looking cute and protect your feet.
Example Outfit 1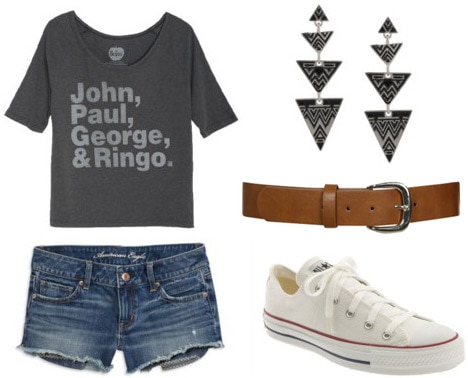 Tee, Earrings, Shoes, Belt, Shorts
Example Outfit 2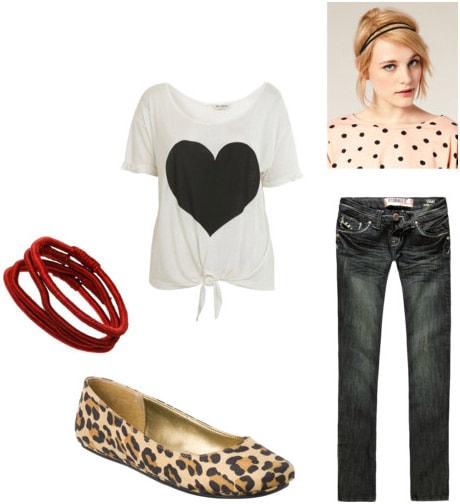 Tee, Jeans, Flats, Headbands, Bracelet
Example Outfit 3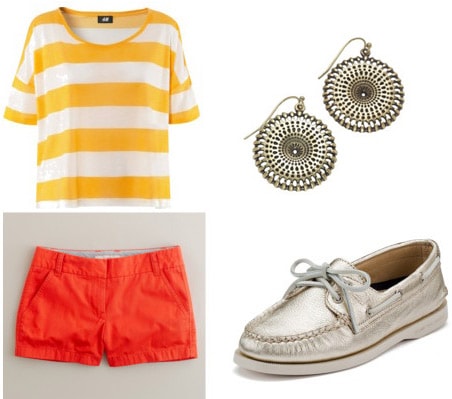 What Do You Think?
Did these tips help you decide what to wear? If you're returning to college, what advice do you have about moving into a dorm or apartment? What other college activities would you like to see a post on? I'd love to hear from you, so be sure to leave a comment!