This post may contain affiliate links, which means we may receive a commission if you purchase through our links. Please
read our full disclosure here
.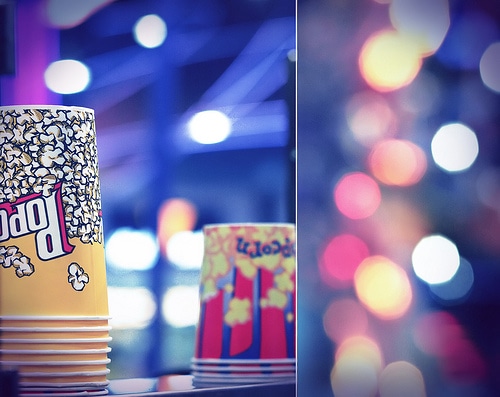 Seeing a movie — it's the quintessential date idea, a fabulous escape from reality, and a way to admire your celebrity crushes on a giant scale. (I went to see Premium Rush and I was not the least bit disappointed — with JGL's dimples, that is.)
Yet movie theaters, in my opinion, can be among the hardest locations to dress for. The A/C tends to be set to "Arctic" and, depending on who you're going with, your ensemble could need to be dressy or casual.
To save you the dreaded blank stare into your closet and panicked thoughts of "WHAT DO I WEAR," I've put together four outfits that would be super cute for any movie outing.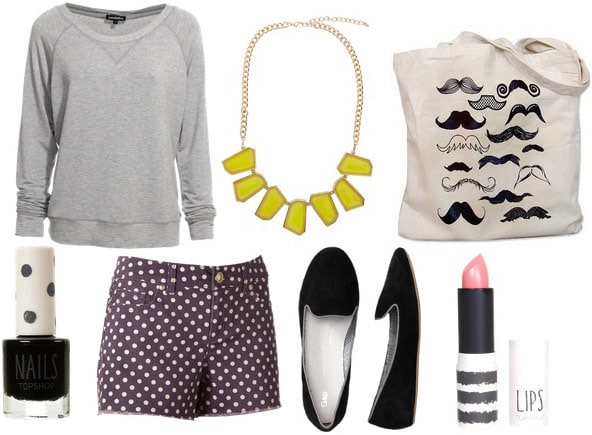 Top: Isabella Oliver, Necklace: Dillards, Bag: Etsy, Nail Polish: Topshop, Shorts: Kohl's, Shoes: Gap, Lipstick: Topshop
Despite fall being right around the corner, summer does not seem to be going anywhere. In order to beat the heat without freezing in the theater, I paired these super cute polka dot shorts with a simple, lightweight pullover.
Now it's time for extras. Black nail polish is a fun way to start the transition into fall, while smoking slippers are super comfy. For a pop of color, add a neon statement necklace and a swipe of matte pink lipstick. Finish off the outfit with a mustache tote (because who doesn't love mustaches?) as a place to stow all the cheap candy you bought at the gas station. 😉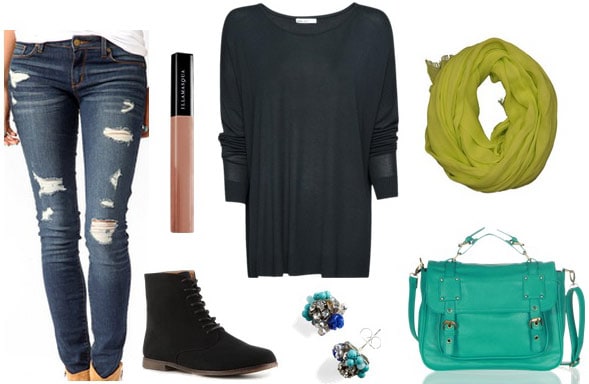 Jeans: Forever 21, Lipgloss: Illamasqua, Top: Mango, Scarf: Hollister, Shoes: DSW, Earrings: Modcloth, Bag: Flying Tomato
If summer is NOT just around the corner for you and fall has comfortably settled in, this outfit is perfect; it's casual, comfortable and warm!
Distressed jeans are coming back this season, so pull out your pair from high school and work them proudly. Add a flowy jumper on top and sleek boots on the bottom. Keep the makeup simple to let the accessories pop. Add a bright scarf near your face, bold earrings and a statement bag.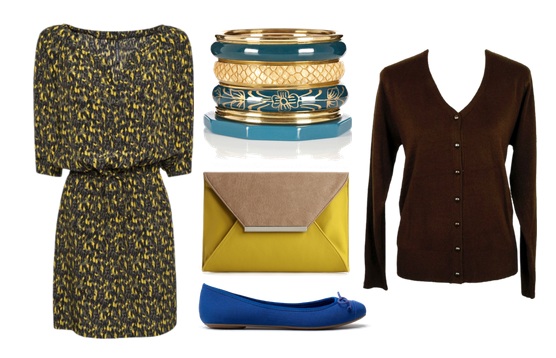 Dress: Mango, Bangles: Oasis, Clutch: DSW, Shoes: Pull&Bear, Cardigan: Amazon.com
This outfit may be a bit too formal for going to the movies with your friends (but then again, who's to say what's too formal?!), so think of this as a first date dinner & a movie sort of outfit.
The cardigan gives the dress a more casual feel, but this look is all about the bold accessories for glamour. To bring out the subtle blue in the dress, I paired this outfit with blue flats, a set of fun bangles and a bold clutch. If you are going on a date, I'd forgo bringing in your own snacks, so stick with a smaller bag for the theater and restaurant.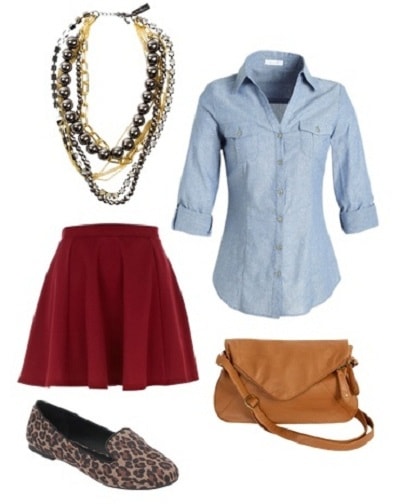 Necklace: nelly.com, Top: dELiAs, Skirt: River Island, Bag: Wet Seal, Shoes: Lane Bryant
Since I included two casual outfits, I thought it would be only appropriate to include one more dressy option for the movies. This could be worn if your first date was strictly at the movies, as this is the perfect combination of casual and dressy.
Because burgundy is going to be a huge trend this fall and looks flattering on all skin tones, I think this skirt would be perfect for a movie date night. Chambray is the perfect pairing for this skirt. With leopard slippers, a bold necklace and a small crossbody bag, you'll look super fab for your first date.
What do you think?
What movies have you seen lately? Do you have a "uniform" that you wear to the movies? Which outfit is your favorite? Also, please, please leave suggestions below about activities/outfits you'd like to see! All of my posts are based off your ideas, so keep them coming! 🙂