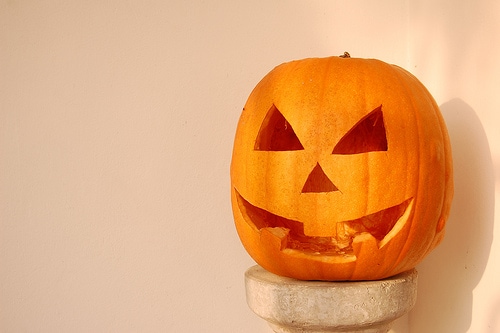 This weekend or the next, when you're not dressed up as a cat or Daenerys, I want you all to venture out from your dorms and partake in some fall festivities.
What do I mean by that? Below, I'll share three fun activities that you can do with your friends to get into the fall and Halloween spirit. Apple picking, carving pumpkins and a scary movie marathon are affordable, enjoyable, and definitely festive!
Apple Picking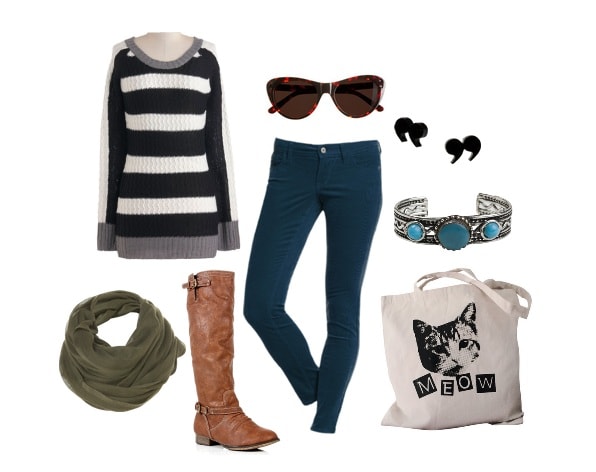 Sweater, Sunglasses, Earrings, Scarf, Boots, Cords, Bracelet, Tote
Since the fall season has arrived, I feel like I'm being bombarded with apple picking posts, pics, and articles on the internet. Apparently it's the thing to do during autumn! (And I love apples, so I'm not mad about it.)
If you're interested in picking these sweet fruits and baking them into a delicious, picturesque pie, then this outfit is for you. Find a chunky knit and warm scarf so you can forgo the bulky coat. Throw on your favorite colored cords and some boots for tromping through aisles of trees. Since this is quite a hands on activity, forget rings! A cute, fitted bracelet and earrings (those earrings, guys – seriously, SO CUTE!) will be all the bling you need. Don't forget your shades and a tote to carry around all your yummy pickings.
Pumpkin Carving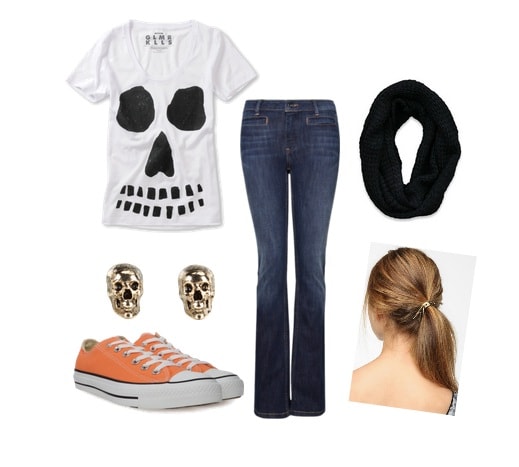 Shirt, Jeans, Scarf, Earrings, Spiked hairband, Shoes
There are few things more Halloween-y than carving pumpkins (and cooking the seeds – yum!). If a pumpkin patch is too far out of the way for you, I promise I won't tell if you pick up a pumpkin at your local grocery store. Then get to carving and BE CREATIVE!
During your carving party, be sure to channel your Halloween spirit in your outfit: Try a skull shirt, earrings and your favorite pair of bootcut jeans. Pair your ensemble with a black scarf and orange shoes to capture the signature Halloween colors. Again, forgo any hand jewelry since your hand will be covered in pumpkin!
Finish off the outfit with a low ponytail to keep your hair out of your face while you're gutting the pumpkin. Use a spiked hairband to add a little something special to your outfit. Then please send me pictures of your carved pumpkins (or post a link in the comments!)!! I love seeing what people come up with. 🙂
Scary Movie Night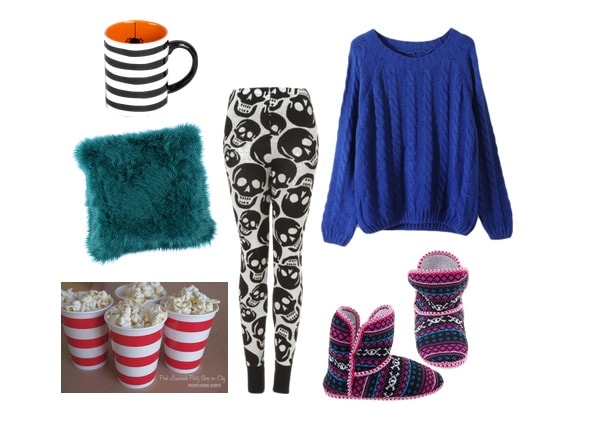 Mug, Leggings, Sweater, Pillow, Popcorn Cups, Slippers
Ironically enough, this is my favorite outfit of the three, though definitely not my favorite activity. (See my previous post for more on this.)
If you have a free night this coming weekend, gather together a bunch of friends, decorate your dorm, and invite everyone over for a scary movie marathon. (And subsequent sleepover because, really, who could sleep alone after that?!)
Scary movie nights require that you dress in your PJ best! Dig out your most festive pajama bottoms and pair them with your comfiest sweater. Forget real shoes — it's all about the fun slippers! Don't forget a pillow for sleeping and screaming into, and grab your favorite mugs to fill with hot chocolate and popcorn. And definitely do not tell the boys next door that you're having a scary movie marathon. You KNOW they'll try and scare you!
What do you think?
Have you done any of these fall activities yet? Which is your favorite? What outfit you like the best? What else would you like to see from this column? Let us know in the comment below!!! 🙂