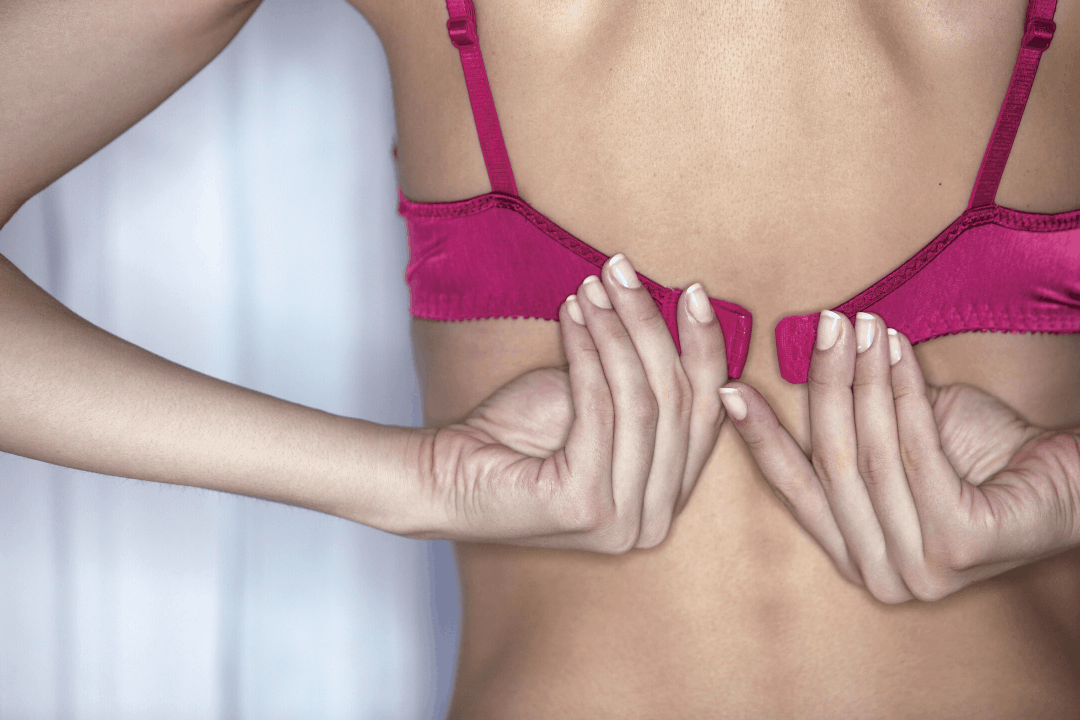 Welcome to the latest edition of Ask CF! Every two weeks, we select a reader fashion question and answer it here on the site. Do you have a specific fashion question for us? Scroll to the bottom of this post to learn how to send it our way!
Ask CF
"Hey CF! I've got a tank top that has a back of pure lace design. Should I wear a sticky bra with it? Layer something underneath? Let the back of my bra show through and the rest be skin showing through? I have no idea what to do with this!" -Anonymous
Our Response
Anonymous, you ask a great question. Although bras are considered lingerie, this summer they are definitely also accessories. Bras are now being worn to be seen, rather than hidden, and I'm personally loving the trend.
To help you out with your dilemma, I've compiled a list of the major bra styles for this summer, along with some outfit suggestions. This list should help demystify the often complicated bra-choosing process and give you some styling ideas.
Let's get started!
Muscle Tanks: Bandeaus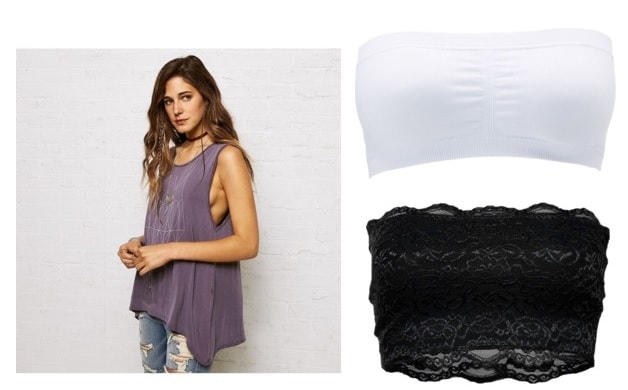 Product: Top, White Bandeau, Black Bandeau
Muscle tanks have been trending for many seasons now and I absolutely love them! Since they have large armholes, muscle tanks are the ideal choice for showing off just a hint of a cute bra.
With muscle tanks, bandeau bras are the way to go. They are medium-to-light support strapless bras that come in different textures, colors and styles. If you have a larger chest, you can also wear a bandeau over your normal bra to give the look of a bandeau with additional support.
Backless Tops: Low Back Bras or Sticky's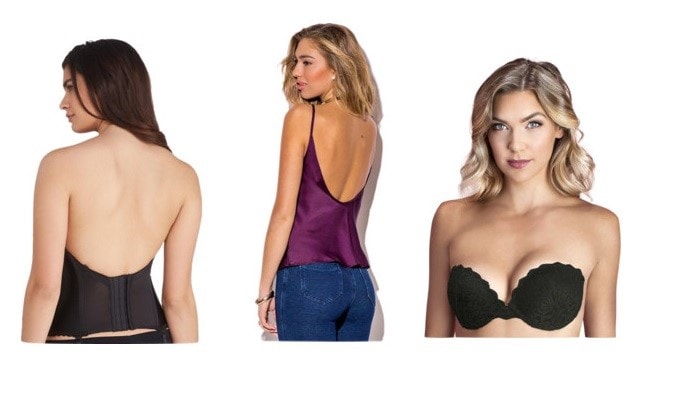 Products: Top, Low Back Corset Bra, Sticky Bra
Excuse me as I scream with excitement! I am SO obsessed with low back tops and dresses this season. They are a perfect way to show some skin, yet still remain fairly conservative. I'd also like to send a huge thank you to the person that invented the bras to go with them.
Sticky bras and low-back corset bras are the way to go with this kind of style. They are comfortable, provide medium to full support and are just down right convenient. I know some women hate going regular bra-less (guilty as charged) unless it is completely necessary, but these options are awesome.
Loose Tank: Bralettes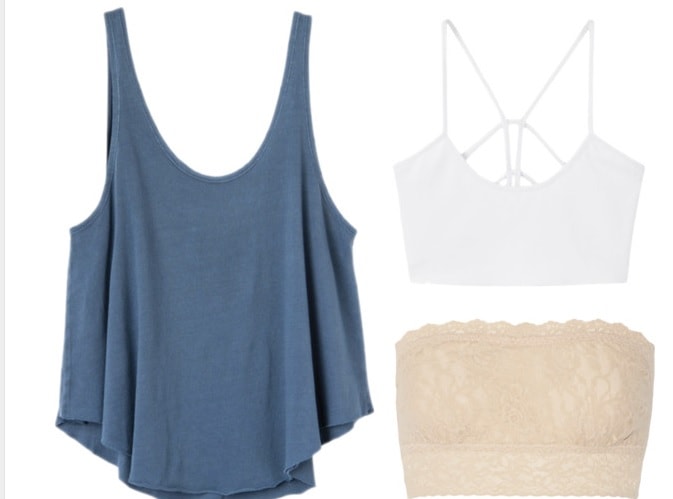 Products: Loose Top, White Bralette, Nude Bralette
Loose tank tops are my go-to tops for a hot, summer day. With loose tanks, your bra is definitely going to show, so you have the option to either wear a bandeau (discussed above) or a cute little bralette.
Bralettes are just like regular bras, but they have more styles and textures and a lot less support. Some come with full support, but most range in the light to medium support category. They come with racer-back designs, vertical line designs and even full lace back bralettes! They're truly beautiful.
As always, bralettes can be worn under loose tanks and some people spice it up by wearing them with backless tops as well. To each her own – bralettes are super hot right now so the options are limitless.
Off the Shoulder Dresses or Strapless Tops: Strapless Bras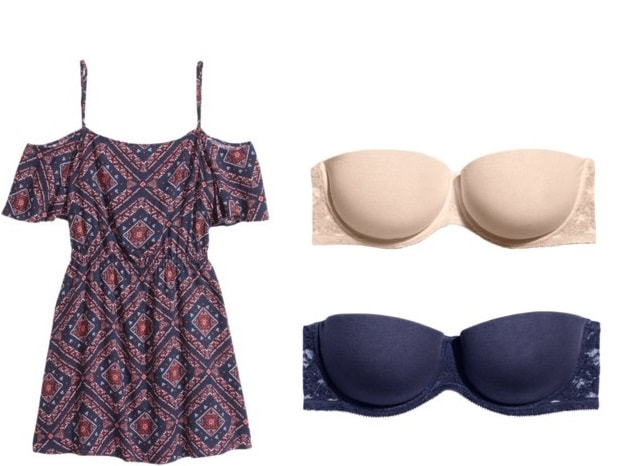 Products: Dress, Nude Bra, Blue Bra
Every woman should own a standard strapless bra: no ifs, ands or but's about it! They are one of the staple wardrobe essentials that every woman needs. Strapless bras can be worn with all tops, but they're great this season for off-the-shoulder dresses and tops.
Strapless bras, as opposed to bandeaus, provide medium to high support with a touch of detail. When it comes to strapless bras, though, you have to make sure that they are the correct size for you OR you'll be pulling yours up all day and night. I recommend that you get a fitting done at a lingerie store or department store and be sure to try on every strapless bra before you buy.
Deep-V or Low Plunge Neckline: Plunge Bra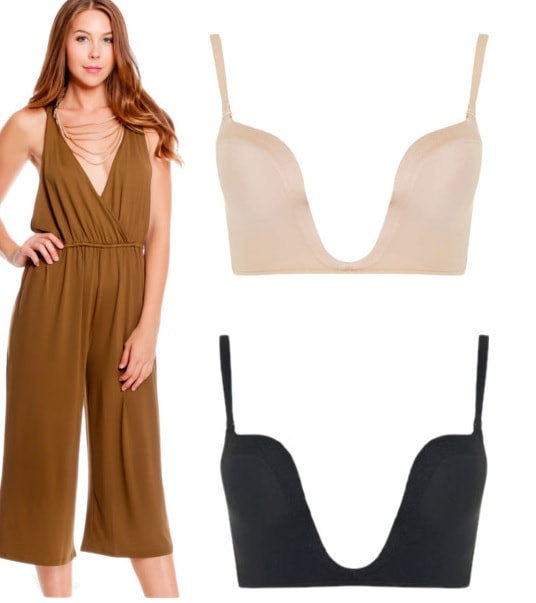 Products: Jumpsuit, Nude Bra, Black Bra
Last but not least, my favorite night out bra and style…DEEP PLUNGE! It sounds scarier than it looks, and oh my goodness, it is my favorite! The low-v neckline always puts a little pep in my step on a night out.
Deep-v necklines are as simple as they sound, necklines that are deep (roughly mid-sternum), and go below where a normal bra would hit. If it's comfortable for you, you can always choose to go braless with this style, but if you want a bra, there is an awesome option out there.
Enter the plunge bra. These awesome bras are maximum support and extremely comfy, I kid you not! They make you feel so secure and still leave room for you to show some skin. I suggest that if you have a deep-v neckline piece, get a deep-v plunge bra to go along with it; you won't regret it!
Do you have a pressing fashion question? Ask away!
Is there a piece in your closet that you never know how to style? Do you have an important event coming up? Is there a certain trend that is completely lost on you?If you have a question you want to see answered in this column, just send it on over via email to askcf @ collegefashion.net and one day you might see your question answered right here on the site!
Please note: We get A LOT of email and unfortunately we will not be able to respond to every single question. However, we will read through each question and then decide which ones will be most helpful to the most readers. Thank you for your understanding.
As always, feel free to leave comments and tell me what you think!