This post may contain affiliate links, which means we may receive a commission if you purchase through our links. Please
read our full disclosure here
.
I absolutely love Halloween. Copious amounts of candy + the opportunity to experiment like crazy with my style = my dream holiday. In fact, the only thing I don't like about Halloween is that it only takes place once a year (and usually ridiculously close to midterms)!
That's why I was overjoyed when I came to college and realized I would have plenty of chances to dress up during the other 364 days of the year. From frat/sorority parties to club events and school-sponsored events, themed parties are always happening on college campuses and around them, with local businesses often getting in on the fun by hosting events of their own.
While getting all dressed up for a themed event is fun, it can also be pretty stressful! After all, most of us do not have closets full of costume attire ready to go, so it can be tough to come up with something that works. And the idea of buying a whole new look for just one night can make a college girl on a budget want to skip the event altogether!
Since I began this column, I have received tons of requests for articles on what to wear to specific themed events. I have been reluctant to answer these, as I try to choose topics that will help the largest number of people. However, having attended everything from a "Mad Hatter" themed event to a "Great Gatsby" ball in the past couple months, I have now picked up some general tips to help you decide what to wear for any and every themed event you may find.
Themed Event Essentials
If you are attending a themed event and don't want to purchase a new outfit but are at a loss for what you could create from your own pieces, check for these basics first: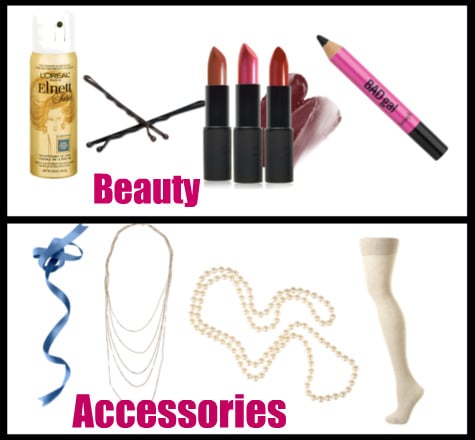 The best way to create a look without spending any money is to experiment with your hair and makeup! A can of hairspray can take you far, creating looks ranging from 80's Madonna to fauxhawked punk rocker with a few quick sprays. Hair pins are also essential to crafting unique hairstyles, especially if you are going for a period look that involves an updo.
Makeup basics like lipstick or eyeliner are great for dramatic looks as well, as they can easily take you from classic siren (red lips, winged liner) to futuristic cyber babe (hot pink, purple, or black lipstick/liner) to gothic vamp (lots of dark eyeliner and maybe some black lipstick).
Accessories also go a long way in transforming you into a whole new person. A simple ribbon, for example, is a great thing to have lying around your dorm room, since you can use it as a headband (think "Alice" from "Alice in Wonderland" or Blair from "Gossip Girl"), a bowtie (if you're dressing up as a boy), or as a belt to cinch in a tunic or dress.
Necklaces are another example of an easy way to create a themed look. A long, gold chain necklace can be great as "bling" for a "white trash" party or can also add some sparkle to a period look. Of course, pearls are an absolute must as well – they're great for flapper costumes, 80's looks, dressing up as a business woman, and so much more. Knee socks are also great to have on hand for a sports-themed party.
As for clothes, they can be a bit tricky depending on your exact theme. A LBD goes a long way for most themed parties, as it is an easy piece to accessorize. Super cheap Hanes tanks or tees are also awesome, as you can easily cut them up or write on them to fit your theme. Blazers can also go a long way in transforming you into a business woman, a "man," or even (as I recently found) the "Mad Hatter" from Alice in Wonderland!
Ask Your Friends!
If you read the above suggestions and are still at a loss for what to wear, my next suggestion is to check with your friends. This is especially helpful if you are dressing up as a male character, for example, as obviously guys would have the best male wardrobes! You and your friends may find it helpful to pool some of your clothes together before the event in order to create totally original looks from your combined closets.
Just be sure that if you do choose to borrow clothes or accessories from your friends that you take special care to ensure they are safely returned. (This is super important if you are going to an event like a frat party where beer is probably going to be spilled on you.)
The "One Accessory" Trick
Sometimes, after you've tried all your friends and searched through your closet, you may have no choice but to make a purchase in order to create a look. This does not mean you have to buy an entirely new outfit, though! The best trick I have picked up is to purchase a single piece that you can use to define your look. For example, if you were going to a "High School Stereotypes" themed event, you could buy a pair of oversize glasses to be a "nerd" or a jersey to be a "jock."
In the picture above, some friends and I were able to transform ourselves into "Great Gatsby"-worthy fashionistas with simple accessories such as pearls, feathers, and even cigarette holders (without actual cigarettes in them, of course!) found at a vintage store that we just added on top of dresses we already had. A simple hat, mask, or wig can also do the trick for a last-minute costume!
Themed Event/Party Ideas
So you read this article but don't have a themed event or party coming up? I recommend you throw one of your own! Don't have a specific occasion in mind? I have found that throwing themed parties is a great way to raise money for a charity, just in case you needed an excuse.
Here are some themes that I have found fun in the past, whether for a larger group fundraiser or simply for a fun party with you and some friends:
Masquerade Ball: This is a super easy theme to pull off, as all anyone needs to do is buy a mask and throw on their favorite party dress!
Period Theme: I have referenced this theme a few times in the article, as it is one of my favorites. Pick your favorite decade as the theme, or allow all the guests to pick their own decade and come decked-out in retro looks. So much fun!
Favorite Character Theme: Have people come dressed as their favorite book, TV, or movie character–the fun is in guessing who's who!
Color Theme: This is a great theme for a simple fundraising party. Many causes are associated with colors (for example, Breast Cancer is associated with the color pink), so have guests wear this color and be sure to decorate and serve food in your specific color as well.
High School Stereotypes: Poke fun at your high school self by dressing up as an exaggerated "stereotypical" high school student, such as a nerd, jock, cheerleader, etc.
Met Gala: If you have friends who are as interested in fashion as you are, try holding your own "Met Costume Institute Gala." Held every year to celebrate the opening of a new exhibit, the Gala is always attended by the absolute A-list of fashion, being recently hosted by style royalty like Kate Moss. This year's Gala will be held on May 3 with the theme "American Women," so why not have one of your own and later compare your looks to those of fashion's elite?
What do you think?
Have you ever attended a themed party or event? Do you have any suggestions on how to craft costumes for them without spending a lot? Are there any other party themes you have particularly enjoyed? Let us know in the comments!
And if you have a "What Do I Wear There?" question, let us know below. Yours may be featured in the next column!