Summer is just around the corner, and with it comes a slew of new trends that I've been waiting to try — white shoes being one of them.
While almost everyone has worn a pair of white (or mostly white) sneakers at some point, white shoes that aren't sneakers are new territory for many of us, myself included.
And, although white shoes might seem difficult to pull off, I have discovered that they are actually quite versatile, and that they add an element of crisp sophistication to any ensemble (as long as you manage to keep them clean, which, for myself at least, is a whole other story!).
Ahead, see four looks that incorporate white shoes; who knows, maybe you'll be inspired to try the trend for yourself!
Outfit #1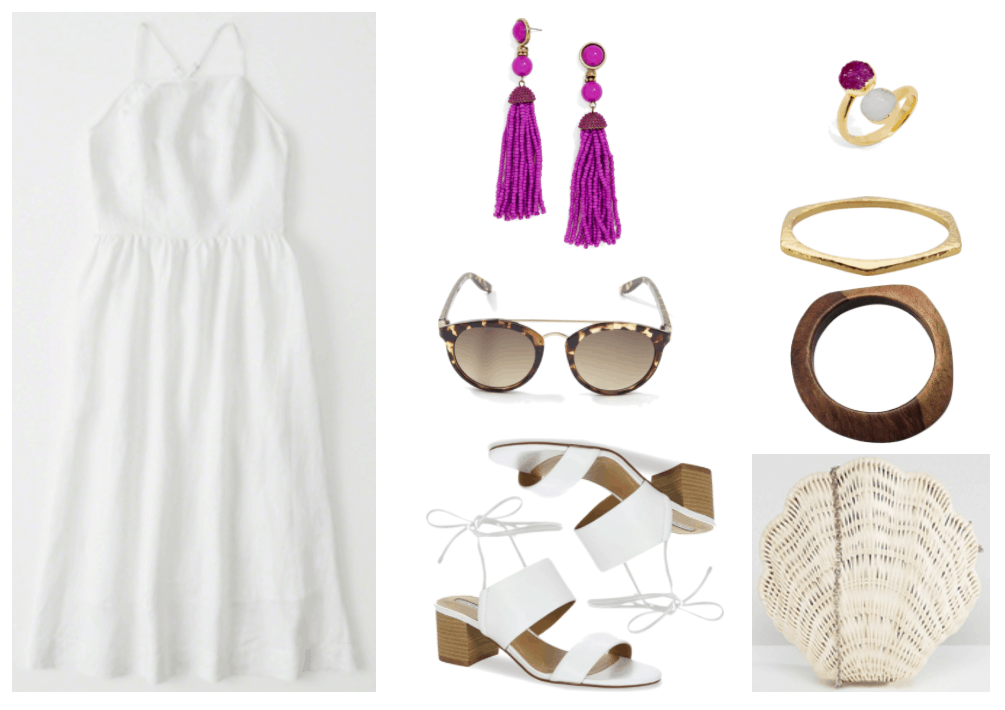 Products: Dress – Abercrombie & Fitch, Earrings – BaubleBar, Sunglasses – South Moon Under, Sandals – Belk, Ring – BaubleBar, Gold Bangle – Yoox, Wooden Bangle – Novica, Clutch – ASOS
The easiest way to incorporate white shoes into your Summer wardrobe is by wearing a pair of white sandals, such as the ones in this breezy day-to-night look.
Since sandals are strictly a warm-weather style, wearing them in white isn't going to feel as drastic as, say, a pair of ankle boots (which we'll get to later).
This is especially the case when you pair the sandals with clothing and accessories that are all or mostly white, as I have done here. To get the look, pair a feminine white midi dress with a pair of chic white tie-up sandals with a chunky heel.
If you are wearing this look for day, add a classy pair of sunglasses and a lovely off-white straw seashell-shaped clutch.
If you are wearing this look for night, swap out the sunnies for some statement-making jewelry, such as these magenta beaded tassel earrings and druzy ring, as well as some unique bangles in metal and wood.
Outfit #2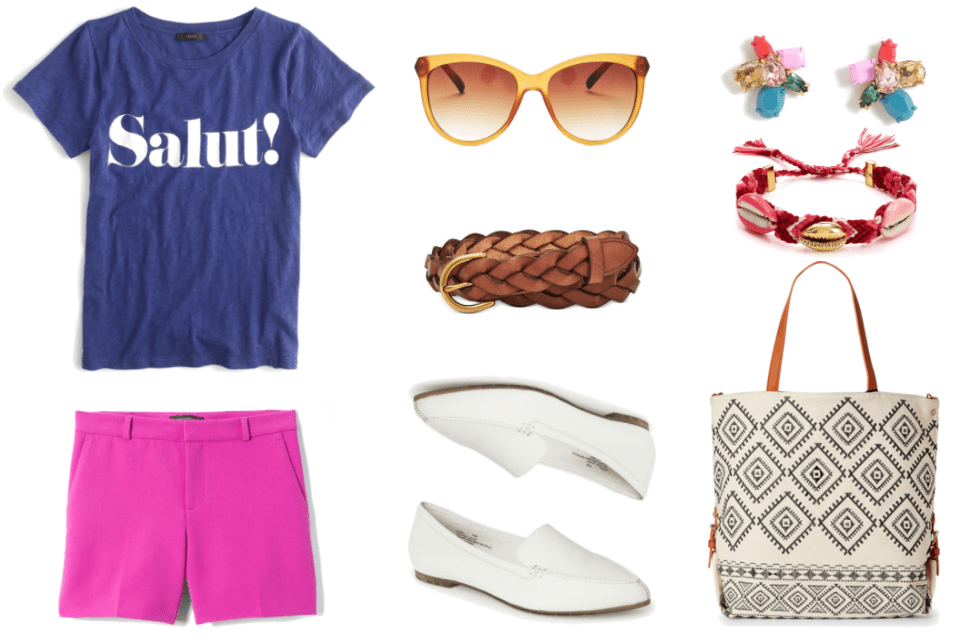 Products: T-Shirt – J.Crew, Shorts – Banana Republic, Sunglasses – Nordstrom Rack, Belt – Macy's, Loafers – Nordstrom, Earrings – J.Crew, Bracelet – Bloomingdale's, Tote – Century 21 
If your style is more bold, why not try wearing a pair of white loafers with your most colorful clothes? This will create amazing contrast, plus the crispness of the white will balance out the bold clothes, creating a look that's fun but not tacky.
Now, let's break this look down:
To start off, tuck a cute slogan t-shirt into a neon-magenta pair of shorts, emphasizing your waist with a classic and simple brown braided belt.
Next, put on some bright, summer-y jewelry, including multi-colored crystal studs and an embellished friendship bracelet. (Note: Keep jewelry to three pieces maximum, otherwise you run the risk of looking over-the-top.)
Finally, add some upbeat yellow sunglasses and an embroidered tote (bonus: this one's reversible!) for a preppy-boho look that is sure to stand out!
Outfit #3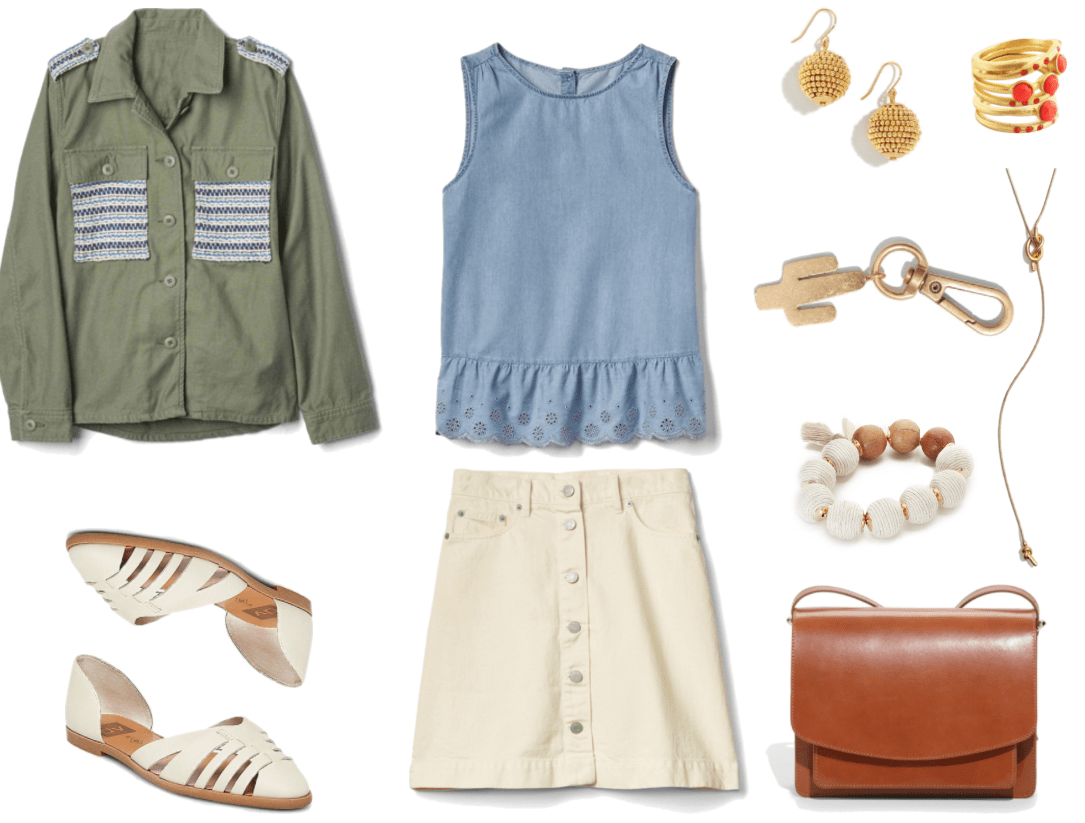 Products: Jacket – Gap, D'Orsay Flats – Target, Top – Gap, Skirt – Gap, Earrings – J.Crew, Ring Set – Target, Bag Charm – Madewell, Bracelet – Shopbop, Necklace – Madewell, Bag – & Other Stories
This muted outfit is perfect if you're looking to incorporate white flats — such as these cutout d'orsay ones — into your look in a subtle way.
A denim eyelet top is an easy warm-weather option that goes with so many things; personally, I like the idea of wearing it with more denim. Here, I've added an off-white button-front skirt.
If it's breezy out, layer on a relaxed olive-green jacket with shiny embroidery.
Fun baubles, such as these cool beaded drop earrings, pretty coral stacking rings, and boho necklace, are perfect for adding special touches to your ensemble, while a quirky cactus bag charm contrasts nicely with an investment-worthy leather shoulder bag that you'll have for years to come.
Outfit #4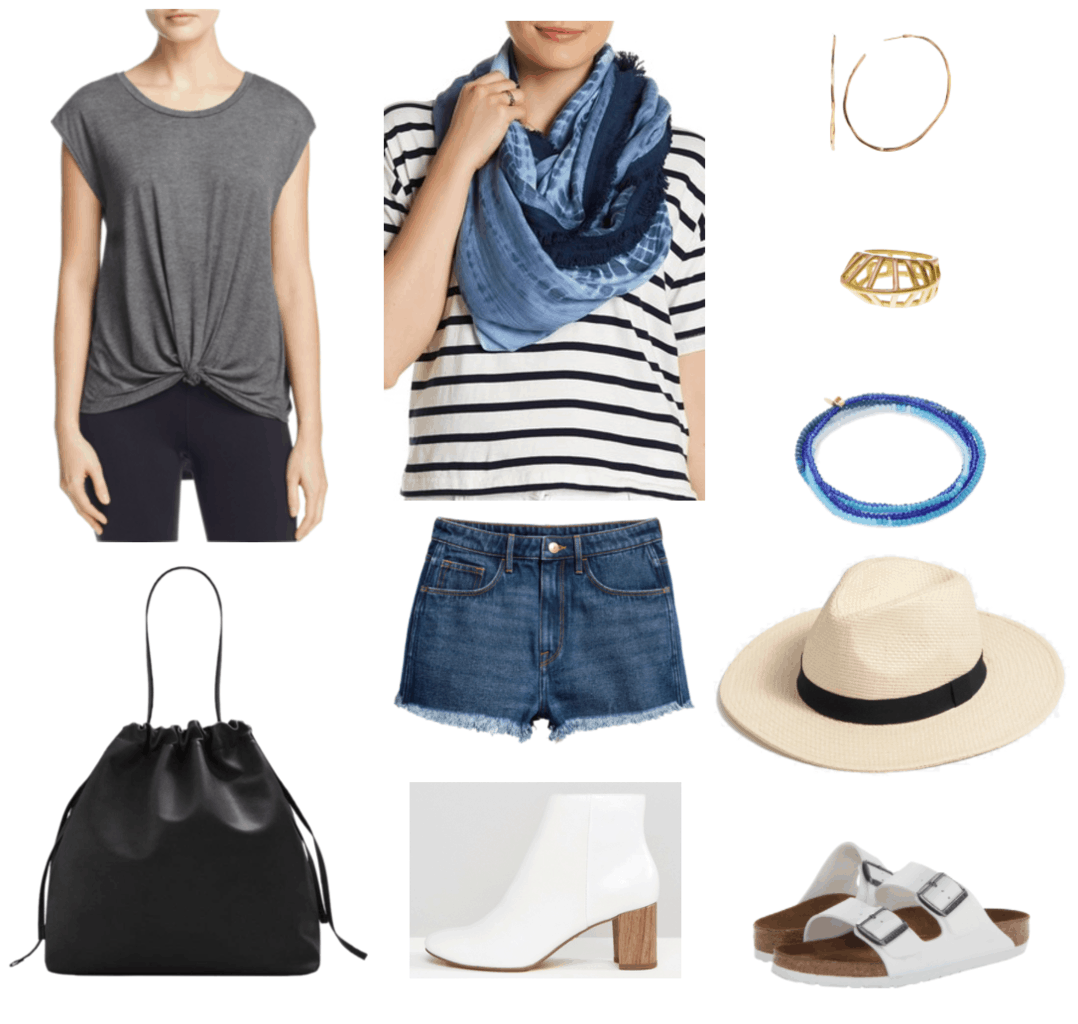 Products: T-Shirt – Bloomingdale's, Hobo Bag – Mango, Scarf – Nordstrom Rack, Shorts – H&M, Ankle Boots – ASOS, Earrings – Nordstrom Rack, Ring – Nordstrom Rack, Bracelet – Shopbop, Hat – J.Crew Factory, Sandals – Zappos
Although Caitlyn already wrote an article about white chunky-heeled ankle boots, I definitely had to mention them here. They're a major trend for the summer season.
If you prefer to save boots for the colder months, I have also included some white Birkenstock sandals in this look. They would look just as good as the boots, and they cost a bit less.
Begin with a classic denim-shorts-and-t-shirt pairing, and build upon it by adding a lightweight infinity scarf, whose beautiful blue color and tie-dye print are  flattering on everyone.
Make your outfit look even more put-together by adding an ombré blue wrap bracelet, as well as some textured hoop earrings and a geometric cage ring.
To finish off the look, put on a cute straw panama hat and grab a goes-with-everything black hobo bag.
What do you think?
Do you like the look of white shoes? If so, will you be wearing them this Summer? And, most importantly, how do you keep your white shoes looking crisp and clean? Let me know in the comments!