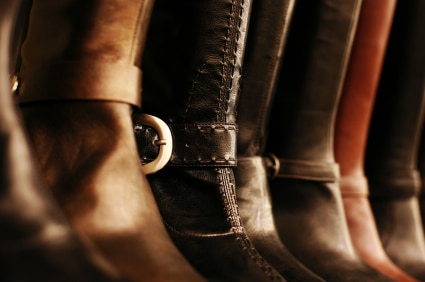 A hot pair of boots (or three!) is a definite college girl essential. Though especially practical in winter because of the cool temperatures, boots are great year-round because they're low-maintenance and cute, and can be worn in every season.
Whether you prefer short boots, medium height, or above-the-knee styles, there is a perfect pair of boots out there for you! This guide will help you choose a pair and learn how to wear them.
Short: Booties & Ankle Boots
Booties and ankle boots were huge last year, and the trend doesn't show any signs of cooling down. Ankle boots, like their name would suggest, sit at or slightly above ankle-height. Though high-heeled ankle booties have been seen on celebrities and fashionistas alike, flat ankle boots, especially with embellishment have become increasingly popular as well.
Hot Picks

Product Information: Dolce Vita Flash Bootie, Heels.com. Qupid Muse16 Ankle Boots, Cutesygirl.com. Leopard Suedette Ankle Boots, Dorothy Perkins. Minnetonka Tramper Ankle Hi Moccasin Boots, Net-a-Porter.
Tips for Wearing Ankle Boots
Choose your heel height wisely. For most of us, flat ankle boots will be a more practical option than their high-heeled counterparts. For fancier occasions, ultra high-heeled platform booties are a stylish, showstopping option.
Watch the proportions. Because they are so small, ankle boots can look awkward with fuller silhouettes up top (think boyfriend jeans or a full skirt), but are a great option if you're trying to showcase your legs. Show off those legs by paring ankle boots with leggings, skinny jeans, or short skirts and dresses. They also look amazing when worn with tights.
Notice the rise. As I mentioned earlier, ankle boots can hit at, below, or slightly above your ankle. Though all of these rises look cute with pants or leggings, getting the rise-to-leg ratio right with skirts and dresses can be a little confusing. It doesn't have to be! For the most part, the higher the rise of the boots, the shorter your skirt or dress should be. Boots with a higher rise paired with a longer skirt shortens the look of your legs. Worried about revealing too much in a micro-mini? Add a cute pair of tights to your look!
Outfit Inspiration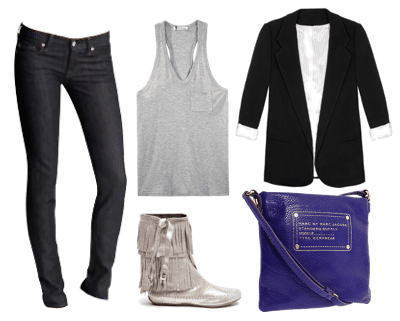 Product Information: 7 For All Mankind Roxanne Skinny Jeans, Piperlime. T By Alexander Wang Classic Mini Pocket Tank, La Carçonne. Juicy Couture Tara Moccasins, Ssense. The Boyfriend Blazer, Fred Flare. Marc by Marc Jacobs Postal Big Percy Bag, Zappos.
Medium: Mid-Calf & Knee-High Boots
Medium rise (mid-calf and knee-high) boots are likely what you think of when you hear the word "boot." From casual cowboy styles to dressy heels to slouchy motorcycle styles, medium rise boots are always in style. Not simply reserved for crunching leaves or navigating slushy streets, classic rise boots edge up summer staples like sundresses and denim cut-offs. The classics never go out of style!
Hot Picks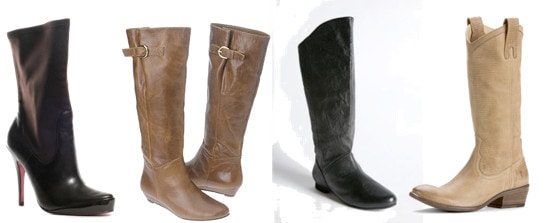 Product Information: Paris Hilton Petit Boot, Heels.com. Steven by Steve Madden Intyce Boots, Shoes.com. BDG Leather Riding Boot, Urban Outfitters. Carson Pull On Western Boots, Frye.
Tips for Wearing Classic Rise Boots
Know your occasion. Classic-rise boots come in a ton of different varieties, each of which can put a different spin on an outfit. In general, slouchy and cowboy styles are more casual, while luxurious leather or suede boots, heeled or flat, provide a more formal option.
Tuck them in or leave them out. Skinny jeans tucked into mid-rise boots are a perennial fall staple. Another option, however, is to wear your boots under your favorite pair of boot-cut jeans. The result is totally chic–just a peek of the heel and toe of your boots!
Consider your calves. Classic-rise boots can hit mid-calf or just below the knee. Either way, it's important that the boot doesn't gape too much–it should fit snugly but comfortably around your leg. If you have athletic or curvy legs, stretchy, slouchy, or zippered styles are a great bet.
Outfit Inspiration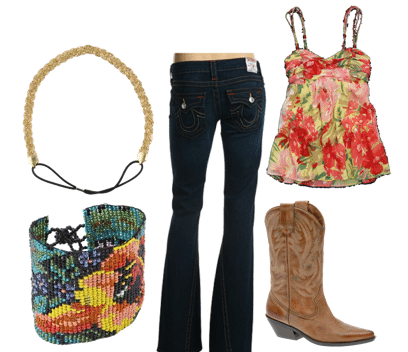 Product Information: Statement Floral Printed Seed Bead Bracelet, Asos. Braided Chains Headband, Forever 21. True Religion Joey in Lonestar Jeans, Zappos. Cami Yellow Floral Tank, Abercrombie & Fitch. Pompa Cowboy Boots, Aldo.
High: Thigh-High & Over-the-Knee
Over-the-knee boots are this winter's hottest trend in shoes. And, as CF author Collen proved in her article about her favorite over-the-knee boots, they're totally wearable no matter your height. Thigh-high boots are fashion-forward, and will definitely add some edge to your outfit. They can also look downright chic when worn with a dress or cigarette pants. Because this style of boot provides some extra coverage and warmth, now is the perfect time to try out a pair!
Hot Picks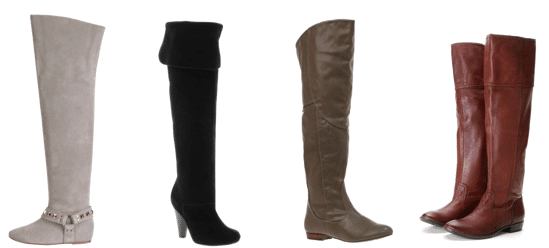 Product Information: Charlie My Love Over the Knee Easy Rider Buckle Boots, Bunnyhug.co.uk. Restricted Vamp Boots, Piperlime. Faith Meryl Over The Knee Flat Boots, Asos. Nicole Right Now Copper Boots, Lori's Shoes.
Tips for Wearing Thigh-High and Over-the-Knee Boots
Be fearless! Though tall boots can seem tough to wear, they're incredibly easy to pull off and can really add sophistication to an otherwise basic outfit. If you would normally wear classic-rise boots with an outfit, then thigh highs would likely look equally awesome. If you're wearing something short, make sure to add tights or leggings since over-the-knee boots are already super sexy on their own.
Try convertibles. As Colleen mentioned in her article, some over-the-knee boots are convertible–they can be worn folded down below the knee, or flipped up above it. If you're unsure about this trend, a convertible boot is an excellent way to try it out without committing. Convertible boots also make it easier to bend your knees when you sit or walk since they're not stiff. What could be better than comfort and two looks in one?!
Keep it simple. Because these boots attract attention, it's best to keep the rest of your outfit simple so your boots will really make a statement. My favorite over-the-knee boots are similarly uncomplicated–I like them without much embellishment or detailing since their rise alone makes a huge impact. If you like your boots embellished, it's especially important to keep the rest of your look simple and go easy on the accessories.
Outfit Inspiration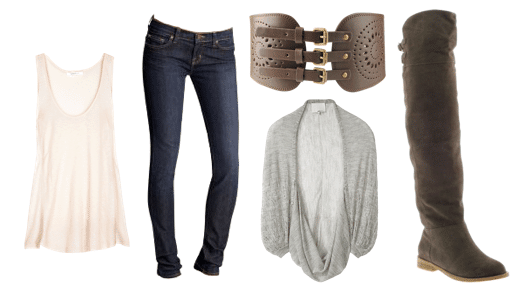 Product Information: Vanessa Bruno Jersey Trapeze Tank, The Outnet. J Brand 12″ Pencil Skinny Jeans, Piperlime. Aubrie Waist Belt, Forever 21. 3.1 Phillip Lim Floating Shrug Border, La Garçonne. Very Volatile Joust Boots, Piperlime.
Thoughts?
What do you think? What is your favorite boot height? What is your favorite pair of boots? Does your height influence the types of boots you choose? Do you have any tips on how to wear boots? Let us know with your comments!
Top image ©iStockphoto.com/JJRD.