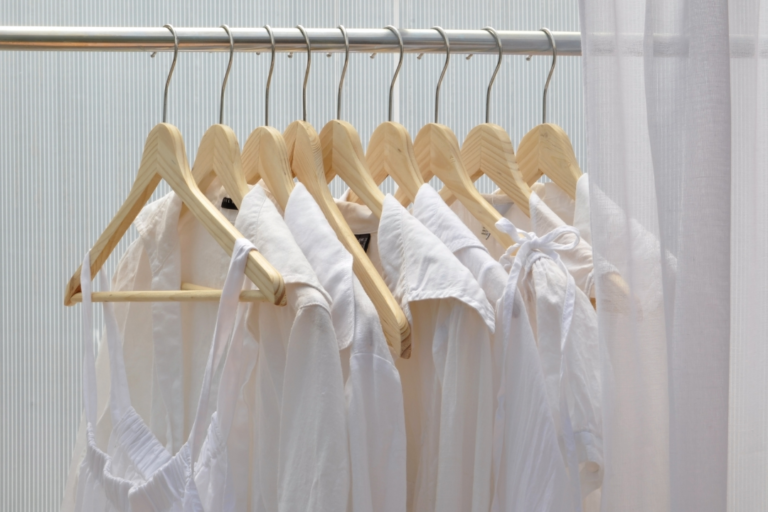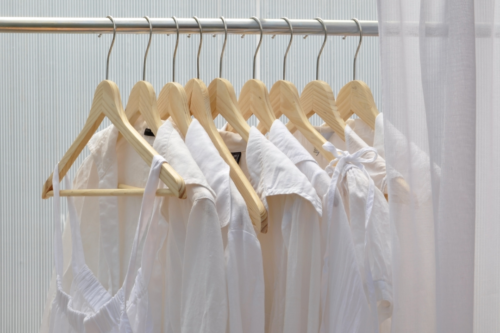 Whether you've been invited to a summer soirée that requires partygoers to wear white, or are just trying to rock all of your white pieces before Labor Day (that is, if you're still following the old fashion rule), wearing all-white doesn't come naturally to all.
Pulling off an all-white ensemble might seem daunting, but you'll be able to pull of a crisp, white head-to-toe look with these tips and outfit ideas.
1. Be Confident
The most important rule (and the only rule, for that matter) to keep in mind when wearing any outfit is to be confident.
When wearing all-white, first start by ignoring all the other silly rules about wearing white. They say you should only wear white after Memorial Day and before Labor Day, right? Forget about it.
Secondly, make sure to have fun and try new things with your all-white look. Experimentation and creativity brings us into the next tip.
2. Be Creative
There is more to wearing all-white than just pulling out white pieces from your wardrobe and putting them on. Similar to any other outfit you've pulled together, you have to see if your outfit pieces work well together.
Working with single colors can sometimes go the bland route, but you can avoid that in your all-white outfit by using textures, creating balance, adding flavor, and picking up some non-traditional outfit pieces. Read on to learn how:
Textures
To keep your all-white outfit from looking basic and flat, use texture to add dimension. Start with various fabrics. Lace and chiffon are the perfect summery, lightweight fabrics to add to your ensemble. Cotton is another fabric you should consider playing with to add additional texture to a look.
Accents can bring a different element to your outfit. For example, metallic accents, bright gems, and studs will each give your look a unique twist.
Outfit Idea: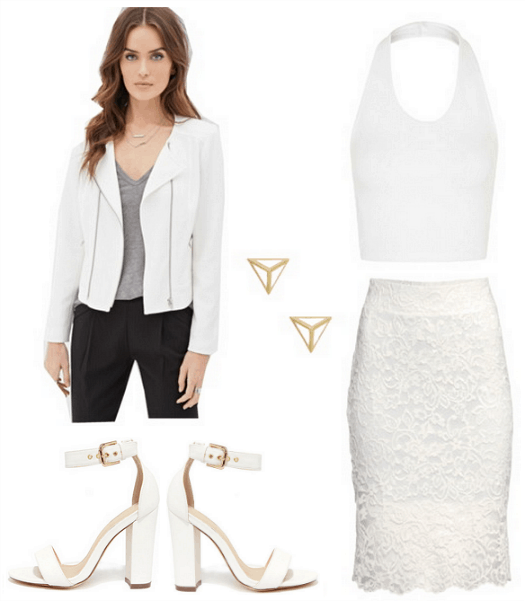 Products: Blazer, Heels, Earrings, Top, Skirt
This ensemble incorporates various fabrics: a faux leather jacket, a lace skirt, and a cotton halter top. Each fabric bring its own dimension to the outfit, and adds depth to what could have been a very basic, flat look. The dash of gold from the earrings acts as an accent and adds just the right amount of glamour.
Balance
You can also add more dimension and depth to your all-white ensemble by balancing your wardrobe pieces with structure and shape. Mix up fitted and loose pieces, along with long and short pieces for a visually appealing look.
If you wear a fitted crop top, pair it with a flowy chiffon maxi skirt. If you go for a loose-fitting top, balance it with a structured blazer and skinny jeans. Combining different fits and lengths will create a chic and stylish ensemble.
Outfit Idea: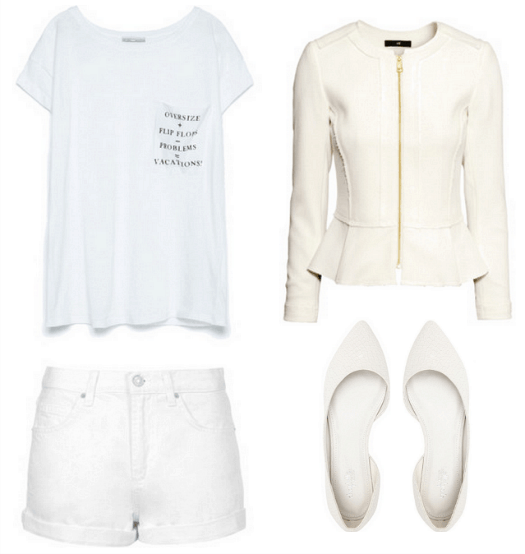 Products: T-Shirt, Shorts, Jacket, Flats
This look is balanced by clothing pieces with different fits and lengths. The long, loose t-shirt can be tucked into the structured denim shorts. Over the t-shirt, you can layer on a fitted blazer. Slip into a pair pointed-toe flats to bring more shape into the outfit.
Flavor
Texture is only one way to add an interesting twist to your all-white outfit. Whether it's with a printed bag, a pink necklace, or gold sandals, accessories will add a little flavor to your ensemble.
Pops of color, metallics, and patterns all pair well with white clothing pieces. However, if you want to stick to a completely monochrome color scheme, choose white accessories or go for neutrals instead.
Outfit Idea: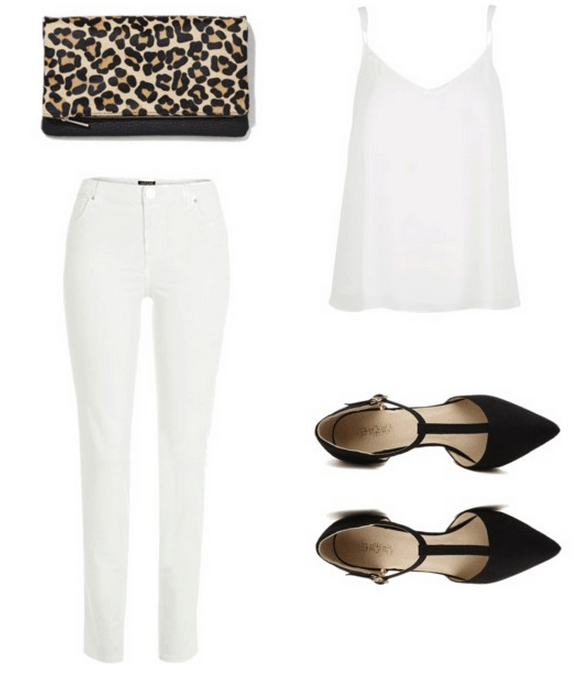 Products: Clutch, Jeans, Top, Heels
For this look, you can stick to the monochrome look with your main outfit pieces– the top and the jeans. To mix things up, bring in a leopard print clutch and tie the look together with black suede heels.
Outfit Pieces
When thinking of potential outfit pieces, you may immediately look towards your Little White Dress or a white cami and white shorts. Have you ever considered white overalls? How about white palazzo pants or white sandals? Your outfit pieces can make or break your all-white look.
Choosing statement pieces, like overalls or a white maxi dress, make pulling together an all-white look a breeze. Plus, you'll stand out… in a good way!
3. Stay Clean
A concern running through the mind of many when considering an all-white look? How can I keep it clean?! Make a stain remover pen one of your staples for the summer. Just drop it into your bag and go. After all, stains should be the least of your worries.
What do you think?
Have you ever tried wearing an all-white outfit? Would you wear the looks pictured above? Do you have any secrets to pulling off an all-white look? Share your thoughts in the comments below!