Editor's Note: While we stand by this advice, you might want to check out our updated guide to the white summer dress trend, with trendy outfit ideas to wear today. And see our favorite white dresses for 2021 for even more picks!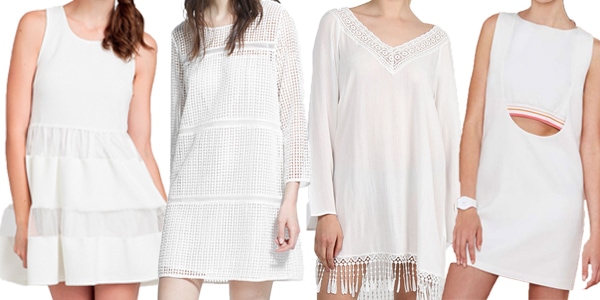 Photos: Ruche, Mango, Nasty Gal, 2020 Ave
Do you have a favorite item in your closet? Want more ideas on how to accessorize it for different occasions? We're here to style, mix, match, and accessorize so you can get the most out of your best-loved wardrobe staple – and Wear It All Month.
Who's loving the Little White Dress trend right now? Even though the LBD is a constant no matter the season or occasion, the LWD is the perfect alternative for spring and summer.
One of the best things about the LWD is the simplicity factor— it's so easy to style! You could go boho just as easily as you could go glam. Dress it up with jewelry or dress it down with sneakers and a canvas tote. Scroll down to see some of our favorite outfit ideas:
A Day Outdoors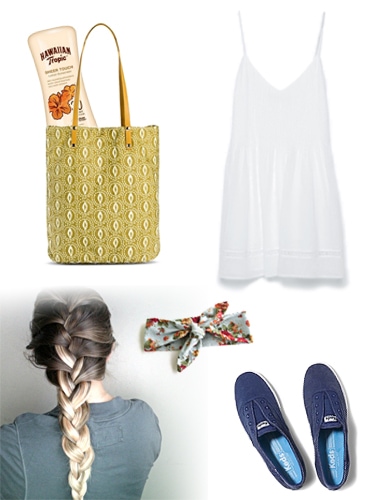 Product Information – Dress: Zara, Shoes: Keds, Headband: Etsy, Tote: Target, Sunscreen: Hawaiian Tropic, French Braid How-to: Fashion Overflow
Finally! Nice weather is here to stay. Put your leggings in the back of your closet and break out the LWD. If it's a bit chilly out, just pair this look with a denim jacket (try Forever 21 for adorable and inexpensive options), but if the sun is shining, stick to the sleeveless dress and get your tan on. Don't forget your sunscreen, though. You can pack it in a roomy tote alongside your picnic blanket and fashion magazines.
A french braid is the perfect hairstyle for a day spent outdoors. Whether it's windy, hot, or you're surprised with some sprinkles, your french braid will hold up. Dress it up with a cute head scarf for a tiny pop of color.
Your Friend's Graduation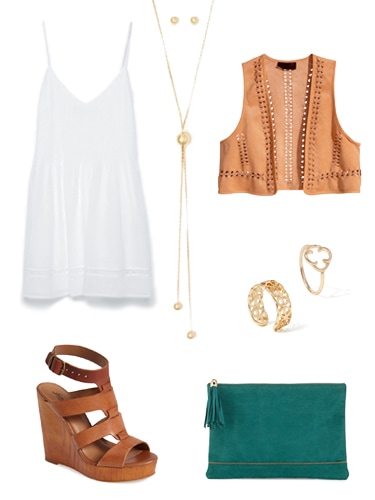 Product Information – Dress: Zara, Vest: H&M, Shoes: Lucky Brand, Clutch: Neiman Marcus, Necklace and Earrings: Charming Charlie, Midi Rings: Charming Charlie
It's that time of year again… graduation. Whether your little sister is graduating from high school or your best friend is graduating from college, you'll most likely end up attending at least a few graduation ceremonies and parties this spring.
Here's a secret: you can wear the same dress to all of these parties. Just style it different ways! Here, we did a little bit of of a western-inspired look with camel tones, a fringe embellishment, and a suede vest. Into a different look? Glam it up with silver statement jewelry and black cage heels, or give it a boho twist with intense gladiators and a floral kimono jacket.
Outlet Mall Shopping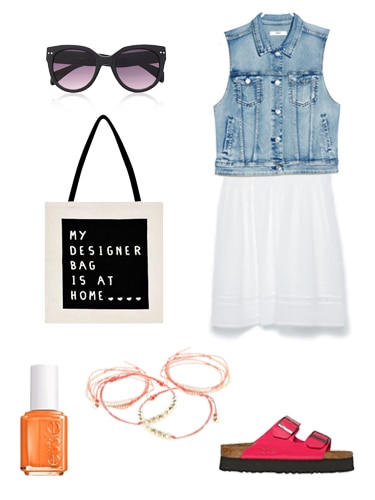 Product Information – Dress: Zara, Vest: Mango, Shoes: Birkenstocks, Tote: New Look, Bracelets: Mango, Sunglasses: Express, Nail Color: Essie
Now that the weather is looking better, we can finally shop at our favorite outlet malls! Ah, all of our favorite stores in the same place. What could be better? You'll be doing a lot of walking and changing clothes, so comfortable slip-ons are a must. These cute platform Birkenstocks will definitely have heads turning.
No outfit is complete without a little bit of jewelry, but you don't want to deal with dangly earrings or clunky necklaces while you're in the dressing room. Choose some simple braided or layered bracelets. No bangles though— that jingling will most likely get on your nerves after four hours at the mall.
What do you think?
Would you wear a Little White Dress? Which look is your favorite? Where else could you wear a LWD and how would you style it? Remember to leave a comment below and tell us what you think!