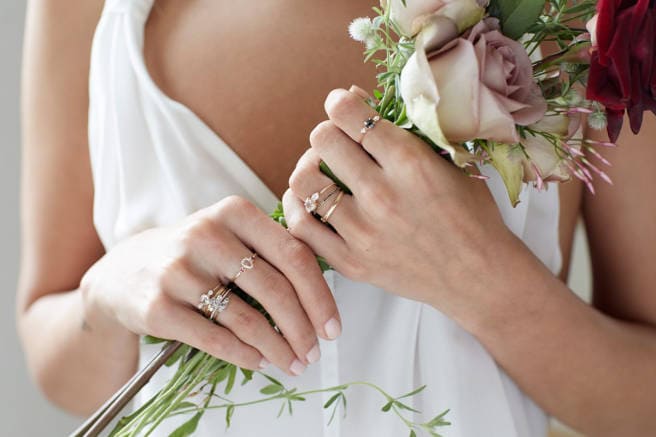 With boho back in style and an array of music festivals to attend this summer, ring stacking is a perfect (and easy!) way to change up your accessories.
The best part about this trend is that you more than likely don't need to buy anything new to test it out. Pile on the rings you already own and play with shape, size, and color. Pair colorful chunky rings with delicate, threadbare metal rings. The sky's the limit!
This year I found the perfect combination of rings that I wear every day. A tiny rose gold heart ring from Catbird, a gold evil eye ring from KallisteNYC on Etsy, and a custom engraved silver ring from KathrynRiechert on Etsy. Every time I look down at my hand it makes me smile.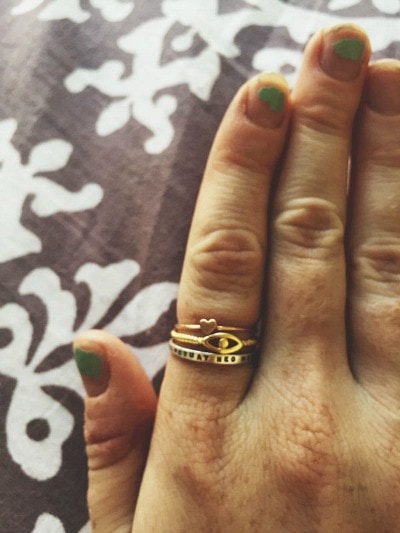 Ring stacking may seem complicated, but it's actually very simple once you get the hang of it. The most important thing is to pay attention to similarity/contrast, proportion, and balance. My ring stack utilizes contrast– each ring is a different-colored metal, but is balanced out because the rings are all similarly sized.
A common mistake with ring stacking is feeling limited to one particular metal. A stack of purely gold or silver rings can be beautiful, but don't be afraid to mix metals! You can stray away from the typical metals and branch out to brass, bronze, white gold, or even rose gold. Rose gold is one of my favorite metals right now because it complements silver and regular gold.
Be sure to play around with ring placement, too. You can wear some on your index finger, ring finger, or even pinky. Another favorite trend of mine is to buy rings in a smaller size and wear them on my knuckle as a midi ring.
If you're unsure about what rings to pair together, an easy cheat is to buy ring sets. It's usually cheaper than buying individual rings and they're guaranteed to look good together.
Whether you prefer gold or silver jewelry, I've rounded up multiple rings below to get you started. Stack away!
Ring Stacking Inspiration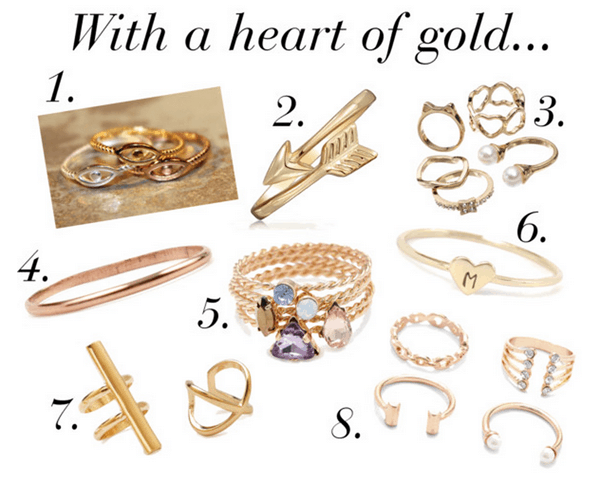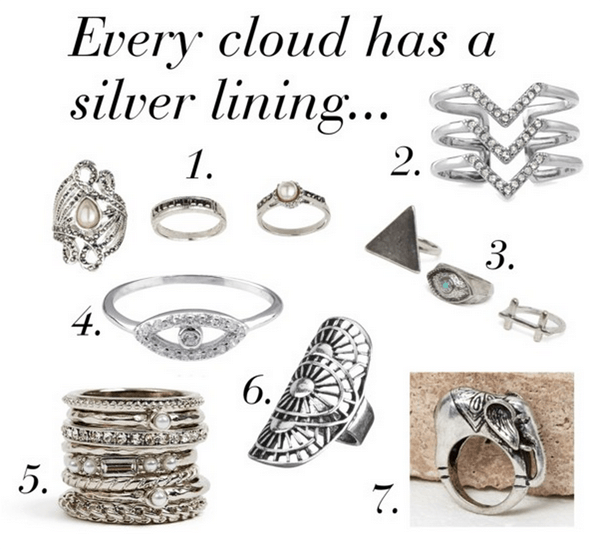 What do you think?
Have you ever tried out ring stacking? What are your styling secrets? Sound off in the comments– I'd love to hear what you beautiful College Fashion readers think!