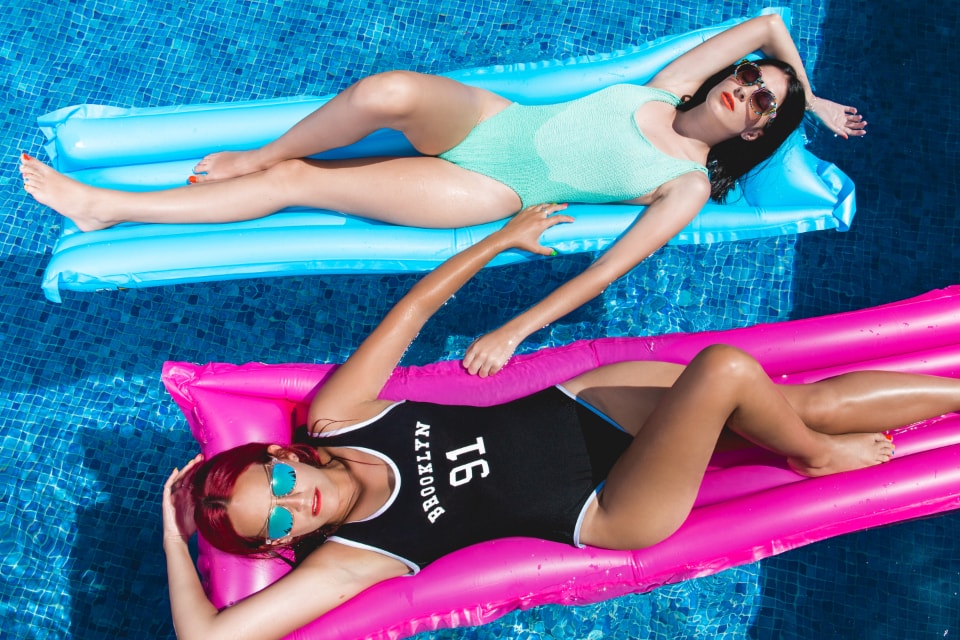 Pool parties are always a good idea. They're a great place to keep cool while also meeting new people. And since it's Labor Day Weekend, this is the perfect time to have one last hurrah poolside before classes get into full swing.
The best thing about pool parties? All the cute swimsuits you can wear! Here are 3 stylish looks to wear to your next pool party.
Outfit #1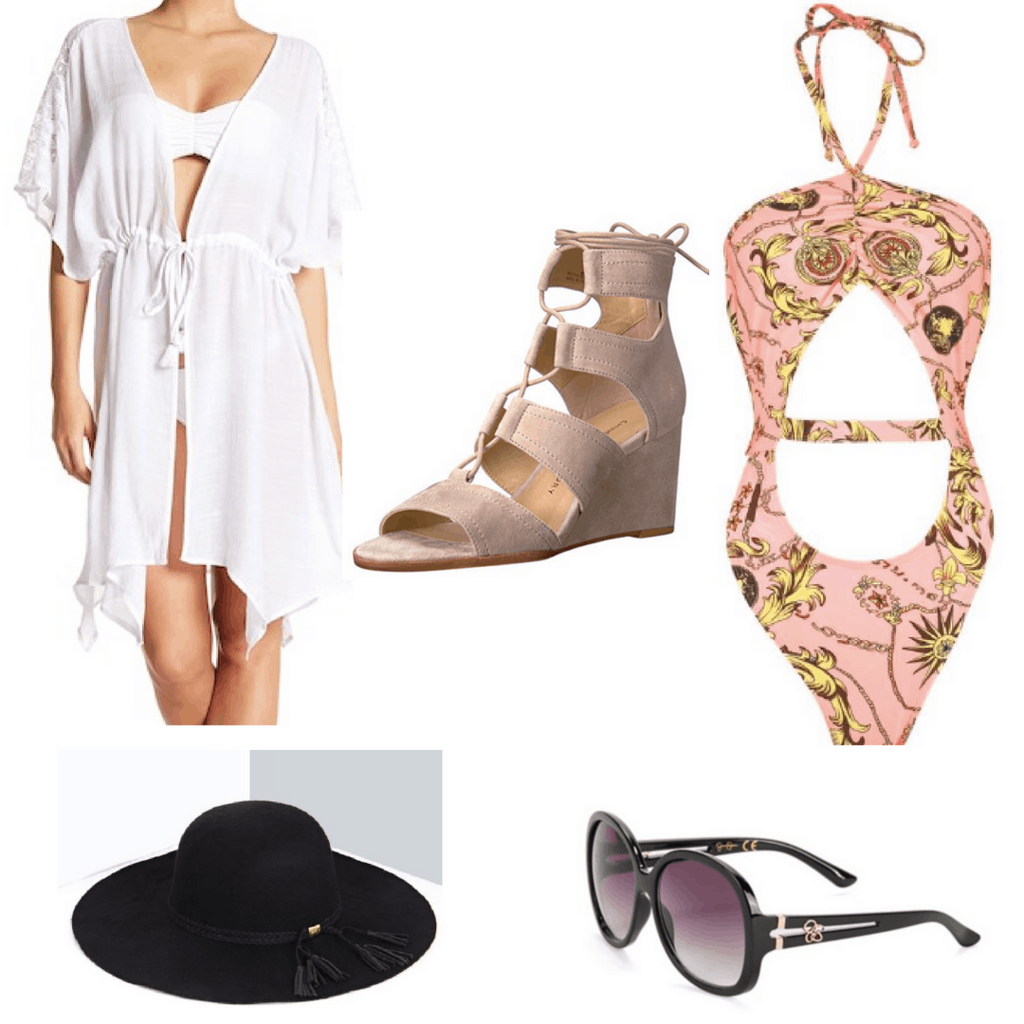 Products: One Piece – Boohoo, Floppy Hat – Boohoo, Cover Up – Hautelook, Wedges – Chinese Laundry/Amazon, Sunglasses – Jessica Simpson/Lord and Taylor.
For those of you who are obsessed with one pieces, this outfit is for you. This cutout swimsuit is a statement piece that pairs perfectly with a big sunhat, like a trendy floppy hat. It's the summer trend you need to try!
To make sure that you are all ready for this pool party, throw on a lightweight or crotchet cardigan or cover up. A cover-up always makes an outfit look even better. We don't advise wearing jewelry, because chlorine can totally mess them up or you may lose them inside the pool. So instead, throw on your favorite oversized sunglasses to make an even bigger statement.
With one-pieces, it is perfectly acceptable to wear wedges. If you don't plan on going in the water, walk around in style. You'll look trendy, stylish, and totally fashionable.
Outfit #2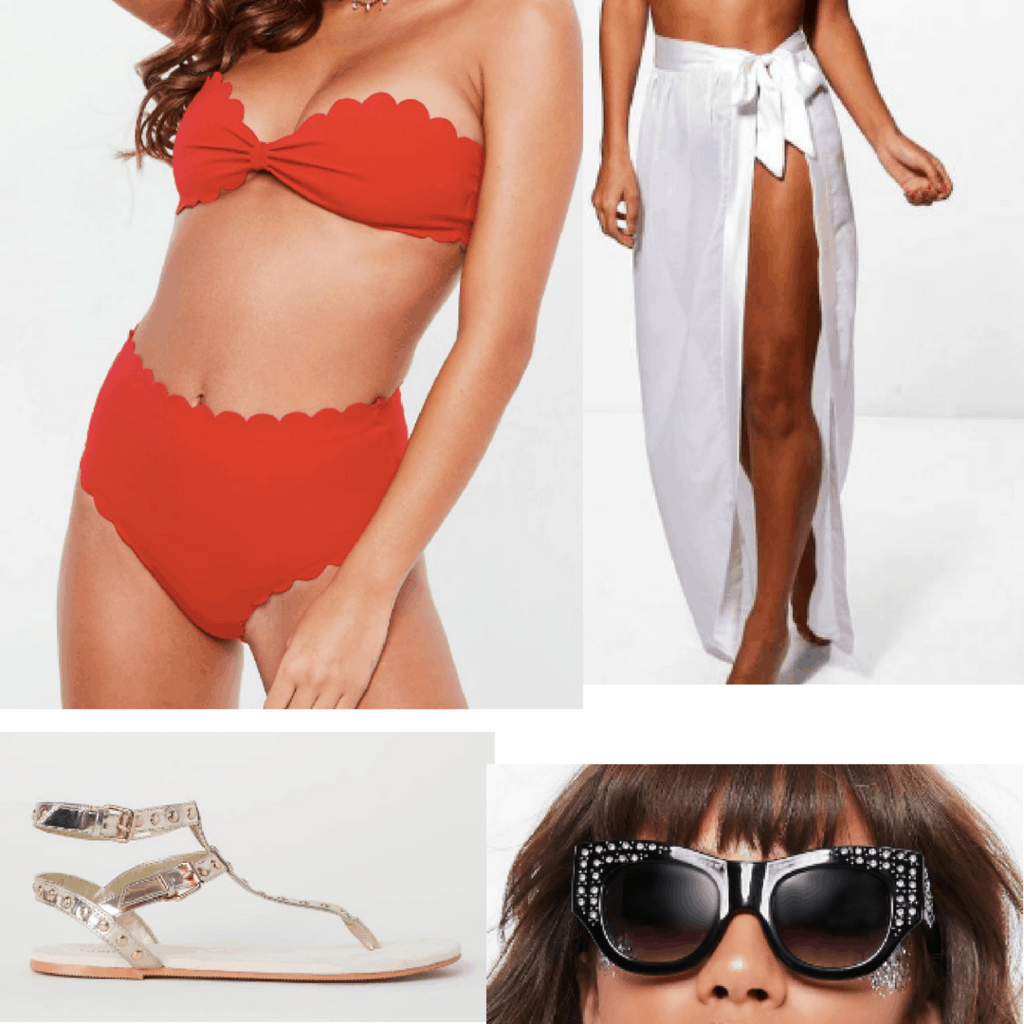 Products: Two Piece Bikini – Miss Guided, Sunglasses – Miss Guided, Sandals – H&M, Cover Up – Boohoo.
One-pieces aren't for everyone and that's okay. If you're a two-piece kind of gal, then this next outfit is for you. You want to look good for photos at a pool party and there's no better way to do so than with a two-piece. For a pool party, we recommend a color that stands out, like red or yellow. After all, it's great to have all eyes on you.
With this outfit, you are going to pair it up with fashionable sunglasses. Sunglasses will not only protect you from the sun but also give you the chance to check out some cuties without being noticed.
Next, you're going to need stylish sandals. If you plan on going in the pool, ideally, it's better to wear sandals that are easy to take off and put on. And of course, you're going to need a chic cover-up for when you get out of the pool. This sarong will really take your look to the next level.
Outfit #3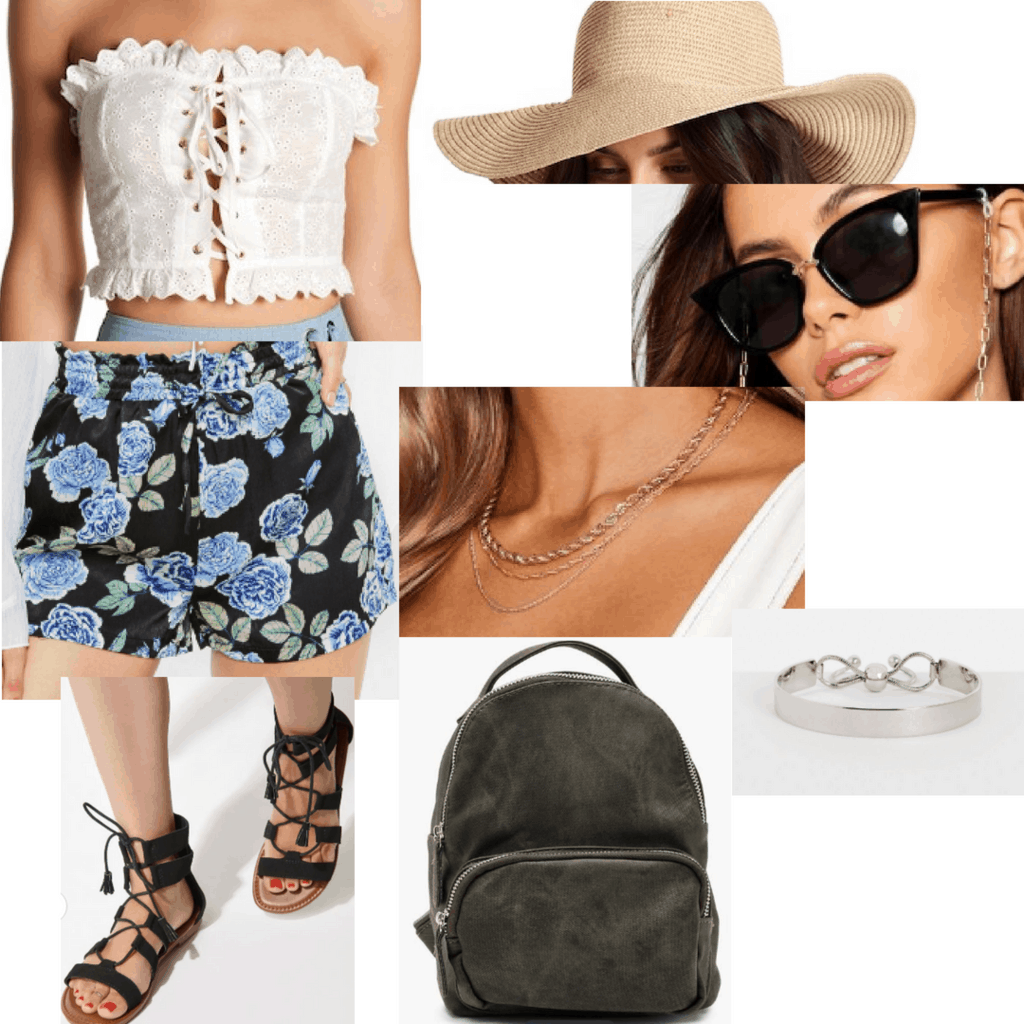 Products: High Waist Shorts – Miss Guided, Crop Top – Nordstrom Rack, Floppy Hat – Nordstrom Rack, Sunglasses – Boohoo, Sandals – Pacsun, Necklace – Boohoo, Bracelet – Miss Guided, Backpack – Boohoo.
You don't necessarily have to wear a bathing suit to go to a pool party. You can still rock your everyday clothing. For those of you who aren't bathing suits fans, we recommend wearing high-waist shorts. And not just denim shorts. We recommend floral elastic shorts because they're cute and totally in style.
Since you'll be in the sun all day, pair up this outfit with a crop top to help you stay cool and look stylish. Afterwards, pair it up with a chic floppy hat to make sure that the sun isn't in your face.
Because you probably won't be in the water, it's totally acceptable to bring a purse or backpack with all of your essentials. Also, wear some lace-up sandals. These will be your statement piece and will help you look even cuter. And again, since you aren't actually going into the pool, it's totally fine to wear jewelry, like a bracelet and necklace.
What do you all normally wear to a pool party?
Dressing for a pool party is definitely not hard. We have outfits for those who love one-pieces, two-pieces, and those who do not like bathing suits. These outfits will ensure that you are ready for your next pool party!
Which look is your favorite? We want to know, so remember to leave a comment.