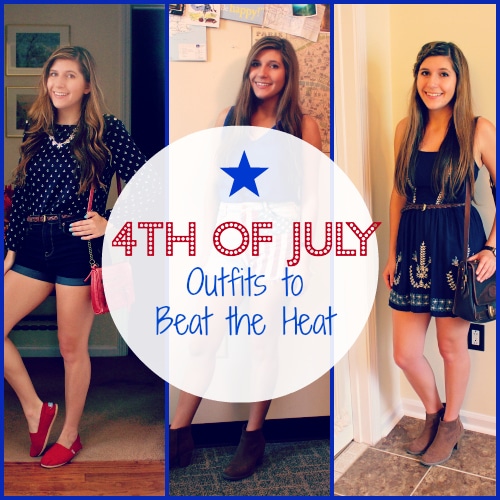 I love the Fourth of July. Not only is my birthday just four days later, but the Fourth is filled with barbecues, beaches and fireworks. No matter what you're doing, you're probably going to be outside, and the struggle is real for trying to dress patriotically and stay cool enough to not dissolve into a giant puddle of sweat.
Here are four outfit ideas to help you beat the heat (and look cute!) on the Fourth:
1. Stars, Stripes and Anchors Aweigh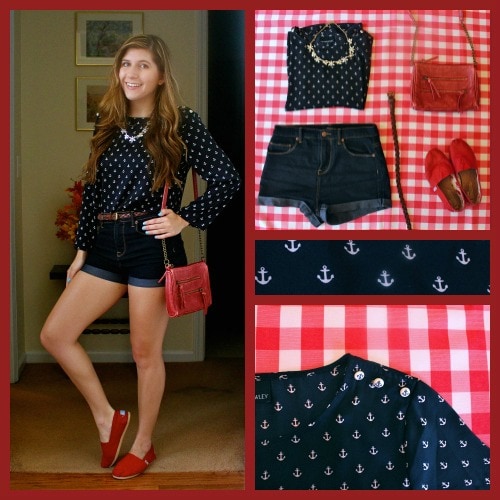 Nothing quite says "I'm a pirate" like black sails in a foggy sky. What I lack for in swashbuckling sword fights, Captain Jack's beard, and hearts in jars, I make up for with nautical prints. If I can't be near the beach, I can at least pretend with anchor prints and the Pirates of the Caribbean soundtrack on Pandora.
Although there are no anchors on the American flag that I'm aware of, any navy and white pattern qualifies as festive in my seas.
Since I don't own many red clothes, I accessorized with red shoes and a red cross-body purse. To jazz up this look even more, I wore sparkly statement jewels and a braided belt. Despite the long sleeves on this top, its thin, silky material keeps me cool – even in the most crowded of buildings without air conditioning. Plus, those little anchor buttons on the shoulders? They kill me with cuteness.
2. Blue Me Away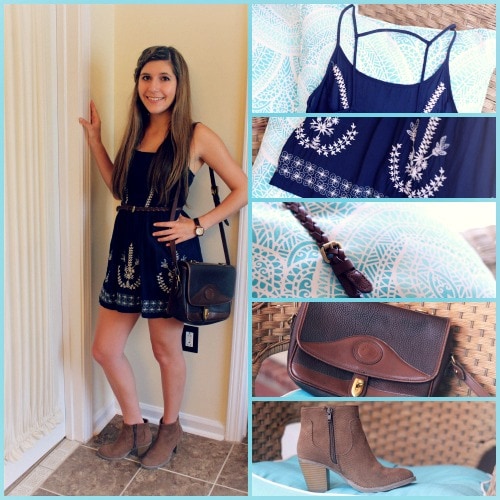 There's a reason they call 'em sundresses. Thin, sleeveless dresses are an easy way to beat the heat. However, if you are going to be sitting down for long periods of time waiting for fireworks or an eternally late best friend, these might not be your best option.
I paired this navy and white number with brown and tan accessories to keep things neutral. My favorite summer hairstyle is braiding my bangs, which is exactly what I did here.
3. Not Your Average Tank Top and Shorts Combo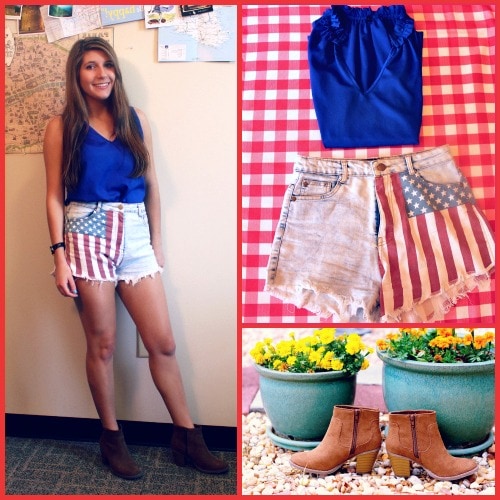 Tank tops and jorts are the usual weapon of choice against July heat waves. However, these aren't your usual denim shorts and tank. If you've read my articles for a while, you will recognize these wild, wild shorts. On top, I wore a bright blue silky sheer tank. Although I currently have an unhealthy obsession with wearing tan booties, sandals would look equally as cute!
4. Long Skirt Don't Care
Maxi skirts. Here today. Here tomorrow. Still here the next day. Three years later and they're still dragging on. Dragging all over the floor. Jokes aside, maxi skirts are one of the most under-appreciated things in my wardrobe. They are more comfortable than a snowman in winter or a bag of buttery popcorn at a movie theater.
Although my shoes look a tiny bit purple, I assure you they are as blue as the sky. As blue as a sky drawn by someone with no light blue markers, at least.
Now it's your turn. What do you plan on wearing for the Fourth of July?
Which of these outfits is your fave? What do you want to see next? Let me know by leaving a comment!