This post may contain affiliate links, which means we may receive a commission if you purchase through our links. Please
read our full disclosure here
.
If you're hip to trends (and since you're a CF reader, we're sure you are), you know that wide leg jeans and flare jeans are making their triumphant comeback this year. I know, I know — we just got the hang of skinny jeans! To be honest, I could not be more excited to see this trend rise in popularity. They're a cute retro throwback, can easily be dressed up, and are so flattering on every body type.
Wide leg trouser jeans are pretty simple to style — you've just got to get your head out of the "skinny jean" mentality! Once you get a feel for these babies, I promise, you'll love them. Then make sure to take a couple snapshots and send them to us to help other girls in the CF community break out of their skinny rut as well!
Ready to take on the challenge? Read on for styling tips and tricks on how to wear wide leg trouser jeans!
Tips and Tricks for Rocking Wide Leg Jeans
Short ladies, fear not! As seen in the photo above, petite girls like Rachel Bilson look great in wide leg jeans. The key? Look for low-rise cuts and pair the jeans with heels to elongate your legs.
Tall girls can also make wide leg jeans work, as evidenced by Katie Holmes in the photo above. Wear them with ballet flats and a t-shirt for a laid back look, or try out a high-waisted pair if you dare.
Wide leg jeans always look great with a cropped jacket and feminine top.
A dark wash pair of wide leg jeans can easily be dressed up with a blouse and heels for a smart casual look perfect for a date or when you just feel like looking sharp.
What distinguishes trouser jeans from boyfriend jeans is that trousers are well-tailored and fitted in the backside. When shopping for a pair, make sure that they hug your curves and fit your butt perfectly.
Adding a belt is an easy way to make a simple t-shirt-and-trouser-jeans combo look pulled-together.
If you have the cash, buy two pairs, and have one pair tailored to wear with flats and keep one pair long to wear with heels. While boot cut and skinny jeans can usually work with heels and flats, with wide-leg jeans, you'll want to be sure to keep the hems from fraying.
Wide-Leg Trouser Jeans – Outfit Inspiration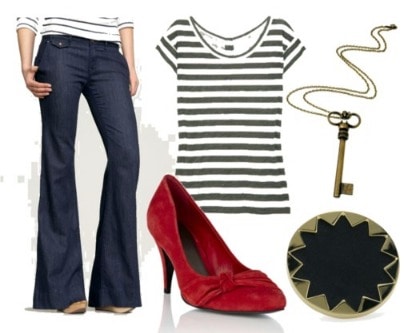 Jeans, T-shirt, Heels, Necklace, Ring
This outfit is so simple, but makes a big impact when it comes to style. Match a black and white striped tee with a pair of wide leg trouser jeans for a French style-inspired look. Throw on a pair of heels for a dressier date look, or swap out the pumps with a pair of flats for a chic outfit for class. Finish with a long necklace and a fun cocktail ring. This ring is by Nicole Richie's line, House of Harlow, and is a (semi) affordable way to snag a piece of her collection.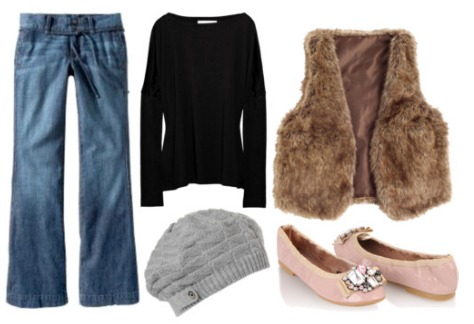 Jeans, Shirt, Vest, Hat, Flats
This outfit is inspired by everyone's favorite celebrity stylist, Rachel Zoe! After all, she's been talking about the return of wide leg jeans for years! A simple black long sleeved shirt and cropped fur vest will look great with a pair of low-rise trouser jeans. Finish with blingy flats and a slouchy beanie. I Die!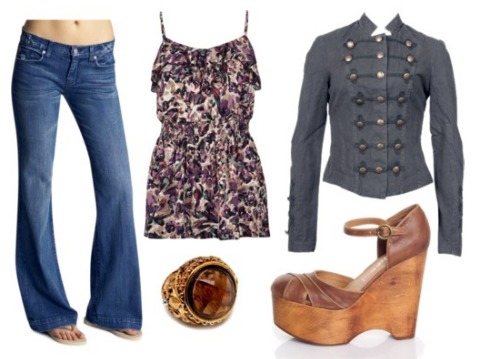 Jeans, Floral Top, Military Jacket, Ring, Shoes
Wide leg jeans will look super chic paired with a cropped jacket — this look will accentuate the thinnest part of your waist for an ultra-flattering aesthetic. Layer a fun floral top underneath for interest. Add some basic jewelry, and a fun pair of mary-jane wedges for a retro vibe. I've recently fallen in love with Jeffrey Campbell shoes — they're a bit of a splurge, but you won't find a more comfortable pair of sky-high heels anywhere!
Took the Challenge? Send us your Photos!
Making a trend work in real life is tough — so help out other CF readers by sending us photos of how YOU styled your wide leg jeans! Take a few snapshots and email them to fashionchallenge AT collegefashion.net along with your name, school, a description of what you're wearing, and the URL of your blog if you have one. We'll post photos here to inspire other CF girls (see examples here and here).
I can't wait to see the amazing outfits you guys send in!
CF Reader Looks
Here are challenge outfits sent in by CF readers like you. If you want to see your look featured here, too, read the instructions below for sending in your outfit photos!
Liz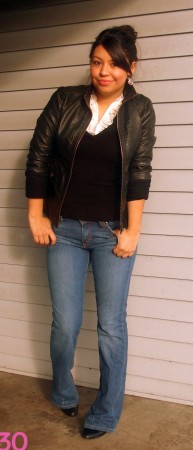 I tried this look out recently and loved it! I'd say the key is keeping the top portion fitted and sleek and wearing heels helps add length to your legs.
For more of Liz's fierce style, check out her blog here!
What do you think?
Do you own a pair of wide leg jeans yet? Do you love this trend or hate it? What do you like to pair them with? What fashion challenges would you like to see in the future? Let us know by leaving a comment!