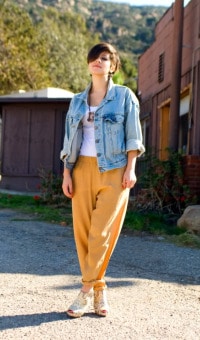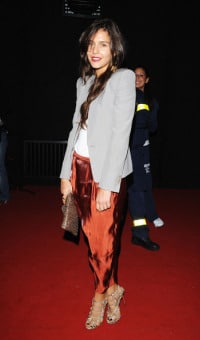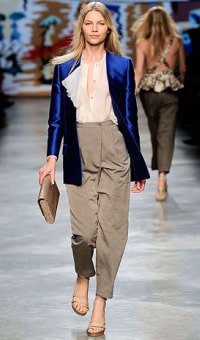 While we may all love fashion on the runways, it seems like many college girls stick to the basics day-to-day in fear of looking out of place on campus. Sometimes I can't help but feel like certain items just aren't acceptable on a college campus (especially here, in the Midwest), which makes me sad. Of course, some of you fearless ladies wear what you want to class anyway, but on my campus, this seems like the exception instead of the rule.
So for all of you who, like me, wish that there was a more reasonable way to wear high fashion items on campus, I've created this Fashion Challenge feature. Each week I'll pick a different item, (I'm open to suggestions from you in the comments!) something that is a little more challenging to style, and give you pictures of others wearing the item, resources for finding it, tips, and outfit ideas, so you can fearlessly wear it on campus (and maybe start a new trend) yourself. Today, the challenging item is slouchy pants.
You are probably seeing them everywhere: usually silk or satin, pleated, and tapered, slouchy pants are the new skinny jean. Wearing a pair of silk pants in daylight on campus may seem intimidating, but if you style them right, they make a statement–in a good way!
Tips and Tricks:
Slouchy pants come in a variety of styles from harem-style to structured and cropped. They also run the spectrum in fabrics: from silk to satin, and even khaki. So don't be afraid to try a few on before you find what works for you!
Remember that if you choose silk or satin, they aren't as forgiving as some other fabrics and can cling in strange places. Choose your undergarments accordingly.
Slouchy pants can be dressed up, as Ms. Missoni proves above, but it can also be casual campus wear. Karla, in picture one, dresses down her silk trousers with a classic denim jacket. Looking for more silky inspiration? Check out Karla's website: She wears silk pants on a regular basis!
These trousers have a masculine feel, so don't be afraid to add girly touches like Ms. Alba: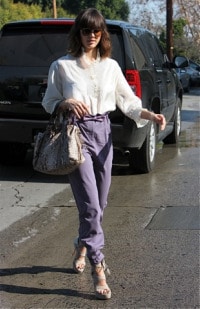 Slouchy pants are great for every body type. While they are narrow in the legs, they are very forgiving in the hips. Just be sure to pick a fabric that flatters your body.
Get The Look: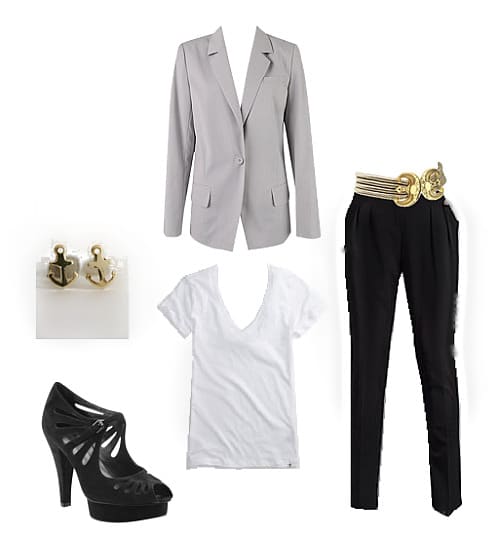 Product Information: Slouchy pants – New York and Co., White tee – Pacsun, Blazer – Forever 21, Heels – Piperlime, Nautical studs – Urban Outfitters, Gold belt – ASOS
Sticking to basics with a few eye-catching accessories is a great way to try something new while remaining in your comfort zone. Girly cut-out heels and nautical stud earrings give feminine touches to an otherwise menswear inspired look (above). Looking for something a little more bold? Try a silk jumpsuit with the same pleated and tapered features.
So, what do you think?
Are you going to try slouchy pants? Do you like the new silhouette? Are you reluctant to try new trends or are you more of a "go big or go home" kinda girl? Any suggestions for future fashion challenge items? I'd love to hear from you!