This post may contain affiliate links, which means we may receive a commission if you purchase through our links. Please
read our full disclosure here
.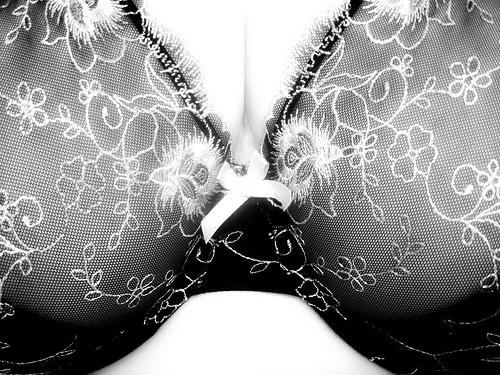 For every action, there is an equal and opposite reaction. That's Newton's third law, and incidentally, it is also the guiding principle behind this week's topic. After reading over the comments on the most recent column, about dressing a small chest, it seems that those of you with a bit more on top would like a guide for yourselves. Stellar.
For those of you who are new, this column focuses on dressing for your body shape while truly embracing – and loving – said body. While there are ways to "hide" whatever you consider your "flaws" to be, I completely reject the notion that your body is anything but flawless. This column is about picking out your favorite body parts, and highlighting them with appropriate enthusiasm.
I will admit that I happen to fall into the category of large-chested women, and learning how to dress myself was a long series of trial and errors. (In middle school, I had to wear a polo shirt every day. It was, to say the least, unflattering, but no one expects an eighth grader to have D cups.) Thankfully, I am now older and wiser and feel qualified to pass my discoveries on to you, dear CF readers.
I could go on for days about the pros and cons of large breasts, but let's just talk about the pros. First of all, they can be about as effective at attracting boys as walking into a room naked, if that's your goal. You just can't help but project sex appeal, even if you're wearing a big sweater and like, six scarves (which is sometimes necessary in a New England winter). We're more Marilyn than Jackie, and I think that's awesome. Also, I once snuck a disposable camera into a concert on campus by hiding it in the space between my boobs (#winning).
Tips for Dressing Your Awesomely Big Boobs
V-necks are your friend.
Find your perfect v-neck tee, and buy it in every color. For me, the perfect v-neck is low cut, but not obscenely so, and just loose enough that it's not hugging my body. Essentially, you don't want to show too much, but you don't want to hide your assets either.
Love your curves.
Invest in high-quality bras — when they have a lot to support, they're especially important. Get fitted somewhere that has a wide range of sizes, like Nordstrom or Macy's. I wore the wrong bra size for three years because one girl at Victoria's Secret convinced me that I was "pretty much" a 34D. Once you've got the right support, you can do pretty much anything.
Think about your waistline.
By that I mean, consider whether your clothes are flattering to your waist. A lot of times, I have to buy something in a size up to accomodate the breasts, and it loses its fit everywhere else. If you can get to a tailor, have them take it in wherever necessary, but if not, I've found that belts and fitted jackets can help a lot.
Outfit 1: Keeping it Casual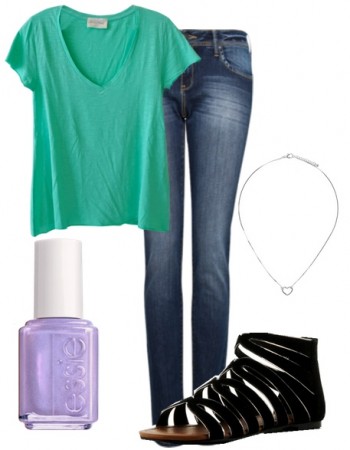 Shirt – Les Pomettes, Jeans – Mango, Necklace – Wallis, Nail Polish – Essie, Shoes – Bank
This outfit looks like your basic casual outfit, mostly because it is. However, this v-neck tee shirt appears to be the ideal combination of moderately-low-cut and just-kind-of-loose. Of course, no one can say for sure (the number one rule of dressing for your body is try everything on), but if you can find that perfect shirt, you really don't need to dress it up much. That said, adding a small necklace does form a nice visual line down to the focal point of the outfit, as it were.
Outfit 2: Flaunt what you've got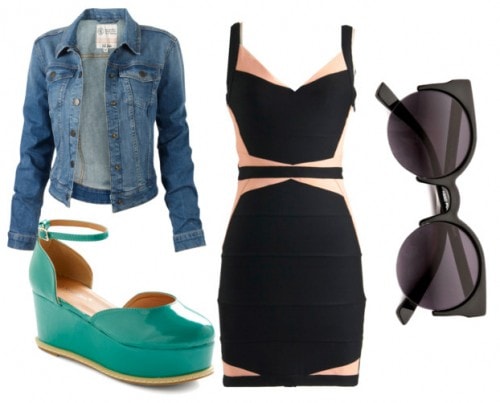 Jacket – Fat Face, Shoes – Modcloth, Dress – Modcloth, Sunglasses – OC Shades
This dress is sexy, and yet what I'm really loving are the pink panels on the top. While I love the look of a sweetheart neckline, I often find that my boobs spend the whole night trying to jump out of my dress, which just isn't a good look. The panels keep that visual effect, but provide more structure, which I love. If at first you're hesitant to show off all your curves at once, throw on this relaxed denim jacket to tone the look down. Then, when the clock strikes midnight, you take the jacket off and everybody in the room faints. You are a super-villain.
What are your thoughts?
How do you balance the natural sex appeal of your body when the situation doesn't call for it? Where do you buy high-quality bras? What body shape should I cover next? Answer these questions and more in the comments!