Growing up in Southern California, I was always a flip-flops kind of girl. This spring, though, I've found my new warm-weather footwear fave: white sneakers! This shoe-closet staple is incredibly versatile and will add some spring to your step no matter how you style it.
Choosing the Perfect White Canvas Sneakers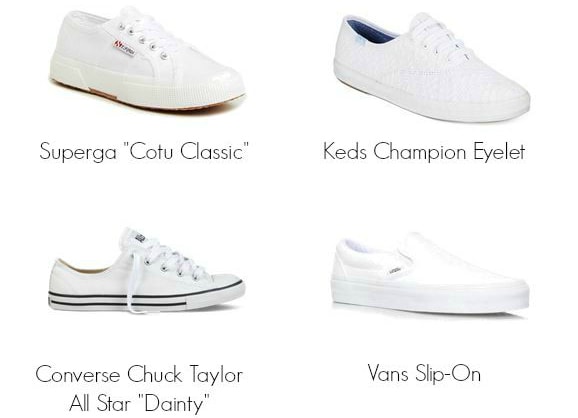 Brands to try: Superga, Converse, Keds, Vans
I went for the Superga "Cotu Classic" because I liked the wider fit and the completely white sole. If your feet are on the narrower side, Converse or Keds might be better for you.
Converse makes a "Dainty" style that has a slimmer sole for a more feminine look, as well as the totally classic Chuck Taylor All-Stars.
Slip-ons are extra-convenient since you skip the hassle of shoelaces. (Velcro strap shoes have not made a comeback, as far as I know.)
Personally, I think that white sneakers look best without socks. If you're worried about sweat or chafing, opt for low-cut "invisible" socks.
White sneakers rarely go on sale since they're popular year-round. I'd recommend signing up for emails and waiting for a 20% or 25% off coupon from websites like Shoebuy.com or Shoes.com.
Caring for Your Shoes
White shoes sound like a nightmare for the spill-prone among us, but they really aren't as bad as you might expect. (Unless you make the absolutely insane choice of purchasing white satin shoes… hopefully you never plan to wear them outside.)
One cleaning option is to throw your sneakers into the washing machine. That's the perk of cotton canvas! However, repeated washings can damage the rubber sole and cause it to yellow or crack.
An alternative is to protect your shoes right out of the box with Scotchgard (or other similar stain-proofing products). I didn't want my shoes to be too blindingly white, so I wore them around for a week (carefully) to get a slightly worn-in look before I Scotchgarded them.
For more tips, see our post on this subject: The Ultimate Guide on How to Clean Your White Shoes.
Four Ways to Wear 'Em
Flirty Florals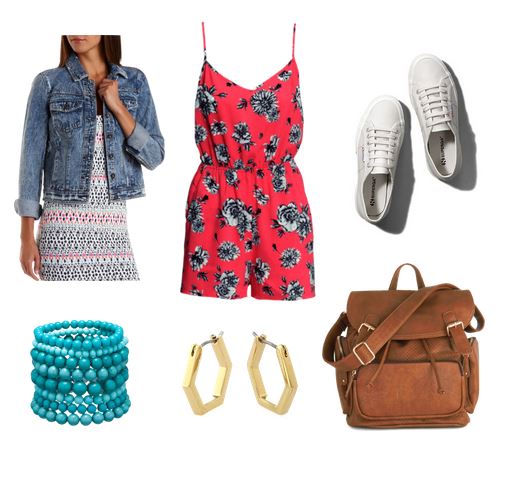 Product Information: Jean Jacket, Romper, Backpack, Bracelets, Earrings, Shoes
White sneakers are a great option when you're not quite sure how to style loud patterns or bright colors. Tone down your favorite floral dresses and rompers with a pair of sneakers and a classic blue denim jacket. That doesn't mean you have to eschew the accessories, though: playful hoop earrings and a stack of bracelets are perfect for summer.
Model Off Duty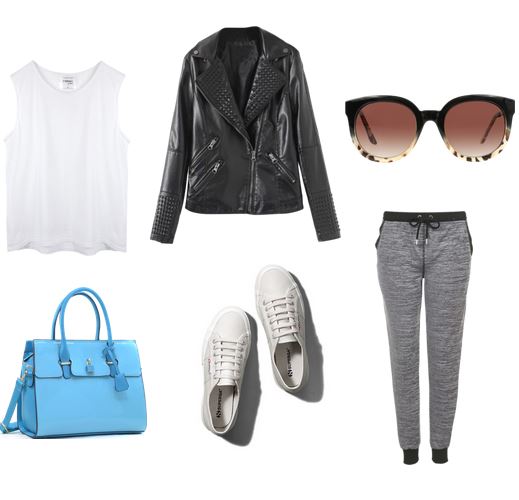 Product Information: Leather Jacket, Tank, Pants, Satchel, Sunglasses, Shoes
Off-duty models look impossibly chic because they never look like they're trying too hard. (Of course, the amazing genetics help!) To get your own "oh, this? I just threw it on" moment, go for simple and monochromatic pieces, like a black faux leather jacket, a white tank top, and comfy gray joggers.
Chic Stripes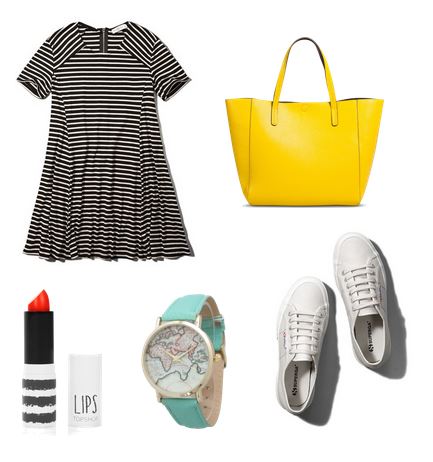 Product Information: Dress, Lipstick, Watch, Tote, Shoes
For a T-Swift-esque ensemble, you can't go wrong with an effortless striped t-shirt dress. Add a swipe of bright lipstick, a sunny tote bag, and a fun watch and you'll never go out of style!
Lazy Sunday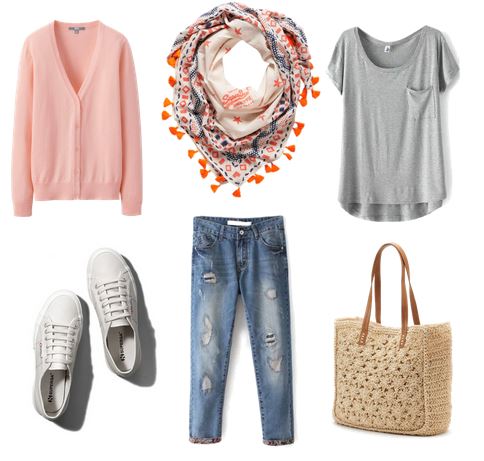 Product Information: Cardigan, T-Shirt, Jeans, Scarf, Tote, Shoes
The white sneaker has you covered for just about every casual weekend jaunt. Try pairing them with slouchy boyfriend jeans and a breezy cardigan. Tie the outfit together with a fun scarf and a summery straw tote that'll be perfect for carrying around a light picnic lunch or your newest flea market bargains.
What did you think?
Do you have a pair of white sneakers? How do you wear yours? What other closet essentials would you like us to cover? Let us know in the comments!