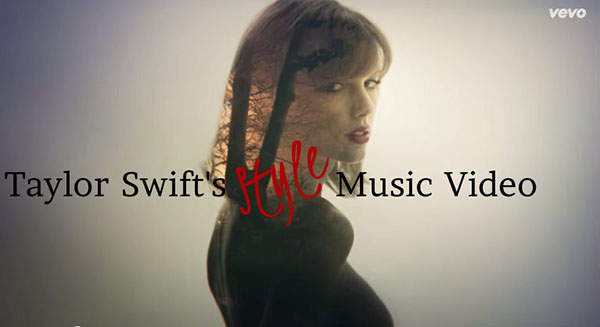 Photo Credit: Screenshot
In case you have been living under a rock, you should know that Taylor Swift released a new music video for her song "Style" and it is chock-full of fashionable inspiration!
Along with her signature catchy lyrics and a new pop-infused sound, Taylor's done it again with a video filled with dreamy imagery and enviable, perfect red lips. Scroll on down to check out this video, as well as three outfits inspired by it:
Come and Pick Me Up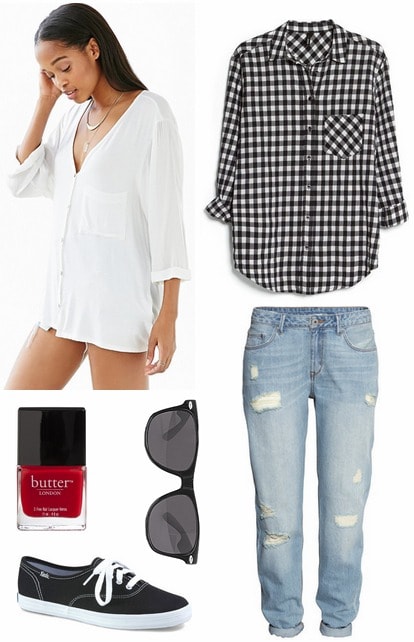 White Blouse, Button-Down, Jeans, Sunglasses, Shoes, Nail Polish
Let's start this post off with a more casual look, shall we? Throughout the video, we see flashbacks of Taylor through the eyes of our main hottie (Dominic Sherwood for those of you who are curious), and in one there is a summery road trip vibe where Tay's got her Ray-Bans on, a huge smile on her face, and a window-rolled-down breeze ruffling her hair.
Channeling that, slip into some comfy boyfriend jeans and your favorite stylish sneakers, then toss on a chic button-down. Gingham is a trendy print for the warmer months, so don't forget to add that, whether it's worn on top or tied around your waist. A dash of red is always a necessity, so I recommend coating your nails in this delicious rouge shade.
Red Lip Classic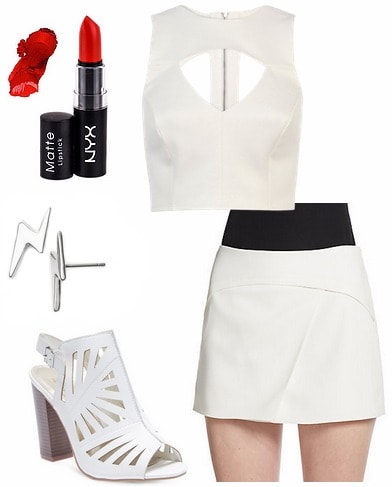 Crop Top, Skirt, Shoes, Earrings, Lipstick
At one point, Taylor shows off her amazing gams in the video, with lightning bolts projected over her, whcih simply emphasizes how thunderstruck we all felt (hehe, get it? Get it?). Recreate the look with a sexy crop top that has a perfectly situated cutout and a matching white mini skirt.
I'm not one to miss out on a fun jewelry reference, so add these electric lightning bolt studs and slip into a pair of cutout heels for a fun night out. You'll undoubtedly turn a few heads (and possibly your James Dean daydream)!
We Never Go Out of Style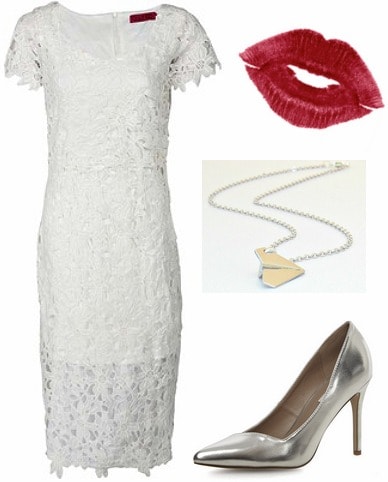 Dress, Necklace, Heels, Lipstick
Since I can't recommend walking around barefoot just yet, I decided to do a polished version of Taylor's look while she wanders around a forest, looking all dreamlike and ethereal. For any upcoming events that require a more dressed up vibe, try this look for an outfit that's reminiscent of Miss Swift's style.
A fitted, crochet dress with sleeves and a midi-length hemline is perfectly alluring yet sophisticated. A metallic pair of heels recall the shattered glass that makes recurring appearances in the music video. Also, another jewelry reference coming your way – this paper airplane necklace that perfectly matches the one shown in the opening clip! Finish off with a swipe of your favorite red lipstick.
Final Thoughts:
Are you a fan of Taylor's new look? What did you think of the music video? Any favorite outfits from above that you'll be wearing? Let us know in the comments below!