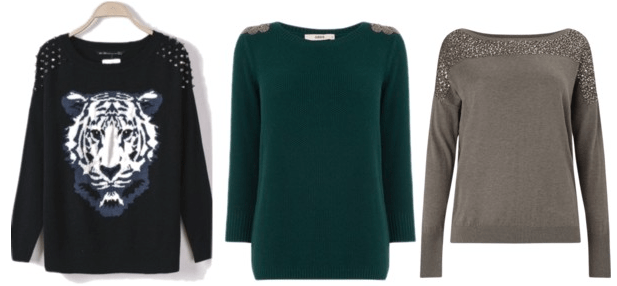 Do you struggle with transforming your outfits from day to night? Don't worry, CF is here to help turn that daily annoyance into a fun challenge. Class to Night Out focuses on one piece per week, and aims to help you take your look from study sessions in the library to dancing the night away.
I mentioned in last week's post that amping up your sweater game is key right now. After all, it's sweater weather! There are tons of options out there: oversized sweaters, graphic sweaters, embellished sweaters, ugly Christmas sweaters…you get the idea. And there is nothing wrong with your fave basic sweater, of course. It's just a good idea to have something fun to play around with!
Does anyone miss cold-shoulder tops from summer? I do. Embellished shoulder sweaters are like the cold-shoulder tops of winter. They are a non-obnoxious way to add some extra zing to your outfits.
For some tips on how to style an embellished shoulder sweater, keep reading!
Embellished Shoulder Sweater: Class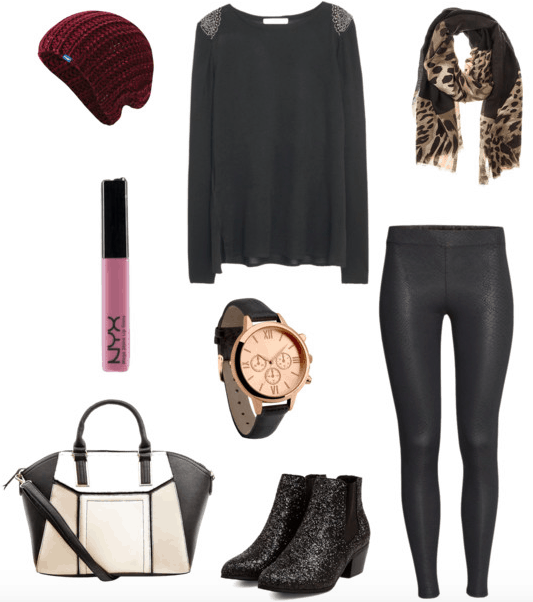 Products: Sweater – Leggings – Shoes – Bag – Scarf – Beanie – Watch – Lip Gloss
This sweater goes perfectly with subtle black snakeskin print leggings and a pair of black glitter ankle boots. It's a bold move, but you will be the chicest girl on campus with this ensemble. Wear with confidence!
Accessorize with a black and rose gold watch and any large black-and-white tote bag. Since it is cold, wear a leopard print scarf and a deep wine-colored beanie. Coat your lips with some mauve gloss and you're ready, Ms. Chic!
Pro tip: It is cold inside and out these days, but since your shoulders make the outfit, you don't want to cover them up with a blazer or sweater when you're indoors. I would recommend layering a thermal long sleeve shirt underneath your sweater and accessorizing with scarves, beanies, gloves, etc.
Embellished Shoulder Sweater: Night Out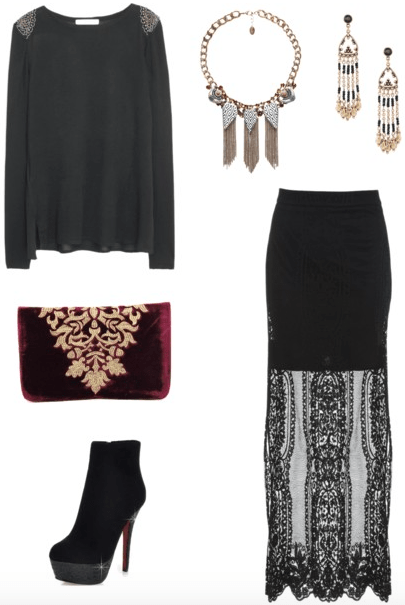 Products: Sweater – Skirt – Shoes – Clutch – Necklace – Earrings
And for your night out, pair your embellished sweater with a black lace maxi skirt and some black platform stiletto booties (bonus points if the platforms have sequins).
For jewelry, pick two key pieces and focus on those – I chose a detailed gold necklace and black-and-gold drop earrings. Finish your night outfit off with an elegant deep red clutch with a gold design.
Your Thoughts?
What do you think? Do you miss cold shoulder tops as much as I do? Are you going to rock an embellished should sweater? If so, how are you going to style it for class and a night out? Let me know in the comments, I love hearing feedback!