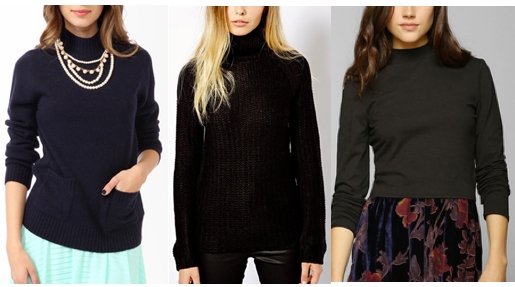 Sweaters: Forever 21, ASOS, Urban Outfitters
Do you struggle with transforming your outfits from day to night? Don't worry, CF is here to help turn that daily annoyance into a fun challenge. Class to Night Out focuses on one piece per week, and aims to help you take your look from study sessions in the library to dancing the night away.
Kids of the '90s, rejoice! Everything that we wore (and loved) in those days is back in style, and here at CF, we couldn't be more excited about it. Leggings, overalls, flannel, and plaids of all forms are chic once more.
The most surprising addition to this trend? Turtleneck sweaters. I remember hating these back in the day – fidgety kids just do not like having their necks covered. But nowadays, I think they're totally awesome. Perfect for those chilly days where you're feeling a little moody.
This week, I'll be showing you how to style a '90s classic – a black turtleneck – for both a day of class and a night out. Read on if you're ready for a little wardrobe inspiration!
(Sidenote: if you're looking for more ways to wear a turtleneck, we recently wrote a whole post on the subject, so be sure to check that out for more outfit ideas!)
Black Turtleneck: Class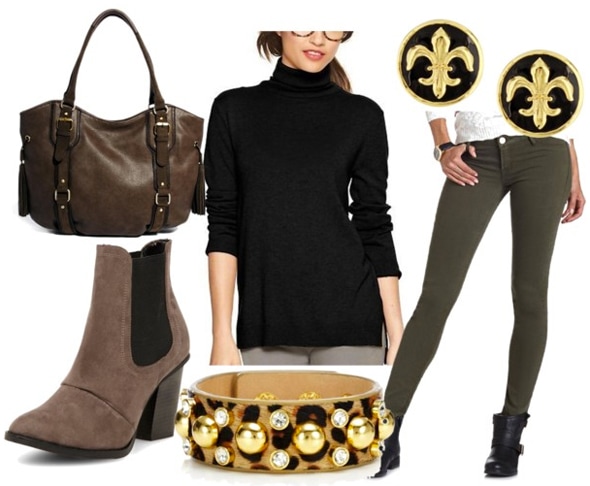 Sweater, Jeggings, Boots, Bag, Cuff, Earrings
For a chic-yet-studious daytime ensemble, ditch the denim and pair your sweater with a pair of olive green knit jeggings. Next, add a pair of black-and-brown Chelsea boots for a super cozy winter look that incorporates mixed neutrals. Accessorize with a sturdy brown hobo bag and a pair of fleur-de-lis earrings for a girly vibe, then complete the outfit with a blinged-out leopard cuff.
Black Turtleneck: Night Out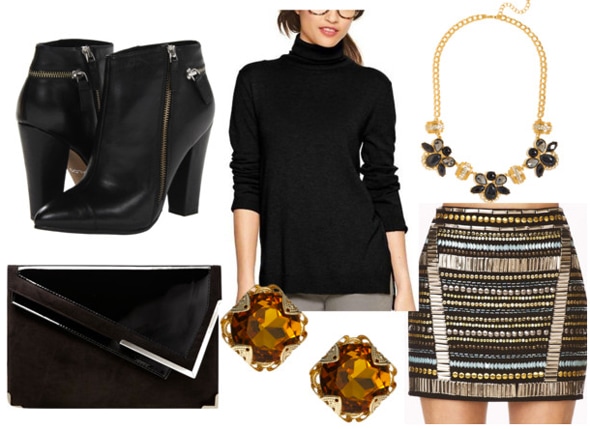 Sweater, Skirt, Boots, Clutch, Necklace, Earrings
Create a super glamorous nighttime look by pairing your sweater with a beaded mini skirt. I'm obsessed with these skirts – they add so much drama to your ensemble and minimize the need for jewelry! Add a little more sparkle with a black-and-gold statement necklace and matching amber studs. Complete this getup with classic accessories: a chic black clutch and ankle booties make this outfit truly sophisticated.
Your thoughts?
What do you think of the turtleneck trend? How would you style this sweater? Be sure to let me know what you think of the outfits in the comments, and what other pieces you'd like to see featured on Class to Night Out!