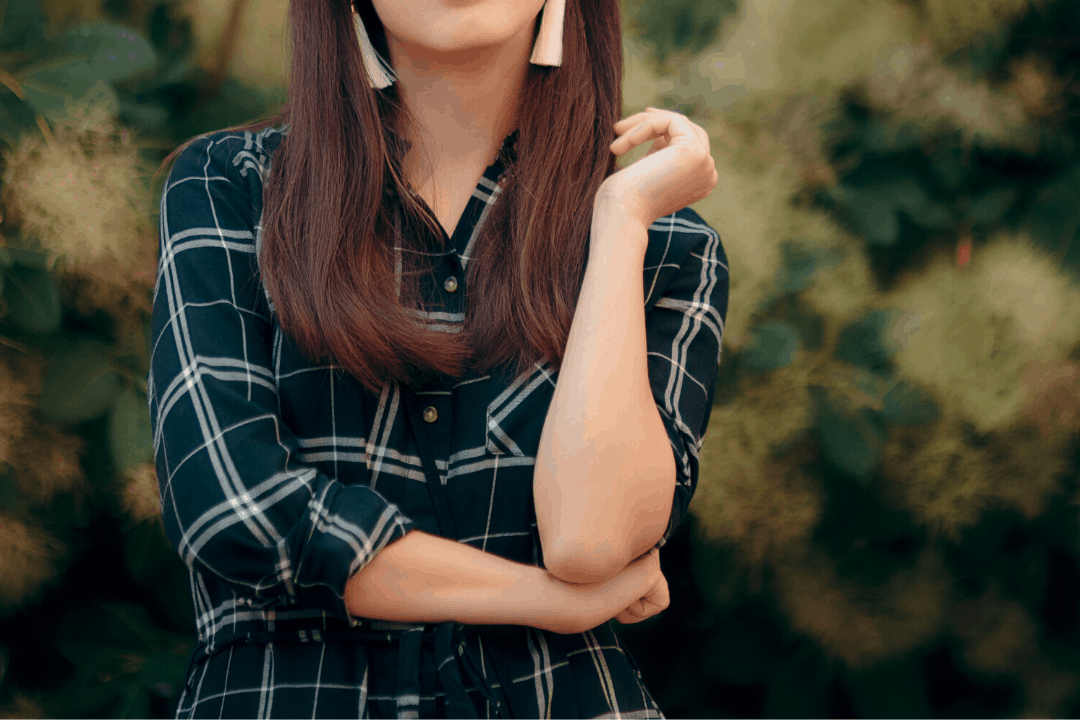 Editor's note: While we stand by this advice, for an updated guide to this trend, see our post on how to wear plaid in 2020.
When it comes to fall wardrobe staples, a good plaid shirt is pretty much number one in my book. Not only does this traditional print have a distinctly autumnal vibe, but a plaid button-up can be worn so many different ways, thus making it a super-practical and versatile piece to own.
Below, I'll show you three stylish ways to wear a plaid shirt for fall. Simply scroll down to check out the outfits:
1. Preppy Casual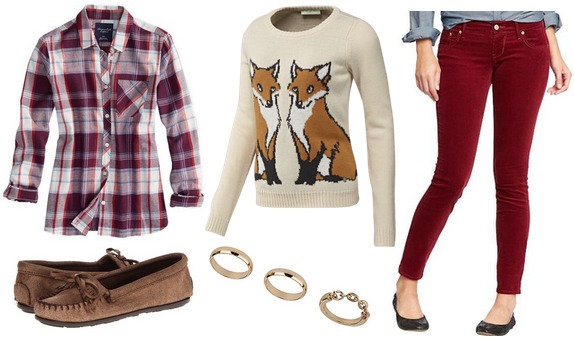 Product Info: Plaid Shirt- American Eagle Outfitters, Sweater- Adidas, Pants- Old Navy, Shoes- Minnetonka, Rings- Topshop
Plaid shirts seem like they were just made for layering over cozy sweaters this time of year – not only is this a comfy yet chic pairing, but the pop of pattern and color from the plaid makes for an eye-catching look.
For this outfit, start by layering a plum-colored plaid shirt with an adorable fox sweater. Make sure to let the collar of the plaid shirt peek through and to cuff the sleeves! Personally, I'm a fan of the "J. Crew cuff," since it really showcases the print underneath and is much more interesting than your average rolled-up sleeve.
Pair the sweater-and-shirt combo with some cords, which add both texture and a pop of color to the look. Next, slip on a pair of moccasins; if you don't already own mocs, I highly recommend them. They're pretty much the comfiest shoes ever. Complete this ensemble by accessorizing with several trendy gold midi rings.
2. Cozy Meets Grungy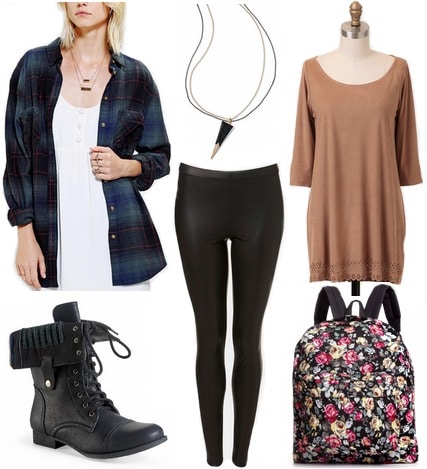 Product Info: Plaid Shirt- Urban Outfitters, Necklace- Macy's, Top- Ruche, Shoes- Aeropostale, Leggings- Nordstrom, Backpack- Macy's
One of my favorite ways to wear a plaid shirt is to simply leave it unbuttoned and throw it over pretty much any outfit. (Dresses, jeans, skirts, you name it!) This works best if you have a slightly oversized version that's made out of a heavier fabric like flannel, which gives any look an instantly grungy, down-to-earth vibe. Try wearing one in place of a cardigan or even a lightweight jacket this season.
The above look would be a stylish yet comfy choice for a laid-back day of classes. Start by pairing leather look leggings with a luxe faux suede tunic, then throw on that flannel plaid shirt. Fold-down combat boots add some edge, as does this spiked pendant necklace. Lastly, grab a cute floral print backpack – perfect for toting those textbooks across campus!
3. Low-Key Dressy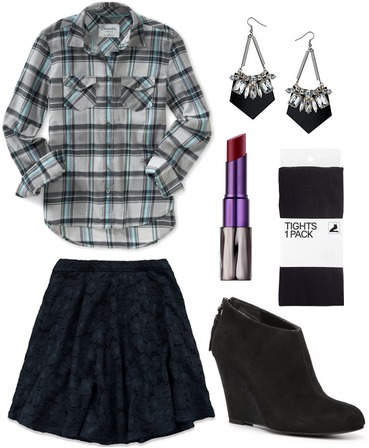 Product Info: Plaid Shirt- Aeropostale, Skirt- Hollister, Earrings- Topshop, Lipstick- Urban Decay, Tights- H&M, Shoes- DSW
Plaid isn't typically associated with a night out look, but I love the idea of pairing a trusty plaid shirt with a feminine and flouncy skirt. Neutral-hued plaids work well for nighttime, so I opted for a classic gray plaid shirt. Tuck that into a navy-colored lace skirt, which picks up on the subtle blue detailing on the top.
Opaque tights make this ensemble autumn appropriate, while wedged ankle booties add a chic yet comfy boost of height. Glam it up with some bejeweled statement earrings, then go for a dark red lip to add the finishing touch to this outfit.
Your thoughts?
What do you think of these outfits? Which one is your favorite? Would you ever wear plaid on a night out? How to you wear a plaid shirt? Remember to tell us what you think by leaving a comment!