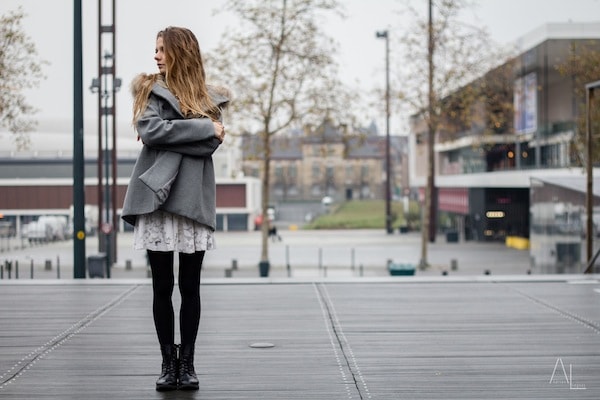 There is something picturesque about the changing of fall into winter. The first snow is always the prettiest; dainty, soft snowflakes pile into fluffly heaps and everything seems quaint.
Regardless of whether or not it's snowed where you're located, the chill in the air may have you layering jackets and coats in anticipation of the weather to come. So, we have compiled 5 different outerwear looks to spark some fresh layering ideas. As always, these looks total in at under $100.
Bright Blazer: $96.74
While a blazer won't keep you completely warm if the thermometer reads freezing, it is still a fantastic fall transition piece for those days when temperature is lingering in the 50s.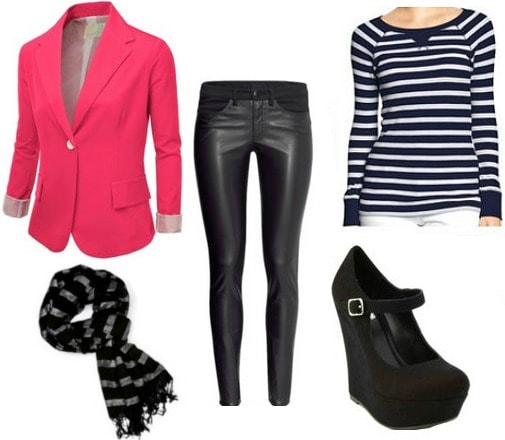 Product Information: Jacket – Amazon, Top – Old Navy, Leggings – H&M, Shoes – Charlotte Russe, Scarf – Forever 21
A blazer with a big pop of color will keep you from blending into the sea of winter-induced neutrals. Plus, the bright color will look phenomenal with a bold, striped sweater. Leather pants are really in right now, but we love these imitation leather paneled jeans. Not only are they super cool, they are also super reasonably priced.
Platform wedges are a fun and fashion-forward choice to rock right now if the weather is still mild, while a silky scarf adds a little something extra to the ensemble.
Chic Anorak: $98.92
The anorak is the new go-to jacket of choice. Once again, it's not the warmest option, but will still work flawlessly for those sleeting or rainy days on campus.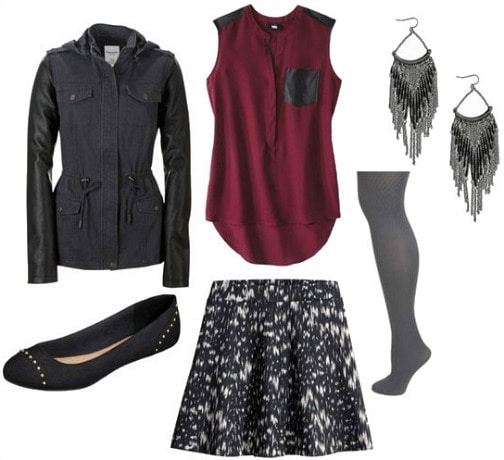 Product Information: Top – Target, Skirt – H&M, Coat – Aeropostale, Shoes – Target, Tights – Ruche, Earrings – Buckle
Set yourself apart from a sea of army green anoraks on campus by opting for an unexpected hue, like this deep gray. This one also features contrasting faux leather sleeves, which are right on-trend and very flattering. The printed skirt adds interest, while thick tights will keep your legs warm.
A maroon top adds a nice pop of color, while flats keep things casual. The unique details – like the blouse's leather-look pocket and stud detailing on the flats – really pull together this edgy look.
Ladylike Trench: $98.64
Trench coats are universally flattering, plus they look great with pants, skirts, dresses, boots, and flats. In fact, it would be difficult to look bad in a trench coat!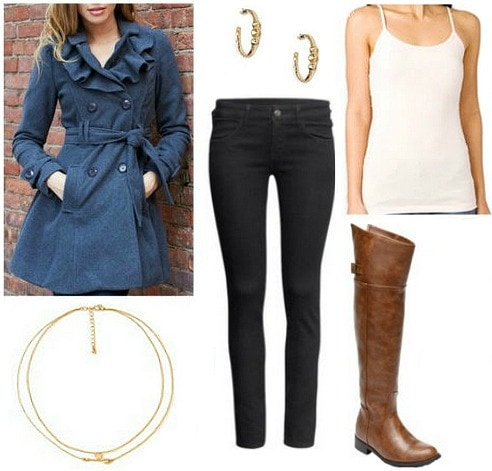 Product Information: Coat – Alloy, Top – Forever 21, Jeans – H&M, Shoes – Amazon, Necklace – Forever 21, Earrings – Forever 21
If your style is more feminine than edgy, look for a ladylike trench coat. The ruffle detail on the coat shown above makes for a perfectly girly look. Since this coat makes such a statement, pair it with the casual yet polished combo of skinny jeans and a cami.
Riding boots will be your best friend this winter and this trendy over-the-knee style will keep your toes and legs warm while trudging through less-than-pleasant weather. Complete the outfit with some delicate gold jewelry.
Bohemian Wrap Coat: $99.73
If you're looking to add a very trendy coat style to your collection, why not opt for a patterned wrap coat with faux fur? Not only will it keep you incredibly warm, it will also be a fun way to change up your look.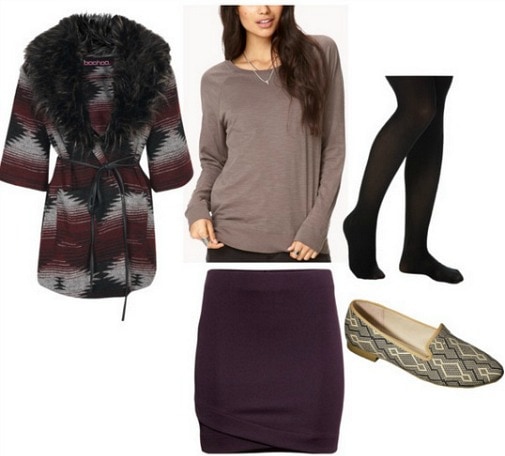 Product Information: Coat – Boohoo, Top – Forever 21, Skirt – H&M, Tights – Target, Shoes – Target
There's no doubt that this coat is dramatic, so keep your look from going overboard by pairing it with the basics. Namely, stick to a cute skirt, a long sleeved tank, and black tights.
Smoking slippers are still ultra-chic and are also an ideal choice for late fall. We especially love these funky patterned ones from Target.
Puffy Vest: $99.67
The puffy vest is a polarizing piece: You're either into it or you're not. Here at CF, we can't get enough of them (when styled correctly)! They are sporty, sassy, and easy-to-wear when the temps dip down.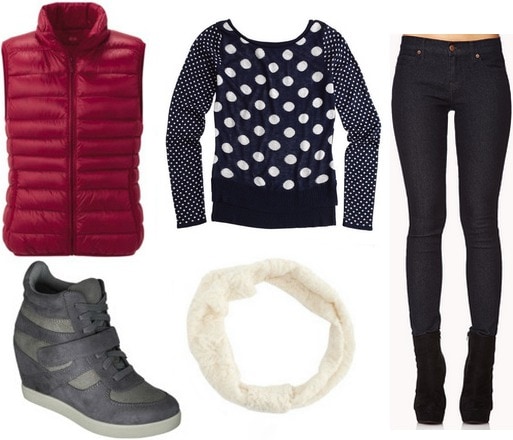 Product Information: Top – Delia's, Vest – UNIQLO, Jeans – Forever 21, Shoes – Target, Headwrap – Charlotte Russe
Neutral puffy vests can be boring, so we say go with a colorful one! This red one looks ultra chic when paired with a polka dot top and skinnies. A pair of wedge sneakers adds a sporty yet trendy vibe to this entire outfit. Even if you're on the fence about them, this pair of very low wedges from Target are both comfy and wallet-friendly!
For the finishing touch, accessorize with a preppy white headwrap.
What are your favorite budget-friendly outerwear pieces?
Which look above is your favorite? Are you into puffy vests and sneaker wedges? Do you have an anorak or bright blazer? Where are you shopping for coats and jackets this fall? Leave a comment below and let us know!