This post may contain affiliate links, which means we may receive a commission if you purchase through our links. Please
read our full disclosure here
.
What does the rest of the semester look like for you? A lot of time in the library? Yup, me too.
Even if hitting the stacks is your biggest outing of the day, there's no reason you can't rock a cozy and cute look. There's something empowering about the finishing touch to your stylish layered look being a big ol' Henry James anthology (maybe I'm just a nerd). Smarts are, after all, the best accessory. Plus, a cool outfit will put you in a better mood, even if you have to spend the whole day studying.
If your school library is anything like mine, all the different floors may have different temperatures, which can be totally unrelated to the weather outside. So layers are a good idea. Other library-specific tips? Avoid noisy jewelry like a big stack of bangles, and pick something comfy.
Need more assistance with library dressing? Try one of these cute combos:
1. Printed pants, tank, cardigan, bright flats, and a statement tote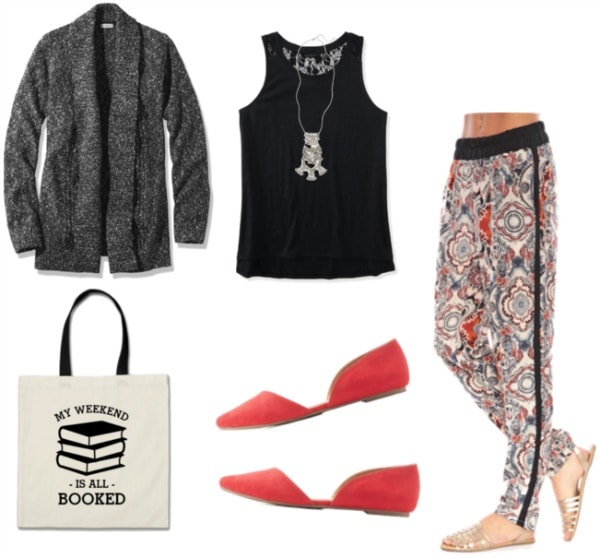 Products: Tank, Pants, Sweater, Flats, Bag, Necklace.
The loose, printed pants trend was practically made for staying chic on a low-key day. This outfit, if you think about it, is basically pajamas taken up a notch. A cozy sweater, a tank, and slouchy pants are on-trend with a bright pair of pointy-toe flats (bonus points for the d'orsay detail). One cute piece of jewelry makes the look more polished. Finally, let your nerd flag fly with a quirky message tote (puns preferred).
Another beautiful thing about this ensemble? You can spend all day Friday or Saturday in it, curled up with your art history reading, then switch the cardi for a pleather jacket or blazer, maybe add a smokey eye, and take it to a party.
2. Cropped sweatshirt, shorts, tights, and a bold necklace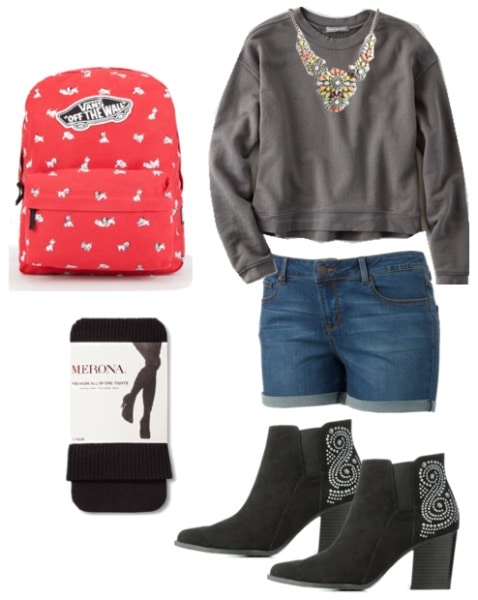 Products: Sweatshirt, Shorts, Booties, Tights, Necklace, Backpack.
A cropped sweatshirt is cozy and trendy all at once. Add a tank underneath so you can shed a layer in an overheated library. Shorts worn with tights are a great way to wear your daisy dukes all year round, and the combo is casual while still showing you put thought into your look. You can even have fun with your backpack — I'm loving this 101 Dalmations one from Vans' Disney collab.
Add some glam touches to boost your mood when the books get you down. I love these embellished booties, and a solid sweatshirt screams for a statement necklace. Like the look above, this outfit can also transform into a going-out look if you lose the backpack and swap the denim shorts for a black tailored pair or a cool pleather skirt.
3. Quirky sweater, BF jeans, and cute jewelry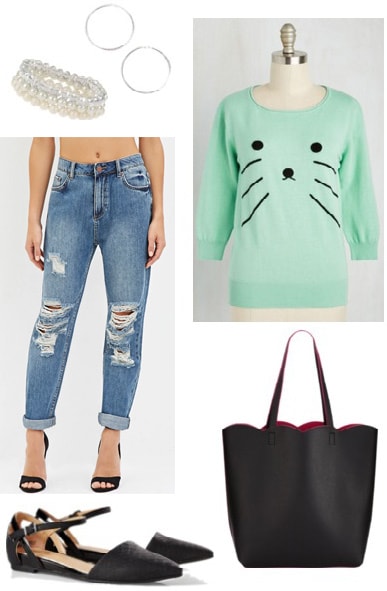 Products: Sweater, Jeans, Flats, Tote, Earrings, Bracelets.
As a huge fan of both BF jeans and quirky animal motifs, this look has to be my fave. A pastel colored, fitted, 3/4-sleeve sweater with an adorable pattern keeps ripped jeans flirty and feminine, and the slouchy jeans beat skinnies for a day of hitting the books. Sparkly jewelry and the kitty face will keep you smiling all day.
The bag and flats are on point with spring trends (ankle straps, scalloping) and still totally practical for schlepping your books. Keep the jeans cuffed to show off your shape and the detail of the flats. Oh, and prepare for compliments.
What do you think?
What do you typically wear to the library? Would you rock any of these looks, and which is your fave? Let me know in the comments!