This post may contain affiliate links, which means we may receive a commission if you purchase through our links. Please
read our full disclosure here
.
It might be a stretch, but I'm betting that you will be spending a lot of time at a desk over the next four years. After all, those papers (sadly) aren't going to write themselves!
If you're going to be stuck at a desk for a while, gazing wildly around you in desperation as you begin that first essay or calculus assignment, why not make your workspace the most inspiring, organized, and personalized area of your room?
In this article, we'll talk about three essential dorm room office supplies that every college girl needs in her arsenal. Hopefully these will help keep you on top of your studies, and help you feel inspired while doing so!
1. A Planner
If you don't already have some sort of planner or daily calendar to keep track of your assignments and commitments, I seriously encourage you to get one! There are so many options on the market now that you don't have to settle for the boring discount-bin ones.
I personally prefer all-in-one weekly planners that have monthly calendars interspersed throughout (as well as pockets and a notepad and a space to hold my pen), but take a look at a few and see which one suits your needs!
Good planners come in dated and undated versions (there is something intrinsically satisfying about filling in the dates yourself), and some are even miniature, cloth- or leather-bound binders. Take a look below!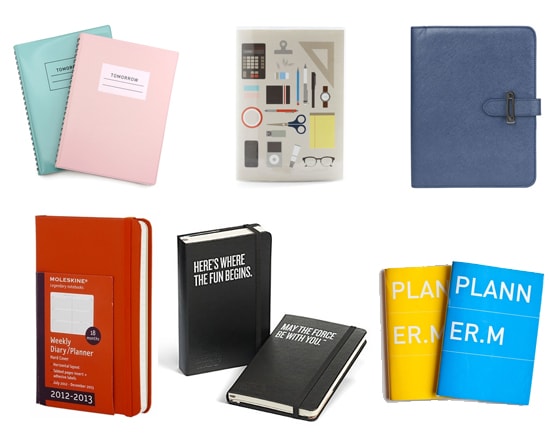 Product Information, clockwise from top left:1, 2, 3, 4, 5, 6
Want some inspiration to keep you thinking about the future? This Tomorrow planner comes in a gorgeous array of pastel colors, and reminds you that tomorrow is only a day away.
With a cover inspired by Things Organized Neatly, this planner is perfect for the Type A personality.
I've used these Franklin Covey planners for the past four years, and I could not recommend them more highly! They're sleek, professional, and have pockets for absolutely everything.
Are you a fan of typography? These boldly colored planners are simple and modern.
Alright, I know there's more than one Star Wars fan in the audience here. These planners were pretty much made for you.
Finally, for the more classic girl, look no further than the iconic Moleskine planner.
2. A Message Board
Keep track of your assignments and hang up some memories with a message or bulletin board! It fits perfectly in the space above your desk, and is a staple in every dorm room.
However, there are plenty of ways to display papers and photos without getting a cork board. I personally have six clipboards stuck to my wall in a 2 x 3 grid, and there are so many other options!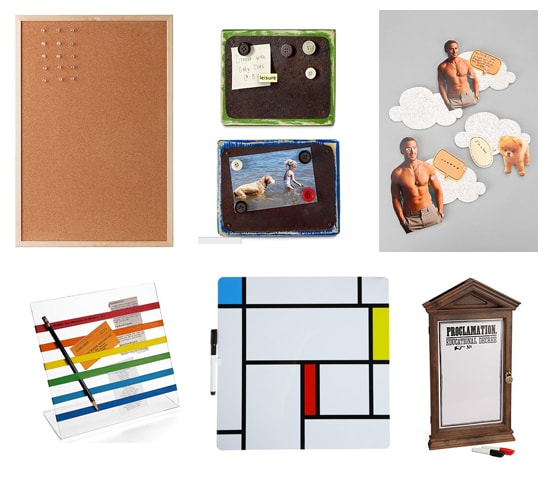 Product Information, clockwise from top left:1, 2, 3, 4, 5, 6
It doesn't get more classic than a clean rectangular corkboard with clear pushpins. For a personal touch, try painting the frame to match your room!
These upcycled wood-and-tin magnetic frames are great for an earthier feel.
Miniature cloud cork boards, complete with Ryan Gosling cutouts. Need I say more?
This authentic Harry Potter proclamation whiteboard is perfect for sending passive-aggressive notes to messy roommates.
For you Art History majors, why not add a little Piet Mondrian inspiration to your room?
For a smaller alternative to your typical board, try this adorable rubber band organizer from MoMA.
3. A Desk Organizer
If you're like me, losing your pen is enough to put you in a bad mood for the rest of the day. Keep your favored writing utensils corralled and neatly organized with a handy desk or drawer organizer!
Letters, cards, and flat memorabilia can also find a home in more versatile desk organizers, especially if you want to display them prominently on your desk. Bonus points if there are slots for your other desk implements as well!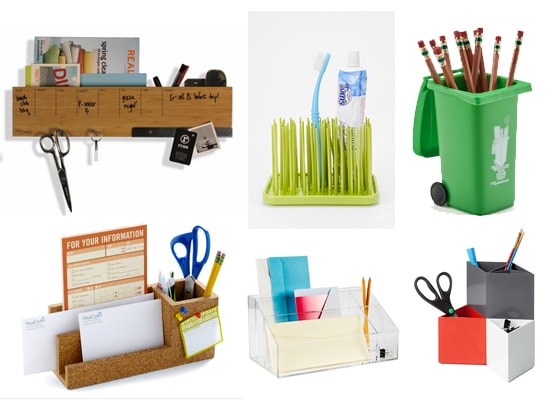 Product Information, clockwise from top left:1, 2, 3, 4, 5, 6
This all-in-one rack, message board, and paper holder could be the perfect one-stop shop when you hang it up next to your door.
Want to bring some more nature into your room? This grassy organizer is great for holding anything sturdy.
Okay, this miniature recycling bin is just too good to pass up.
Feeling more geometric? These rhombus-shaped pencil holders will definitely get your mind thinking critically.
For an organizer that doesn't take up a lot of visible space, try this clear acrylic desk set.
ModCloth makes an adorable cork desk organizer, which can double as a bulletin board.
What do you think?
What are your favorite desk supplies? Which of these did you like the best? What else do you make sure to buy when you head back to college? Let us know with a comment!