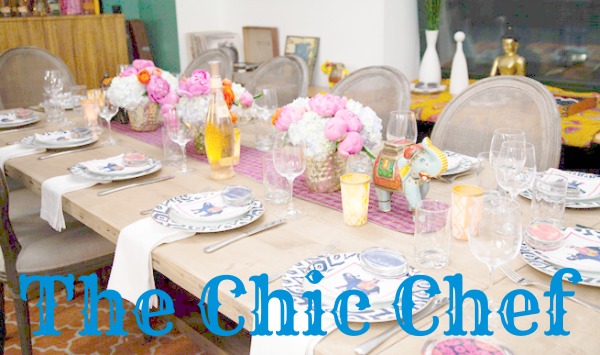 Along with kale and Brussels sprouts, last year was an awesome year for the comeback of Greek-style yogurt. This thick and creamy yogurt makes an awesome substitute for sour cream, mayonnaise, cream cheese, and more.
But did you know that you can also use it to marinate meat? The yogurt helps tenderize the meat, leaves it with a tangy, zesty sort of flavor, and keeps the meat impossibly juicy!
For this week's recipe, I altered a Pinterest-favorite developed by Beth from Budget Bytes. If you haven't checked out her cooking blog yet, you totally should – it's filled with healthy, budget-conscious recipes that were made to last several days in the refrigerator and freeze well. Her recipes are pretty simple, cover a wide range of flavors, and don't require a bunch of really specific or uncommon cooking gadgets. In other words, pretty much perfect for a college girl on a shoestring budget!
Rather than just marinading the chicken in this tangy cool sauce, I thought it'd be yummy to make a little extra and use it as a sauce for the chicken and couscous. The results were great – my picky BFF loved the end product, and actually took the extra yogurt sauce home with her to eat later!
Let's get right to it, shall we?
Meal: Greek Chicken, Creamy Yogurt Sauce, and Couscous
Adapted from Budget Bytes' Greek Marinated Chicken
What You'll Need
1-2 lbs of meaty chicken pieces. Skin on or off, bones in or off. For this, I used skin-on, bone-in chicken thighs, but that was just because my grocery store was out of the boneless skinless variety.
1 ½ cups of Greek yogurt, thinned out with 1/2 cup of milk (or, you could just use 2 cups of regular plain yogurt)
1 lemon
1-2 tablespoons of olive oil
2 cloves of garlic (or a spoonful of the minced jarred variety)
1 tablespoon of dried oregano
1 handful of flat-leaf parsley
Salt and pepper to taste
1 box of couscous, whatever flavor you like (I used Roasted Garlic and Olive Oil)
How to Make It
Take your chicken out of the package, and rinse with cold water, then dry with paper towels. Toss them into a large bowl and set aside. Wash your hands well.
Put 2 cups of yogurt (or your Greek yogurt/milk combination) into a medium sized bowl. Use a fine cheese grater to scrape the thin yellow outer layer of the lemon into the bowl with the yogurt. This is called "zesting," which extracts citrus oils out of lemon, lime, or orange rinds, and makes dishes taste super fresh, tart, and delicious. You can buy a special zest grater at the grocery store – it'll be under $10, and is also "grate" (I'll be here all week!) to use on ginger, hard cheeses like Parmesan, and more.
Once you've scraped the entire lemon, it'll look well, kind of naked. Cut it in half and squeeze the juice of one half into the yogurt. Make sure to catch or pick out any rogue seeds. Toss the other half of the lemon into the fridge – squeeze it into your water or Coke or iced tea at a later time.
Mince the clove of garlic and handful of parsley and add it to the yogurt. Add the olive oil, then the oregano, two generous dashes of salt, and several shakes or cranks of black pepper.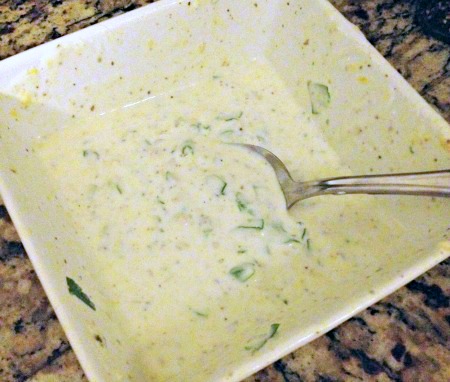 Mix the whole thing well with a spoon, then lick the spoon and see if it needs any more seasoning. Tastes delicious right? Grab a clean spoon, mix in a dash more seasonings if you think it needs any, then enjoy licking the spoon once again.
At this point, you might be tempted to grab a bag of pita chips and go to town on this bad boy. If you do, I won't tell. But don't worry, there will be plenty of time later to dunk everything in your kitchen into this sauce.
Next, pour about 3/4 of a cup of the marinade directly onto the chicken, and toss with your hands to make sure all of the chicken pieces are well coated with yogurt. (If your need more marinade, use a clean spoon to transfer more yogurt, careful not to cross contaminate the yogurt with anything that has touched the chicken.)
Wash your hands well, then cover the chicken bowl with plastic wrap and place in the fridge to marinate for 30-45 minutes. Cover the rest of the yogurt sauce with plastic wrap and toss that into the fridge, too. In the elapsing time, the flavors will all meld together and get extra yummy.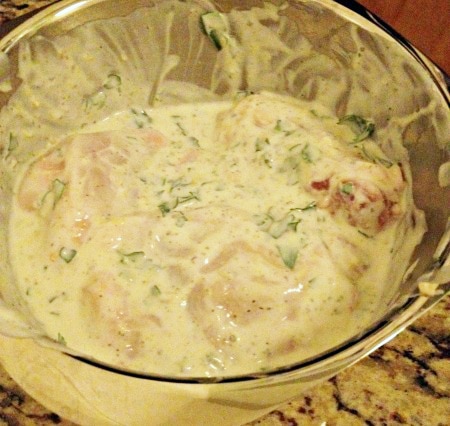 While the chicken is marinating, go ahead and preheat your oven to 375 degrees Fahrenheit.
After the chicken has marinated, arrange pieces in a lightly greased baking dish and let it bake in the oven for35 minutes. (If you're using skinless thighs, cut one of them in half around 25 minutes and check if they're cooked through).
The yogurt sauce will smell so good that you'll want to pour the excess marinade on top of the chicken before baking – but don't do that! This is why we made extra yogurt sauce, so we can use it as a sauce/dip for the chicken and couscous once the meal is done cooking. Too much sauce will hinder the chicken from getting deliciously browned. Instead, discard the remaining marinade – since it touched raw chicken, it isn't safe for consumption.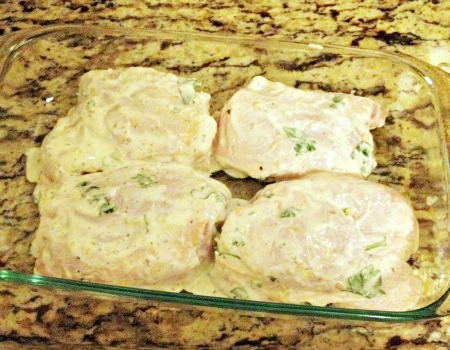 While the chicken is baking, cook the couscous according to the directions on the package. There's a lot of things that I like to make from scratch, but when it comes to a perfectly portioned and seasoned serving of couscous, you can't beat Near East's selections. They're between $2-$3 a box, but I've found that one box is enough to last me three meals.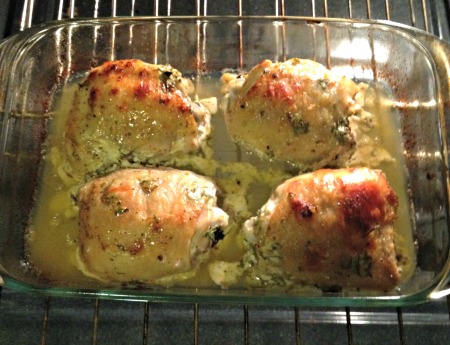 If you've been keeping up with this column, you know that my number one pet peeve is limp chicken skin. So after the 35 minutes or so have passed, crank your oven up to a broil and let the chicken cook for another 2-3 minutes. Watch it the whole time, so the chicken skin can get extra brown and crispy without burning. (Of course, if you're using skinless chicken pieces, skip this step).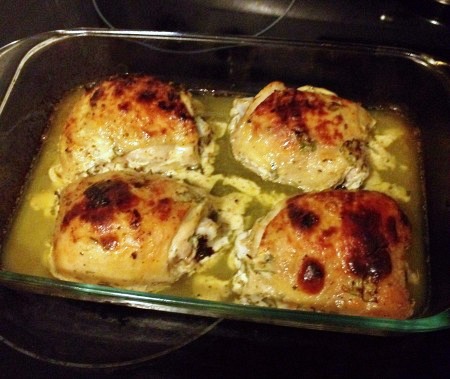 There. The chicken skin will be crisp. It won't be as crunchy as the skin in this recipe, but not that flabby texture that we all hate. The meat of the chicken though – dang! It will be juicy and melt-in-your-mouth tender.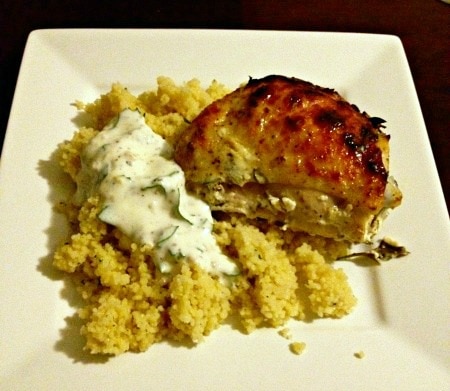 Spoon a big bed of couscous on your plate, and nestle a piece of chicken right on top. Take your yogurt sauce out of the fridge and give it a couple good stirs, then plop a generous helping right on top of your chicken and couscous. Because it's yogurt-based, it's guilt-free, so eat on as much of it as you'd like! Serve as-is, or with some pita bread or veggies on the side.
Here are few more notes about this recipe:
If you thought this marinade looked familiar, you're right! It's very similar to the creamy cucumber sauce we made last month. The leftover sauce can be used in a million different ways – as a veggie or chip dip, on top of almost any kind of meat, as a Ranch dressing replacement, or as a sandwich spread.
Speaking of sandwiches, shred leftover chicken onto a wrap or pita bread with lettuce, olives, onions, tomatoes, and a dollop of yogurt sauce for a gyro-inspired sandwich!
You can also swap the couscous out for quinoa, rice, roasted potatoes, or whatever floats your boat!
The sauce will last 3-4 days in the refrigerator. Don't worry if some liquid separates when you retrieve it – just pour it off, or mix it back into the yogurt.
Instead of baking, you can grill this chicken too. However, since most of us don't exactly have a propane grill chilling at our tiny apartments, I figured that baking is probably the best method.
Roasted tomatoes, peppers, and onions would taste amazing as a side dish to this meal. Toss wedged tomatoes and onions with slices of bell pepper in olive oil, salt, and pepper, and roast at 425 degrees Fahrenheit for 30-40 minutes. Be sure to dunk the veggies in yogurt sauce, too!
What Do You Think?
Are you a fan of Greek flavors? What about yogurt-based sauces and marinades? Have you seen a variation of this recipe before? What other foods would you like so see a recipe for? Do you have any college kitchen troubles that you'd like to see addressed?
Leave a comment and let us know!