This post may contain affiliate links, which means we may receive a commission if you purchase through our links. Please
read our full disclosure here
.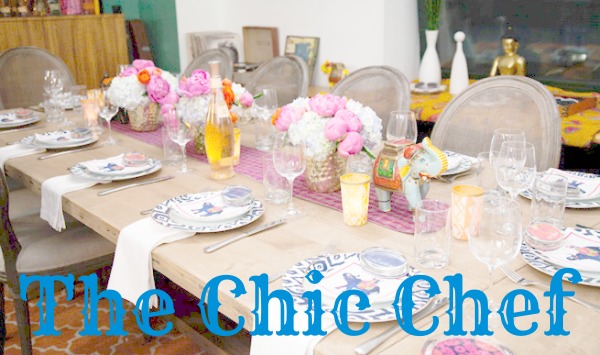 Photo Credit: ELLE
Dining as a college kid is tough, especially when you're plucked from the protective wings of your sorority house/dorm cafeteria and tossed into your own pint-sized apartment.
Sure, you could throw a Lean Cuisine into the microwave, but there's something about eating a highly processed meal that sort of skeeves me out. You could bake a huge casserole that will last the whole week…but I don't know about you, but I can't stand eating the exact same meal more than twice in a row. Getting take-out every night is either expensive, unhealthy, or both, and cooking a square meal every night is too time-consuming for most college (or working!) girls.
To combat this problem, I thought it would be helpful to start a new series that tackles making delicious meal components that are easy to make, inexpensive, and — most of all — insanely versatile. I'm a huge fan of celebrity chef Alton Brown, and he talks a lot about his disdain for "unitaskers," or kitchen appliances that have only one function. I often feel this same way about food. When you're a busy single gal, it's important that you don't waste time and resources making something that you're going to get sick of in two days.
Here are a few more of my cooking ideologies that you'll see as a theme throughout this series:
Real pictures. I've been snowed-in with the rest of the Midwest, so cut me a break this week, but in the future I promise that I will post real-life photos so you know what you're working with. There's nothing worse than seeing a gorgeous and vividly-colored soup on a food blog and have it come out looking like muddy mush when you make it. I'm tellin' you, I won't stand for it!
Tried and true recipes. You know that super popular "melt in your mouth" chicken recipe floating around on Pinterest, promising that a chicken breast topped with Greek yogurt and spices will be juicy and taste better than fried chicken? Well, I tried it and it's terrible. Greek yogurt is a wonderful substitute for mayonnaise, but not in this application. Now, every time I see one of my friends pin it, I'm tempted to comment on it and warn them not to ruin a batch of perfectly good chicken breasts. Because I hate when this happens so much, everything you see on this column will be tested for quality.
Budget-friendly. There's a time and a place for Gruyere cheese, truffle oil, and prime rib, but in this series I'm going to stick with items that most of us can easily access and afford.
Healthy. Don't worry, I'm not going to totally cut out butter or bacon or anything awesome like that. But for the most part, the recipes we'll feature will be high on nutrients and low on empty calories.
Components. Remember, most of the recipes we'll feature here are building blocks — just parts of a meal that you can make one day and use to supplement your meals the rest of the week. I personally love cooking at least one thing a day, even if it's just boiling noodles or baking a chicken breast. As long as you can make that one thing work in several different ways, it will feel like you're eating a completely different meal every time. A good base recipe is like a pair of skinny jeans or a cropped leather jacket — it goes with everything!
Creamy Cucumber Sauce
In India they call it Raita, and in the Middle East it's known as Tzatziki. If you've never tried the cool, creamy (and guilt free!) sauce, you've been missing out.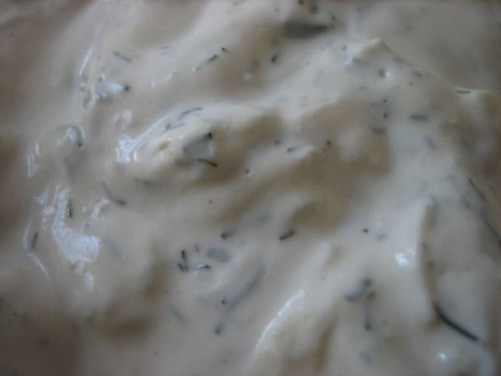 Photo via Wikimedia Commons
What You'll Need:
Adapted from Alton Brown's Tzatziki
1 16 ounce container of plain Greek yogurt
1/3 of a seedless English cucumber
8-12 fresh mint leaves, minced (fresh or dried dill would taste awesome if you have that on hand instead!)
1 generous splash of olive oil
2 teaspoons of red wine vinegar (lemon juice will work too!)
Half a clove of garlic, minced (alternatively, use half of a small spoonful of the minced jarred variety)
Salt and pepper to taste
How to Make It:
Most English cucumbers come shrink-wrapped in thin plastic. Peel off just enough plastic to expose 1/3 of the cucumber, and lop off the skinny, wrinkly end. Carefully use a standard cheese grater to shred the exposed cucumber. (The plastic-covered long end of the cucumber makes a convenient handle!). Wrap the rest of the cucumber in plastic and save for later use.
Place the shredded cucumber on a sturdy paper towel, bring the edges together and gently squeeze over a sink so much of the extra liquid in the cucumber drains out. This is an important step that will keep you sauce from being too runny. Move the cucumber to another paper towel, and do it one more time.
Put the shredded cucumber in a medium-sized bowl, and mix together with the rest of the ingredients. Start conservatively with the red wine vinegar, salt, and pepper, and slowly add more depending on your tastes.
I usually eat enough of this sauce right after preparing that I can conveniently store it in the lidded plastic container that the Greek yogurt came in. If you accidentally threw it away or have too much sauce for it to fit, a regular Tupperware container will work just fine. This sauce will last for about a week stored in the fridge, but it will separate a bit. Prepare to mix it with a spoon before each use.
Here's some ideas on how to use this sauce:
The cooling flavor of the sauce tastes awesome on chicken, steak, burgers, sausages, fish, soy patties–pretty much any kind of meat you can think of.
Spoon it over grilled or roasted vegetables, or cooked frozen veggies.
Slice up the rest of the English cucumber and dip it into this sauce. Baby carrots, sugar snap peas, cherry tomatoes, raw broccoli and cauliflower, pita chips, hearty breads, and crackers all taste awesome with it as well.
This sauce is a fantastic and healthy substitute for ranch dressing. Use it on salads, or dunk your pizza or french fries into it.
Can't find English cucumbers? Use a regular cucumber, but peel off the skin and slice in half lengthwise. Use a spoon to scrape out the seeds, and chop finely instead of using a cheese grater. Although regular cucumbers are cheaper, I prefer English cucumbers because you don't have to deal with tough skin or large seeds, and since it's easy to just use a portion of, I end up wasting less of it.
Another great use for the unused part of the cucumber is to slice it up and put it in a pitcher of water. Spa water tastes delicious!

For an Indian spin on this sauce, mix in powdered or fresh-grated ginger into it. Also, if you're feeling adventurous, try experimenting with pinches of lemon zest, cayenne pepper, or cumin.
This sauce tastes delicious on potatoes. Spoon it on top of a baked potato, hashbrowns, roasted or boiled potatoes, or use it as a fresh and healthy substitute for mayo in a potato salad.
Use it to cool down hot curry dishes.
This kind of sauce is classically paired with gyros. Most of us don't have a gyro spit roaster laying around our houses, but it'll taste awesome on a turkey wrap or ham sandwich instead.
On a spoon. Yep, it's tasty enough that you might be tempted to dig right in. Don't be ashamed — I've done it too.
I also love this sauce on top of hot rice, couscous, and quinoa. Which brings us to our next recipe…
Sunday Batch Quinoa
Kudos to whoever is in charge of marketing quinoa, because it went from a virtually unknown grain to a staple for healthy girls everywhere! Quinoa reheats in the microwave well, so don't be afraid to cook a large helping at once and eat it throughout the week.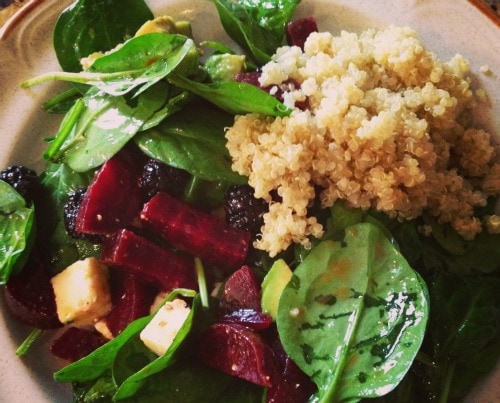 Here's a salad I made a few weeks ago. Spinach, roasted beets, blackberries, avocados, fresh mozzarella, and a healthy serving of hot quinoa plopped right on top.
What You'll Need:
A package of dried quinoa (if you don't have a fine sieve, make sure you buy pre-rinsed quinoa!!)
Chicken or vegetable bouillon cubes
Note: If you didn't buy pre-rinsed quinoa, it's imperative that you wash it very well before you cook it! It you don't, the quinoa will have an unpleasant soapy, bitter taste to it.
This is kind of difficult if you don't have a fine mesh sieve, because the quinoa granules are much too small for a pasta strainer and you'll end up losing a lot in the sink if you just try to clean them in a bowl and block them from draining out through your fingers.
So, either buy a sieve, or only buy pre-rinsed quinoa. Kapeesh?
How to Make It:
Once the quinoa is thoroughly cleaned, cook it according to the package directions, but for every cup (or two cups if you like things more bland) of water, drop in one bouillon cube. This will give the quinoa an extra shot of flavor!
Alternatively, you can use chicken/vegetable broth or stock, but I've found that boxes of broth are kind of expensive and I'm always running out of them. Although I prefer using boxed broth, I always have a jar of bouillon cubes in my pantry so I'll never be caught short-handed.
This miracle grain is packed with protein, but has the same hearty mouth-feel and functions of a starch. As the title of the recipe implies, this is a great recipe to cook on Sunday night because it will taste just as good even four or five days after you make it.
Here's a few ways you can use your batch of quinoa:
Quinoa soaks up sauces well, so it's a great substitute for many rice and noodle dishes. Try it with soups or stews, meatballs dishes, creamy chicken casseroles, or pretty much any meat dish with a sauce.
I want to love salads, really I do, but I just don't feel satisfied after a meal unless I eat something hot and filling. Toss a cup of warm quinoa right into your salad along with a vinaigrette dressing for a delicious meal that's light, yet sticks to your ribs.
Mix with a beaten egg, shredded cheese, shredded raw veggies and some breadcrumbs to form a thick mixture, form into patties, and fry on an oiled skillet for delicious veggie patties. They also work well as veggie burgers!
Toss warm quinoa with your favorite vegetables, fruit, nut or seeds, and add goat, mozzarella, feta, or parmesan cheese. Make a simple salad dressing out of olive oil, lemon juice, salt, and pepper, and toss everything together for an easy and adaptable salad.
Serve plain alongside a meat and vegetable of your choice for an simple, balanced meal.
Drizzle warm quinoa with honey, fruit, and nuts for a healthy breakfast option (although, if you do this I would recommend using quinoa cooked in regular water rather than chicken broth).
What Do You Think?
What are some of your favorite versatile foods to cook? How do you like to eat quinoa? Are you a fan of cucumber sauces, tzatzikis, or raitas? What other foods would you like to see us cover? What are some of your problems in the kitchen?
This series is still evolving, and we'd love to hear your input. Leave a comment and tell us what you'd like to see!