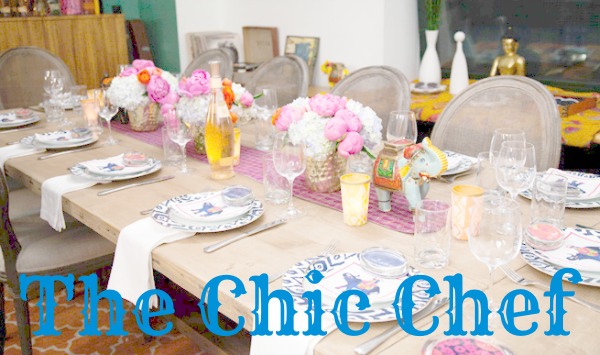 Hey girls! It's a new week, and I'm here with three more awesome recipes to add to your repertoire. After the last few weeks of heavy, sugary, and buttery holiday treats, I'm craving something lighter, and well, more New Year's Resolution-friendly. This week, we're cooking heart-healthy and nutritious salmon, as well as Brussels sprouts and mashed cauliflower.
Salmon is loaded with omega-3s and oodles of good fats – the kind that flushes out bad cholesterol and gives you shiny hair and clear skin. This recipe for Brussels sprouts is insanely easy, and mashed cauliflower makes an excellent starchy substitute for mashed potatoes.
Sure, the sprouts are seasoned with a dash of sugar and the cauliflower calls for some creamy fats, but personally, I see nothing wrong with adding a small amount of decadent ingredients to otherwise healthy items. My healthy eating philosophy is all about maximizing nutritious foods, so seasoning veggies and lean meats with a little bit of butter is something that I don't worry too much about. However, if your approach is more about cutting out fatty foods, eating low carb, or reducing your sugar intake, I've left notes on how you can adjust these recipes to your personal preference.

As always, leave a comment and tell us what you think of these recipes, and any tweaks or secrets that you've learned while making dishes similar to these.
Let's get cooking!
Basic Salmon
Adapted from the Pioneer Woman
What You'll Need
A salmon filet (usually 1 lb lasts me 3-4 meals, depending on how hungry I am!)
Olive oil
The juice of half a lemon
Salt and pepper
How to Make It
Put the salmon filet into a greased baking dish, and generously drizzle olive oil over the top. I like to rub my fingers around it, to make sure the entire surface is covered with the silky goodness.
Squeeze the lemon over the salmon depending on your taste; you can use as much or as little as you'd like. Sprinkle with salt and pepper, then place the baking dish into a cold oven. Set the oven at 400 degrees Fahrenheit, and walk away.
That's right, do it – just walk away! Turn on an episode of How I Met Your Mother on Netflix, or pick out a chic outfit for tomorrow. Whatever you do, don't open the oven door for a peek, because that will let out the hot air and ruin the incubating process. Trust me here.
25 minutes later, the salmon will be moist, delicious, and cooked through. (Note: I take mine out around 20-22 minutes because I prefer my salmon to err on the medium rare side, but that's just a personal preference.)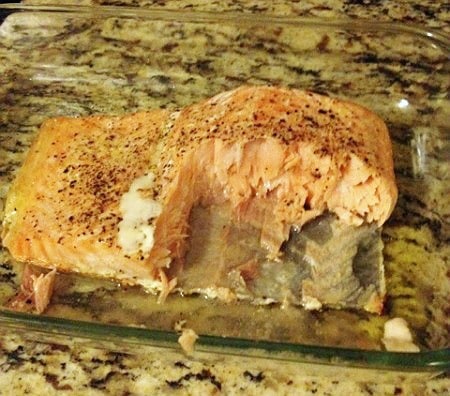 Moist, flakey, and perfect.
This salmon tastes fantastic as-is, but there are tons of ways to dress and serve it to give you some variety throughout the week!
Here are a few of my ideas:
This salmon would taste awesome with a creamy, spicy sauce. To make, just mix up mayonnaise or Vegenaise with a squirt of Sriracha.
This salmon also tastes out of this world with the cucumber sauce we made a few weeks ago.
Flake the salmon, and mix it into yourfavorite salad.
For a hearty breakfast, spread cream cheese over a wheat bagel with flaked salmon on top. Capers, chopped boiled egg, and red onions are delicious with it too, but totally optional!
Toss with hot spaghetti noodles, olive oil, bread crumbs (or finely crushed crackers), minced garlic, Parmesan cheese, and red pepper flakes.
Toast some bread and make a sandwich using a little mayo or Vegenaise, spinach or lettuce, and salmon. Tomatoes, red onion, avocado, and/or bacon would taste delicious on this as well!
Simply serve alongside any vegetable and a starch of your choice.
Roasted Brussels Sprouts
When you're a little kid, Brussels sprouts both sound and look like the most frightening things on the planet. Nowadays though, I have no idea what I was so scared of – these are easily one of my favorite vegetables!
What You'll Need
Brussels sprouts (one carton or bag from the grocery store will do)
Olive oil
A dash of sugar
Salt and pepper
How to Make Them
Set the oven for 375 degrees Fahrenheit.
Rinse the Brussels sprouts and dry them in a salad spinner or with paper towels, then peel off any outer brown or wilted yellow leaves.
At this point, many people like to halve them, but if you do, be sure to have a heavy knife and a steady hand – these suckers are tough and round, making cutting them a bit of a nightmare. I prefer to roast mine whole, and only halve sprouts that are noticeably larger than the other ones in the package. Whether you halve them or not, these sprouts will all taste delicious!
Put the sprouts in a large bowl, and toss them with a heavy pour of olive oil, a dash of salt and pepper, and a dash of sugar. Yes, just plain white sugar – a little less than a teaspoon will be plenty. This will help the sprouts caramelize in the oven, and balance out the inherent bitterness of the Brussels sprouts that some people dislike. Sounds weird, but trust me on this, they'll taste great.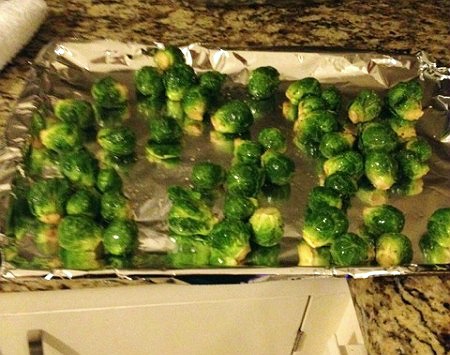 Check out the gorgeous green color.
Spread the sprouts over a roasting pan (I line mine with foil first for easy clean up) and let them roast for 25-30 minutes. When they come out of the oven, they will be crispy on the outside, tender on the inside, and just a tiny bit sweet. Insanely delicious!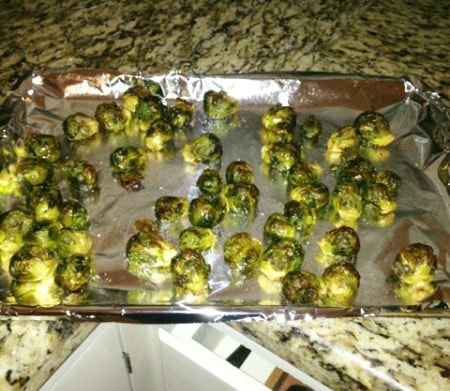 Crispy and caramelized on the outside, tender on the inside.
Here are a few variations and tricks:
The Pioneer Woman has an awesome recipe where she tosses the sprouts with dried cranberries and a balsamic vinegar reduction after they're done cooking. Sounds delish!
Here's a totally naughty (but definitely delicious) trick: fry up three pieces of bacon until crisp, drain on a paper towel, and then crumble the pieces. Use the bacon grease rendered from cooking along with a little olive oil to coat the Brussels sprouts, then cook according to the recipe. You may want to reduce the salt though, since bacon is already fairly salty. After they're done cooking, sprinkle the bacon on top before serving.
Brussels sprouts reheat well, so go ahead and cook the entire carton in one batch. They'll taste great forup to a week!
Reheat leftover sprouts, then toss in a simple green salad or a pasta salad.
Mashed Cauliflower
Like I mentioned before, these are a fantastic substitute for mashed potatoes, especially if you mash with low-fat ingredients like 2% milk, chicken broth, or Laughing Cow cheese wedges. Personally though, since I'm being so good eating cauliflower, I prefer to mash it with treats like cream cheese or Parmesan!
What You'll Need
A 1-lb bag of frozen cauliflower
1/4 cup of a liquid of your choice: milk, chicken broth, half-and-half, or – if you're feeling particularly sinful – heavy cream
"Yummy Extras" (1 or 2 tablespoons of butter, 1/3 of a cup of fresh grated Parmesan cheese, 3 wedges of Laughing Cow cheese, 1 or 2 ounces of cream cheese, or a combination of these ingredients)
Salt and pepper
How to Make It
Bring a cup of water to a boil. Pour in the bag of frozen cauliflower, cover, and let it cook and steam foreight minutes.
Drain the cauliflower in a pasta strainer, then pour into ablender or a food processor. If you don't have either of those, you could use a potato masher, but I don't recommend it – from what I've seen, it turns out too lumpy and watery for my liking.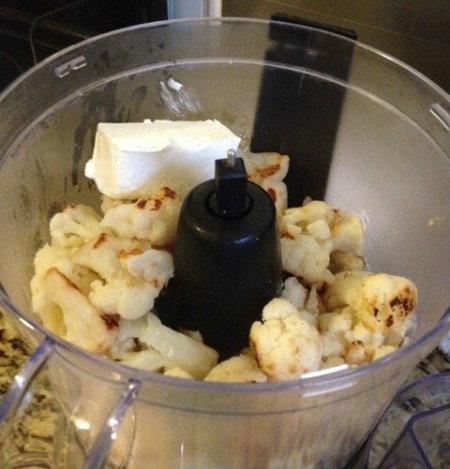 I got distracted while the cauliflower was cooking so the bottoms burned a bit. Don't be like me.
Pour in a 1/4 cup of milk, broth, or cream. Salt and pepper the cauliflower, then add in your yummy extras. For this batch, I used milk and about 1.5 ounces of cream cheese (the ounces are measured out on the foil package the cream cheese comes in).
Once it's all in the vessel, blend away for about10 seconds.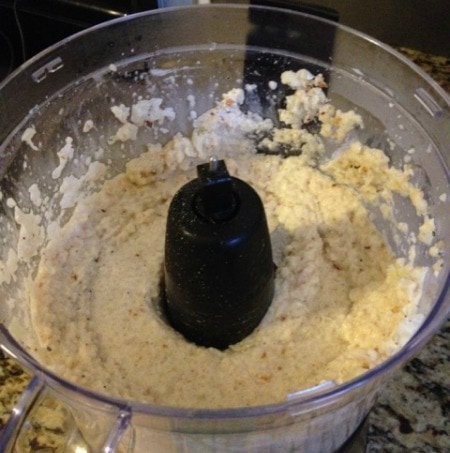 At this point, taste and adjust the amount of salt or add more naughty extras if needed.
Turn your blender or food processor off, and stick a spoon in the cauliflower for a taste. My cauliflower's texture was a bit course, and needed more salt. I added a pinch, scraped down the sides, put the lid back on, and blended for another 10 seconds.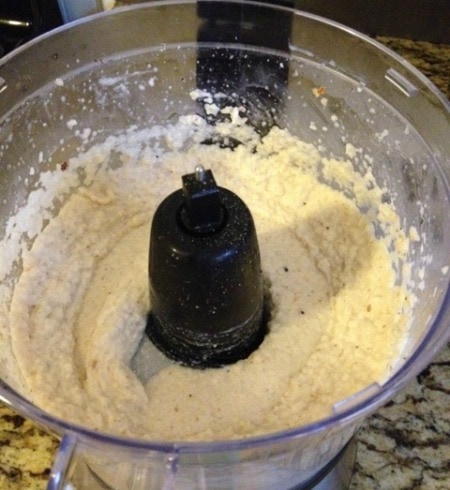 Smooth and perfect.
Now, this mashed cauliflower is perfect. It has a smooth consistency, but isn't too watery or too mushy. (After all, you don't want it to resemble baby food!) The richness of the cream cheese really kicked it up a notch and helped thicken the mash. Transfer to a plate or a Tupperware container and try your best not to eat it all en route.
Here's a few more variations and tricks:
If you're using broth or milk, start with a couple tablespoons and work your way up. Cauliflower that's too thin will run all over your plate and isn't very appetizing. If you accidentally add too much liquid, add cream cheese or Parmesan cheese to help thicken it up.
Chopped chives or flat leaf parsley would taste amazing sprinkled on top.
To take the flavor up a notch, add in a dash of truffle oil or truffle butter (if you can find it!), a couple cloves of roasted garlic, an ounce of goat cheese, or a dash of white pepper.
To lighten up mashed potatoes, make a mixture of both mashed potatoes and mashed cauliflower. Here's a great low-calorie recipe to check out from Hungry Girl.
You can use mashed cauliflower just as you would mashed potatoes – smother them with gravy, spoon them on top of ground beef and veggies for a shepherd's pie, or eat with a tender hunk of pot roast.
What Do You Think?
Are you a mashed cauliflower fan? How do you feel about salmon or Brussels sprouts? Do you have any awesome recipes or tips you use when cooking these items? What other foods would you like for us to feature here? What is you philosophy on healthy eating?
Leave us a comment and continue the conversation!