This post may contain affiliate links, which means we may receive a commission if you purchase through our links. Please
read our full disclosure here
.
Nothing soothes the soul quite like a generous and hearty serving of comforting pot roast. If you're like me, you probably have memories of your mom or grandma serving up a juicy hunk of pot roast on top of buttery mashed potatoes, with hot rolls on the side to absorb the savory gravy. These warm and fuzzy memories can be recreated in your tiny college apartment, too — and it's a lot easier than you might think.
Yes girls, you read that correctly. This week we're taking on the pot roast, and I'm here to share with you the simple, affordable, and crazy delicious recipe that I swear by. After I show you how to make it, I've gathered up ideas on what to do with the leftovers, the best ways to make it look pretty when serving, and a few alternative ingredients to try to best match your favorite flavor profiles.
Before We Begin, a Quick Note:
You'll notice that on this recipe, the measurements are ballpark estimates rather than exact. That's because the most important factor in a good pot roast is the way you cook it. Hunks of meat are laced with connective tissues, which eventually break down, making the roast melt-in-your-mouth delicious.
Cooking at too high of a temperature or for not long enough are the main reasons why a pot roast can fail. There are many things you can take shortcuts on, but depriving a pot roast of its due diligence is not one of them.
Recipe: Foolproof Pot Roast
Adapted from the Pioneer Woman's Perfect Pot Roast
Ingredients:
1 large hunk of chuck roast. I usually get one around 2-3 lbs, but feel free to go bigger or smaller according to what is available and how long you want to eat leftovers
A heavy pour of olive oil
2 tablespoons of all-purpose flour (optional)
6-10 carrots
2-4 onions, white or sweet yellow
1 clove of garlic, minced (or a small spoonful of the minced jarred variety)
3 cups of beef broth or 3 cups of water and three beef bouillon cubes
Salt and pepper, to taste
Fresh or dried rosemary or thyme. Use 2 sprigs or about a teaspoon.
A slow cooker
How to Make It:
Wash and peel the carrots, lob off the funny-looking ends, and diagonally cut them into fourths. Carrots are tasty and nutritious, and are an excellent "filler" food to fill you up and make the meat stretch and last for a few more meals. Because of this, I typically throw in as many carrots as my Crock-Pot will fit. However, if you're not a big fan of the texture of cooked carrots, only use three or four for flavor and cut them in half so they'll be easy to fish out.
Cut each onion in half , then lob off the rooty ends. This will make peeling the skin off a cinch! Since we want them to somewhat maintain their shape while they're cooking, leave them just halved. This method of cooking caramelizes the onions, making them both sweet and savory, and is definitely one of my favorite parts of this dish. Even if you're not a huge onion fan and want to just use two, I'd bet my bottom dollar that you up the amount to four the next time you make pot roast. Seriously you guys, the onions are out of this world!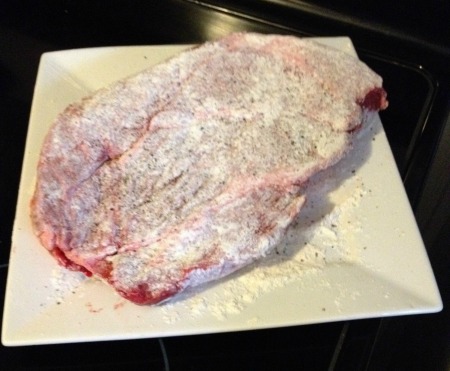 This is the 2.5 lb chuck roast I used. Hint: season with salt and pepper before you dust on the flour so it'll adhere more easily.
Generously pour a tablespoon or two of olive into a skillet set at medium-high heat. While it's warming up, salt and pepper the outside of the chuck roast and dust with all-purpose flour if you have some at hand. The flour is optional, but I like to use it because it helps thicken up the sauce the meat cooks in.
Sear the chuck on both flat sides for a minute or two, so that the meat is an appetizing browned color. The purpose isn't to cook the meat through — just to get the cooking process started, and create some charred bits on the edges.
You're definitely going to want to use long tongs and an oven mitt or wear long sleeves for this, because the oil is inevitably going to splash up in teeny tiny droplets and burn your hand. Oh, and it leaves you with a big ol' greasy mess to clean up afterwards, too. But the good news is that this is the ONLY labor-intensive part of the whole process.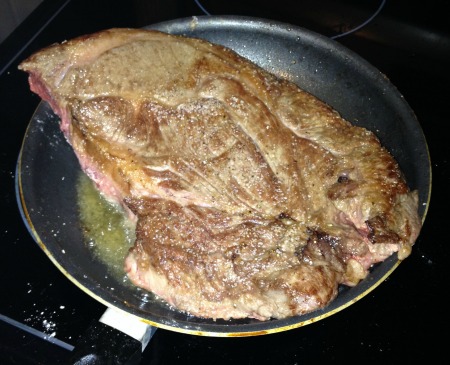 This is what your roast should look like when you flip it over after browning the first side. Color, and delicious brown bits on the meat and in the olive oil.
Once the meat is good and browned, transfer it directly into your slow cooker. Turn the stove heat to medium, and gently place the carrots inside the skillet. Move them around the pan with a spatula for a minute or two. This step is not to cook them, but instead to get some color on them and infuse the carrotswith some browned meaty goodness. Scoop them up with a big spoon or spatula and toss them into the cooking vessel as well.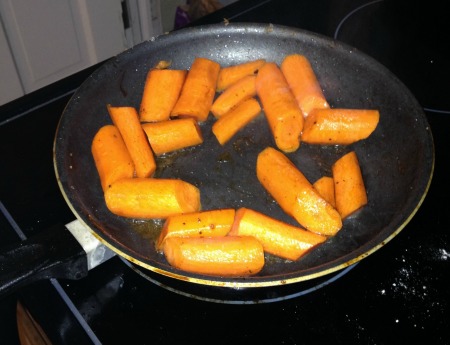 I got a small bag of carrots, which gave me about seven to use.
Now, gently place the onions – carefully, so they don't completely fall apart – and brown them for 30 seconds to a minute on each side. Use tongs to help minimize the layers separating, but don't worry too much about them staying perfect – mine certainly never turn out that way.
Again, tiny bits of oil will probably jump out from the pan. This sucks, but is a necessary evil. I promise, once you try this pot roast, the uncomfortable pricks of heat during the browning process will hardly be a pain.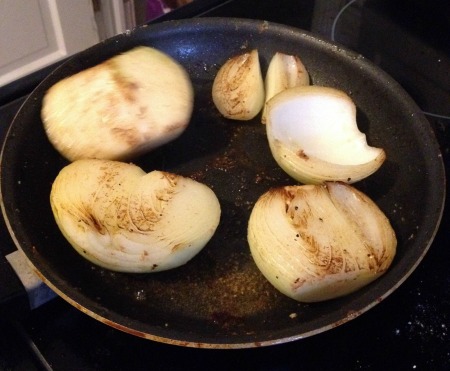 The top left onion is blurry because the round backside of the onion wiggled in the hot oil. My frying pan was small, so I seared the onions in two batches.
Move the browned onions to the slow cooker, and dump in the oil that the meat and vegetables cooked in, too. Those delicious browned bits and cooking oil are a delicious beacon of flavor that's impossible to replicate. It's essential to the recipe!
At this point, add the garlic (I don't cook it in oil because it's too easy to burn and ruin), the herbs, and enough beef broth to cover the meat and some of the veggies. You want to be sure that you have AT LEAST an inch or two of space between the food in the slow cooker and the lid, so DO NOT overfill with beef broth.
Because of the way we loaded the slow cooker, the meat should be mostly or totally covered with liquid. If not, rearrange it so that the meat is on bottom and some of the veggies peek out over the juice on top. Kapeesh?
Make sure the cooking vessel is plugged in, secure the lid on top, and turn it on low. Now walk away – just walk away! The whole key to chuck roast turning out great is to cook it low and slow. Wait until your stovetop has cooled, and be sure to wipe that sucker down with some Lysol wipes, because it's going to be greasy as sin.
Go to class, go to the gym, go to the library. Whatever you do, do not babysit or mess with your pot roast as it cooks. I read somewhere that it takes 20 minutes for a Crock-Pot's heat to return back to cooking temperature after someone takes the lid off the top, so NO PEEKING!
In about eight hours, you'll have the most luscious piece of roast you've ever devoured, along with some meaty carrots, sweet onions, and a rich and savory sauce. The meat will be fall-apart tender, and have just enough marbling to taste fantastic, but not feel fatty in your mouth.
If you're famished after seven hours, or can't get home from a group project until 9 or 10 hours later, no worries. That's the beauty of the pot roast: as long as you give it plenty of time, there's not a lot that can go wrong.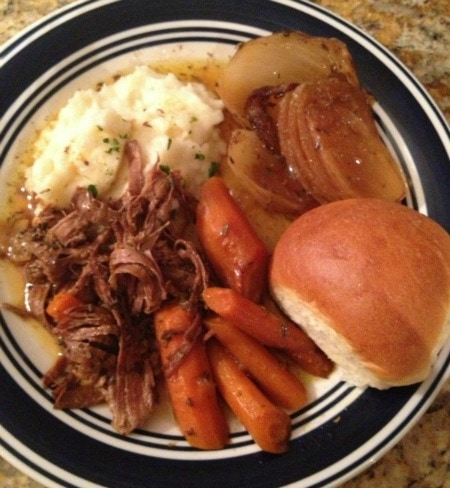 I ate out with friends over the weekend, and snagged a roll and ordered a side of mashed potatoes to go. Needless to say, it complemented my pot roast perfectly!
Here are a few ideas on how to serve it, as well as several variations on the recipe:
If I have merlot or cabernet on hand, I usually substitute one cup of beef broth for one cup of red wine. The deep flavor it adds to the party is amazing!
Here are a few other optional add-ins to experiment with: a few dashes of Worcestershire sauce, a small can of tomato paste, or even a teaspoons of cocoa powder! (Don't worry – the cocoa powder won't taste chocolate-y, it just brings out a rich, deep flavor.)
Looking for even more veggies? Try adding celery, turnips, or mushrooms in with the beef broth.
A lot of people cook potatoes in the slow cooker with the meat, but I don't because they always come out too mealy and dense for my liking. But potatoes and pot roast are practically made for each other, so I'd recommend mashed, baked, roasted, or boiled potatoes as a side.
This pot roast is cooked in a delicious gravy that would be a crime to not utilize. Because the gravy is thin and broth-y, my favorite starch to serve with pot roast is white rice because it absorbs it so well. Here's a few other options: noodles, quinoa, brown rice, mashed cauliflower, hearty dinner rolls, or (of course) potatoes.
Pot roast is the kind of dish that gets better overnight. Don't be afraid to cook a large roast, because the sauce will get heartier and the meat will get more tender every night it sits in the fridge.
Want your pot roast to be ready in time for a big lunch? Try this sneaky trick: follow the instructions up to the point where you turn the slow cooker on. Instead, let it sit in the fridge while you enjoy a night on the town with your friends. When you get home (around 1:30 am or so), take the slow cooker out of the fridge and plug it in. The next morning, you'll wake up to the smell of delicious roast that's ready to go for brunch.
A lot of people like use condensed cream of mushroom soup or french onion dip mix to season and cook their pot roast with. I don't because I'm not a fan of the extra sodium and chemicals, but if it's the way you want to do it, mix it in with water instead of beef broth, so it won't get too salty.
Don't have a slow cooker? Another way to cook this is to load up a large dutch oven with a lid and let it cook in the oven at 275 degrees Fahrenheit for 3-4 hours. However, if you do this, it's very important that you use a very thick and heavy pot. A regular metal pot (like the kind you'd cook spaghetti noodles in) won't conduct heat the way it's supposed to, and you'll end up with a dry and tough piece of meat that you'll hate. Personally, I always just use a Crock-Pot to be safe.
The Pioneer Woman has an awesome Italian-inspired version of this dish, where she substitutes the carrots and onions for roasted red peppers, artichokes, and sun-dried tomatoes. It's divine!
Pot roast meat is excellent in tacos or quesadillas.
Toast up a couple slices of French bread (or hamburger buns, or whatever bread you have around the house) and make a sandwich using the meat and onions. Heat up a small bowl of the juice to use as an au jus to dunk your sandwich in.
Mix the shredded meat up with barbecue sauce for an easy sloppy joe.
This meal would be perfect to make if you want to impress your significant other. Chop up some flat leaf parsley and sprinkle it on top for a fancy presentation!
Since we're on winter break right now, this would be an awesome meal to whip out and cook for your parents and siblings.
What Do You Think?
Have you made pot roast before? What recipe do you follow? What do you do with your leftover pot roast? What are other foods that you love that you'd like to see us cover? What problems do you encounter in your tiny college apartment's kitchen? Leave us a comment and let us know what you think and what you'd like to see more of!