Editor's Note: This is part six of Noel's ongoing series about her adventures navigating the NYC fashion world as a college student, adjusting to life without total financial support from her parents, and learning where to spend and save! In case you missed them, see Spending and Saving in New York City: Part One, Part Two, Part Three, Part Four, and Part Five.
"Ever since I met you, I've been spending more money," said my darling suitemate, as I tried on a pair of the new Marc by Marc Jacobs Love Mouse Ballerina Flats at the Marc by Marc Jacobs store in the West Village.
"Met me?! You're the one who's online window shopping every time you should be writing a paper," I retorted. The sales associates at the store chuckled at our banter. I fell in love with the shoes once over, twice over, and thrice over. They would be a whimsical alternative to my Valentino flats — and truly, one can never have enough flats.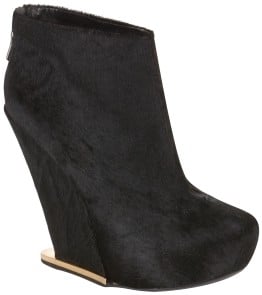 "Well, I think these are a worthy investment," said my suitemate, "They're much more practical than those BCBG boots you bought recently." She was right. I attained these coveted pony hair BCBG Mendel Wedge Booties a few days ago, and while they are amazingly comfortable for six-inch heels (and can do wonders for a petite girl's legs), one needs to buy flats to stay sane in the city.
But you know, I started thinking about what my suitemate said, and maybe she was right — after all, would I have purchased these flats if she didn't tell me how lovely they were? So lovely, in fact, that she herself wished she had a pair?
"I'm living vicariously though your shoes," she said, as we walked to a nearby French patisserie for dinner. Actually, I wasn't even supposed to be shopping for myself.
It was Friday, and I decided to finish my Christmas shopping right after my last final examination. My suitemate and I ventured to SoHo from Morningside Heights. To be honest, I don't enjoy Christmas shopping — buying massive hoards of presents gives me a headache. I prefer buying birthday presents because I have more time and energy to personalize each gift. My plan of action? Uniqlo for the boys and Marc by Marc Jacobs for the girls.
I really don't know how to shop for my guy friends — but luckily, Uniqlo offers quality basics at affordable prices. I picked up a wide range of clothing for my guy friends, from the one who loves his boxer briefs (don't ask) to the one who looks good in his girlfriend's clothes (again, don't ask). I also picked up a wide range of tights and leggings for some of my girl friends — and a pair of long black leggings for myself! In my opinion, one can never have too much hosiery.
Afterward, I picked up some more Christmas presents for my girl friends in college and back home in California at the Marc by Marc Jacobs store. I ended up with two Marc by Marc Jacobs shopping bags and a giant Uniqlo shopping bag by the end of the day — in addition to another bag of tissue paper, gift bags, and Christmas cards.
"You're giving a lot of presents to people. A lot of these people aren't even exchanging presents this year," my suitemate reminded me. "While people might be liberal with their gift giving where you come from, you can't expect them to afford to get you a present too."
Oh. Right. I went to a prep school in California where most of the students share fairly similar homogeneous economic and social backgrounds, mixed in with a sprinkling of liberalism and secularism. I had taken for granted that friends exchange gifts for Christmas, and it was one of the many things that became apparent to me when I came to Columbia.
Indeed, this morning, I had over 20 gift bags stuffed with presents for my friends —  and I've realized that it doesn't matter at all whether or not I receive presents in return. I spent the morning beginning my gift deliveries to friends, watching them wake up with bleary eyes as I handed out my tokens of affection.
I even bought some clothing for my friend who is a Jehovah's Witness, who doesn't celebrate or acknowledge Christmas or birthdays as a part of his religion. "These are your 'thank you for being my friend' presents," I told him. Not for Christmas. Not for Hanukkah. Just for being a good friend and making my first semester in college unforgettable. He told me that's his philosophy on gift giving.
Maybe we should all stop viewing presents as holiday necessities and start seeing them as spontaneous tokens of appreciation. After all, it's the thought that counts.