We've decided to bring back "reading for fun" with our new series Reading Assignment. Every two weeks, we'll be reviewing one of our favorite books in the hope that you, dear CF reader, will consider reading it, too. Then, in the comments, we hope to get a great discussion going. Yep, consider this our version of a book club!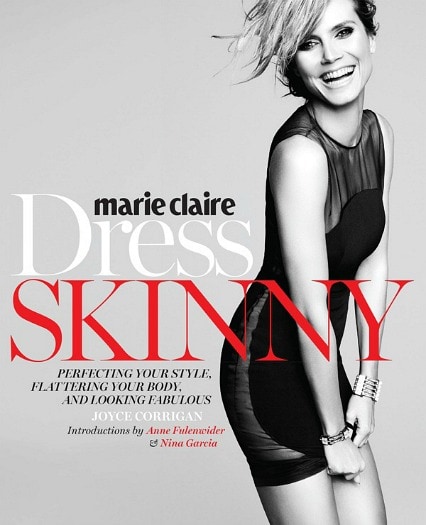 Marie Claire: Dress Skinny book cover via Amazon.
I was recently perusing the tables of new books at Barnes & Noble when I spotted a style book from Marie Claire called Dress Skinny: Perfecting Your Style, Flattering Your Body, And Looking Fabulous. My interest wasn't initially sparked just because it was about fashion (one of my favorite genres!), but because I was a bit shocked by the title, and it seems like I wasn't the only one.
While some media outlets were taken aback by the book's title, others were downright offended that Marie Claire would promote skinny as if it were the sovereign ideal. Check out the backlash from Hello Gigglesthat was quick to call out Marie Claire's perceived unacceptable decisions as "not OK." Jezebel was even more brashly on the defense for women.
Even though the title is questionable, it's worth noting that neither of those writers had read the book, and instead just based their opinion on the cover and a brief press release. I did end up purchasing Dress Skinny and am here to tell you it's worth reading beyond the front cover.
Believe it or not, this book is not about being or aspiring to be "skinny." Read on to learn more about what was behind that much-hated front cover:
About the Book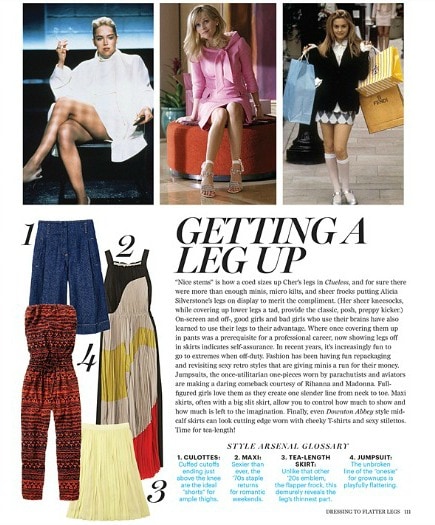 Photo Courtesy of Marie Claire
As just stated, the book has nothing to do with being "skinny." Instead, each chapter focuses on a specific feature that a woman may either want to play up or play down, such as boobs, the derrière, the tum-tum, and, as shown above, legs.

Dress Skinny discusses how to flatter these areas, and there is an interview at the end of each chapter from a celebrity who has struggled with that part of their body. For example, in the chapter on cha-chas (or ta-tas, your choice), Katy Perry explains that "[my body] isn't a Kate Moss body, but I am happy with it." She also shares how she was overwhelmed by her large breasts to the point where she wore minimizers and was bullied about them. As a teenager, she was 5'7″ and 145 pounds, but "her wish was to be waifish."
Other celebrity interviews include Jennifer Hudson discussing arms and Nicki Minaj on… what else? Her hips that "don't lie." Each chapter also includes an interview with a famed designer, like Carolina Herrera, Michael Kors, and Diane von Furstenberg. (Speaking of DVF, who else is excited about her new reality show on E!… anyone?)
This book is more than just informative on the subject of dressing, it's full of fun, fashion-related information. I learned that the French like to call large-breasted women "Il y'a monde au balcon." What does that mean?! Well, it directly translates to "There's a crowd on the balcony." Now, there's a new way of saying it!
Many of the fun facts are fashion history related, and since I'm a history buff and slave to fashion, this was my favorite part of the book. Do you know who was the first person to dare to bare their arms in the USA? (She also happened to be a president's much, much younger wife.) I do! And you will too, once you read Dress Skinny. Seriously though, you'll learn so many facts worth knowing, and not just ones to use as conversation starters at parties.
On a similar note, I loved seeing all of the old photos throughout the book that feature stylish women throughout the years. Seeing Marilyn Monroe stretching in adorable gym clothes was a whole new reason step up my exercise wardrobe game! Besides the older pics, Dress Skinny also incorporates a lot of modern street style.
Each chapter suggests trends that are best for those aforementioned "problem areas," and those pieces are shown on celebrities, as well as "real" women. This shows how everyday dressing is truly not only respected, but revered. Fashion is art, but there is such a mastery in the everyday wear and styling by all of us, which brings me to my overall thoughts on the book:
Final Thoughts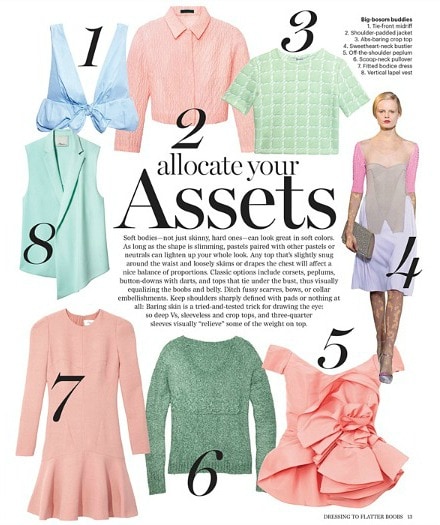 Photo Courtesy of Marie Claire
I'll say it again: the book was not about dressing to look "skinny" or be skinny (spoiler alert: the word "diet" never appears in the text). Also, it did not endorse any one look or body type as being superior to another. We here at CF are all about embracing all body types and promoting body positivity, so we appreciate that the book was inclusive to many shapes and sizes.
Dress Skinny paid homage to every woman and her body and, wanting to help maintain a healthy and happy contentment with how one looks, acknowledged that we all have certain discontents. Teaching us how to best flatter our body helps us love ourselves as we are and look our best (confidence alert!).
Ironically though, this book was judged solely on its cover, which reminded me just how much of an impact first impressions (ahem, our looks) can make. We are all, at birth, going to be destined to have a certain look, and in life, we are all our own PR managers when it comes to our image. We decide how to depict ourselves according to our wishes; it is our free right. With books like these, we are able to work with what we have and be who we are.
My only complaint about this book is that what was between the back cover and that controversial front cover could have been longer (hey, I'm just craving more), but I did love it. Whenever we "look inside," we do seem to find appreciation and, no, it may not be in accordance with those first impressions. That is why Dress Skinny serves as one of the most apropos examples of warning against judging a book by its cover.
Let's Get the Discussion Going:
Are you going to read Dress Skinny? Did this review help you make that decision? Do you think this book should have a different title? Have you read any other books from Marie Claire? If so, which ones? What other books would you like to see featured in this column? Drop a comment below and tell me what you think!