This post may contain affiliate links, which means we may receive a commission if you purchase through our links. Please
read our full disclosure here
.
This new CF column focuses on dressing for your body shape while truly embracing – and loving – said body.
While there are ways to "hide" whatever you consider your "flaws" to be, we reject the notion that your body is anything but flawless. This column is about picking out your favorite body parts, and highlighting them with appropriate enthusiasm. (For more, see past posts on dressing a small chest and dressing a large chest.)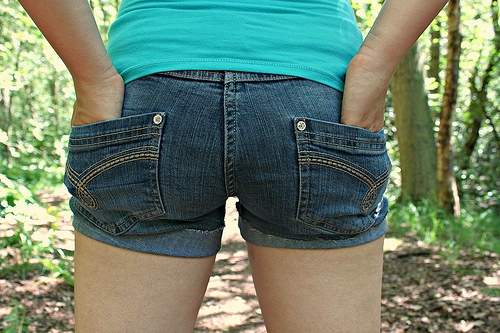 I would be remiss in not starting this post with the following:
Now that that's out of the way, today we're talking about how to dress an awesome butt (the kind Sir Mix-A-Lot would appreciate). Butts have somewhat come into style of late, although society has yet to truly embrace body diversity. Tina Fey puts it best in her book, Bossypants:
"But I think the first real change in women's body image came when JLo turned it butt-style. That was the first time that having a large-scale situation in the back was part of mainstream American beauty. Girls wanted butts now. Men were free to admit that they had always enjoyed them. And then, what felt like moments later, boom—Beyoncé brought the leg meat. A back porch and thick muscular legs were now widely admired. And from that day forward, women embraced their diversity and realized that all shapes and sizes are beautiful. Ah ha ha. No. I'm totally messing with you."
Unfortunately, she is indeed messing with us. We still don't fully embrace every body type, but we should. If Kate Moss is attractive and Beyoncé is also attractive, and Adele is also attractive, can't we all just be okay with the fact that there are a wide variety of ways to have a great body? Society really needs to get it together on this one.
Regardless, even in society's generally narrow-minded idea of the ideal body type, having a big butt is definitely an asset (no pun intended). Embracing it is all about knowing the best ways to show it off, without letting it completely dominate your look. Own it.
Tips for Dressing Your Big Butt
1. Show it off.
Really, guys, what's the point in having an awesome backside if no one else knows about it? Well-fitting jeans and pencil skirts are going to emphasize your assets in a very flattering way. Go for it. Don't be shy.
2. Insta-tone
Hopefully we all know this by now, but if anyone missed the memo: heels make you walk funny. Walking funny, in this instance, means you're clenching your butt and leg muscles, which makes your butt look even more awesome. Heels pretty much make it look like you work out a lot, without actually having to work out a lot. Score.
3. Balance it out.
You want the rest of your outfit to complement your butt – while showing off your other assets too. If all people see when they look at you is butt, you've got a problem. Add interest on top with a printed top, scarf, or bold necklace. Moderation in all things. (Terence the Roman playwright said this, and I always trust Roman playwrights, especially when it comes to my butt.)
Outfit 1: Keeping it Casual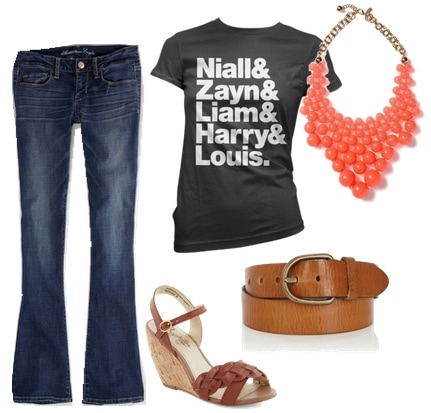 Jeans — American Eagle, Shirt — Amazon, Shoes — Modcloth, Belt — House of Fraser, Necklace — She Knows
This casual outfit is great for days when you are feeling lazy but still want to look awesome. "But Clara!" you may say, "This is a very basic outfit! I obviously know that one can wear jeans and shirts at the same time!" Well, dear reader, I would never underestimate you so severely. Each item in this outfit serves a very specific purpose to flatter, highlight, or complement your butt.
The jeans shown above are a skinny flare, with fading on the thighs and butt. The flare at the bottom keeps your butt from looking disproportionately large compared to the rest of your body. A belt draws attention to your hips, which are awesome, and this sandal with a small heel keeps your butt and legs looking toned without being hard to walk in. The t-shirt and bold necklace both add visual interest to your top half, balancing the outfit somewhat. The shirt also conveys your affection for One Direction. You'll be turning heads when you walk through the doo-o-or.
Outfit 2: Class it up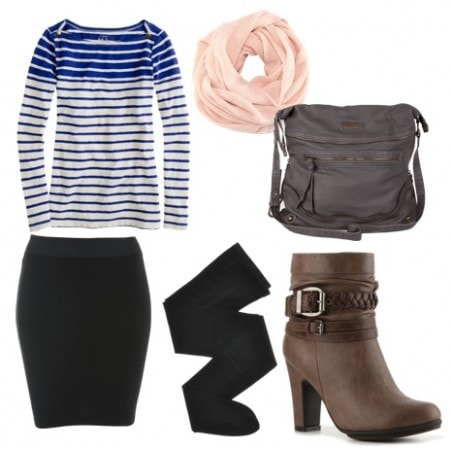 Shirt — J. Crew, Skirt — Miss Selfridge, Tights — Pret-a-beaute, Shoes — DSW, Bag — River Island, Scarf — H&M
This outfit follows the same basic principles as the outfit above, but comes to a much more put-together conclusion. A circle scarf, worn over this patterned top, keeps the outfit balanced, a pencil skirt has obvious benefits, and a heeled boot will always be flattering. This outfit also embraces mixed neutrals, which I am loving this season. Whoever said you can't wear black, brown, and grey all at the same time was severely limited in imagination. Sheer tights pull the look together and make it more appropriate for fall (which is rapidly approaching!).
What do you think?
Do you like big butts? Can you lie? How do you highlight your awesome butt? Did you ever feel like that "Big Booty" game was about your life? Which awesome body part should I tackle next? Tell us all of this and more in the comments!