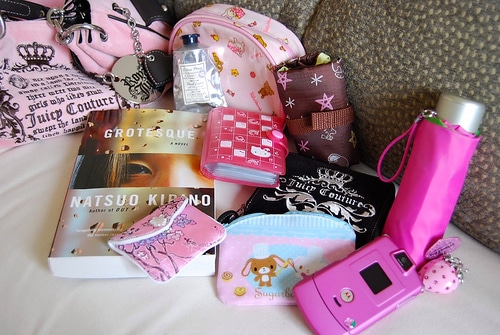 Face it: As amazing as life as a college girl is, we're busy and we have a lot of stuff. Going from classes, to the library, to that study session across campus requires some serious equipment. Obviously, we need some heavy-duty bags to carry our things from place to place! But boring backpacks all the time?! No thanks!
There are plenty of adorable options out there that will help you carry your books, computer, and even your keys in style. Fashion and function! What could be better?
Ways to Carry Your Books:
Backpacks:
Backpacks are the obvious go-to for toting heavy loads from place to place, and there are tons of cute options out there, if that's your style.
Pick a solid color for utility, a fun pattern to brighten up your mornings, or a pack with fun features to make your trek to class more enjoyable. Backpacks provide more support and space than any of the other options on this list, so if you've got a lot of books and gear, or like to take your laptop with you from class to class, the classic backpack is going to be your best pick.

Product Information: Hurley Paige Merlot Viceroy Backpack, pacsun.com. Java Blue Backpack, Vera Bradley. The North Face Vault Backpack, TheNorthFace.com. Hayden-Harnett Bleecker Nylon Backpack, haydenharnett.com.
Tote Bags:
Tote bags are an adorable way to carry all of your things inside AND outside of class. One of the many pros of a cute tote is just that–you can use it for books on weekdays and as a purse on weekends!
Tote bags are definitely more chic than backpacks, and they can make your outfit look pulled-together and polished. If you've ever hit the mall or a coffee shop after class with your backpack, you know how awkward it can feel carrying it off-campus, but with a tote, you won't have that problem!
Unfortunately, unless you have an extremely roomy tote, it's probably not going to be able to hold as much as a backpack. Also, since totes are not as durable as backpacks, you're going to need to watch the weight of whatever you put inside. It's definitely a trade off, but if looking good is a top priority, totes are always a great bet.

Product Information: Croc-Print Patent Tote, yesstyle.com. Thomas Paul Coral Tote, velocityartanddesign.com. Adrianne Satchel, shopsueyboutique.com. Marc by Marc Jacobs Into the Wild Pretty Nylon Animal Print Tote, Bloomingdales.
Messenger Bags:
Messenger bags are a great option if you want to carry your laptop or gym clothes. Style wise, if you have a laid-back, bohemian look, it will probably be easy for you to rock a messenger bag.
Depending on how much you have to carry, you can choose from giant, luggage-style bags to small, cross-body swing packs. It's up to you! If you want to stand out on campus, choose a messenger bag–not many ladies have them and they can be really cute!
Product Information: Lucky Brand Peace Keeper Messenger, Zappos.com. Wildkin Girl Rodeo Messenger Bag, ebags.com. Lucky Brand Abbey Road, Piperlime. Hurley Autumn Mess Messenger Bag, pacsun.com.
Ways to Carry Your Computer:
Laptop Sleeves:
Laptop sleeves are great if you plan on tucking your computer into your bag during commutes. They'll keep your laptop covered and protected from all your other stuff.
Most laptop sleeves are minimally padded and light weight, but there are some models made of fabric-coated hard foam that will help your computer survive being dropped, kicked, or sat on. (It could happen!) Sleeves come at all price points, and in many patterns, colors, and styles. If you're into artsy options that no one else will have, Etsy is a great place to look for sleeves.

Product Information: California Leash Manhattan Beach Laptop Sleeve, coolcomputerbags.com. Case Logic PC Reversible Laptop Sleeve, amazon.com. Abbi New York Leopard Laptop Sleeve, kolobags.com.
Laptop Bags:
In comparison to sleeves, laptop bags are a much more substantial way to carry and protect your laptop.
Like sleeves, they come in many different colors and patterns, but unlike sleeves, they also make transporting your computer from place to place easier. Some laptop bags even have enough room for a notebook and binder, so they're perfect for those afternoons studying in the campus coffee shop!
Whether you want a simple style with a handle or a full-on bag with heavy-duty straps, you'll be covered– with tons of options!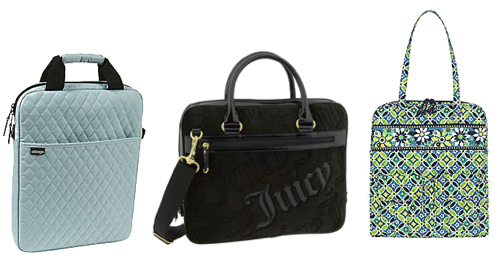 Product Information: eBags Vertical Laptop Sleeve, ebags.com. Juicy Couture Velour Laptop Case with Removable Strap, Nordstrom. Daisy Daisy Tall Zip Tote, Vera Bradley.
Laptop Cases and Skins:
Although technically laptop cases won't help you in transporting your things from place to place, they're a great option for those of you who want a little extra protection for your computer.
Most laptop cases simply snap on to your computer to protect it from dirt, stains, finger prints and scratches, while also making it look adorable! If you're a Mac girl and have been jealous of the neon Dell or Vaio laptops, snap-on cases are the perfect way for you to get your color fix.
If snap-on cases and covers aren't your thing but you still want to spice up your computer, try decals or skins! You'll get the same sassy style without the bulk.

Product Information: Montauk Blue Suede Skin, schtickers.com. Lavish Leopard Laptop Skin, skinit.com. Satin Touch Hard Laptop Shell, speckproducts.com.
Keys, ID, & Everything In Between!
Key Chains & Key Covers:
If you've lived away from home for long, you've probably come to realize just how many keys and cards you've acquired. There's a key to get into your building, your room, even your mailbox, and they all look suspiciously similar. What's a girl to do?!
First of all, invest in an adorable key chain to hold all of your keys, and second, try a key cover to differentiate!
Lots of schools have rules about making marks on their keys, so it's easy to get confused about which key does what. Luckily, there are key covers–stretchy, durable shields that go over the head of your keys. Choose from animal faces, favorite characters, colors, or shapes for a fun way to easily tell your keys apart.

Product Information: Coach Pink OP Art Heart Locket Key Fob, amazon.com. Kitty Key Covers, Urban Outfitters. Peace Sign Key Fob, Juicy Couture. Freakey Key Covers, patinastores.com.
ID Holders:
ID holders are definitely a college girl essential. Different from a regular wallet, an ID holder will do just what it sounds like–hold your ID!
These are great for those times when you only need your essentials, and don't want to tote around all of your credit cards or money throughout the day. If you need to show your ID to people to use it, it's best to choose an option with a clear-window, or just have a simple plastic piece that can attach to a key chain or lanyard. Mini-Skinnies, luggage tags, and coin purses are also adorable ways to keep your ID close.

Product Information: Hope garden Clip Zip ID, Vera Bradley. Bow Luggage Tag, haydenharnett.com. Coach Mini Skinny, Macy's. Metallic Zippered Coin Wallet, Forever 21.
Lanyards:
Before I came to college, I had never used a lanyard and never thought I would need to use one! Though guys always seem to have them for keys, they just didn't become necessary for me until college when I was faced with the need to carry and quickly find my multiple keys, ID holder, and swipe card.
Lanyards are extremely helpful–you can wear them around your neck, stuff them in your pockets, or pull them out of your backpack for easy access to your most prized possessions. Do some digging–there are adorable, girly lanyards available online if not in your campus bookstore!
Product Information: Pink Jumbo Dots Lanyard, stylishbabyboutique.com. Volcom Dollface Lanyard, tillys.com. Personalized Monogram Button Lanyards, babies2babes.com. Vera Bradley Lanyard, verabradley.com.
Your thoughts?
How do you carry your stuff from place to place? Do you prefer function to fashion, or do you need a cute bag to brighten up your school days? Let us know with your comments!