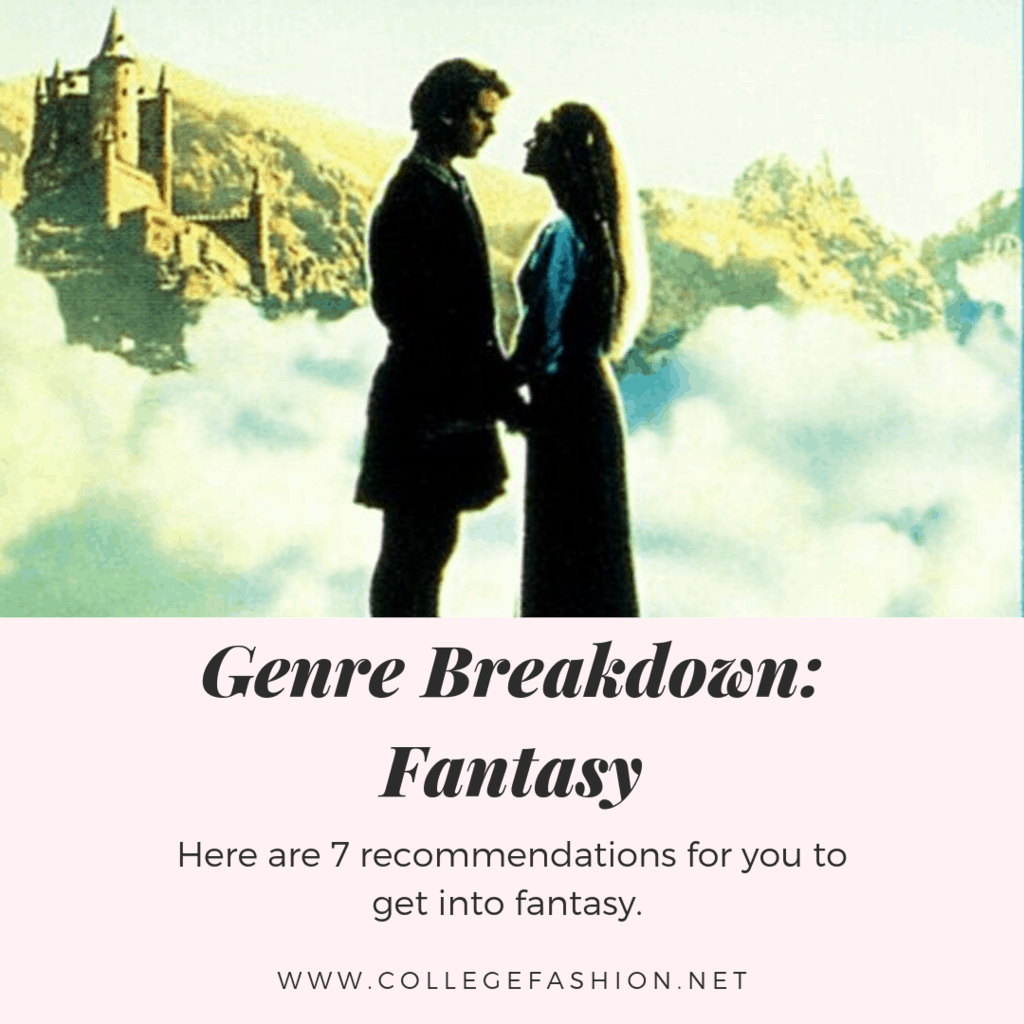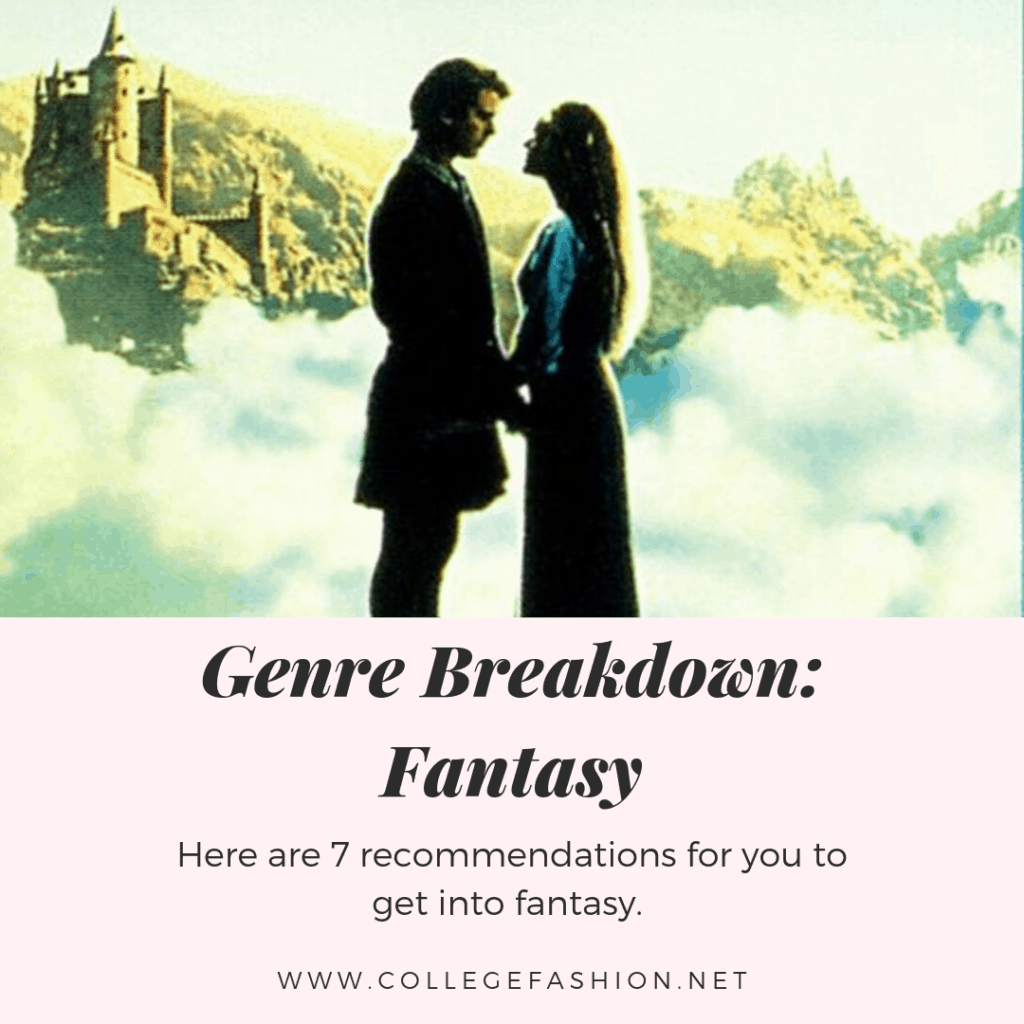 We all have a favorite movie or literary genre. Some of us find comfort in fantasy and others in realism; maybe we love sci-fi and horror is our favorite in October and October only.
Most of us stick to the genre we like the most and kind of stray away from others. This doesn't mean we never watch anything or read books that aren't our favorite genre, it just means we don't dig deep or actively look for things in different genres. And we might be missing out on some amazing novels, movies or shows (and maybe some fashion inspiration).
For this series of posts I'm going to dive into some of my favorite genres and let you know which books you should read and which TV shows and movies to watch, plus a couple of outfit inspirations from iconic characters in each of those genres.
In past genre guides, I've covered horror, comedy and mystery. This week, I'm taking on the fantasy genre. If you're not sure if this genre is for you, keep on reading — you might be surprised.
What is fantasy?
Fantasy is a piece of speculative fiction, usually set in a fictional universe. It often draws inspiration from myths and folklore and has its roots in oral tradition.
Fantasy is a broad genre: it has hundreds of sub-genres, millions of works categorized as fantasy and multiple crossovers with other genres. While the "absence of scientific and macabre themes" is generally used to distinguish fantasy from sci-fi and horror, these genres overlap way too often and themes are not a bullet-proof way of differentiation.
As for fantasy's most distinctive traits, we can say that it mostly uses magic or supernatural elements as a main plot or a driving force, it doesn't rely on history or nature to be coherent, and it doesn't abide by the laws of reality. Finally, if the main feeling the work evokes on the reader or viewer is dread or fear, then it will be considered mostly a work of horror instead of fantasy.
Fantasy, like sci-fi, usually gets a bad rap. It has been considered a "less-than" genre for ages and frankly that's a misrepresentation of what the genre is and what it has done for literature, cinema and TV through history.
When you think of fantasy, your mind probably goes to three very specific pieces of work: The Lord of the Rings, The Chronicles of Narnia or Harry Potter.
While Harry Potter was my favorite growing up and I go back to read it (not watch it, to be honest) almost every year, the most important of these three, objectively speaking, is The Lord of the Rings. It isn't the first or last of its kind, but it codified what we understand as epic fantasy and most of the tropes we associate with fantasy today.
With that in mind, almost every work of contemporary fantasy has traces of Tolkien's work.
Without Tolkien, we wouldn't have Harry Potter, A Song of Ice and Fire, or any piece of fantasy from the 20th and 21st centuries. This is because almost every single fantasy author (and even sci-fi and horror authors for that matter) cites JRR Tolkien as a major inspiration.
Not only that, but Peter Jackson's adaptations of Tolkien's work changed how fantasy was adapted to visual media. Jackson's versions gave the genre new-found respect and opened the door for mainstream audiences.
I get it, the fantasy genre is not everyone's cup of tea. That said, here are seven recommendations to give you a taste of what it actually is and, maybe, get you into it:
What to read…
Since fantasy has its roots in oral tradition, literature is where fantasy found its first tangible home.
Fantasy literature has early roots in the Epic of Gilgamesh, Beowulf and The Book of One Thousand and One Nights. It goes as far as mythologies reach: be they Greek, Roman, Egyptian, Celtic or Aztec.
Works from the Renaissance like The Nights of Straparola would later inspire works in Romanticism like The Brothers Grimm compilation and Charles Perrault, both considered fantasy. And there are traces of fantasy in the works of Shakespeare and Dr. Faustus by Christopher Marlowe.
For my fantasy genre book recommendations, I'm going to take a more contemporary route, since the history of fantasy is incredibly long. You can always look for older works if you want to see where things originated.
My first recommendation is a bit of a reimagining of the classic fairytale fantasy:
1. Stardust, Neil Gaiman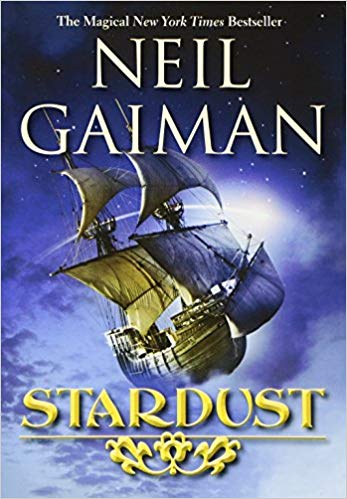 Stardust was first published in 1997 by DC Comics, divided in four parts and featuring gorgeous illustrations by Charles Vess. (You might remember the 2007 cinematic adaptation with Charlie Cox, Claire Danes, Michelle Pfeiffer, and Robert De Niro.)
The plot follows Tristan Thorn, a young man with mysterious ancestry who wants to win the heart of the beautiful Victoria. When he declares that he would give her a star in the sky that just fell, she challenges him to do just that in return for anything he wants from her. The fallen star turns out to be a girl named Yvaine and the road back home is long and eventful.
When Gaiman was writing this, he made a conscious decision to write it in the pre-Tolkien style of fantasy and made it into a modern fairytale.
This book is well-written, sharp, witty and fun. It's a fairytale in the most heartwarming way. But I must warn you, it is not a book for children.
It's a light read, perfect if you don't have a lot of time to read a whole series of books. Which is a perfect segue for my next recommendation:
2. Inkworld trilogy, Cornelia Funke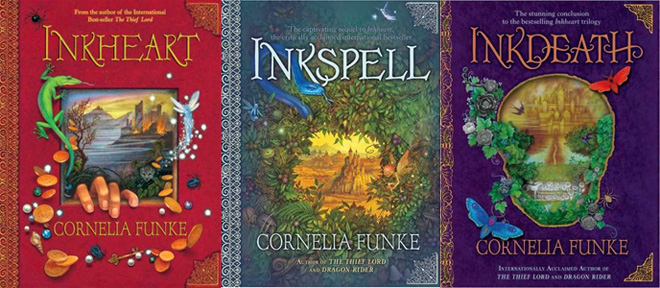 Inkworld is a series of three novels published from 2003 to 2007, written by German author Cornelia Funke.
Twelve-year-old Meggie has had her father, Mo, to herself since her mother went away when she was young. Mo taught her to read when she was five, and the two share a mutual love of books.
Meggie learns that her father, who repairs and binds books for a living, can "read" fictional characters to life when one of those characters abducts them and tries to force him into service.
This trilogy is action-packed, heartwarming, funny and intense. Filled with literary references and quotes, it's the best franchise ever if you are a bibliophile.
I love Inkworld and it has a special place in my heart no other franchise has (not even Harry Potter): I found myself in Meggie so much more than any other protagonist and it made me feel less alone growing up. Reading these books was a bonding experience with my mom and we both cherish it.
What to Watch on Film…?
Fantasy is one of those genres that seems to be tailor-made for visual media, but it had the limitations of the technology available at any given time.
That has never stopped it from giving us awesome movies, though. From The Wizard of Oz, to Spirited Away from Studio Ghibli (any of their movies) and every film by Tim Burton. There's also Pan's Labyrinth, any Disney movie you can think of, and Coraline.
As far as adaptations go, they may not be as good as other's examples, but they're still an important part of the genre: we have the Harry Potter franchise, The Chronicles of Narnia, Percy Jackson had two (very badly adapted) movies, Twilight and City of Bones.
Be they animation, stop-motion, or live-action, fantasy has had great movies everywhere. For this reason, I'll give you two live-action movie recommendations and one animated film recommendation.
My first recommendation is a personal favorite and a cult-classic, but I can't write this list without it:
1.The Princess Bride, Rob Reiner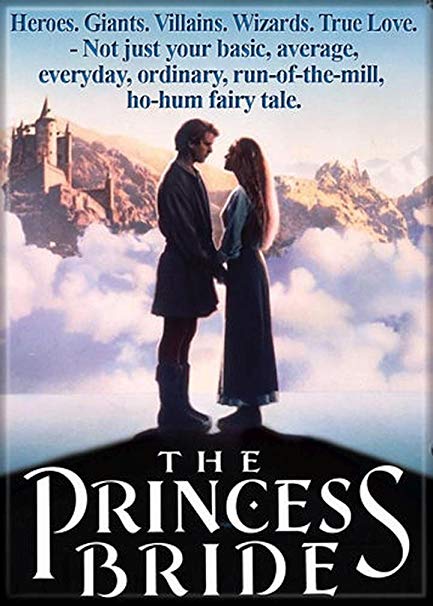 Released in 1987, The Princess Bride is an adaptation from the novel of the same name (1973) by William Goldman.
It tells the story of a farmhand named Westley (Cary Elwes), accompanied by companions befriended along the way, who must rescue his true love Princess Buttercup (Robin Wright) from marrying Prince Humperdinck (Chris Sarandon).
The film is presented in the same style as the novel: as a book being read by a grandfather (Peter Falk) to his sick grandson (Fred Savage).
One of the most quoted and beloved films of all time, The Princess Bride is the perfect mix between fantasy and humor. The over-the-top gags, meta textual humor, and fast-paced, witty dialogue make this movie memorable and endlessly re-watchable.
2. Ever After, Andy Tennant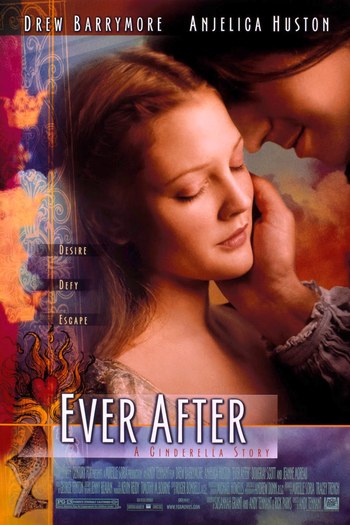 For my second recommendation, I had a hard time choosing. I went back and forth between franchises, other medieval inspired movies like A Knight's Tale and mythology infused ones like Clash of the Titans (1981), but ultimately, Ever After won out.
Back in the '90s, before the retelling of Cinderella became a Disney Channel Star easy film to star in, way before Hilary Duff's charming take on the fairytale, there was this movie.
Set in Renaissance France, the film begins when The Brothers Grimm are invited to the home of a French noblewoman who tells them how much she enjoyed their story of Cinderella, but that they got some details wrong. She then proceeds to tell them the story of Danielle de Barbarac (Drew Barrymore).
Beautiful, funny, and an original take on the classic fairytale, Ever After has it all. Drew Barrymore is an incredibly charismatic and multifaceted actress and it shows during this film.
Bonus for CF girls: This movie has one of the most iconic fashion moments in film, namely Danielle's gown for the ball with angel wings (made by Da Vinci) and her sparkly makeup look. Iconic!
3. Princess Mononoke, Hayao Miyazaki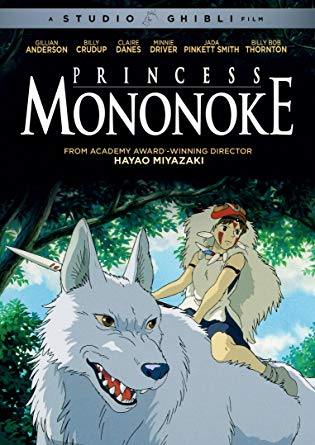 The third film recommendation I have for you is an animated one. While I could have recommended any Disney or Western animated movie, the animated film I wish everyone would watch is from Studio Ghibli.
Princess Mononoke premiered in 1997. It was supposed to be the director's last film, until he did Spirited Away. One of his darkest projects, this is an epic fantasy like no other.
Honestly, Princess Mononoke is the kind of movie you have to watch to get the whole plot, but the most basic premise follows the young Emishi prince Ashitaka's involvement in a struggle between the gods of a forest and the humans who consume its resources.
Not only is it thrilling and exciting, but it's a beautifully animated film and 100% worth the watch just because of that.
I really love this film; it's different from the movies we usually get from Hollywood and this side of the world. I will forever be grateful to the friend that recommended it, because it has become one of my favorites.
What to Watch on TV…?
Just like the movies, TV has been a perfect place for fantasy to thrive. And again, like the film industry, it has been limited by the technology of its time. Fantasy's tendency towards epic and world-building stories, fits perfectly a TV show format.
There are so many fantasy TV shows to choose from.
There's the classic vampire genre with Buffy the Vampire Slayer or The Vampire Diaries, or the werewolf route with Teen Wolf. For more serious, gritty versions of fantasy, HBO has had the best shows, like True Blood and Game of Thrones. Then there's everything that has been adapted from comic books, but especially the Arrowverse shows, Lucifer, and Marvel's Agents of S.H.I.EL.D. And that doesn't even account for animated shows.
My first recommendation is an underrated show that has everything we love about Harry Potter and Narnia, but gave it a reality check:
1. The Magicians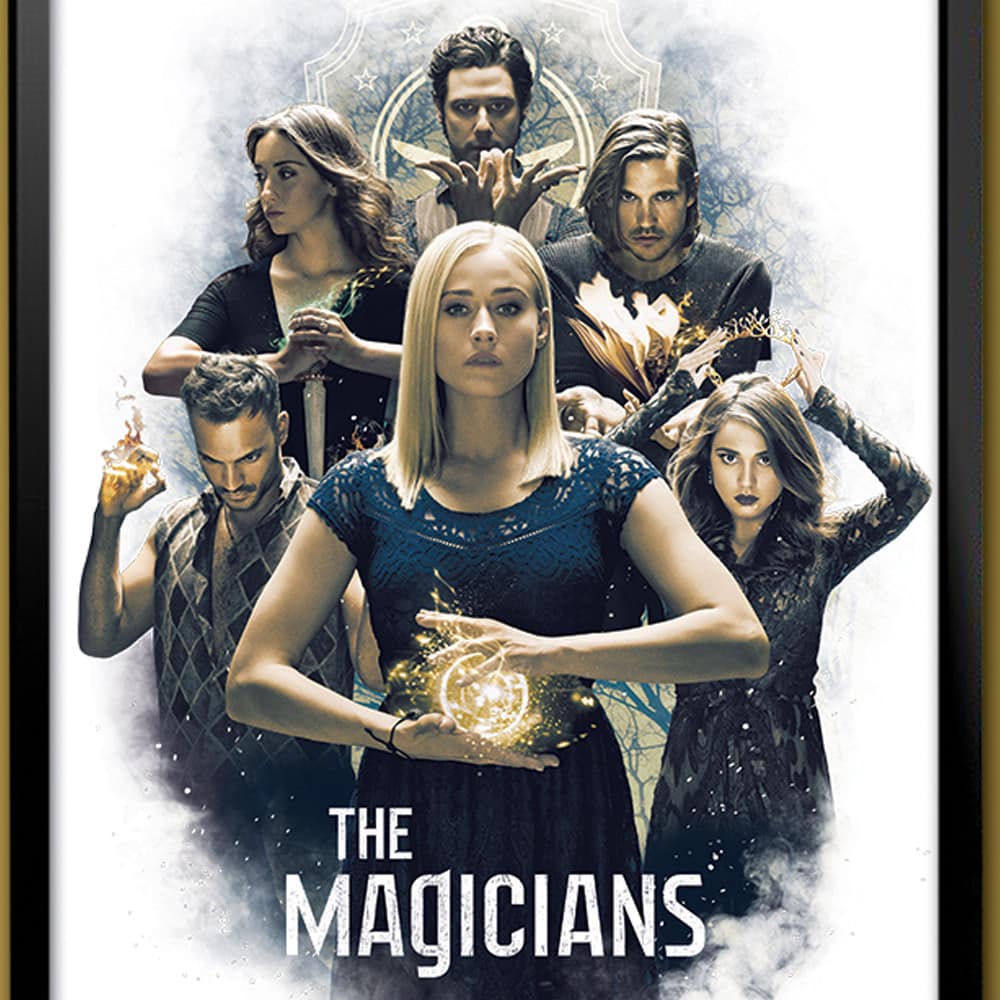 Based on the books by Lev Grossman, The Magicians premiered in 2016 and the show is an urban fantasy like no other.
The plot follows Quentin Coldwater (Jason Ralph). He has been a fan of Fillory and Further, a series of fantasy books set in a magical parallel world called Fillory, since childhood.
Quentin soon realizes that he possesses magic of his own, and finds himself entering a Wizarding grad school called Brakebills University. The school offers much excitement and adventure and a colorful host of schoolmates.
Meanwhile, Quentin's best friend since childhood, Julia Wicker (Stella Maeve), fails the entrance exam. She gradually grows obsessed with her newly discovered magic.
I don't know about you, but after almost two decades of movies copying the Harry Potter formula instead of doing their own thing, I for one got tired of the same fantasy formula over and over again. The Magicians is the best way to escape from that: it treats the consequences of magic in the real world in a very gritty and realistic way.
It's a refreshing take on the fantasy genre, and a show I definitely recommend.
2. Tidelands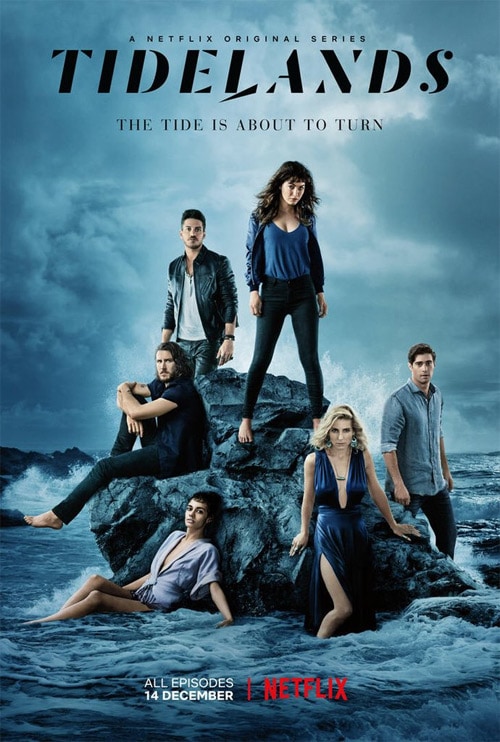 An Australian show that premiered in 2018, Tidelands has only one season on Netflix. So far, there hasn't been any news about a season 2, but trust me: that one season is worth the watch.
Tidelands follows the story of a former criminal who returns home to the small fishing village of Orphelin Bay. When the body of a local fisherman washes ashore, she must uncover the town's secrets while investigating its strange inhabitants, a group of dangerous half-sirens, half-humans called "Tidelanders".
While this isn't as well-known as another mermaid-based show that premiered around the same time (Siren), Tidelands is equally amazing.
Sexy, mysterious and thrilling, Tidelands is one of those shows that deserves many more seasons than it has. This fantasy genre example boasts an incredible take on the mermaid mythos, an interesting plot, and compelling characters to watch.
Fantasy Genre… But Make It Fashion
Outfit #1 – Danielle De Barbarac, Ever After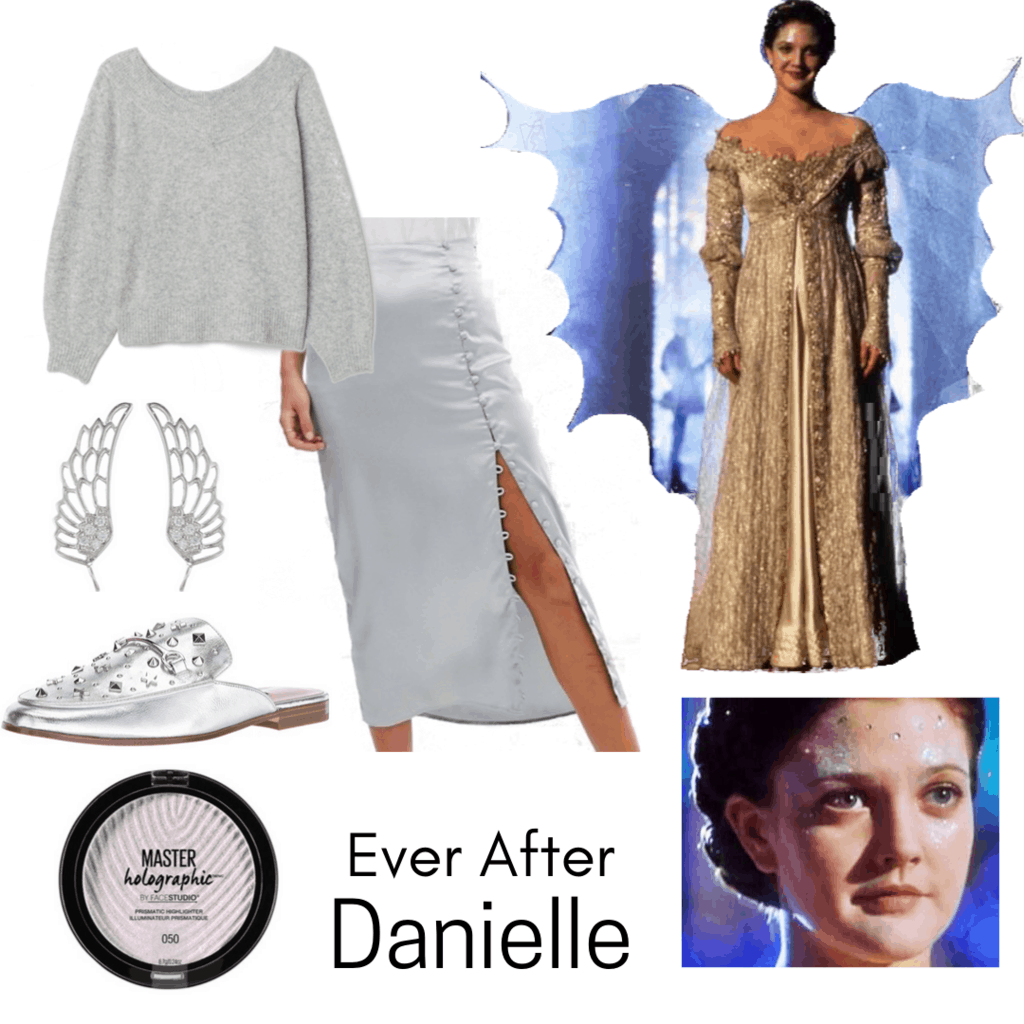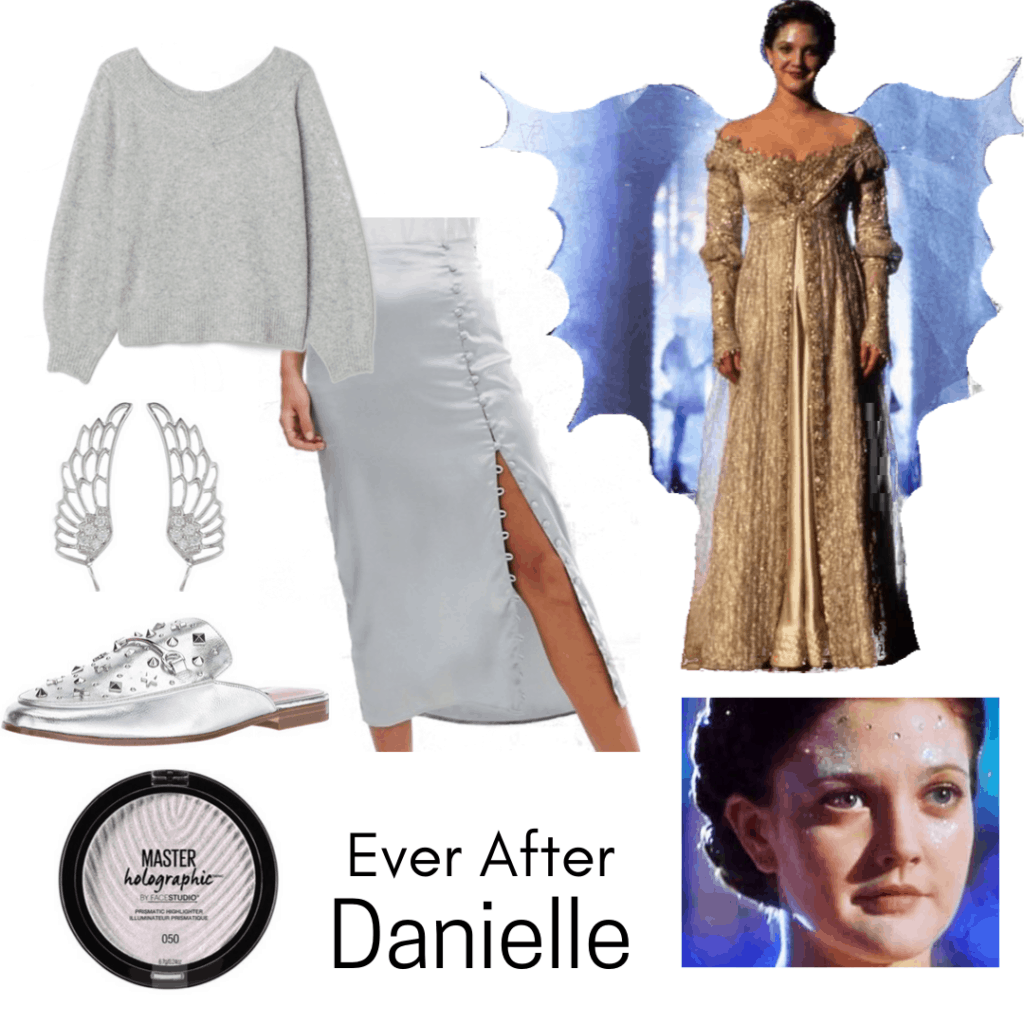 Products: Skirt – ASOS, Sweater – H&M, Shoes – Nine West, Earrings – The Ear Pin, Highlight – Maybelline
Danielle has a couple of signature period looks in Ever After. The most memorable and iconic look is her silver angel costume for the ball. With an off-the-shoulder silver dress, jewel encrusted slippers, and angel wings, Danielle knows how to make an entrance. Danielle was ahead of her time: She's wearing silver highlight instead of a mask.
To emulate her look in a modern way, pair an off the shoulder grey sweater with a silver midi skirt. For shoes, grab a pair of silver, jewel-encrusted mules to continue the shiny-monochromatic theme. To finish the look, wear a pair of angel wings as earrings and apply as much silver highlight as you wish.
Outfit #2 – San, Princess Mononoke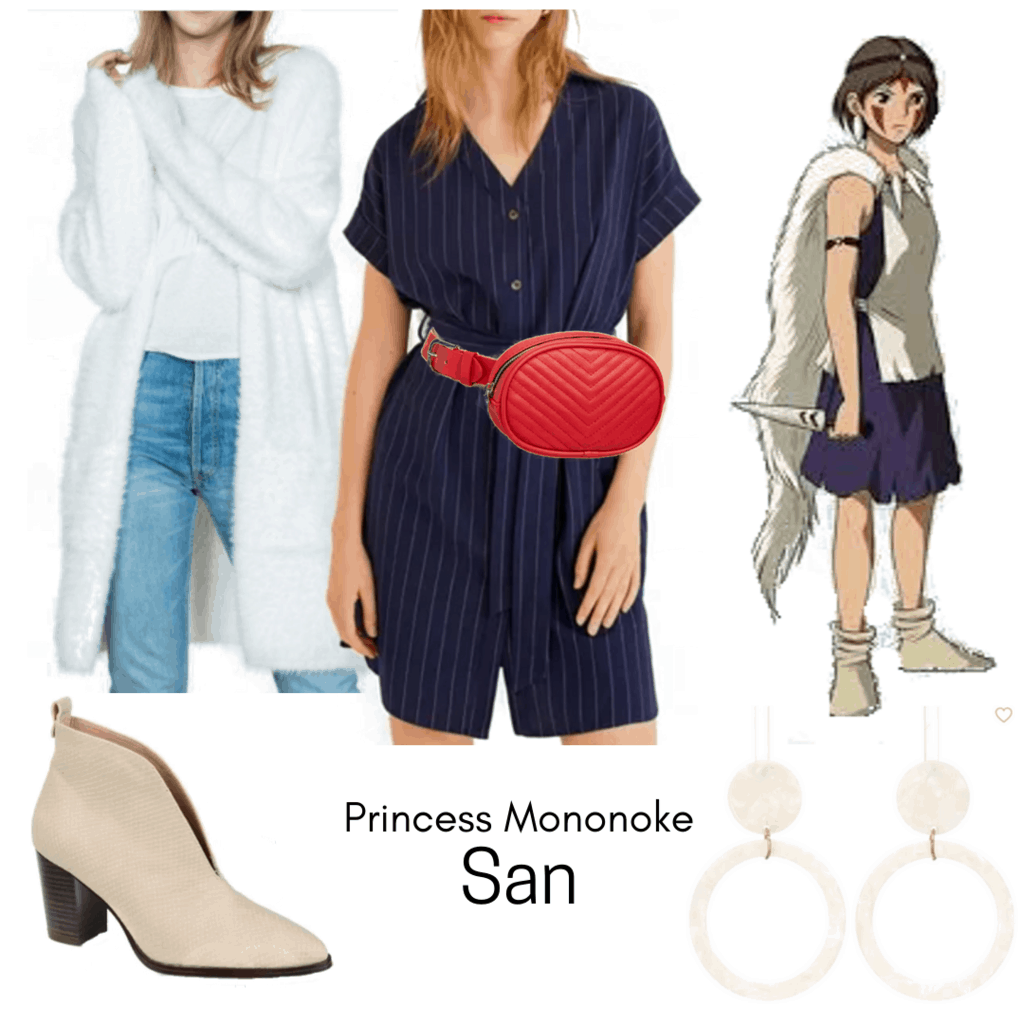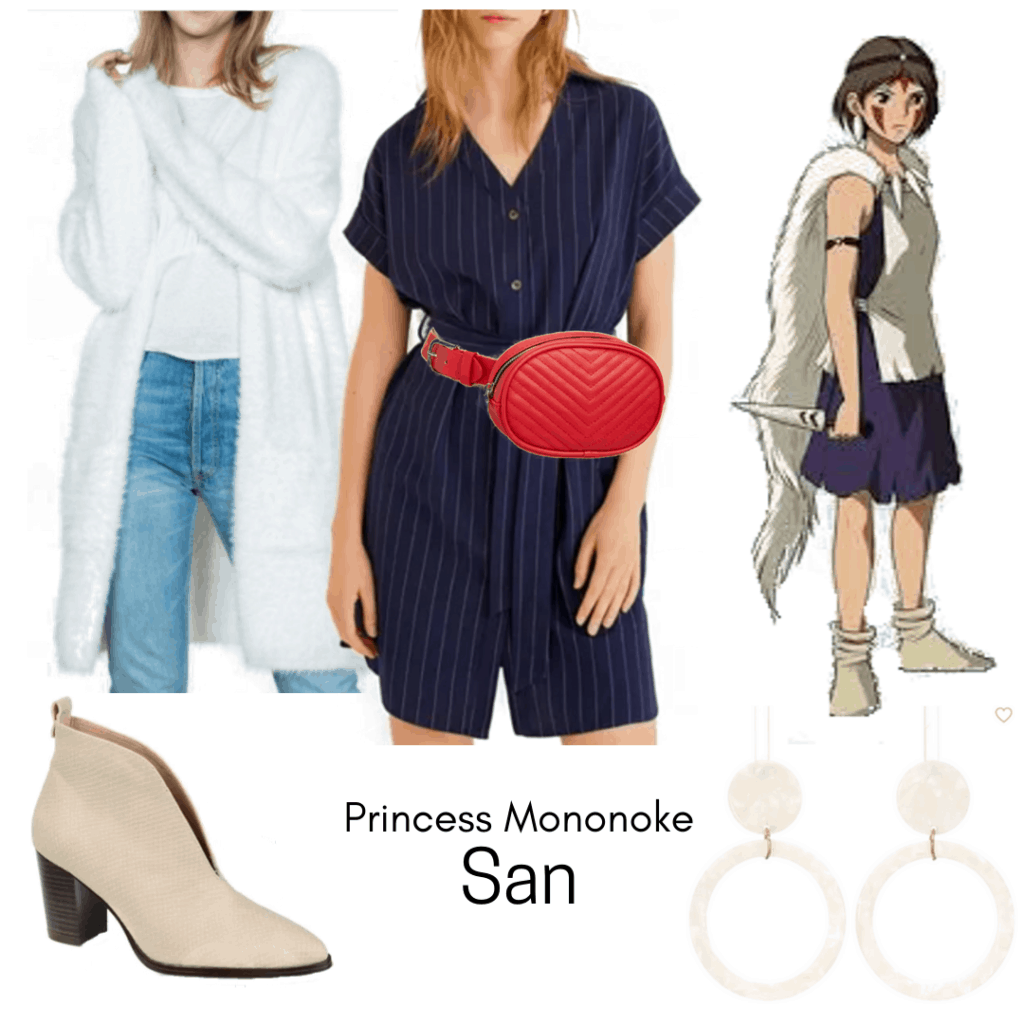 Products: Dress – Mango, Sweater – Shoptiques, Booties – Macy's, Earrings – Saks Fifth Avenue, Fanny pack – Steve Madden
Raised by wolves, San (Princess Mononoke) is a warrior and a lover of nature. She sports one look through the film, but it allows her to fight, move and live comfortably.
If you want an outfit inspired by San, pair a dark blue linen romper with a white fluffy cardigan to emulate her fur. Mix this with beige booties and a red fanny pack inspired by her signature mask. San is wearing white round earrings through the film, so I chose these off-white round earrings.
Outfit #3 – Margo, The Magicians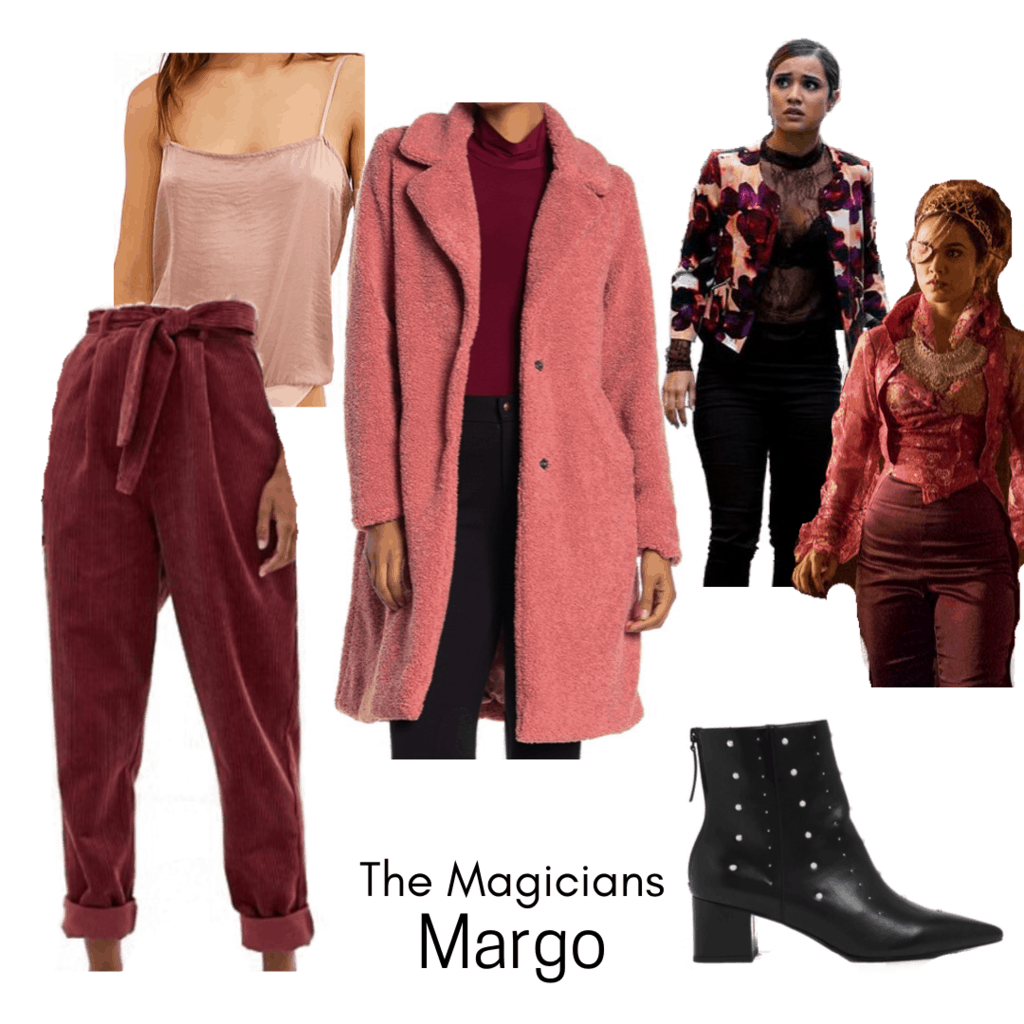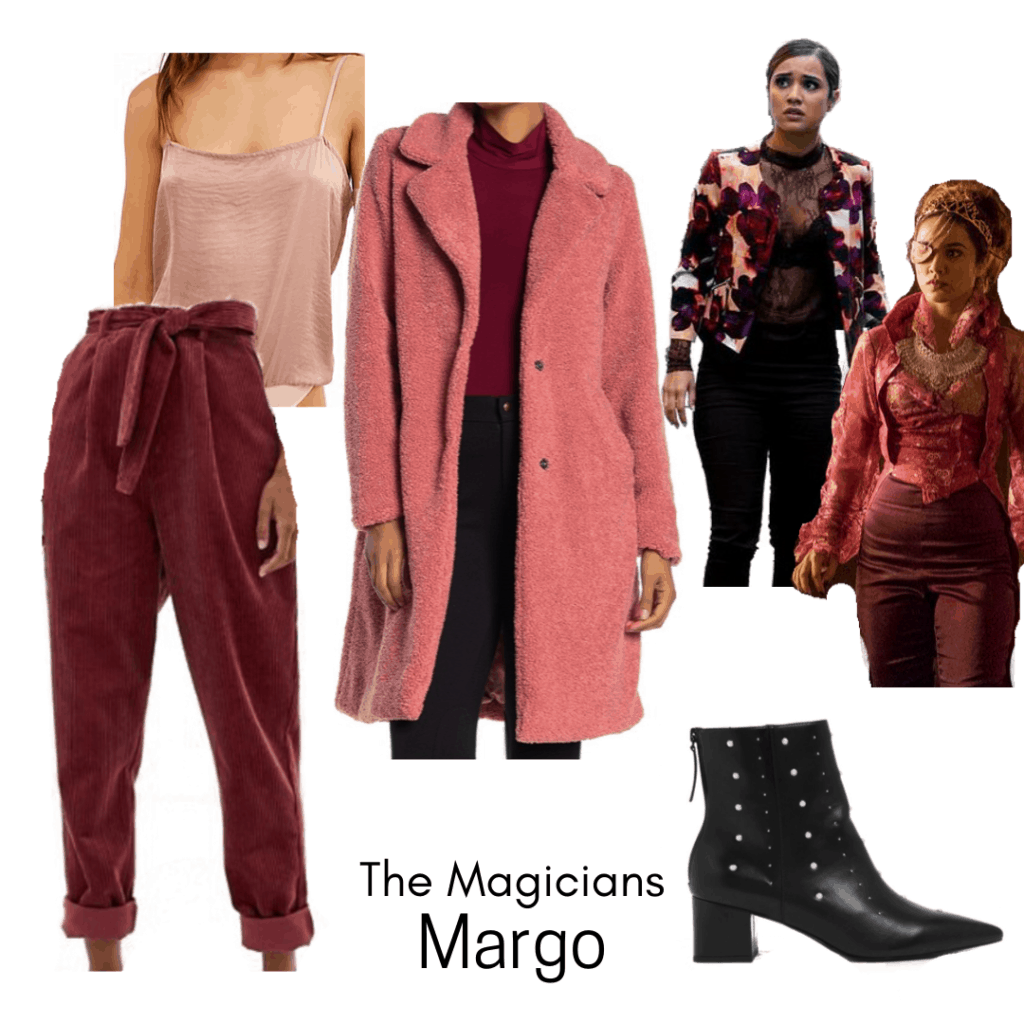 Products: Pants – ASOS, Top – Free People, Coat – Lucky Brand, Booties – Charles Keith
For the first few seasons, Margo was an older student at Brakebills, but now she is a literal queen. She always ruled, be it the school or a kingdom, and she showed it through her clothes. Incredibly feminine, modern and put together, Margo always showed preference for interesting patterns and shapes, mostly in purple (the color of the monarchy), magenta, and dark shades.
To create a look inspired by Margo, rock a pair of mauve paper bag pants and a pink satin camisole bodysuit. The pants are corduroy to create an interesting look with the contrasting textures. Since it's fall, I chose a long pink teddy coat to keep the outfit appropriate for the season. For shoes, I added these black embellished booties, to emulate her regal status.
What do you think of the fantasy genre?
Do you like fantasy? What would you watch? Would you read the recommendations? Which outfit is your favorite? What genre do you think I should do next? Let us know in the comments below!