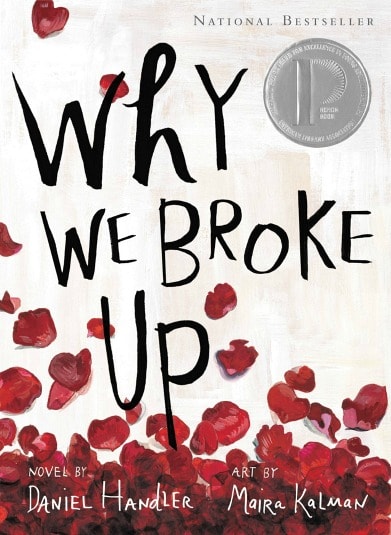 Why We Broke Up cover via Amazon
For most of you college girls, it's the midst of midterm season. You're probably either cramming for exams, drowning in essays, or just waiting for spring break so you can get some time to relax. I was looking for a book to help relieve me from my mid-semester anxieties when one of my friends recommended Why We Broke Up, by Daniel Handler.
At first, I was skeptical. Besides the occasional John Green novel, I haven't really read any young adult romance novels since high school. But because Daniel Handler is the mastermind behind the pseudonym Lemony Snicket and A Series of Unfortunate Events, I figured I would give the novel a shot.
Why We Broke Up tells the story of Min and Ed, a high school couple who unfortunately couldn't stay together. In the opening chapter, we learn that Min is in her best friend's pickup truck, on her way to Ed's house to deliver him a box filled with memories from their time together. The novel reads as a letter from Min to Ed, explaining the significance of each item in the box and how it contributed to their breakup.
It sounds like a typical YA love story, but its unique characters and quirky plot points definitely make this novel worth your time.
You'll love this book because…
Am I the only one who gets nostalgic for the picture books I read as a child? Each chapter of Why We Broke Up is accompanied by an illustration, detailing one of the items Min is returning to Ed. Maira Kalman's quirky artwork livens up the story and gives you a look into Min's world.
Speaking of nostalgia, Why We Broke Up is a perfect representation of high school relationships, cliques, and stereotypes. Since college students generally learn to throw their high school reputations to the wind by move-in day, it's kind of hilarious (and slightly heartbreaking) to relive the drama that arises when a guy like Ed (basketball co-captain) falls for a girl like Min (who's arty and "different").
Daniel Handler is the king of quirky motifs and thoroughly unique, fleshed-out characters. Min is obsessed with old movies and longs to be a director, so many scenes in the novel are described as though she's seeing them through a camera lens. In addition, food plays an essential role in setting the scene for Min and Ed's triumphs and failures; my favorite parts were the igloo made out of hard-boiled eggs and the black, 85% dark chocolate cake made for Min's best friend Al's Bitter Sixteen party (because who but Daniel Handler would think of throwing his character not a Sweet Sixteen, but a Bitter Sixteen?).
Stylistically, the prose in this novel is beautiful. It's got a stream-of-consciousness structure to it, or perhaps lack of structure is a better way to describe it. Because this is Min's internal dialogue being poured out into a heartbroken letter, her words tumble blindly forward with no filter. The syntax is long and rambling at times, and parts of it read more like poetry than prose. It's easy to get swept along in the anguish Min feels as she tries to sort out exactly how her relationship fell apart.
All in all, Why We Broke Up is a tale of high school romance and heartbreak, a tale we've all heard before, but woven in with new perspectives and characters you probably haven't yet experienced. The writing style and the illustrations make this a memorable, unique novel, and it's an easy spring break or post-midterm celebratory read.
If you're looking for a simple story you can easily get lost in, I recommend reading Daniel Handler's Why We Broke Up right away.
Thoughts?
Have you read Why We Broke Up? Are you a fan of this novel or any of Daniel Handler's other pieces? Would you be willing to give this book a try? Leave a comment and let me know what you're thinking!