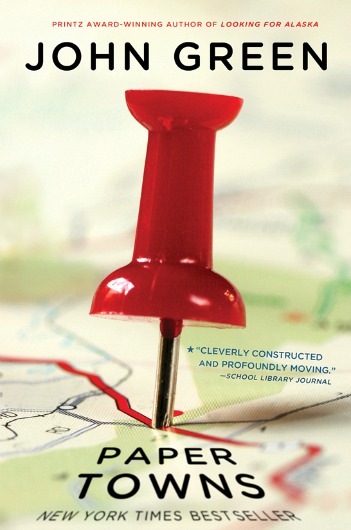 Paper Towns book cover via Amazon
To be honest, I never really hopped onto the John Green bandwagon. I read The Fault in Our Stars and thought it was a good book, but I didn't love it like so many people do.
However, one of Green's books has completely captured my heart and refused to let go – Paper Towns. I have read this book three times; the most recent rereading followed the news of an upcoming movie adaptation of the novel starring Nat Wolff and Cara Delevingne.
Most recent young adult novels seem to follow the typical structure of "boy meets girl, boy falls for girl, boy and girl live happily ever after," but John Green is nothing if not unconventional. His novels present the "boy meets girl" scenario and then flip the classic trope on its head, taking readers along for a ride they weren't expecting and won't forget.
Already a fan of this novel? Check out our Looks from Books post on how to dress in a Paper Towns-inspired way! And if you haven't checked out this book yet, what on Earth are you waiting for?
You'll love this book because…
Margo Roth Spiegelman, who will be played by Cara Delevingne in the upcoming movie adaptation, is a brilliant criminal mastermind. You may not agree with her ethics, but you've got to admire her style.
Quentin "Q" Jacobsen (who will be played by Nat Wolff) and his ragtag loyal followers, Ben and Radar, have the most realistic friendship I think I've ever seen portrayed in a young adult novel. They're a tight-knit group, but they're not afraid to call each other out when necessary, and their inside jokes had me giggling chapter after chapter.
Critics of John Green often claim his novels perpetrate the overdone, and unhealthy, Manic Pixie Dream Girl trope. These critics are clearly not reading closely enough, because Paper Towns actually does a fantastic job of turning this trope on its head. Green's female characters are characters in their own rights, not just accessories to the lead male characters.
Sometimes it's nice to just pick up a mindless YA novel to read about young love and high school shenanigans. Paper Towns supplies all of this, but the story is so much more than just teenage romance. Parts of this novel will really make you think – about Margo, about Q, about life and what it means to be a young adult on the cusp of something unknown. The book is equal parts comedy, romance, mystery, and coming-of-age novel, and it all works together so well.
While Paper Towns isn't exactly a new novel, the impending movie adaptation makes this the perfect time to start reading it if you haven't already. I devoured this book like a red velvet cupcake, so if you're looking for a book you won't want to put down, glue yourself to Paper Towns and enjoy the ride.
Thoughts?
Are you already obsessed with Paper Towns and all things John Green? If you've read the book, what did you think about it? If you haven't read it, will you give it a chance before the movie comes out? Leave a comment and let me know what you think; I'd love to chat with you guys about this great book!