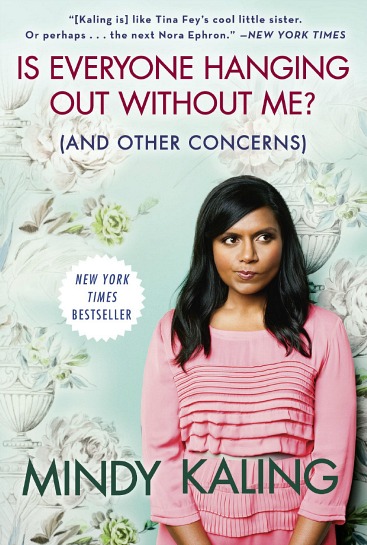 Book Cover via Amazon
It's no secret that here at College Fashion, we're obsessed with Hollywood's latest "It Girl," Mindy Kaling. I'm ashamed to admit that I haven't hopped on The Mindy Project bandwagon yet (come on, Netflix, help me out here), but I have nonetheless fallen under Mindy's adorable, irresistibly charming spell. She roped me in with her New York Times bestselling autobiography, Is Everyone Hanging Out Without Me? (And Other Concerns).
There's a reason every college girl wants to be Mindy's BFF. She's brilliant, stylish, and she just gets it. Reading her autobiography feels a little bit like talking to a best friend, or maybe awkwardly snooping through a best friend's diary.
Mindy writes candidly on her childhood, her post-college life in New York City, her experience as a writer on The Office, and so much more. She even plans her funeral, which just proves how proactive she is. (She does not want baked ziti at her funeral, in case you were wondering.)
You'll love this book because…
Mindy Kaling has not left anything out of this book. From qualities she thinks a best friend and boyfriend should possess, to her childhood struggles, to her thoughts on "types of women in romantic comedies who are not real," to her eleven favorite moments in comedy, to revenge fantasies that run through her head while exercising, her lists insert you directly into her head. And no matter how inane the chapter title may seem, you will find yourself nodding along while you read, thinking, "Wow, she's so right."
She keeps things real. One of my favorite parts in the book was when she points out the struggle of being an average-size woman in today's society, lamenting how most stylists don't know how to dress her and wish she would just "pick a lane!" Because fashion tends to be designed with the "model skinny" in mind, it can be difficult for size eight women (like Mindy and me) to be dressed for their size without looking frumpy. Of course, Mindy handles fashion disasters with more grace and humor than most of us could ever conceive.
She partially owes her rise to fame to a play she wrote with her best friend called Matt & Ben about Matt Damon and Ben Affleck. Yes, Hollywood's new BFF got her start dressing up as Ben Affleck and acting like him on a stage in New York City with her best friend, who played Matt Damon. Talk about living the dream.
Though her writing would have been more than enough for me, she includes a ton of pictures from her personal life, including "narcissistic photos" from her Blackberry. Never again feel bad about the number of selfies on your phone, because Mindy Kaling does the same thing.
On top of all that, Is Everyone Hanging Out Without Me? (And Other Concerns) is just a fun read! As a busy college student, it felt amazing to reach for this book at the end of a long day and quickly breeze through each chapter. I really can't recommend this book enough. It'll make you smile, laugh, and consider reaching out to Mindy Kaling and begging to be her best friend.
Thoughts?
Are you already obsessed with Mindy Kaling, or are you slow to jump on the bandwagon? Have you read Is Everyone Hanging Out Without Me? If so, what did you think? If not, have I convinced you to pick up the book? Leave a comment and let me know what you think!